June 21st: The Biggest Music Headlines
Scroll down the page to see all the music headlines, stories and events for June 21 throughout music history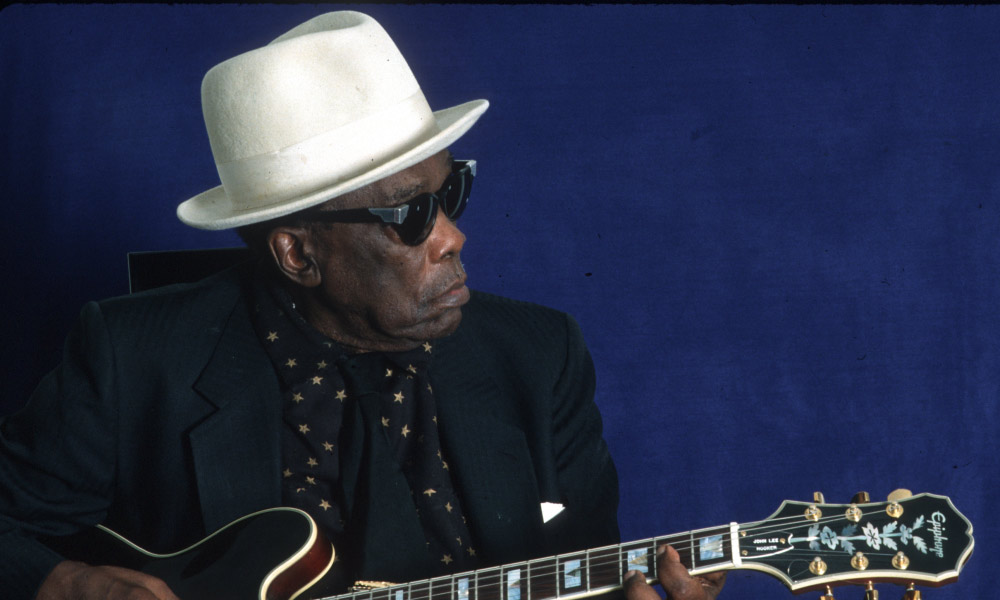 John Lee Hooker 'King of the Blues' Dies at 83
On this day in music, June 21, 2001, "King of the Blues" John Lee Hooker died at the age of 83. The highly influential singer, songwriter, and guitarist topped the R&B chart with his first single, 1948's "Boogie Chillen," and continued to score hits for the next 50 years, including "Dimples," "The Healer," and his signature tune, "Boom Boom." In his final decade, Hooker enjoyed a career resurgence, thanks to such best-selling albums as The Healer, Don't Look Back, and the Grammy-winning Chill Out. A recipient of the NEA's prestigious National Heritage Fellowship, Hooker was inducted into the Rock and Roll Hall of Fame in 1991 and was celebrated with a Grammy Lifetime Achievement Award in 2000, among many other honors.
In 1986, Genesis topped the UK Albums chart for the fourth time with Invisible Touch. Their 13th studio LP proved to be particularly lucky, remaining on the Official Charts for 96 weeks and becoming the most successful album of their career. In the US, it fared just as well – making Genesis the first band to have five singles from one album all land in the Billboard Hot 100's Top Five.
In 1988, singer and choreographer Paula Abdul released her debut album, Forever Your Girl. The album, which was eventually certified 7x Platinum by the RIAA, became the most successful debut LP at the time – but it took a minute to get there. After 64 weeks on the Billboard 200, Forever Your Girl finally hit the top spot – thanks in part to its four No.1 singles, including "Straight Up" and "Opposites Attract." The latter feat set new records for the most chart-topping hit from a debut album.
In 1975, Captain and Tennille topped the Billboard Hot 100 with a cover of Neil Sedaka's "Love Will Keep Us Together." The Grammy-winning duet held the No.1 spot for four weeks and became the best-selling single of 1975. Later that summer, the husband-and-wife team released a Spanish-language version of the song, which peaked at No.49 on the US pop chart.
In 2011, through a story in People Magazine, 75-year-old Glen Campbell announced his Alzheimer's Disease diagnosis. The prolific singer-songwriter, whose multiple hits included "By the Time I Get to Phoenix," "Gentle on My Mind," and "Wichita Lineman," embarked on a farewell tour and recorded a final album, Adios. Campbell succumbed to the disease in 2017.
In 1966, guitarist Jimmy Page – then a sought-after session musician – made his debut as a member of the Yardbirds at London's Marquee Club.
Looking for more things that happened on this day in music?
Keep scrolling for all of the headlines for June 21.
BORN ON JUNE 21:
1932: Lalo Schifrin (Composer)
1944: Ray Davies (The Kinks)
1946: Brenda Holloway
1947: Joey Molland (Badfinger)
1950: Joey Kramer (Aerosmith)
1951: Nils Lofgren (E Street Band)
1969: Pat Sansone (Wilco)
1976: Mike Einziger (Incubus)
1981: Brandon Flowers (The Killers)
1985: Lana Del Rey
Looking for more artists born on this day?
Keep scrolling for all of our June 21 birthdays.
---
What to find another day?
---
June 21st
21 Jun 2019
A report showed that The
Spice Girls
company funds had dwindled to just £86,000 before their recent concerts of this year. At their Nineties peak, the band's firm was turning over more than £40million a year, latest accounts showed that Spice Girls Ltd had assets of just £135,450 with around £50,000 of debts yet to be paid. Geri's Wonderful Productions made just £3,400, while Mel B's Moneyspider Productions Limited gained only £13,300 in the year to August 2018. Melanie Chisholm – Mel C – also agreed to the reunion after her firm Red Girl Records went £850,000 into debt. But Emma Bunton's Monsta Productions bucked the trend, with reserves doubling to just under £1m in the same year.
21 Jun 2019
American music manager and record executive Elliot Roberts died aged 76. He is best known for helping to start and develop the careers of singer-songwriters from the late 1960s and 1970s, including those of
Neil Young
– whom he managed for over fifty years – and
Joni Mitchell
.
21 Jun 2016
Trumpeter Wayne Jackson, who formed the Memphis Horns duo with saxophonist Andrew Love, died of congestive heart failure at the age of 74. Jackson and Love played together on 52 No.1 songs, supporting the likes of
Elvis Presley
,
Neil Diamond
,
Otis Redding
, Al Green,
Aretha Franklin
, Peter Gabriel and the Doobie Brothers.
21 Jun 2015
Apple Music reversed its payment policy, a day after
Taylor Swift
said she was refusing to allow the company to stream her latest album 1989. In an open letter to Apple, Swift said she was withholding the record as she was unhappy with the three-month free trial offered to subscribers, saying "We don't ask you for free iPhones. Please don't ask us to provide you with our music for no compensation." Apple now said it would pay artists for music streamed during trial periods.
21 Jun 2011
People magazine reported that 75-year-old
Glen Campbell
had been diagnosed with Alzheimer's disease. "I still love making music," said Campbell. "And I still love performing for my fans. I'd like to thank them for sticking with me through thick and thin."
21 Jun 2011
American band Maroon 5 released 'Moves Like Jagger', featuring Christina Aguilera. Its lyrics refered to a male's ability to impress a female with his dance moves, which he compares to those of
Mick Jagger
. The video featured old video footage of Jagger and his iconic dance moves. 'Moves Like Jagger' was nominated for a Grammy Award for Best Pop Duo/Group Performance at the 54th Grammy Awards. The single peaked at No.1 on the US chart.
21 Jun 2001
John Lee Hooker, American blues singer and guitarist died in his sleep aged 83. Had hits with 'Boom Boom', 'Dimples' and 'I'm In The Mood'. His songs have been covered by many artists including
Cream
,
AC/DC
, ZZ Top,
Led Zeppelin
,
Jimi Hendrix
, Van Morrison, The Yardbirds,
The Doors
and The White Stripes. He appeared and sang in the 1980 movie The Blues Brothers.
21 Jun 2000
39 year-old Karen McNeil who claimed she was the wife of Axl Rose and that she communicated with him telepathically was jailed for one year for stalking the singer.
21 Jun 1994
George Michael
lost his lawsuit against Sony Records. Michael claimed that his 15-year contract with Sony was unfair because the company could refuse to release albums it thought wouldn't be commercially successful. Michael vowed he would never record for Sony again. He re-signed with the company in 2003.
21 Jun 1992
The Orb released 'Blue Room' the single had a duration of 39 minutes and 58 seconds, two seconds shorter than the maximum permitted for a single under UK chart rules. The single peaked at No.8.
21 Jun 1986
Genesis
scored their fourth UK No.1 album with their 13th studio album 'Invisible Touch'. It remained in the charts for 96 weeks, making it the most commercially successful album of their career, eventually selling over 15 million copies worldwide and produced five US Top 5 singles, including the title track.
21 Jun 1980
French police arrested all members of The Stranglers after a concert at Nice University for allegedly starting a riot.
21 Jun 1980
German orchestra leader and songwriter Bert Kaempfert died aged 56. Both
Frank Sinatra
(Strangers In The Night) and
Elvis Presley
(Wooden Heart) covered his songs. Kaempfert released over 50 albums. In 1961, he hired
The Beatles
to back Tony Sheridan on recording sessions for Polydor, (these were the Beatles' first commercial recordings).
21 Jun 1979
Angus MacLise, Velvet Underground's first drummer died of tuberculosis aged 34. He quit the band in 1965.
21 Jun 1977
Sex Pistol Johnny Rotten was attacked in a brawl outside the live music venue Dingwalls in Camden, London, England.
21 Jun 1975
Captain and Tennille started a four week run at No.1 on the US singles chart with the Neil Sedaka song 'Love Will Keep Us Together'. The duo of husband and wife "Captain" Daryl Dragon and Cathryn Antoinette "Toni" Tennille had worked as backup musicians for
Elton John
and Neil Sedaka.
21 Jun 1975
Guitarist Ritchie Blackmore quit
Deep Purple
to form his own group Rainbow. The group went through many line-up changes with, Ronnie James Dio, Graham Bonnet, Cozy Powell, Roger Glover, and Doogie White all being members.
21 Jun 1972
The first Stonehenge Free Festival was held at Stonehenge, England culminating on the summer solstice. Staged between 1972 and 1984, acts who have appeared include Hawkwind, Gong, Doctor and the Medics, Flux of Pink Indians, Buster Blood Vessel, Crass, Selector, Dexys Midnight Runners, Thompson Twins, The Raincoats, Amazulu, Wishbone Ash, Man, Benjamin Zephaniah, The Enid, Roy Harper,
Jimmy Page
, Ted Chippington, Zorch and Ozric Tentacles.
21 Jun 1968
Pink Floyd
played two shows in one day: the first at the Commemoration Ball, Balliol College, Oxford, and then at Middle Earth Club, Covent Garden, London. The club was notable for several drug raids by the police, during which underage revellers were arrested; on one occasion a machine called the 'Trip Machine' was dismantled and taken away by the police.
21 Jun 1966
Reg Calvert the manager of The Fortunes, Screaming Lord Sutch and the owner of offshore pirate radio station Radio City was shot dead by business rival William Smedley during a confrontation. Smedley was the owner of pirate station Radio Caroline and was later cleared of the murder.
21 Jun 1966
Working at Abbey Road studios in London,
The Beatles
recorded from start to finish, a new
John Lennon
song 'She Said She Said'. The song was reportedly based on a bizarre conversation that Lennon had with Peter Fonda while John and
George Harrison
were tripping on LSD.
21 Jun 1966
21 Jun 1966
After a North American tour The
Rolling Stones
sued 14 hotels over a booking ban in New York, claiming that the ban was violating civil rights laws.
21 Jun 1966
Tom Jones needed 14 stitches in his forehead after his Jaguar was involved in a car crash in Marble Arch, London.
21 Jun 1963
The
Rolling Stones
played at Ricky Tick Club, Star and Garter Hotel, Windsor, Berks. The influential 1960s rhythm & blues club in Windsor, Berkshire, was the host to many important acts such as The Stones,
The Who
,
Jimi Hendrix
,
Pink Floyd
and
Cream
.
Born on this day in music
21 Jun 1985
American singer-songwriter, Lana Del Rey, (born Elizabeth Woolridge Grant). In 2011 a music video for her debut single 'Video Games' created by Del Rey was posted on YouTube and became a viral internet hit with over 20 million views. Her third studio album, Ultraviolence (2014), became her first album to reach No.1 in the United States.
21 Jun 1981
American singer, songwriter, and multi-instrumentalist Brandon Flowers from The Killers, who scored the 2005 UK No.1 with their debut album Hot Fuss. Their 2017 album Wonderful Wonderful peaked at No.1 on the US & UK chart. In 2010, Flowers released a solo album, entitled Flamingo which peaked at No.1 on the UK charts.
21 Jun 1976
Michael Einziger, from American rock band Incubus, who had the 2001 US No.9 & UK No.40 single, 'Drive', and the 2004 US No.2 and UK No.6 album A Crow Left of the Murder', and the 2006 US No.1 album Light Grenades. Worldwide, Incubus has sold over 23 million albums.
21 Jun 1975
Lee Gaze, lead guitarist, from Welsh rock band Lostprophets, who scored the 2006 UK No.1 album Liberation Transmission.
21 Jun 1969
Pat Sansone, multi-instrumentalist, from American alternative rock band Wilco who released the albums Yankee Hotel Foxtrot, A Ghost Is Born, Sky Blue Sky and Wilco (The Album).
21 Jun 1968
British singer, musician and DJ Sonia Clarke, (Sonique), who scored the 2000 UK No.1 & US No.5 single 'It Feels So Good'. She was the lead vocalist on two S'Express singles.
21 Jun 1959
American soprano vocalist, guitarist, and songwriter Marcella Detroit who with Shakespears Sister had the 1992 UK No.1 single 'Stay'. She co-wrote the 1977
Eric Clapton
hit 'Lay Down Sally' and released her debut album Marcella in 1982.
21 Jun 1957
Mark Brzezicki, drummer with Scottish rock band Big Country, who had the 1983 UK No.10 single 'Fields Of Fire' plus 14 other UK Top 40 singles.
21 Jun 1951
Alan Silson, from English rock band Smokie who had the 1975 UK No.3 single 'If You Think You Know How To Love Me'. Their most popular hit single was 'Living Next Door to Alice'.
21 Jun 1951
American musician Nils Lofgren. He joined
Neil Young
's band aged 17, playing piano on the album After the Gold Rush. From 1971 to 1974 he recorded four albums with his own band, Grin. He had the 1976 solo album, 'Cry Tough'. Joined
Bruce Springsteen
E Street Band in 1984. And has been a member of
Ringo Starr
's All-Starr Band.
21 Jun 1950
Joey Kramer, drummer with
Aerosmith
who scored the 1989 UK No.13 single 'Love In An Elevator', and their 1989 album Pump spent 53 weeks on the US charts They had the 1993 US No.1 & UK No.2 album Get A Grip and the 1998 US No.1 & UK No.4 single 'I Don't Want To Miss A Thing'.
Aerosmith
is the best-selling American hard rock band of all time, having sold more than 150 million records worldwide.
21 Jun 1949
Greg Munford, from psychedelic rock band Strawberry Alarm Clock who scored the 1967 US No.1 single 'Incense And Peppermints'.
21 Jun 1948
English composer and rock guitarist Joey Molland who with
Badfinger
, scored the hits 'Come and Get It' (written and produced by
Paul McCartney
), 'No Matter What', 'Day After Day' (produced by
George Harrison
) and 'Baby Blue'.
21 Jun 1946
American singer and songwriter Brenda Holloway, recording artist for
Motown
Records during the 1960s. Her best-known recordings are the soul hits, 'Every Little Bit Hurts', 'When I'm Gone"' and 'You've Made Me So Very Happy.' The latter, which she co-wrote became a 1969 Top Ten hit for Blood, Sweat & Tears.
21 Jun 1945
Chris Britton, guitarist with English garage rock band The
Troggs
, who had the 1966 US No.1 & UK No.2 single 'Wild Thing' and the hits 'With a Girl Like You' and 'Love Is All Around'.
21 Jun 1944
English musician Ray Davies, singer, songwriter with
The Kinks
, who had the 1964 UK No.1 & US No.7 'You Really Got Me', and the 1967 UK No.2 single 'Waterloo Sunset' and the 1983 US No.6 single 'Come Dancing'.
The Kinks
have sold over 50 million records worldwide and among numerous honours, they received the Ivor Novello Award for "Outstanding Service to British Music".
21 Jun 1944
Miguel Vicens, from Spanish beat group Los Bravos who had the 1966 UK No.2 & US No.4 single 'Black Is Black'. They were the first Spanish rock band to have a UK & US hit single.
21 Jun 1944
English drummer Jon Hiseman who replaced
Ginger Baker
in the Graham Bond Organisation and worked with Arthur Brown, Colosseum and
Jack Bruce
. Hiseman died on 12 June 2018 nine days short of his 74th birthday.
21 Jun 1936
O.C. Smith, American musician who had the 1968 US No.1 single 'Little Green Apples' and 1968 UK No.2 single 'The Son Of Hickory Holler's Tramp'. He died on November 23rd 2001 age 69.
21 Jun 1932
Argentine-born American pianist, composer, arranger Lalo Schifrin, film soundtracks, including, Theme from Mission: Impossible, Enter the Dragon,the Dirty Harry films and Jaws.