June 28th: The Biggest Music Headlines
Scroll down the page to see all the music headlines, stories and events for June 28 throughout music history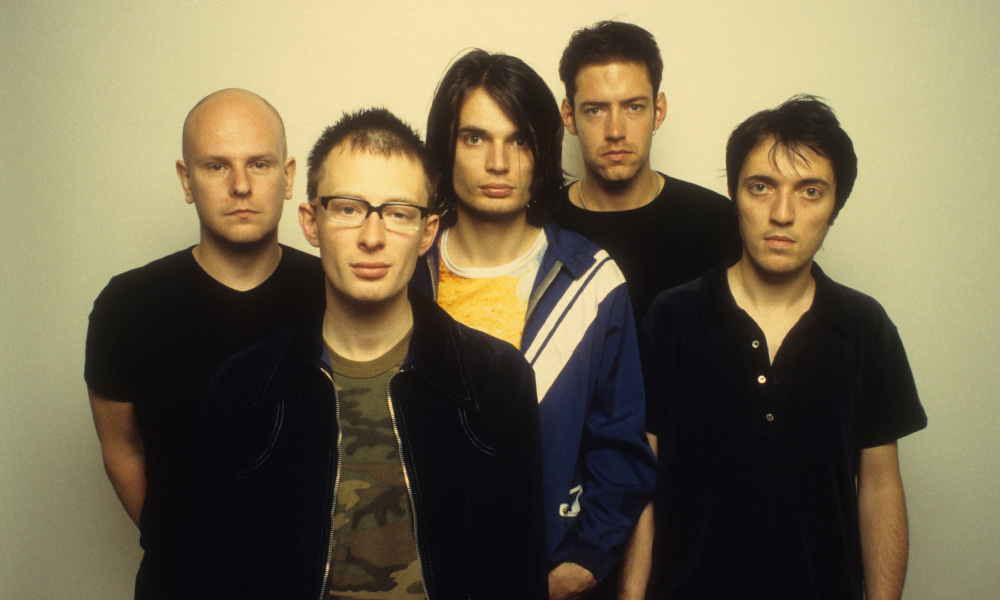 Radiohead Scores a Surprise No.1 with 'OK Computer'
On this day in music, June 28, 1997, Radiohead topped the UK album chart with their third LP, OK Computer. The record found the British band moving away from the guitar-focused rock that made them famous, instead integrating various electronic elements, as they wrote songs about societal angst amid the turn of the millennium. While their label was skeptical about the album's commercial viability, OK Computer became one of the group's most successful albums, thanks to hits like "Karma Police" and "Paranoid Android." Considered to be a modern-day masterpiece, the album earned Radiohead their first Grammy award and was later added to the Library of Congress's National Recording Registry.
In 1975, the Eagles achieved their first No.1 album on the Billboard 200 with One of These Nights. The California band's fourth studio album and commercial breakthrough, One of These Nights featured three Top Five singles, including "Take It to the Limit," the Grammy-winning "Lyin' Eyes," and the chart-topping title track. The album, which marked the band's final release with founding guitarist Bernie Leadon, also served as the Eagles' entree into global stardom, landing in the Top Ten in the UK, Australia, and Canada, and the Top 30 in Japan.
In 2007, the Spice Girls announced their plans to reunite for a world tour. The two-month run, which included stops in London, Hong Kong, Cape Town, and Los Angeles, among other global hot spots, would mark the original line-up's first shows together since 1998.
In 1968, Pink Floyd released their second album, A Saucerful of Secrets, in the UK. The title marked the group's final LP with their founding singer and guitarist, Syd Barrett, who left the band before the album was finished amid struggles with his mental health. A Saucerful of Secrets also introduced Barret's replacement, David Gilmour, who appeared on much of the album, including opener "Let There Be More Light."
In 1975, singer-songwriter Tim Buckley unknowingly played his final concert to 1800 fans at a sold-out show in Dallas, TX. The 28-year-old artist then proceeded to celebrate the end of his tour with a weekend of partying. Tragically, Buckley passed away the following evening, following an overdose.
In 1986, Wham! played their final concert at London's Wembley Stadium. The duo, who announced their breakup earlier in the year, also released a farewell album, The Final. Playing to 72,000 fans, the duo closed out with a performance of "I'm Your Man" featuring Elton John and Duran Duran's Simon Le Bon.
In 1959, American singer Bobby Darin scored his first No.1 hit in the UK with "Dream Lover." The song featured a cameo by singer-songwriter Neil Sedaka on piano.
Looking for more things that happened on this day in music?
Keep scrolling for all of the headlines for June 28.
BORN ON JUNE 28:
1952: Alan Pasqua (Giant)
1963: Andy Cousin (All About Eve)
1965: Saul Davies (James)
1966: Bobby Bare Jr.
1977: Mark Stoermer (The Killers)
1986: Kellie Pickler
Looking for more artists born on this day?
Keep scrolling for all of our June 28 birthdays.
---
What to find another day?
---
June 28th
28 Jun 2019
Ozzy
and Sharon Osbourne ordered Donald Trump not to use the star's music for his political campaign. The US president, who was running for re-election in 2020, used Ozzy's 1980 hit Crazy Train in a video mocking his Democratic rivals. Sharon Osbourne suggested Mr Trump could ask some of his prominent supporters such as Kid Rock and Ted Nugent to supply him with music for his campaign.
28 Jun 2016
Scotty Moore,
Elvis Presley
's longtime guitarist died at his home in Nashville, aged 84. Moore had been in poor health in recent months. He formed the Starlite Wrangers with bassist Bill Black and in 1954, Sun Records impresario Sam Phillips paired Moore with a teenaged
Elvis Presley
. Together, along with Black, they recorded Presley's first single, 'That's All Right (Mama).' The recording session was only meant to be an audition; instead, the trio made music history.
28 Jun 2013
Coldplay
's 2011 headline appearance on the Glastonbury Pyramid Stage was voted the top Glastonbury moment by BBC Radio listeners.
Radiohead
and Blur's 2009 Pyramid Stage appearances polled second and third respectively, with
Bruce Springsteen
's performance of Thunder Road in 2009 coming fourth.
28 Jun 2012
Lamb Of God frontman Randy Blythe was arrested before the band's scheduled show at Prague's Hard Rock Cage and charged with manslaughter. The incident from which Blythe was charged reportedly took place in 2010 at the band's show at Club Abaton, in Prague. According to reports, a fan jumped up on the stage where a tussle ensued in which the fan was injured. The fan later died, reportedly as a result of those injuries.
28 Jun 2009
Three days after his death
Michael Jackson
was at No.1 on the UK album chart with 'Number Ones'. The Essential
Michael Jackson
went to No.1 the following week for seven weeks.
28 Jun 2007
The
Spice Girls
confirmed they would reform for a world tour to take place in December 2007 and January 2008 with the original line-up who had not performed on stage since Ginger Spice Geri Halliwell quit in May 1998. The 11 dates announced included a London show on 15 December, eight days after the first date in Los Angeles. Other dates included Cologne, Madrid Beijing, Hong Kong, Sydney and Cape Town. The tour was being put together by Simon Fuller, whose 19 company masterminded the group's global success more than a decade ago.
28 Jun 2007
Benno Goldewijk, from Holland, and Spaniard Alfredo Pecina Matias were killed and two other men were injured during an accident dismantling the stage after a
Rolling Stones
concert in Madrid. Three of the workers fell 10m (33ft) from a metal structure and landed on a fourth. The Stones were currently on the European leg of their A Bigger Bang world tour.
28 Jun 1997
The
Pink Floyd
album
The Dark Side Of The Moon
spent its 1056th week on the US album chart. It was rumoured at the time that if the album was played while watching The Wizard of Oz movie, and started exactly when the MGM lion roared the third time during the movie's intro, very interesting connections could be made between the two.
28 Jun 1997
Puff Daddy and Faith Evans started a three-week run at No.1 on the UK singles chart with 'I'll Be Missing You'. Released in memory of fellow Bad Boy Records artist Notorious B.I.G. who was murdered on March 9, 1997. The song sampled the melody of
The Police
hit 'Every Breath You Take'.
28 Jun 1997
Radiohead
went to No.1 on the UK album chart with their third album OK Computer. The British groups first self-produced album later appeared in many critics' lists and listener polls for best album of the year and also won a Grammy for Best Alternative Music Performance.
28 Jun 1986
Wham! were at No.1 on the UK singles chart with their fourth and final UK No.1 'The Edge Of Heaven'. Also on this day Wham! played their farewell concert in front of 72,000 fans at Wembley Stadium, London.
28 Jun 1985
Sister Sledge were at No.1 on the UK singles chart with 'Frankie', the sisters only UK No.1. Nile Rodgers from Chic produced the hit for the soul trio from Philadelphia.
28 Jun 1980
The
Paul McCartney
single 'Coming Up' became one of the few 'live' recordings to reach the top of Billboard's Hot 100. American disc jockeys preferred it to the studio version on the flip side of the record.
28 Jun 1977
Elton John
achieved a life long ambition when he became the Chairman of Watford Football Club.
28 Jun 1975
The
Eagles
started a five-week run at No.1 on the US album chart with their fourth studio album 'One Of These Nights'. The album which became their breakthrough album released three US Top 10 singles, 'Lyin' Eyes', (which won a Grammy), 'Take It To The Limit' and the title track.
28 Jun 1975
Wings went to No.1 on the UK chart with their fourth album 'Venus And Mars'. The follow up to
Band On The Run
featured the US No.1 single 'Listen What The Man Said'.
28 Jun 1975
American singer songwriter Tim Buckley completed the last show of a tour in Dallas, Texas, playing to a sold-out crowd of 1,800 people. This was Buckley's last ever show, he died the following day of a heroin and morphine overdose aged 28.
28 Jun 1969
Henry Mancini started a two week run at No.1 on the US singles chart with 'Love Theme from Romeo And Juliet'. The film's love theme was used as the backing for "Our Tune" by DJ Simon Bates on his BBC
Radio 1
show.
28 Jun 1969
Fleetwood Mac
,
Led Zeppelin
, The Nice, John Mayall's Bluesbreakers, Ten Years After, Taste, The Liverpool Scene and Chicken Shack all appeared at The Bath Festival of Blues in England, with DJ
John Peel
. Tickets cost 18/6. The festival proved very popular, selling out all 30,000 tickets in the first week, surprising both the townsfolk and the promoters. The only major problem occurred when the Nice's use of bagpipers caused the stage to collapse.
28 Jun 1968
Pink Floyd
released their second album A Saucerful Of Secrets in the UK. It is both the last
Pink Floyd
album on which
Syd Barrett
would appear and the only studio album to which all five band members contributed. The album sleeve was designed by Hipgnosis, a new company formed by the band's friends Storm Thorgerson and Aubrey 'Po' Powell, who were paid £110 for their efforts.
28 Jun 1968
Working at Abbey Road studios
The Beatles
recorded 'Good Night',
John Lennon
's lullaby for his 5-year-old son Julian with Ringo singing the lead vocal. The track appeared on The
White Album
.
28 Jun 1959
Bobby Darin was at No.1 on the UK singles chart with 'Dream Lover'. The American singers first UK No.1 which featured Neil Sedaka on piano also reached No.2 on the US chart.
Born on this day in music
28 Jun 1989
Lucy Rose, English singer-songwriter. Her debut album, Like I Used To peaked at No.13 on the UK album chart.
28 Jun 1986
Kellie Pickler, American country music artist and television personality. Her debut album, Small Town Girl, has sold over 900,000 copies.
28 Jun 1977
American musician and songwriter Mark Stoermer, bassist from The Killers, who scored the 2005 UK No.1 with their debut album Hot Fuss. Their 2017 album Wonderful Wonderful peaked at No.1 on the US & UK chart.
28 Jun 1971
Ray Slijngaard, vocals, 2 Unlimited, (1993 UK No.1 single 'No Limit').
28 Jun 1966
Bobby Bare Jr. American singer-songwriter, (the son of country musician Bobby Bare, Sr.). In 1974, when Bobby was only eight, he and his father were both nominated for a Grammy for the song 'Daddy What If', which was written by Shel Silverstein.
28 Jun 1965
Saul Davies, guitar, violin, from English rock band James who scored the 1991 UK No.2 single 'Sit Down' and the hits 'Laid' and 'Come Home'.
28 Jun 1963
Charles Clouser, keyboards, drums, and engineer. Once a member of Nine Inch Nails (1994-2000) Worked with Deftones, White Zombie, Marilyn Manson, Killing Joke and Type O Negative.
28 Jun 1963
Andy Cousin, bassist from All About Eve who had the 1988 UK No.10 single 'Martha's Harbour'. Cousin has also worked with The Mission and The Lucy Nation and now works as a radio presenter.
28 Jun 1959
Clint Boon, keyboards, from English alternative rock band Inspiral Carpets who had the 1990 UK No.14 single 'This Is How It Feels'. Formed the The Clint Boon Experience and also works as a radio and TV presenter.
28 Jun 1952
American pianist Alan Pasqua who was a founding member of the 1980s hard rock band, Giant. As a session musician, he has toured and recorded with
Bob Dylan
, Cher, Michael Bublé, Eddie Money, Allan Holdsworth, Joe Walsh, Pat Benatar, Rick Springfield, Juice Newton, Prism, and
Santana
.
28 Jun 1945
David Knights, bassist,
Procol Harum
, 1967 UK No.1 & US No.5 single 'A Whiter Shade Of Pale' (one of the few singles to have sold over 10 million copies) and scored the hits 'Homburg', 'Conquistador'. He played on Procol Harum's first three albums.
28 Jun 1943
Bobby Harrison, drummer with
Procol Harum
, who had the 1967 UK No.1 & US No.5 single 'A Whiter Shade Of Pale' (one of the few singles to have sold over 10 million copies) and scored the hits 'Homburg', 'Conquistador'.