June 5th: The Biggest Music Headlines
Scroll down the page to see all the music headlines, stories and events for June 5 throughout music history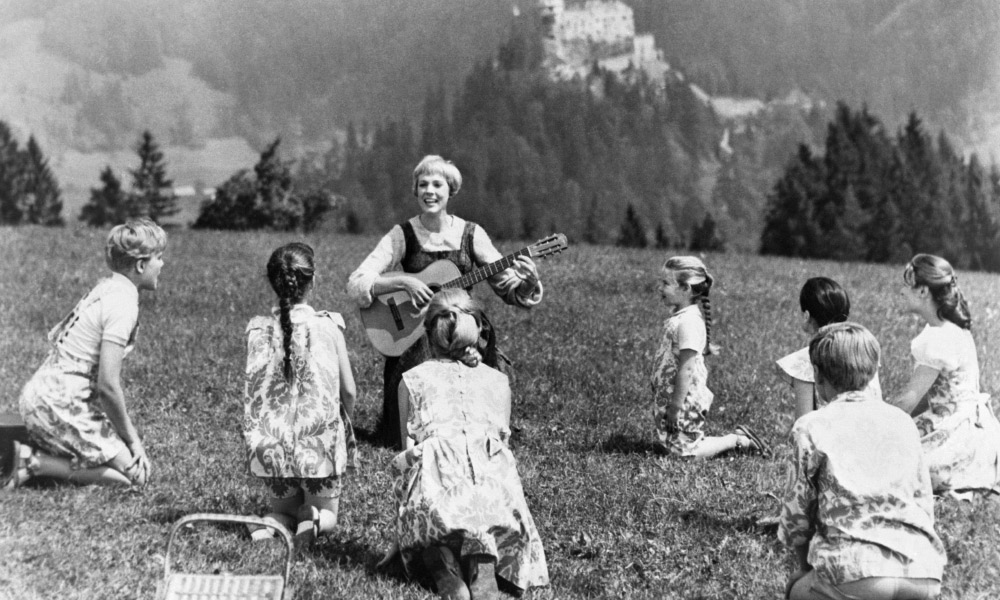 'The Sound of Music' Breaks Global Records
On this day in music, June 5, 1965, Rogers and Hammerstein's soundtrack to the musical film The Sound of Music began a 70-week run at the top of the UK album chart. The enduring soundtrack was named the best-selling album of the year and continued to hold that title in 1966 and 1968, eventually becoming the UK's second-highest selling album of the decade, behind The Beatles' Sgt. Pepper's Lonely Hearts Club Band. Across the Atlantic, The Sound of Music also hit No. 1 on the Billboard 200 and set a new record for remaining in the Top Ten for 109 weeks. The album would remain on the chart for a total of 238 weeks (more than 4.5 years), while the Julie Andrews-led film broke box office records around the globe.
In 1956, Elvis Presley made one of his most memorable TV appearances on The Milton Berle Show. While previous televised performances featured The King of Rock'n'Roll covered by his guitar, this particular broadcast found Presley unhampered by any instruments, as he performed "Hound Dog." A full-body shot found the 21-year-old heartthrob gyrating and dancing – scandalizing the American public (and thrilling his fans).
In 1993, 59-year-old singer-songwriter Conway Twitty died. After rising to fame in the 50s as part of the rockabilly scene, Twitty found phenomenal success on the Billboard country charts, hitting No.1 a record-breaking 40 times throughout his career.
In 1964, David Bowie (then Davie Jones and The King Bees) released his first single, "Liza Jane" on Vocalion Pop. Although the young artist made the rounds on UK shows like Ready Steady Go!, Juke Box Jury, and The Beat Room, the single failed to sell, and Bowie was dropped from the label.
In 1964, The Rolling Stones played their first show on US soil at the Swing Auditorium in Southern California. The British band was touring in support of their self-titled debut.
In 1971, Grand Funk Railroad broke a record previously held by The Beatles when they sold out New York's Shea Stadium in just 72 hours.
Looking for more things that happened on this day in music?
Keep scrolling for all of the headlines for June 5.
BORN ON JUNE 5:
1943: Michael Davis (MC5)
1946: Freddie Stone (Sly and the Family Stone)
1947: Tom Evans (Badfinger)
1956: Richard Butler (The Psychedelic Furs)
1956: Kenny G
1979: Pete Wentz (Fall Out Boy)
1998: Dave
Looking for more artists born on this day?
Keep scrolling for all of our June 5 birthdays.
---
What to find another day?
---
June 5th
5 Jun 2019
Forbes magazine announced that
Rihanna
was the richest female musician in the world. The singer had amassed a fortune of about $600 million (£472 million), largely through her music and makeup business. Her Fenty Beauty line launched in 2017 reportedly made $100 million (about £78 million) in its first 40 days. Rihanna's wealth put her ahead of
Madonna
, worth an estimated £448 million,
Celine Dion
(£350 million) and
Beyoncé
(£314 million).
5 Jun 2016
The four members of
ABBA
performed alongside one another for the first time since 1982 at a private gala to mark 50 years since songwriting duo Bjorn Ulvaeus and Benny Andersson met for the first time in Stockholm. The impromptu performance reportedly began when Agnetha Faltskog and Anni-Frid Lyngstadon recited their 1980 hit 'Me and I' as a tribute to Andersson and Ulvaeus, before the two others joined in and made the reunion official.
5 Jun 2016
The final day of the sold-out Rock am Ring music festival in Germany was cancelled after lightning hurt at least 80 fans. At least eight people were seriously injured by the lightning strike.
Red Hot Chili Peppers
were among several bands, including
Black Sabbath
, Foals, Deftones and We Are Scientists, who were part of the line-up at the festival.
5 Jun 2010
Led Zeppelin
were officially voted the nation's favourite band by the BBC's 'I'm In A Rock 'N` Roll Band', coming ahead of both
The Beatles
and
Queen
in a phone-in vote. The show also featured Best Singer, Guitarist, and Drummer live phone-in votes which saw
Jimmy Page
, Robert Plant and
John Bonham
all nominated in their categories.
John Bonham
was crowned top drummer ahead of Dave Grohl and
Keith Moon
, whilst Jimmy and Robert were runners up to
Jimi Hendrix
and
Freddie Mercury
respectively.
5 Jun 2008
Ozzy Osbourne
accepted undisclosed libel damages and an apology over a UK newspaper claim that he was ill at the Brit Awards. The 59-year-old rocker sued over a story in the Daily Star that alleged he had toppled over twice just before the televised ceremony and that he was moved around the awards in an electric buggy.
5 Jun 2007
Sir
Paul McCartney
released his 21st solo album, 'Memory Almost Full' on the new Hear Music Starbucks label. It was later announced that all copies sold through UK Starbucks would not be eligible for the UK charts as the 533 stores were not registered with the Official Chart Company. The album was being played non-stop in more than 10,000 Starbucks outlets across 29 countries.
5 Jun 2007
Jurors in the murder trial of music producer Phil Spector were shown the bloody revolver that was found at the feet of Lana Clarkson, the actress he was accused of killing at his home in the early hours of February 3rd, 2003. She had accompanied Spector to his Alhambra, California mansion after meeting him at her job as a hostess at the House of Blues just hours earlier.
5 Jun 2003
A Grandfather who set up his own pirate radio station in Wakefield, Yorkshire was under investigation by local broadcasting authorities. The man known as Ricky Rock had erected a 32ft transmitter in his garden and had been playing hits by
The Beach Boys
,
The Beatles
and
Elvis Presley
. Ricky said he set the station up because 'talent-less boy bands and dance music' featured on local stations did not cater to the tastes of his generation.
5 Jun 2003
R. Kelly was banned from travelling to LA for a video shoot. He wasn't allowed to leave Chicago after being charged with 21 child porn offences last June over a video, which claimed to show him having sex with an underage girl.
5 Jun 2002
Dee Dee Ramone, (Douglas Glenn Colvin), bass guitarist with the
Ramones
died at his Hollywood, California apartment of a heroin overdose aged 49. He was the group's primary songwriter, penning songs such as 'Rockaway Beach', '53rd & 3rd', and 'Poison Heart'.
5 Jun 2001
Officials in Singapore threw out an appeal against a ban on
Janet Jackson
's latest album, 'All For You'. They decided that the lyrics of the album, particularly one song, 'Would You Mind', were "not acceptable to our society". The record was initially outlawed because of its "sexually explicit lyrics", including "I just wanna touch you, tease you, lick you, please you, love you, make love to you." EMI were attempting a compromise by trying to persuade Jackson's management to delete 'Would You Mind' from the album.
5 Jun 1997
Ex
Small Faces
, the
Faces
and leader of Slim Chance, Ronnie Lane died aged 51 after a 20-year battle with multiple sclerosis. Slim Chance had the 1974 UK No.5 single 'How Come'.
5 Jun 1993
Country singer Conway Twitty died from an abdominal aortic aneurysm. He had the 1958 US & UK No.1 single 'It's Only Make Believe'. Until 2000, he held the record for the most Number One singles of any country act, with 45 No.1's. He lived in Hendersonville, Tennessee, just north of Nashville, where he built a country music entertainment complex called Twitty City.
5 Jun 1993
5 Jun 1990
American drummer Jim Hodder drowned in his swimming pool aged 42. He was the original drummer with Steely Dan and also worked with Sammy Hagar and David Soul.
5 Jun 1983
During a 48-date North American tour
U2
played at Red Rocks Amphitheater near Denver. The show was recorded and released as '
U2
Live At Red Rocks: Under A Blood Red Sky.'
5 Jun 1977
Alice Cooper's boa constrictor, a co-star of his live act suffered a fatal bite from a rat it was being fed for breakfast. Cooper held auditions for a replacement and a snake named 'Angel' got the gig.
5 Jun 1975
During recording sessions for
Wish You Were Here
at Abbey Road Studios, London, England,
Syd Barrett
turned up out of the blue as
Pink Floyd
were listening to playbacks of Shine On You Crazy Diamond — a song that happened to be about Barrett. By that time, the 29-year-old Barrett had shaved off all of his hair (including his eyebrows), become overweight, and his ex-bandmates did not at first recognise him. Barrett eventually left without saying goodbye, and none of the band members ever saw him again.
5 Jun 1971
American blues rock band, Grand Funk Railroad smashed the record held by
The Beatles
when they sold out New York's Shea Stadium in 72 hours.
5 Jun 1971
Paul McCartney
's second solo album Ram started a two-week run at No.1 on the UK chart. Featuring the US No.1 single 'Uncle Albert / Admiral Halsey' the album was recorded amid Paul McCartney's legal action in Britain's High Court to dissolve the Beatles' partnership, following their break-up the year before. John Lennon believed that a number of songs on Ram contained jibes aimed at him, particularly 'Too Many People' and 'Dear Boy'.
5 Jun 1968
The
Jimi Hendrix Experience
appeared on the Dusty Springfield TV show 'It Music Be Dusty', filmed on ATV, in London, England. Hendrix performed 'Stone Free' and 'Voodoo Chile' and then played a version of 'Mockingbird' with Dusty Springfield.
5 Jun 1967
In 1965, Rogers and Hammerstein's soundtrack to the musical film, The Sound Of Music, landed at the top of the UK album chart, where it remained for an astonishing 70 weeks. It would be named the best-selling album of 1965, 1966, and 1968, and the second-best selling album of the 60s. In the US, the album also went to No.1, remaining in the Top Ten for 109 nine weeks and spending a mind-boggling 238 total weeks on the Billboard 200.
5 Jun 1964
The
Rolling Stones
played their first-ever live date in the US when they appeared at the Swing Auditorium, San Bernardino, California. The Stones were supporting their first album release The
Rolling Stones
, in North America.
5 Jun 1964
'Liza Jane' became the first recording to be released as a single by
David Bowie
(but under the name Davie Jones with the King Bees). Despite promoting the single on the television shows Juke Box Jury, Ready Steady Go! and The Beat Room, and receiving good radio coverage, the single sold poorly and the band was subsequently dropped from the label Vocalion Pop.
5 Jun 1961
Roy Orbison
went to No.1 on the US chart with 'Running Scared', it made No.9 in the UK. The B-side 'Love Hurts' also picked up significant airplay, making Orbison's recording the first version to be a hit.
5 Jun 1959
Bob Zimmerman graduated from high school in Hibbing, Minnesota. Zimmerman was known as a greaser to classmates in the remote rural community, because of his long sideburns and leather jacket.
5 Jun 1956
Elvis Presley
appeared on ABC-TV's 'Milton Berle Show'. During the performance, Presley abruptly halted an uptempo rendition of 'Hound Dog' with a wave of his arm and launched into a slow, grinding version accentuated with energetic, exaggerated body movements. Presley's gyrations created a storm of controversy.
Born on this day in music
5 Jun 1998
British rapper, musician, singer, songwriter David Orobosa Omoregie also known as Santan Dave or just Dave. His debut album Psychodrama (2019) debuted at No.1 on the UK Albums Chart, having the biggest first week streams for a UK rap album. It went on to win the Mercury Prize and Album of the Year at the 2020 Brit Awards.
5 Jun 1979
Pete Wentz, bassist, with American rock band Fall Out Boy, who had the 2007 US No.1 album Infinity on High. The group's sixth studio album, American Beauty/American Psycho (2015) peaked at No.1, making it the band's third No.1 album and the group's fifth consecutive top 10 album.
5 Jun 1970
Claus Norreen, from Danish eurodance group Aqua, who scored the 1997 UK No.1 single 'Barbie Girl' a song that topped the charts worldwide.
5 Jun 1965
Stefan Schnfeldt, bassist with alternative Swedish rock band The Wannadies who had the 1996 UK No. 18 single, 'You And Me Song'.
5 Jun 1964
Maggie Dunne, vocals, guitar from English alternative rock group We've Got A Fuzzbox And We're Gonna Use It who had the 1989 UK No.11 single 'International Rescue'.
5 Jun 1956
Kenneth Bruce "Kenny G" Gorelick, American saxophonist. He is the biggest-selling instrumental musician of the modern era with global sales totaling more than 75 million records.
5 Jun 1956
Richard Butler, singer with English rock band The Psychedelic Furs. Film director John Hughes used their song 'Pretty in Pink' for his 1986 movie of the same name.
5 Jun 1952
Nicko McBrain, drummer with English heavy metal band
Iron Maiden
, who had the 1982 UK No.1 album The Number Of The Beast, and the 1991 UK No.1 single 'Bring Your Daughter ...To The Slaughter'.
Iron Maiden
have sold over 100 million copies of their albums worldwide.
5 Jun 1948
Frank Eslersmith, keyboards for the Australian soft rock band Air Supply in the 1970s and during the 1980s. Air Supply scored the 1980 UK No.11 single 'All Out Of Love' and the 1981 US No.1 single 'The One That You Love'. Eslersmith died of pneumonia on March 1st 1991.
5 Jun 1947
American avant-garde artist Laurie Anderson, who scored the 1981 UK No.2 single 'O Superman', after it was championed by British DJ
John Peel
.
5 Jun 1947
English musician and songwriter
Tom Evans
, from
Badfinger
, who scored the 1970 UK No.4 and US No.7 single 'Come And Get It'. In November 1969, the Iveys changed their name to
Badfinger
, and
Paul McCartney
gave the group a boost by offering them his song 'Come and Get It', which he produced for the band. With Pete Ham he wrote 'Without You' first released on their 1970 album No Dice. The song has been recorded by over 180 artists and versions released as singles by Harry Nilsson and
Mariah Carey
became international best-sellers. Evans committed suicide on 19th November 1983.
5 Jun 1946
Freddie Stone, guitar, Sly and the Family Stone who had the 1968 US No.1 singles 'Everyday People', the 1971 US No.1 'Family Affair' and the 1971 US No.1 album There's a Riot Goin' On.
5 Jun 1943
American bass guitarist, singer, songwriter Michael Davis, from American rock band MC5 (Motor City 5) who formed in 1964. Best known for their energetic live performances, one of which was recorded as their 1969 debut album Kick Out the Jams. Davis died of liver failure at the age of 68 on Feb 17th 2012.
5 Jun 1941
Floyd Butler, vocalist with The Friends Of Distinction, who had a 1969 US No.3 single with 'Grazing In The Grass'. Died of a heart attack on 29 April 1990.