June 7th: The Biggest Music Headlines
Scroll down the page to see all the music headlines, stories and events for June 7 throughout music history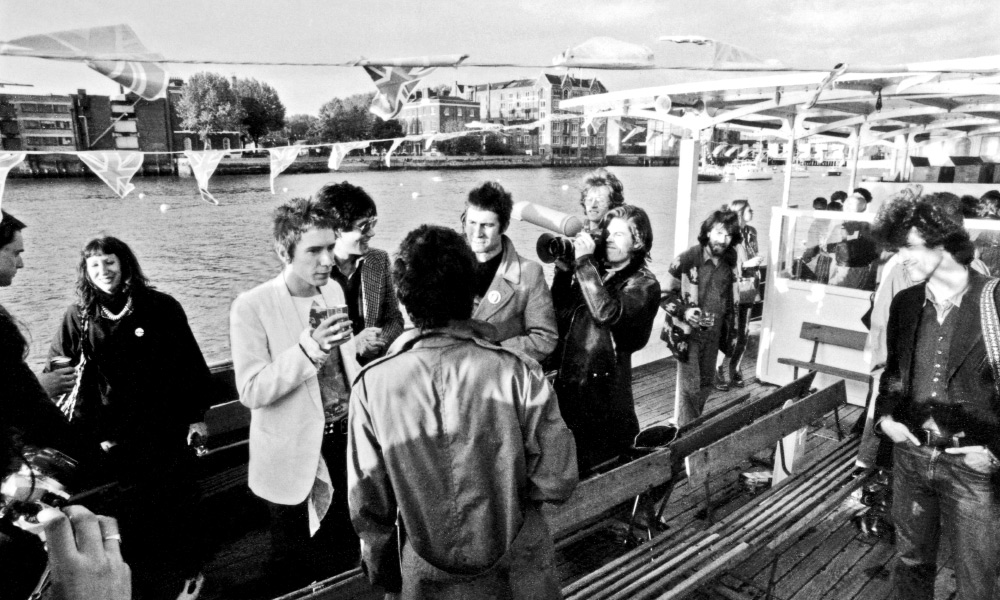 The Sex Pistols Throw A Raucous Riverboat Party
On this day in music, June 7, 1977, amid Queen Elizabeth II's Silver Jubilee celebrations, the Sex Pistols threw a party aboard a boat called The Queen Elizabeth, inviting friends, journalists, and a film crew to sail along London's River Thames. The nautical fête, which took place two days before a royal river procession, was a cheeky promotion for the punk pioneers' new single, "God Save the Queen." As the sun went down and the boat floated near the Houses of Parliament, the band fired up their amps and performed "Anarchy in the UK," followed by "God Save the Queen," "No Feelings," and "Pretty Vacant." Upon docking, the band and their fellow partygoers were met by police.
In 1975, Elton John's ninth studio album, Captain Fantastic and the Brown Dirt Cowboy made US sales and chart history as the first LP to be certified gold before its release date, as well as the first album to debut at No.1 on the Billboard 200. The highly-anticipated album, which detailed the artist and his lyricist (Bernie Taupin)'s rise to fame, featured the deeply personal hit "Someone Saved My Life Tonight."
In 1963, The Rolling Stones released their debut single, "Come On," in the UK. The song, which reached No.21 on the Official Charts, was a cover of a Chuck Berry tune, while the B-side was a rendition of Willie Dixon's "I Want to Be Loved."
In 1969, Blind Faith – a supergroup comprised of Eric Clapton, Ginger Baker, Steve Winwood, and Rick Grech – made their live debut at a free concert in London's Hyde Park.
In 1969, the first episode of The Johnny Cash Show premiered live from Nashville's Ryman Auditorium. Bob Dylan and Joni Mitchell were both guests.
In 1997, roughly two weeks after topping the chart in the US, Hanson hit No.1 in the UK with "MMMBop." The trio of teenage brothers went on to top the charts in 27 countries, making "MMMBop" one of the biggest debut singles of all time.
Looking for more things that happened on this day in music?
Keep scrolling for all of the headlines for June 7.
BORN ON JUNE 7:
1917: Dean Martin
1940: Tom Jones
1958: Prince
1966: Eric Kretz (Stone Temple Pilots)
1967: Dave Navarro (Janes Addiction)
1989: Dave Bayley (Glass Animals)
1990: Iggy Azalea
1991: Fetty Wap
1993: George Ezra
Looking for more artists born on this day?
Keep scrolling for all of our June 7 birthdays.
---
What to find another day?
---
June 7th
7 Jun 2022
Liam Gallagher
was at No.1 on the UK chart with his third solo studio album C'mon You Know. It was preceded by the lead single 'Everything's Electric', co-written by Dave Grohl, which charted at No.18 on the UK Singles Chart, becoming Gallagher's first solo single to reach the UK Top 20. C'mon You Know became Gallagher's fourth solo album to debut at No. 1 on the UK Albums Chart.
7 Jun 2015
Sir
Elton John
lost his cool during a performance at Gloucester's Kingsholm Stadium in England after he likened a steward to Hitler as she tried to stop crowds from surging forward during a gig. In an expletive-laden rant, John went on to say it was "not China" and he picked out a female steward, telling her: "You put a uniform on and you think you're Hitler - well you're not."
7 Jun 2012
Bob Welch, an early member of
Fleetwood Mac
who enjoyed a successful solo career with hits such as 'Ebony Eyes,' was found dead after an apparent suicide at home in Nashville. He was 66. Welch was part of Fleetwood Mac in their early years from 1971 to 1974 and worked on such albums as Future Games and Bare Trees.
7 Jun 2010
Former Stereophonics drummer and BBC Radio Wales presenter Stuart Cable, was found dead at him home near Aberdare in Wales aged 40. His new band Killing for Company had been due to appear at the Download rock festival at Donington Park in a few days time. Cable had also been presenting a Rock show on BBC Radio Wales.
7 Jun 2010
Eagles
guitarist Joe Walsh was granted a restraining order against an elderly neighbor who allegedly threatened to kill him. The man was also ordered to pay more than $1,500 in legal fees.
7 Jun 2007
The funeral of guitarist, singer
Bo Diddley
took place in Gainesville, Florida. Many in attendance chanted "Hey
Bo Diddley
" shortly after family members had passed by his coffin as a gospel band played
Bo Diddley
's music. At the service, they presented a floral tribute in form of his trademark square guitar.
7 Jun 2002
Virgin Records announced they had dropped Victoria Beckham after her debut solo album, which cost over £3 million ($5.1 million) to make, had sold only 50,000 copies.
7 Jun 1998
Songwriter Wally Gold died in a New Jersey hospital aged 70. Wrote 'It's My Party' hit for Lesley Gore and 'It's Now or Never', hit for
Elvis Presley
. Member of late 50s group The Four Esquires, produced Kansas & Gene Pitney.
7 Jun 1997
Hanson started a three-week run at No.1 on the UK singles chart with 'MMMbop'. Originally called The Hanson Brothers, lead singer Zak Hanson was just 13-years-old at the time of the hit. One of the biggest debut singles of all time; reaching No.1 in 27 countries.
7 Jun 1997
Oasis
guitarist Noel Gallagher played a five-song set at the Tibet Freedom Concert, Downing Stadium in New York City.
U2
, Patti Smith and
Radiohead
also appeared at the concert.
7 Jun 1995
Radiohead
guitarist Jonny Greenwood was admitted to hospital after his ear was leaking blood. The problem was diagnosed as his arm movement from continuous guitar playing.
7 Jun 1987
David Bowie
played a concert in West Berlin in front of the Reichstag with the speakers pointing towards the nearby Berlin Wall where thousands of young East Berliners stood and listened.
7 Jun 1977
Led Zeppelin
played the first of six sold out nights at Madison Square Garden, in New York City during their 11th and final North American tour. Playing a 3 hour set, tickets cost $8.50 - $10.50.
7 Jun 1977
The
Sex Pistols
held a party on a boat as it sailed down The River Thames in London. The Pistols performed 'Anarchy In The UK' outside The Houses Of Parliament resulting in members from the party being arrested when the boat docked later that day.
7 Jun 1975
Elton John
's ninth studio album Captain Fantastic And The Brown Dirt Cowboys, went to No.1 on the US album chart, the first album ever to enter the US chart at No.1. (where it stayed for seven weeks). Captain Fantastic is a concept album that gives an autobiographical glimpse at the struggles John (Captain Fantastic) and Taupin (the Brown Dirt Cowboy) had in the early years of their musical careers in London.
7 Jun 1969
The Who
's fourth album, 'Tommy' album entered the UK chart, peaking at No.2. One of two full-scale rock operas from
The Who
(the other being the 1973 'Quadrophenia'). The double album tell's a loose story about a "deaf, dumb and blind boy" who becomes the leader of a messianic movement, Tommy was the first musical work to be billed overtly as a rock opera.
7 Jun 1969
British supergroup Blind Faith, featuring
Eric Clapton
,
Ginger Baker
, Rick Grech and Steve Winwood made their live debut at a free concert in London's Hyde Park. Their only album release provoked controversy because the cover featured a topless pubescent girl, holding a silver space ship which some perceived as a phallic symbol. The US record company issued it with an alternative cover which showed a photograph of the band on the front. Rumours about the girl's relationship to the band fuelled the controversy; among them were that she was a groupie kept as a slave by the band members.
7 Jun 1969
Bob Dylan
and
Joni Mitchell
both appeared on the first ABC TV
Johnny Cash
Show from Ryman Auditorium in Nashville. Dylan sang I Threw It All Away and Living The Blues and duetted with
Johnny Cash
on Girl From The North Country.
7 Jun 1964
During their first ever US tour The
Rolling Stones
were booed off stage at a gig in San Antonio, Texas. Some performing Monkeys who had been the act on before the Stones were brought back on stage for another performance.
7 Jun 1964
During a world tour,
The Beatles
flew from Amsterdam to Hong Kong. When the plane stopped to refuel in Beirut, police turned firefighting foam on hundreds of fans who had invaded the runway at the airport.
7 Jun 1963
The
Rolling Stones
released their debut single, 'Come On'. Recorded the previous month, the track was originally written and released by
Chuck Berry
in 1961. The B-side was also a cover version, Willie Dixon's 'I Want to Be Loved'. The single reached No.21 in the UK chart.
Born on this day in music
7 Jun 1993
English singer-songwriter George Ezra. His 2014 hit single 'Budapest' reached the top 10 in numerous countries and his debut studio album Wanted on Voyage reached No.1 in the UK and was the third best-selling album of 2014 in the UK.
7 Jun 1991
American rapper Fetty Wap, (Willie Maxwell II). His debut single 'Trap
Queen
', reached No.2 on the US Billboard Hot 100 chart in May 2015 and his eponymous debut studio album peaked at No.1 on the US chart.
7 Jun 1990
Iggy Azalea Australian singer who scored the 2014 US No.1 single 'Fancy'.
7 Jun 1989
Dave Bayley lead vocalist for Glass Animals. Their song 'Heat Waves' reached No.1 in Australia in February 2021 and eventually reached No.1 in the US Billboard Hot 100 and No.5 on the UK Singles Chart. At the 2022 Brit Awards, Glass Animals were nominated for two Brit Awards (Best British Rock Act and 'Heat Waves' for Best British Single).
7 Jun 1985
Charlie Simpson, guitar, vocals, from English pop rock band Busted. Formed in 2000, the band had four UK No.1 singles, and released two studio albums - Busted (2002) and A Present for Everyone (2003) - before disbanding in January 2005.
7 Jun 1967
David Navarro, American guitarist, singer-songwriter, and actor, best known as a founding member of Jane's Addiction, (1991 UK No.34 single 'Been Caught Stealing'), and as a former member of
Red Hot Chili Peppers
from 1993 - 1998. (1994 UK No.9 single 'Give It Away'). Also worked with
Alanis Morissette
on her album Jagged Little Pill and the band Deconstruction and The Panic Channel.
7 Jun 1966
Eric Kretz, American musician, producer and drummer with Stone Temple Pilots. Along with lead vocalist Scott Weiland, Kretz wrote the lyrics to the Grammy Award-winning hit 'Plush' off Stone Temple Pilots 1992 debut album Core.
7 Jun 1962
American drummer Michael Cartellone the former drummer of Damn Yankees. He has also worked with John Fogerty, Peter Frampton,
Freddie Mercury
, Cher, Adrian Belew and Lynyrd Skynyrd.
7 Jun 1958
Prince
Rogers Nelson, the American singer-songwriter, multi-instrumentalist, and actor. He produced ten platinum albums and thirty Top 40 singles during his career including the 1984 US No.1 & UK No.4 single 'When Doves Cry'. His releases have sold over 80 million copies worldwide. He won seven Grammy Awards, a Golden Globe, and an Academy Award. Prince died on April 21, 2016, aged 57 after being found unresponsive, in an elevator at Paisley Park his Minnesota home.
7 Jun 1957
Paddy McAloon, English singer-songwriter with Prefab Sprout who had the 1988 UK No.7 single 'The King Of Rock 'N' Roll'. McAloon has written songs covered by
Kylie Minogue
, Jimmy Nail, The Zombies, Lisa Stansfield and Snow Patrol.
7 Jun 1946
English record producer and songwriter Phil Wainman noted for his work with Sweet, XTC, Dollar, Mud, and the Bay City Rollers. His greatest chart success was the production of 'I Don't Like Mondays' the 1979 hit by the Boomtown Rats.
7 Jun 1944
Clarence White, American bluegrass and country guitarist and singer, who was a member of the bluegrass ensemble the Kentucky Colonels and The Byrds. White also worked as a session musician, appearing on recordings by The Everly Brothers, Joe Cocker, Ricky Nelson, The
Monkees
, Randy Newman, Gene Clark, Linda Ronstadt, Arlo Guthrie, and Jackson Browne amongst others. White died on July 14th 1973.
7 Jun 1944
American drummer Melvin Parker. He and his brother, saxophonist Maceo Parker, were key members of
James Brown
's band. Parker was the drummer on three of Brown's recordings: 'Out of Sight,' 'Papa's Got A Brand New Bag,' and 'I Got You (I Feel Good).' Parker died on 3 December 2021.
7 Jun 1940
Thomas Woodward, (Tom Jones), Welsh singer who has sold over 100 million records. Scored the 1965 UK No.1 and US No.10 single 'It's Not Unusual' plus over 20 other UK and US Top 40 hit singles. Jones was awarded an OBE in 1999 and received a knighthood from
Queen
Elizabeth II for "services to music" in 2006. From 2012 to 2015 Jones was one of the four coaches on the BBC television talent show The Voice UK.
7 Jun 1917
Dean Martin, American singer, actor, comedian, and film producer, nicknamed the "King Of Cool". He was a member of the Rat Pack and the host of the television variety program The Dean Martin Show (1965–1974) and The Dean Martin Celebrity Roast (1974–1985).Hits include t 1956 UK & US No.1 single 'Memories Are Made Of This' and 'Everybody Loves Somebody'. He died December 25th 1995.