March 1st: The Biggest Music Headlines
Scroll down the page to see all the music headlines, stories, and events for March 1 throughout music history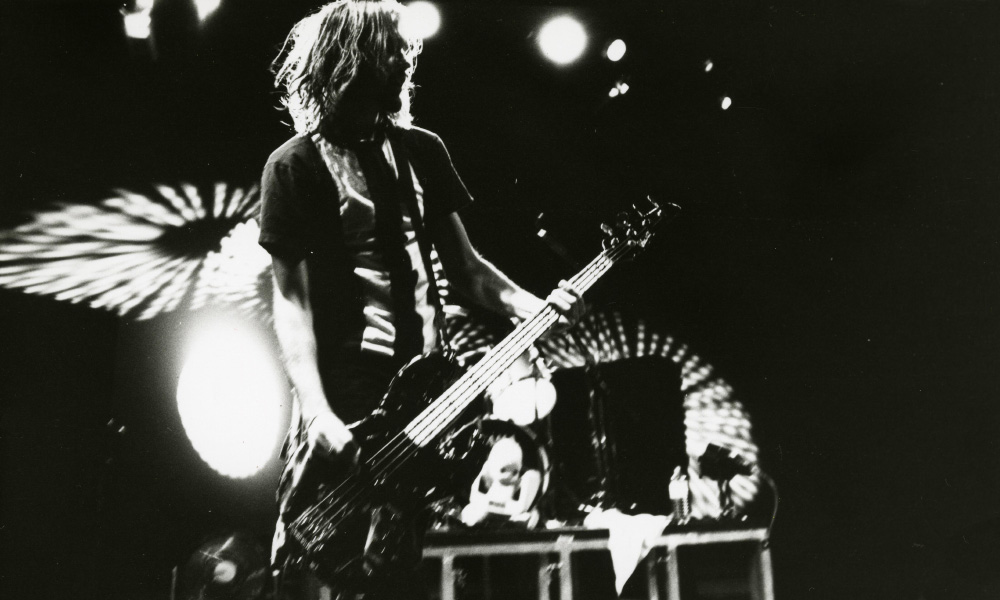 Nirvana Play Their Final Concert
On this day in music, March 1, 1994, Nirvana played their final concert. The climax of the band's European tour, the gig took place in Germany at Munich's Terminal Einz, an aircraft hangar. Augmented by future Foo Fighter Pat Smear on guitar, Nirvana began the concert with a version of The Cars' "My Best Friend's Girl" but the 23-song gig was plagued by sound problems; at one point, a brief power cut in the middle of their 1992 hit "Come As You Are" resulted in them stopping the song and re-starting it. The following month, on April 5th, the group's leader Kurt Cobain took his own life.
In 1997, David Bowie sold "Bowie Bonds" on the US Stock Exchange, which were asset-backed securities that raised money from his back catalog royalties. They were purchased for $55m by Prudential Insurance Company of America, which allowed the singer to buy back some of his old songs owned by his ex-manager Tony Defries.
In 1975, The Eagles topped the US singles chart with "Best Of My Love," their first of five US No.1s and the third single from their On The Border album. The lyrics, written in a booth in De Tana's restaurant in West Hollywood, were inspired by singer/co-writer Don Henley's breakup with his then-girlfriend Suzannah Martin.
In 1990, Janet Jackson opened her 120-date Rhythm Nation world tour at Florida's Miami Arena. The show controversially featured a live panther on stage but it was later dropped from the show after crowd safety and animal welfare concerns.
In 1961, Elvis Presley signed an initial five-year movie deal with Paramount producer Hal Wallis. His contract allowed him to make films for other studios and, between 1956 and 1972, he starred in 31 movies and two feature-length documentaries.
In 1995, R.E.M.'s drummer Bill Berry suffered a brain aneurysm while on stage at the Patinoire Auditorium in Lausanne, Switzerland during the band's Monster tour, their first in six years. After emergency surgery, he recovered to resume touring but quit the band two years later.
In 1968, Elton John released his debut single "I've Been Loving You" on the Philips label. It was self-written but the singer generously credited his new lyricist Bernie Taupin, whom he began collaborating with the year before, to give him a share of the publishing royalties. Withdrawn shortly after its release, the song didn't chart, but in 1976 became a Top 10 Canadian hit under the title "Loving You Baby" for the Ontario-based band, Wednesday.
Looking for more things that happened on this day in music?
Keep scrolling for all of the headlines for March 1.
BORN ON MARCH 1:
1904: Glenn Miller
1927: Harry Belafonte
1928: Willie Mitchell (Producer)
1944: Roger Daltrey (The Who)
1958: Nik Kershaw
1973: Ryan Peake (Nickelback)
1987: Kesha
1994: Justin Bieber
Looking for more artists born on this day?
Keep scrolling for all of our March 1 birthdays.
---
What to find another day?
---
March 1st
1 Mar 2019
English blues and rock singer and musician Paul Williams died age 78. He joined Zoot Money's Big Roll Band on bass and vocals, alongside the guitarist Andy Summers. He then replaced John McVie in John Mayall & the Bluesbreakers. He later worked with the progressive rock group Tempest.
1 Mar 2019
Country Music Hall of Fame member Fred Foster died age 87. He is credited as producer behind all of
Roy Orbison's
biggest hits including 'Oh, Pretty Woman', 'Only the Lonely', and 'Crying' and also produced major hits for Dolly Parton, Willie Nelson, Ray Stevens and Kris Kristofferson.
1 Mar 2016
76-year-old
Ginger Baker
posted on his blog that he had cancelled all of his scheduled shows for the year and was going into immediate retirement. The former drummer for
Cream
and Blind Faith revealed that his doctor had just diagnosed him with serious heart problems, causing him to announce all forthcoming shows.
1 Mar 2009
Kelly Clarkson went to No.1 on the UK singles chart with 'My Life Would Suck Without You'. US singer Clarkson won American Idol in 2000 and became the only American Idol contestant to have topped the UK charts.
1 Mar 2004
Michael Jackson
unveiled a new website, www.mjjsource.com. The site featured a celebration of his music career plus news on his current criminal trial, including short biographies of his attorneys and a calendar listing upcoming court dates.
1 Mar 2001
Sean 'Puffy' Combs became the star witness of his own defence in a New York court claiming he didn't have a gun during a shooting in a New York club. The singer claimed he thought he was being shot at.
1 Mar 1997
A Motley Crue fan who claimed his hearing had been irreparably damaged after a show in New Jersey had his lawsuit thrown out of court. The judge told Clifford Goldberg who had sat near the front of the stage, knew the risk he was taking.
1 Mar 1997
'Bowie Bonds' were issued on the US Stock Exchange. Linked to
David Bowie
's back catalogue albums with money earned on the bonds via interest from royalties, investors could expect to make an 8% profit in about 10 years.
1 Mar 1995
During a gig at the Patinoire Auditorium in Lausanne, Switzerland,
R.E.M.
drummer Bill Berry collapsed on stage from a ruptured brain aneurysm. He recovered and later re-joined the band.
1 Mar 1995
Bruce Springsteen
's 'Streets of Philadelphia' won three Grammys for Song of the Year, Best Male Vocal Performance and Best Rock Song. The track was featured in the film Philadelphia (1993), an early mainstream film dealing with HIV/AIDS which stars Tom Hanks and Denzel Washington.
1 Mar 1994
Nirvana
played their final ever concert when they appeared at The Terminal Einz in Munich, Germany. The 3,000 capacity venue was a small Airport Hanger. The power went off during the show so they played an impromptu acoustic set including a version of The Cars 'My Best Friend's Girl.'
1 Mar 1991
Frank Smith from Air Supply died of pneumonia in Melbourne, Australia. (1980 UK No.11 single 'All Out Of Love', 1981 US No.1 single 'The One That You Love').
1 Mar 1990
Janet Jackson
played the first night on her 120-date Rhythm Nation world tour at the Miami Arena in Florida. As part of the show Jackson's had a live panther on-stage, but after concerns were raised over safety of the crowds and several incidents of the panther urinating on the stage Jackson axed the cat from the show in the summer leg of the tour.
1 Mar 1986
Mr Mister started a two week run at No.1 on the US singles chart with 'Kyrie', the group's second US No.1, a No.11 hit in the UK. Also the group's album 'Welcome To The Real World' went to No.1 on the US album chart.
1 Mar 1980
Blondie
were at No.1 on the UK singles chart with 'Atomic' the group's third UK No.1 single from their album 'Eat To The Beat'.
1 Mar 1979
Joy Division
appeared at The Hope & Anchor, Islington, London, England. Admission was 75p ($1.28).
1 Mar 1975
The
Eagles
went to No.1 on the US singles chart with 'Best Of My Love', the first of five US No.1's for the band. The song was included on their 1974 album On the Border and was released as the third single from the album. According to Don Henley, the lyrics were written while in a booth in Dan Tana's Restaurant close to the Troubadour in West Hollywood.
1 Mar 1974
Chris Difford placed an advert in a shop window saying: 'lyricist seeks musician for co-writing'. Glen Tillbrook answered the ad and the pair went on to form Squeeze and had hits with 'Cool for Cats', 'Up the Junction', 'Tempted', 'Labelled With Love', and 'Pulling Mussels (From the Shell)'.
1 Mar 1973
Pink Floyd
released their eighth studio album
The Dark Side Of The Moon
in the US. It remained in the US charts for 741 discontinuous weeks from 1973 to 1988, longer than any other album in history. After moving to the Billboard Top Pop Catalog Chart, the album notched up a further 759 weeks, and had reached a total of over 1,500 weeks on the combined charts by May 2006. With an estimated 45 million copies sold, it is Pink Floyd's most commercially successful album and one of the best-selling albums worldwide.
1 Mar 1969
Jim Morrison
of
The Doors
was charged with lewd and lascivious behaviour after showing his penis to the audience during a show in Miami. He was found guilty and sentenced to eight months hard labour. Morrison died in Paris while the sentence was on appeal.
1 Mar 1968
Elton John
's first single 'I've Been Loving You' was released on the Phillips label, with lyrics credited to Bernie Taupin (although John later admitted that he wrote the song by himself, giving Taupin credit as an effort to earn Taupin his first publishing royalties). The song didn't chart.
1 Mar 1967
Working at Abbey Road studios, London,
The Beatles
started recording a new
John Lennon
song
'Lucy in the Sky with Diamonds'
. The song was inspired by a drawing his 3 year-old son Julian returned home from school with one day. The picture, which was of a little girl with lots of stars, was his classmate - Lucy O'Donnell, who also lived in Weybridge, and attended the same school as Julian.
1 Mar 1961
Elvis Presley
signed a five-year movie deal with producer Hal Wallis. During his career, Elvis made 31 feature films and two documentary feature films.
1 Mar 1958
Buddy Holly
played the first of 25 dates on his only UK tour at the Trocadero, Elephant & Castle, London. Also on the bill was Gary Miller, The Tanner Sisters, Des O'Connor, The Montanas, Ronnie Keene & His Orchestra.
Born on this day in music
1 Mar 1994
Justin Bieber, Canadian singer. Bieber is the first artist to have seven songs from a debut album chart on the Billboard Hot 100. His 2009 debut single 'One Time' was a Top 30 hit in over 10 countries and in 2016, Bieber became the first artist to surpass 10 billion total video views on Vevo.
1 Mar 1987
Kesha Rose Sebert, (Kesha), 2009 US No.1 single with Flo Rida, 'Right Round', solo US No.1 single 'Tik Tok'. Her third studio album Rainbow went to No.1 on the US chart in 2017.
1 Mar 1985
American musician Melissa Reese known for her collaborations with Bryan "Brain" Mantia and as a member of Guns N' Roses who she joined in 2016 as the band's second keyboardist.
1 Mar 1973
Ryan Peake, guitarist from Canadian rock band, Nickelback who had the 2002 US No.1 & UK No. 4 single 'How To Remind You', and the 2001 album Silver Side Up. Nickelback is one of the most commercially successful Canadian groups, having sold more than 50 million albums worldwide.
1 Mar 1969
Dafydd Leuan, drummer with Welsh rock band Super Furry Animals. They have been described as "one of the most imaginative bands of our time" by Billboard and have released nine UK top 40 albums.
1 Mar 1969
Christina Bergmark, keyboards, vocals, with alternative Swedish rock band The Wannadies who had the 1996 UK No. 18 single, 'You And Me Song'.
1 Mar 1963
Rob Affuso from American heavy metal band Skid Row. The group achieved commercial success in the late 1980s and early 1990s, with its first two albums Skid Row (1989) and Slave to the Grind (1991) the latter of which reached No.1 on the Billboard chart.
1 Mar 1962
Peter Stephenson from Scottish electronic dance band The Shamen who had the 1992 UK No.2 single 'Ebeneezer Goode'.
1 Mar 1958
Nik Kershaw, English singer, songwriter, producer, who had the 1984 solo UK No.2 single 'I Won't Let The Sun Go Down On Me', as well as hits with 'Wouldn't It Be Good', 'Human Racing', 'The Riddle' and 'Don Quixote'. Kershaw appeared at the
Live Aid
in 1985 and has also penned a number of hits for other artists, including a UK No.1 single in 1991 for Chesney Hawkes, 'The One and Only'.
1 Mar 1946
Tony Ashton, English rock pianist, keyboardist, singer and composer. With Ashton Gardner & Dyke he had the 1971 UK No.3 single 'The Resurrection Shuffle'. He was a member of the Liverpool group The Remo Four (they backed
George Harrison
on his album Wonderwall Music). He also worked with Jerry Lee Lewis,
George Harrison
,
Eric Clapton
and
Paul McCartney
. Ashton died from cancer on 28 May 2001 at the age of 55.
1 Mar 1944
Mike D'Abo, singer, songwriter, who with Manfred Mann had the 1968 UK No.1 & US No.10 single 'Mighty Quinn'. He wrote 'Handbags & Gladrags' covered by Rod Stewart and Stereophonics. Also wrote 'Build Me Up A Buttercup' a 1968 hit for The Foundations.
1 Mar 1944
English singer and actor Roger Daltrey,
The Who
. They scored the 1965 UK No.2 single
My Generation
plus over 20 other UK hit singles, 16 US Top 40 singles, and the rock opera albums Tommy and Quadrophenia. Daltrey had the 1973 solo UK No.5 single 'Giving It All Away'.
The Who
are considered one of the most influential rock bands of the 20th century, selling over 100 million records worldwide. He and Pete Townshend received Kennedy Center Honors in 2008 and The George and Ira Gershwin Award for Lifetime Musical Achievement at UCLA in 2016.
1 Mar 1942
Jerry Fisher, from jazz-rock American music group Blood Sweat & Tears. They scored the 1969 US No.2 single 'Spinning Wheel', and the 1969 US No.12 single 'You've Made Me So Very Happy'. They had a US No.1 with their second album Blood, Sweat & Tears in 1968.
1 Mar 1928
American trumpeter, bandleader and producer Willie Mitchell. He was best known for his Hi Records label of the 1970s, which released albums by a large stable of popular Memphis soul artists, including Mitchell himself, Al Green, O. V. Wright, Syl Johnson and Ann Peebles. Mitchell died on 5 January 2010 from a cardiac arrest age 81.
1 Mar 1927
Harry Belafonte, US singer, who had the 1957 UK No.1 & US No.12 single with 'Mary's Boy Child' and a 1957 UK No.2 & US No.5 with 'Banana Boat Song'. He also scored over 15 US Top 40 albums, including the 1956 Calypso.
1 Mar 1904
American big-band musician, arranger, composer, and bandleader Glenn Miller. He was the best-selling recording artist from 1939 to 1943, leading one of the best-known big bands. In just four years Glenn Miller scored 23 No.1 hits. Miller's recordings include 'In the Mood', 'Moonlight Serenade', 'Pennsylvania 6-5000', and 'Chattanooga Choo Choo'. On December 15, 1944, while traveling to entertain US troops in France during World War II, Miller's aircraft disappeared in bad weather over the English Channel.