March 20th: The Biggest Music Headlines
Scroll down the page to see all the music headlines, stories, and events for March 20 throughout music history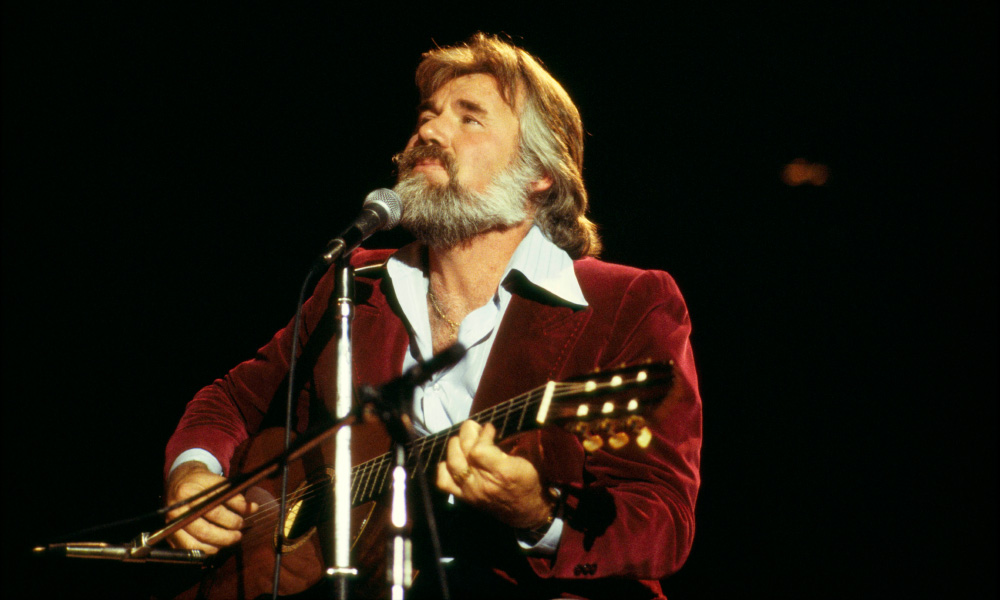 Country Music Star Kenny Rogers Dies
On this day in music, March 20, 2020, 81-year-old country music icon, Kenny Rogers, passed away. Born in Houston, TX, Rogers first tasted fame as part of the country-rock quintet, First Edition, which scored several US chart hits between 1967 and 1973. Launching his solo career in 1975, Rogers went on to score over 120 hit singles and sell more than 100 million records. His most famous songs were the US chart-toppers "Lady" and "Islands In The Stream," the latter a duet with Dolly Parton. He was inducted into the Country Music Hall of Fame in 2013.
In 1991, Michael Jackson signed the biggest deal in recording history when Sony Corp
awarded him with a $1 billion contract. The unprecedented agreement guaranteed the "Thriller" singer an advance payment of $5 million per album and also gave him a 25% royalty rate based on retail sales.
In 1993, Jamaican artist Shaggy (real name Orville Richard Burrell) saw his debut single "Oh Carolina" top the UK pop chart. The song was a cover of a 1960 Prince Buster-produced Ska hit by the Folkes Brothers. It was the first of four UK No.1s for the Kingston-born performer.
In 2017, Ed Sheeran reached the summit of the UK singles chart with "Shape of You." In December 2018, it became the first song to hit two billion streams on Spotify and to date is the most streamed song on the music platform.
In 1977, glam rock pioneers T.Rex played their final concert at The Locarno in Portsmouth, UK. The show closed out their Dandy In The Underworld tour, which featured support act The Damned. In September of that year, the band's leader, Marc Bolan, was killed in a car crash.
In 1960, Elvis Presley began his first recording session 18 days after his discharge from the US Army. The session took place in RCA Studios Nashville, where the Memphis singer cut the soon-to-be No.1 comeback single, "Stuck On You."
In 1982, Joan Jett And The Blackhearts topped the Billboard Hot 100 with "I Love Rock 'n' Roll," a cover of a 1975 single by the UK band The Arrows. It spent seven weeks at No. 1 and reached No. 4 in the UK.
Looking for more things that happened on this day in music?
Keep scrolling for all of the headlines for March 20.
BORN ON MARCH 20:
1917: Vera Lynn
1936: Lee "Scratch" Perry
1951: Carl Palmer (Emerson, Lake & Palmer)
1959: Richard Drummie (Go West)
1968: Fredrik Schnfeldt (The Wannadies)
1972: Alex Kapranos (Franz Ferdinand)
1976: Chester Bennington (Linkin Park)
Looking for more artists born on this day?
Keep scrolling for all of our March 20 birthdays.
---
What to find another day?
---
March 20th
20 Mar 2020
Kenny Rogers, singer-songwriter, record producer, actor, and entrepreneur died age 81. He charted more than 120 hit singles across various music genres, topping the country and pop album charts for more than 200 individual weeks in the US alone. He was voted the "Favorite Singer of All-Time" in a 1986 joint poll by readers of both USA Today and People.
20 Mar 2017
Ed Sheeran
was at No.1 on the UK singles chart with 'Shape of You'. The song peaked at No.1 on the singles charts of 34 countries, including the US Billboard Hot 100. In December 2018, the song became the first song to hit 2 billion streams and the most streamed song on Spotify. 'Shape of You' also won the Grammy Award for Best Pop Solo Performance at the 60th Annual Grammy Awards.
20 Mar 2015
American drummer A. J. Pero died from an apparent heart attack. He was a member of Twisted Sister and Adrenaline Mob. Adrenaline Mob's band members attempted but failed to wake Pero on their tour bus traveling from Baltimore to Poughkeepsie.
20 Mar 2002
The Daily Mail newspaper reported that Robbie Williams had become a priest. He was ordained via the Internet by the non-denominational Universal Ministries and officiated the wedding of Billy Morrison from rock band The Cult and Jennifer Holliday.
20 Mar 2001
Jon, Paul and Bradley from pop group S Club 7 were apprehended by police as they walked through Covent Garden, London, openly smoking a marijuana joint. They were taken to Charring Cross police station where they were held for four hours.
20 Mar 1997
UK police were investigating singer Mark Morrison after they discovered he had sent a friend to carry out his community service, a sentence he was given after being involved in a fight.
20 Mar 1993
Shaggy was at No.1 on the UK singles chart with 'Oh Carolina', the Jamaican singer's first of four UK No.1's.
20 Mar 1991
Eric Clapton
's four year old son, Conor, fell to his death from the 53rd story of a New York City apartment after a housekeeper who was cleaning the room left a window open. The boy was in the custody of his mother, Italian actress, Lori Del Santo and the pair were visiting a friend's apartment. Clapton was staying in a nearby hotel after taking his son to the circus the previous evening. The tragedy inspired his song 'Tears in Heaven'.
20 Mar 1991
Michael Jackson
signed a $1 billion (£0.6 billion) contract with Sony, the richest deal in recording history.
20 Mar 1990
Gloria Estefan's tour bus was rammed by a tractor-trailer on the way to a concert. Emilio Estefan and their son Nayib were injured; Gloria suffered a serious back injury, which required an operation two days later.
20 Mar 1982
Joan Jett And The Blackhearts started a seven week run at No.1 on the US singles chart with 'I Love Rock 'n' Roll', a No.4 hit in the UK. The song had been a B-side from 60s bands The Arrows.
20 Mar 1980
28 year- old Joseph Riviera held up the Asylum Records office in New York and demanded to see either Jackson Browne or the
Eagles
. Riviera wanted to talk to them to see if they would finance his trucking operation. He gave him-self up when told that neither act was in the office at the time.
20 Mar 1977
Lou Reed was banned from appearing The London Palladium in England because of his punk image.
20 Mar 1977
T Rex
played their final ever gig when they appeared at The Locarno in Portsmouth, England.
20 Mar 1976
Status Quo started a three-week run at No.1 on the UK chart with their third No.1 album Blue For You. The bands record label set up a deal with Levi Jeans, advertising in over 6,000 clothes shops to help promote the album.
20 Mar 1973
Slade were at No.1 on the UK singles chart with 'Com On Feel The Noize', the group's fourth UK No.1.
20 Mar 1971
At their own expense The
Rolling Stones
placed full page advertisements in all the UK's music papers disclaiming any connection with the release of the Decca album Stone Age, saying 'in our opinion the content is below the standard we try to keep.'
20 Mar 1971
Janis Joplin
started a two week run at No.1 on the US singles chart with her version of the Kris Kristofferson and Fred Foster song 'Me And Bobby McGee.' Joplin, who was a lover and a friend of Kristofferson's from the beginning of her career to her death, changed the sex and a few of the lyrics in her cover. Kristofferson states he did not write this song for her, but the song is associated with her - especially, he has said, in the line 'Somewhere near Salinas, Lord, I let her slip away.' Joplin died of a drug overdose the year before on 4th October, aged 27.
20 Mar 1970
David Bowie
and Angela Bowie were married at Beckenham Registry Office, London. The couple had one child, film director Duncan Jones. They divorced in 1980.
20 Mar 1969
John Lennon
married Yoko Ono in Gibraltar. They spent their honeymoon in Amsterdam campaigning for an international 'Bed-In' for peace. They planned another 'Bed-in' in the United States, but were denied entry. The couple then went to Montreal, and during a 'Bed-in' at the Queen Elizabeth Hotel recorded 'Give Peace a Chance'. Lennon also detailed this period in
The Beatles
'The Ballad of John and Yoko', recorded by Lennon and McCartney on April 14, 1969.
20 Mar 1968
Dave Dee, Dozy, Beaky, Mick and Tich were at No.1 on the UK singles chart with 'The Legend Of Xanadu', the group's only UK No.1.
20 Mar 1968
Eric Clapton
Neil Young
, Richie Furay and Jim Mesina, were arrested in Los Angeles for 'being at a place where it was suspected marijuana was being used.' Clapton was later found innocent, the others paid small fines.
20 Mar 1965
The first of a twice-nightly UK package tour kicked of at London's Finsbury Park Astoria featuring
Stevie Wonder
, The Miracles, Martha and the Vandellas, The
Supremes
and The
Temptations
.
20 Mar 1964
The
Temptations
released their debut album Meet the Temptations on the Gordy (Motown) label. The lineup on the cover features Eddie Kendricks, Melvin Franklin, Paul Williams, Otis Williams, and newest Temptation Davis (later David) Ruffin. Ruffin had just joined the act three months before this album was released, and actually only appears on 'The Way You Do The Things You Do'.
20 Mar 1964
The Beatles
appeared live on the UK television program Ready Steady Go!, miming to 'It Won't Be Long', 'You Can't Do That', and 'Can't Buy Me Love'. They were also presented with a special award from US magazine Billboard, in recognition of
The Beatles
having the top three singles on the chart simultaneously.
20 Mar 1961
Elvis Presley
started a two week run at No.1 on the US singles chart with 'Surrender', his fifth No.1 of the 60s. It also made No.1 in the UK. The song was based on the 1911 Italian song, 'Return To Sorrento.'
20 Mar 1960
Elvis Presley
started his first recordings since being discharged from the US Army. A 12 hour session in a Nashville recording studio produced his next No.1 single, 'Stuck On You'. Scotty Moore and Bill Black, who had quit Presley's touring band in 1957, were in the studio with him for the last time.
Born on this day in music
20 Mar 1996
British rapper Russ Millions (formerly Russ, Russ Splash or RussMB). In December 2018 he released his single 'Gun Lean' and the track peaked at No.9 on the UK Singles Chart, becoming the first UK drill track to reach the top 10. Russ Millions has also collaborated with Buni, Taze, Tion Wayne, Digga D, Pressa, LD and Dappy.
20 Mar 1976
Chester Bennington
, American singer, songwriter with
Linkin Park
who had the 2002 US No.2 & UK No.4 single 'In The End', and the 2002 US No.2 & 2001 UK No.4 album Hybrid Theory. He was also lead vocalist for Dead by Sunrise, Grey Daze, and Stone Temple Pilots. Bennington took his own life on July 20, 2017.
20 Mar 1972
Alex Kapranos, singer with Scottish indie rock band Franz Ferdinand, who were the winners of the 2004 Mercury Music Prize for their self-titled debut album.
20 Mar 1972
Shelly Poole, singer, songwriter, Alisha's Attic who had the 1996 UK No.14 'I Am I Feel'. Now a solo artist, who released the 2006 album Hard Time For The Dreamer. Poole is the daughter of 60s musician Brian Poole.
20 Mar 1968
Fredrik Schnfeldt, with alternative Swedish rock band The Wannadies who had the 1996 UK No. 18 single, 'You And Me Song'.
20 Mar 1967
David Shuttleworth, drummer with English rock band Terrorvision who had the 1999 UK No.2 single 'Tequila'. Terrorvision were originally known as The Spoilt Bratz.
20 Mar 1961
Slim Jim Phantom, (James McDonnell), drummer with The Stray Cats who spearheaded the neo-rockabilly movement of the early 1980s. They scored the 1980 UK No.9 single 'Runaway Boys', and the 1983 US No.3 single 'Stray Cat Strut'. He has also worked with Dead Men Walking with Kirk Brandon, Mike Peters and Captain Sensible.
20 Mar 1959
Ian Rossiter, drummer with British hip hop/electronic dance group Stereo MCs who had the 1992 UK No.12 single 'Step It Up'.
20 Mar 1959
Richard Drummie from Go West who had the 1985 UK No.5 single 'We Close Our Eyes' and hits with 'Call Me' and 'King of Wishful Thinking'. Go West were named Best British Newcomer at the 1986 Brit Awards.
20 Mar 1956
Fonso Martin, from roots reggae group Steel Pulse who had the 1978 UK hit single 'Prodigal Son'. Steel Pulse were the first non-Jamaican act to win the Grammy Award for Best Reggae Album.
20 Mar 1951
English drummer and percussionist Carl Palmer who was a member of Atomic Rooster, (1971 UK No.4 single 'The Devil's Answer'). Emerson Lake and Palmer, (1977 UK No.2 single 'Fanfare For The Common Man'). Asia, (1982 US No.4 single 'Heat Of The Moment').
20 Mar 1951
American blues rock guitarist and singer Jimmie Vaughan who was a member of the Fabulous Thunderbirds. He is the older brother of the late guitarist
Stevie Ray Vaughan
. The Fabulous Thunderbirds had two hit songs of the 1980s, 'Tuff Enuff' and 'Wrap It Up.'
20 Mar 1940
American guitarist Glenn Schwartz, the original guitar player of the James Gang. He later joined the Los Angeles based blues band Pacific Gas & Electric and in 1970, scored a national top 20 hit with the song 'Are You Ready?' Schwartz died on November 2, 2018, at the age of 78.
20 Mar 1937
Jerry Reed, US country guitarist who worked with Chet Atkins, Waylon Jennings, Willie Nelson and
Elvis Presley
. His signature songs included 'Guitar Man,', 'East Bound and Down' (the theme song for the 1977 blockbuster Smokey and the Bandit, and 'She Got the Goldmine (I Got the Shaft)'. Reed died on 1 Sept 2008.
20 Mar 1936
Lee 'Scratch' Perry (born Rainford Hugh Perry), musician and producer who has been influential in the development and acceptance of reggae and dub music in Jamaica and overseas. He employs numerous pseudonyms, including Pipecock Jackxon and The Upsetter. He died from an unspecified illness, on 29 August 2021 aged 85.
20 Mar 1935
American drummer and vocalist Sam Lay. He began recording and performing with prominent blues musicians, including Willie Dixon, Howlin' Wolf, John Lee Hooker, Junior Wells,
Bo Diddley
, Earl Hooker and Muddy Waters. In the mid-1960s, Lay joined the Paul Butterfield Blues Band.
Bob Dylan
used Lay as his drummer when he introduced electric rock at the Newport Folk Festival in 1965. Lay also recorded with Dylan, notably on the album Highway 61 Revisited.
20 Mar 1917
Vera Lynn, English singer, songwriter and actress whose musical recordings and performances were enormously popular during the Second World War. In 2009 she became the oldest living artist to make it to No. 1 on the British album chart, at the age of 92. Lynn died on 18 June 2020 age 103 at her home in East Sussex, England.