March 25th: The Biggest Music Headlines
Scroll down the page to see all the music headlines, stories, and events for March 25 throughout music history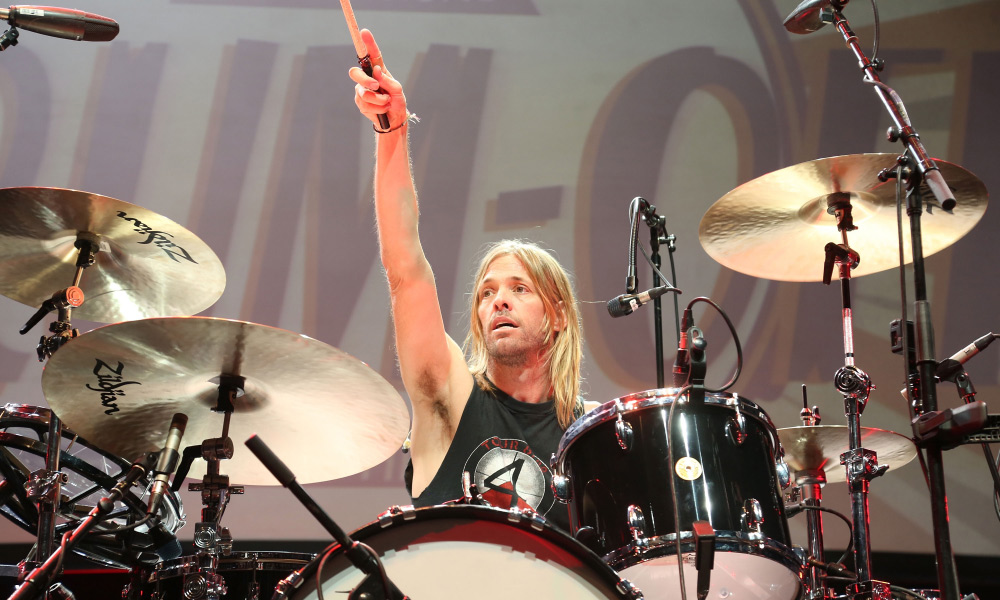 Foo Fighters Fans Mourn Drummer Taylor Hawkins
On this day in music, March 25, 2022, fans around the globe were stunned to learn of the sudden death of Taylor Hawkins, the Foo Fighters's charismatic drummer. The 50-year-old musician, who had complained of chest pains, was in Bogotá, Colombia for the Estéreo Picnic festival, where he and his bandmates were due to perform that evening. Originally from Texas, Hawkins drummed for Canadian singers Sass Jordan and Alanis Morrissette before joining Foo Fighters in 1997. The high-energy artist appeared on eight of the band's albums between 1999 and 2021 and in the years immediately preceding his death, played on records by Miley Cyrus, Elton John, and Ozzy Osbourne. Hawkins also cut three albums leading his own group, Taylor Hawkins and the Coattail Riders.
In 1969, John Lennon and Yoko Ono began the first of their two "Beds-in For Peace" protests, beginning with a week-long stint in The Amsterdam Hilton's Presidential Suite, where they answered questions from the press and promoted world peace. The second bed-in took place at Montreal's Queen Elizabeth Hotel.
In 2019, influential singer-songwriter Scott Walker died at the age of 76. Born Noel Scott Engel, he adopted his stage name when he moved to Los Angeles and co-founded the Walker Brothers in 1964. The trio based themselves in London, where they scored two No.1 hits: "Make It Easy On Yourself" and "The Sun Ain't Gonna Shine Any More." When the trio split in 1968, Walker established himself as a solo artist and producer.
In 1983, Motown Records celebrated its 25th anniversary with Motown 25: Yesterday, Today, Forever, a televised concert from the Pasadena Civic Auditorium in California. The event, which featured performances by some of the label's most iconic groups, included a one-off reunion by Diana Ross & The Supremes. Michael Jackson stole the show, however, with a performance of "Billie Jean" which featured him doing his famous "moonwalk" dance routine.
In 1972, folk-rock trio America topped the US Hot 100 with their debut single, "Horse With No Name." The song, which spent three weeks at No.1, was the first of two US chart-toppers by the London-based band; the other was 1975's "Sister Golden Hair."
In 2000, *NSYNC set a new world record by selling a million tickets in one day for a tour promoting their third album, No Strings Attached. The tour raked in $42.5 million.
In 1967, Los Angeles band The Turtles scored their sole No.1 on the Billboard Hot 100 with "Happy Together," which held steady at the top spot for three weeks.
Looking for more things that happened on this day in music?
Keep scrolling for all of the headlines for March 25.
BORN ON MARCH 25:
1931: Tom Wilson (Producer)
1942: Aretha Franklin
1947: Elton John
1969: Cathy Dennis
1975: Melanie Blatt (All Saints)
1975: Juvenile
1988: Ryan Lewis (Producer/DJ)
1988: Big Sean
1999: Iann Dior
Looking for more artists born on this day?
Keep scrolling for all of our March 25 birthdays.
---
What to find another day?
---
March 25th
25 Mar 2022
American drummer Taylor Hawkins died age 50. He had worked with
Alanis Morissette
as her touring drummer on her Jagged Little Pill tour. He joined
Foo Fighters
in 1997, and had a side project, Taylor Hawkins and the Coattail Riders, in which he played drums and sings. He was voted Best Rock Drummer in 2005 by the UK drumming magazine Rhythm. At Live Earth in 2007, Hawkins was part of SOS Allstars with Roger Taylor of
Queen
and Chad Smith of
Red Hot Chili Peppers.
25 Mar 2019
Scott Walker singer with The Walker Brothers died age 76. The US star found fame as a teen idol in The Walker Brothers, scoring hits with 'The Sun Ain't Gonna Shine Anymore' and 'Make It Easy On Yourself'. He lived in the UK from 1965 and became a British citizen in 1970. Walker began a solo career with 1967's Scott, moving toward an increasingly challenging baroque pop style on late '60s albums such as Scott 3 (1969) and Scott 4 (1969). As a record producer or guest performer, he worked with a number of artists including Pulp, Ute Lemper and Bat for Lashes.
25 Mar 2015
Sam Smith was at No.1 on the UK sinlges chart with 'Lay Me Down'. The lead single from his debut studio album In the Lonely Hour originally peaked at No.46 on the UK Singles Chart. This version featuring John Legend was recorded for the British charity telethon Comic Relief.
25 Mar 2010
The manager of pop star Justin Bieber was arrested after police claimed he failed to warn fans on Twitter about overcrowding at a shopping centre event. Police said they asked Scott Braun to tell fans through Twitter that Bieber would not be appearing because of fears over safety after hundreds turned up - resulting in five people being taken to hospital with minor injuries. Police said Mr Braun refused to send the message until 90 minutes later. He pleaded not guilty to charges including reckless endangerment related to November's event in Roosevelt Field Mall in a New York suburb.
25 Mar 2009
Dan Seals from England Dan & John Ford Coley died. They scored the 1976 US No. 2 & UK No. 26 single, 'I'd Really Love To See You Tonight.' Seals who died aged 61 was the younger brother of Seals & Crofts member Jim Seals. After the duo disbanded, Seals began a solo career in country music. Throughout the 1980s and into the early 1990s, he released 16 studio albums and charted more than 20 singles on the country charts. Eleven of his singles reached No.1.
25 Mar 2008
Richie Sambora was arrested in California on suspicion of drink driving. The 48 year-old
Bon Jovi
guitarist was arrested after a police officer noticed his black Hummer weaving in traffic lanes in Laguna Beach. He was ordered to appear in court on one count of driving under the influence.
25 Mar 2006
Buck Owens Jr, American singer and guitarist died. He pioneered the Bakersfield sound, a reference to Bakersfield, California. He scored twenty No.1 hits on the Billboard country music charts.
25 Mar 2005
Ozzy Osbourne
and his wife Sharon Osbourne were forced to flee their Buckinghamshire mansion after a blaze broke out as they slept. Ozzy and his wife were roused by a fire alarm and ran to safety in the garden, rescuing their pets as they escaped.
25 Mar 2002
The seven-year mystery of missing Manic Street Preachers guitarist
Richey Edwards
took a grisly twist when human feet were found near where he vanished in 1995.
25 Mar 2002
Bono from
U2
made a appearance at the air rage trial of
R.E.M.
guitarist Peter Buck, telling the court 'I came to court because Peter is actually famously known for being a peaceable person. I once had to twist his arm to get him to a boxing match'. Buck was later cleared of all charges. He had been accused of attacking two cabin staff and covering them in yoghurt, knocking over a trolley and trying to steal a knife.
25 Mar 2001
The first
Britney Spears
Pepsi TV commercial was aired on US television. Spears had signed a multi-million dollar deal with Pepsi for her forthcoming world tour.
25 Mar 2000
Former Bay City Rollers drummer Derek Longmuir was given 300 hours community service after being caught with a hoard of child pornography including 150 videos and 73 floppy disks.
25 Mar 2000
*NSYNC set a new world record after selling a million tickets in one day for the group's forthcoming tour, netting them over £25 million ($42.5 million).
25 Mar 1999
73-year-old Country music singer Ray Price was arrested in his Texas home for possession of marijuana. He was fined $200 after pleading no contest to the charges. According to Price in a 2008 interview, old friend Willie Nelson - no stranger to marijuana arrests - phoned and told him he'd just earned $5 million in free publicity with the drug bust.
25 Mar 1995
Pearl Jam
singer Eddie Vedder was rescued after a riptide carried him 250 feet offshore in New Zealand.
25 Mar 1990
Motley Crue's
Tommy Lee
was arrested for mooning at the audience during a gig in Augusta. Lee was charged with indecent exposure.
25 Mar 1989
Madonna
was at No.1 on the UK singles chart with 'Like A Prayer', the singers sixth UK No.1, also No.1 in the US. The song was accompanied by a highly controversial music video, which in 2005 was voted the "Most Groundbreaking Music Video of All Time" by viewers of
MTV
.
25 Mar 1986
Guns N' Roses signed a world-wide deal with Geffen Records. The band has now sold more than 100 million albums worldwide, their 1987 debut album, Appetite For Destruction has sold in excess of 28 million copies worldwide.
25 Mar 1983
25 Mar 1978
Bill Kenny, lead singer of The Ink Spots died. Had the UK No.10 single 'Melody Of Love.' 'The Gypsy' was their biggest chart success, staying at the No.1 position on the US chart for 13 weeks.
25 Mar 1972
America started a three week run at No.1 on the US singles chart with their debut hit 'Horse With No Name', it made No.3 in the UK. The group scored eight other US top 40 hits during the 70s.
25 Mar 1969
John Lennon
and Yoko Ono started their week long 'bed-in' in the presidential suite at The Amsterdam Hilton hotel. The couple invited the world's press into their hotel room every day, to talk about promoting world peace.
25 Mar 1968
After 58 episodes, the final Monkees TV show airs on NBC in the United States. Since its initial run, almost every major cable network has aired re-runs of the show, including a popular stint on CBS from 1969-1972.
25 Mar 1967
The
Rolling Stones
kicked off a three-week European tour in Orebro, Sweden. Arriving in Copenhagen for the tour the group were delayed after customs officers search all their luggage for drugs.
25 Mar 1967
The Turtles started a three week run at No.1 on the US singles chart with 'Happy Together'. The song was written by Garry Bonner and Alan Gordon, former members of a band known as The Magicians. The song had been rejected a dozen times before it was offered to the Turtles, and the demo acetate was worn out.
25 Mar 1967
The Who
and
Cream
made their U.S. concert debut at RKO 58th Street Theatre, New York City as part of a rock & roll extravaganza promoted by DJ Murray the K.
25 Mar 1967
Pink Floyd
played three gigs in 24 hours. The appeared at the Ricky Tick Club in Windsor, England, then the New Yorker Discotheque in Swindon and then played at the Shoreline Club in Bognor Regis (in the early hours 26 March).
25 Mar 1966
At a photo session at Bob Whitaker's studio in London,
The Beatles
posed in white coats using sides of meat with mutilated and butchered dolls for the cover of their next American album, Yesterday and Today. After advance copies were sent to disc jockeys and record reviewers, negative reaction to the cover photo was so strong Capitol recalled 750,000 copies from distributors to replace the cover. The total cost to Capitol to replace the cover and promotional materials was $250,000, wiping out their initial profit.
25 Mar 1965
Bobby Vee, Dusty Springfield, The Searchers, Heinz and The Zombies all appeared at The Odeon Cinema, Stockton, Cleveland.
25 Mar 1964
The Beatles
made their debut on UK TV show
Top Of The Pops
performing 'Can't Buy Me Love' and 'You Can't Do That.' The show had been recorded on March 19th.
25 Mar 1963
Johnny Cash
recorded the June Carter/Merle Kilgore song 'Ring Of Fire.' The song was originally recorded by June's sister Anita Carter, on her 1963 album Folk Songs Old and New as '(Love's) Ring of Fire'. Cash claimed he had a dream where he heard the song accompanied by 'Mexican trumpets'. It became the biggest hit of Johnny Cash's career, staying at No.1 on the US charts for seven weeks.
25 Mar 1958
Buddy Holly
appeared at The Gaumont Theatre in London, the final date on his only UK tour. Also on the bill was Gary Miller, The Tanner Sisters, Des O'Connor, The Montanas, Ronnie Keene & His Orchestra.
25 Mar 1958
Having been sworn in as Private 53310761 the previous day
Elvis Presley
received the regulation short back and sides haircut from army barber James Peterson. Presley would earn $78 per month as an army private.
Born on this day in music
25 Mar 1999
Rapper, singer, and songwriter Iann Dior. In 2020, he featured on 24kGoldn's single 'Mood', which peaked at No.1 on the Billboard Hot 100.
25 Mar 1988
American rapper Big Sean. His third studio album, Dark Sky Paradise, was released in 2015 and earned him his first No.1 album in the US. In 2017 his fourth studio album, I Decided, debuted at No.1 on the US Billboard 200 chart.
25 Mar 1988
American music producer, musician, and DJ Ryan Lewis. The Macklemore's and Lewis single 'Thrift Shop' reached No.1 on the US singles chart in 2013 and their second single, 'Can't Hold Us' also peaked at No.1, making Macklemore and Lewis the first duo in the chart's history to have their first two singles both reach the top of the US charts.
25 Mar 1975
American rapper and actor Juvenile, (Terry Gray) who had the 2004 US No.1 single feat Soulja Slim 'Slow Motion', and the 2006 US No.1 album 'Reality Check'.
25 Mar 1975
Melanie Blatt, singer from British girl group All Saints, who had the 1998 UK No.1 and US No.4 single 'Never Ever'. The group's debut album, All Saints (1997), went on to become the third best-selling girl group album of all time in the UK.
25 Mar 1974
British musician Finley Quaye. He won the 1997 Mobo Award for best reggae act, and the 1998 BRIT Award for Best Male Solo Artist.
25 Mar 1971
Michael McKeegan, bassist with alternative metal band from Northern Ireland Therapy? who had the 1993 UK No.9 single 'Screamager'.
25 Mar 1969
Cathy Dennis, singer, songwriter, (1991 US No.2 & UK No.5 single 'Touch Me All Night Long'). Co-wrote 'Can't Get You Out Of My Head' for
Kylie Minogue
and has also written songs recored by S Club 7, Kelly Clarkson, Brian Kennedy,
Celine Dion
, Ronan Keating,
Janet Jackson
and
Britney Spears
.
25 Mar 1966
American rock drummer Frank Ferrer best known as the drummer for Guns N' Roses with whom he has played, toured, and recorded since 2006. Ferrer was also a member of The Psychedelic Furs, Love Spit Love as well as The Beautiful.
25 Mar 1966
Canadian guitarist, singer, Jeff Healey. He lost his sight to retinoblastoma, a rare cancer of the eyes when he was eight months old, resulting in his eyes being surgically removed. Healey died of cancer on March 2nd 2008.
25 Mar 1960
Steve Norman, guitar, sax, with Spandau Ballet who became one of the most successful groups to emerge during the New Romantic era and have produced a number of international hits during the 80s including 'True', 'Gold' and 'Through the Barricades.'
25 Mar 1951
Maisie Williams, from German vocal group Boney M, who had the 1978 UK No.1 & US No.30 single 'Rivers Of Babylon' and with more than 150 million records sold, they are one of the best-selling artists of all time.
25 Mar 1949
Neil Jones, from Welsh rock group Amen Corner who had the 1969 UK No.1 single 'If Paradise Is Half As Nice' plus five other UK Top 40 hits.
25 Mar 1949
Canadian music producer and keyboardist Bob Ezrin best known for his work with Lou Reed, Alice Cooper,
Kiss
,
Pink Floyd
,
Deep Purple
, Peter Gabriel, Jane's Addiction, Dr. John, Nils Lofgren and Phish.
25 Mar 1947
Jack Hall from the Charlie Daniels Band, who had the 1979 US No.3 & UK No.14 single 'The Devil Went Down To Georgia'.
25 Mar 1947
Sir
Elton John
singer, songwriter, pianist, (Reginald Dwight), who had the 1971 UK No.7 single 'Your Song', the 1973 US No.1 single 'Crocodile Rock' along with seven other US No.1's. He had the biggest selling single of all time in 1997 with 'Candle In The Wind 97', plus has scored over 50 UK Top 40 hit singles. John has sold over 150m records worldwide. Elton and Bernie Taupin wrote the No.1 (with Kiki Dee) 'Don't Go Breaking My Heart' under the pseudonyms Ann Orson and Carte Blanche. Some of the aliases Sir Elton has used checking into hotels include, Prince Fooboo, Sir Humphrey Handbag, Lillian Lollipop, Lord Choc Ice, Lord Elpus, Binky Poodleclip and Sir Henry Poodle. Elton John's official nickname is Rocket Man.
25 Mar 1947
English singer-songwriter Duncan Browne, who had the 1972 UK No.23 single 'Journey'. Browne died of cancer on 28 May 1993 aged 46.
25 Mar 1942
American singer and songwriter
Aretha Franklin
, The Queen of Soul, who had the 1967 US No.1 & UK No.10 single 'Respect', the 1968 UK No.4 single 'I Say A Little Prayer' and the 1987 UK No.1 single with
George Michael
, 'I Knew You Were Waiting'. She scored over 15 other Top 40 hits and won 18 Grammys during her career. Franklin died on August 16, 2018 in Detroit at the age of 76 after being diagnosed with cancer in 2010.
25 Mar 1938
Hoyt Axton, US singer, songwriter and actor who wrote songs for
Elvis Presley
, Three Dog Night, ('Joy to the World'), John Denver,
Ringo Starr
and
Glen Campbell
. He had his own hits with 'When The Morning Comes' and 'Flash Of Fire'. Acting roles included Bionic Woman and McCloud. Axton died of a heart attack on October 26th 1999, aged 61.
25 Mar 1934
American singer-songwriter of rockabilly and pop music Johnny Burnette who had the 1961 UK No.3 & US No.8 single 'Your Sixteen'. He was killed on 14 August 1964 aged 30 when his unlit fishing boat was struck by an unaware cabin cruiser on Clear Lake, California. The impact threw him off the boat, and he drowned.
25 Mar 1931
American record producer Tom Wilson. He worked with various US acts including
Bob Dylan
(The Times They Are a-Changin', Another Side of
Bob Dylan
, and Bringing It All Back Home),
Frank Zappa
(Freak Out!),
Simon And Garfunkel
(Wednesday Morning, 3 A.M.) and The Velvet Underground, (White Light/White Heat). He died on September 6, 1978.