March 26th: The Biggest Music Headlines
Scroll down the page to see all the music headlines, stories, and events for March 26 throughout music history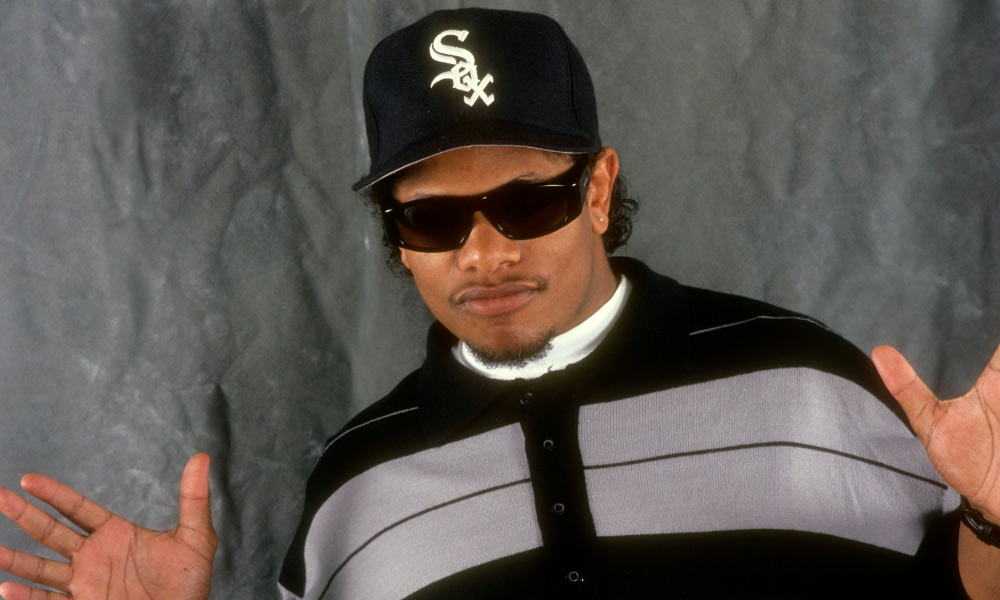 N.W.A. Member And Ruthless Records Founder Easy E Dies
On this day in music, March 26, 1995, 31-year-old rapper Eazy-E, who rose to fame as a member of the genre-defining West Coast group N.W.A., died of complications from AIDS in Los Angeles. Born Eric Wright in Compton, E established the iconic hip-hop label Ruthless Records in 1986 and a year later co-founded N.W.A., a highly influential group whose debut album, 1988's Straight Outta Compton, established the blueprint for gangster rap. He released two solo albums, including the posthumous Str8 Off Tha Streetz of Muthaphukkin Compton.
In 1983, Duran Duran made their debut at the top of the UK singles chart with "Is There Something I Should Know?." The Birmingham New Romantic group would top the UK charts again a year later with "The Reflex."
In 2019, Ranking Roger, a founding member of the British groups The English Beat and General Public, died at the age of 56. Roger was famous for his Jamaican-style "toasting," a form of rapping, which graced the records of both bands. He also recorded with Special Beats – an offshoot of the ska band The Specials – The Clash, and the Police.
In 1996, Canadian star Shania Twain enjoyed her first US No.1 when her second album, The Woman In Me, rose to the top of the Billboard country chart. The album went on to sell 20 million copies around the world.
In 1977, Hall & Oates scored their first of six US No.1s with "Rich Girl," taken from their 1976 album, Bigger Than The Both Of Us. It spent three weeks at the top and was ranked the 23rd biggest hit of 1977 by Billboard.
In 2004, Jan Berry, one-half of the famous west coast surf duo Jan and Dean, died at the age of 62. The pair met at high school and recorded as Jan & Arnie in 1958 before becoming Jan & Dean a year later. Between 1959 and 1976, they placed 27 singles on the US charts, including 1963's "Surf City," their only No.1.
Looking for more things that happened on this day in music?
Keep scrolling for all of the headlines for March 26.
BORN ON MARCH 26:
1917: Rufus Thomas
1944: Diana Ross
1948: Steven Tyler (Aerosmith)
1950: Teddy Pendergrass
1968: James Iha (Smashing Pumpkins)
1968: Kenny Chesney
1981: Jay Sean
Looking for more artists born on this day?
Keep scrolling for all of our March 26 birthdays.
---
What to find another day?
---
March 26th
26 Mar 2020
English singer Neil Landon died age 78. He was a singer and songwriter with the band Fat Mattress, which he co-founded with guitarist/singer
Noel Redding
. He later joined The Flower Pot Men, who scored a hit in 1967 with 'Let's Go To San Francisco' which reached No.4 in the UK Singles Chart.
26 Mar 2019
A school book Sir
Paul McCartney
used as a teenager sold for £46,800 – nearly 10 times its estimate. The exercise book which features a doodle of a man smoking and a teacher's critical comments sold at an auction of Beatles memorabilia in Merseyside. McCartney had used the book at Liverpool Institute High School for Boys, where he was taught English literature by Alan "Dusty" Durband.
26 Mar 2019
British musician Ranking Roger died age 56. In January 2019 it was announced that Roger had undergone surgery for two brain tumours, and was undergoing treatment for lung cancer. He was a vocalist in the 1980s two-tone band the Beat (known in North America as the English Beat) and later General Public.
26 Mar 2016
Billy Joel
's iconic hit, 'Piano Man', was selected by the US Library of Congress for preservation in the National Recording Registry for its 'cultural, historic, or artistic significance.' Even though the record only made it to No.25 on the Hot 100 in 1974, it had become Joel's signature song, and was ranked at No.421 in the 2004 list of Rolling Stone's 500 Greatest Songs of All Time.
26 Mar 2008
The Los Angeles Times apologised for claiming rap mogul Sean 'Diddy' Combs was involved in a 1994 shooting of hip-hop star
Tupac Shakur
. The LA Times, which published the original story on its website, initially said its claims were based on FBI records, witness accounts and other unnamed sources. The apology followed a claim that the newspaper was conned by a prisoner who doctored the documents used.
26 Mar 2006
Readers of Total Guitar magazine voted the guitar solo by
Jimmy Page
in
Led Zeppelin
's '
Stairway To Heaven
' as the greatest guitar solo of all time. The 1971 track was voted ahead of tracks by
Van Halen
,
Queen
,
Jimi Hendrix
and the
Eagles
. On the 20th anniversary of the original release of the song, it was announced via US radio sources that the song had logged up an estimated 2,874,000 radio plays - back to back, that would run for 44 years solid.
26 Mar 2006
English singer-songwriter and guitarist Nikki Sudden died from a heart attack at the age of 49 after performing at the Knitting Factory in New York City. He co-founded the post-punk band Swell Maps with his brother, Epic Soundtrack. Sudden collaborated with, among others, the Waterboys, Jeff Tweedy of Wilco, Mick Taylor, Tom Ashton of the March Violets, and members of
R.E.M.
and Sonic Youth.
26 Mar 2005
46-year old Australian drummer Paul Hester took his own life in Melbourne. He had been a member of Crowded House, Split Enz and Largest Living Things. After leaving Crowded House in 1994 Hester appeared on many TV and radio shows in Australia.
26 Mar 2004
Jan Berry of Jan and Dean, died at the age of 62, after being in poor health sustained in a 1966 car crash. Had the 1963 US No.1 & UK No.26 single 'Surf City', (co written by Beach Boy
Brian Wilson
). At the height of their fame, Jan and Dean hosted and performed at The T.A.M.I. Show, the film also featured The
Rolling Stones
,
Chuck Berry
,
James Brown
,
Marvin Gaye
, The
Supremes
and
Smokey Robinson
& The Miracles.
26 Mar 2002
Randy Castillo drummer with the
Ozzy Osbourne
band died of cancer aged 51. Worked with Osbourne during the 1980s and early 1990s. Also worked with Lita Ford and Motley Crue.
26 Mar 2001
The toy figure of
Eminem
was facing a ban from UK shops. Woolworth's and Hamleys were refusing to stock the dolls. Psychologists warned parents who buy the dolls for children will be inadvertently giving their approval to bad language.
26 Mar 1996
The Woman in Me the second studio album by Shania Twain was at No.1 on the Country chart. It went onto become her biggest-selling recording at the time of its release, selling 4 million copies by the end of the year. 'Whose Bed Have Your Boots Been Under?', a song about a woman confronting her lover about his frequent infidelity, was released at the first single from the album.
26 Mar 1995
Rapper producer, and record executive Eazy-E (Eric Lynn Wright) died of AIDS in Los Angeles aged 31. Formed Ruthless Records, worked with Dr. Dre and Ice Cube.
26 Mar 1985
Radio stations in South Africa banned all of
Stevie Wonder
's records after he dedicated the Oscar he had won the night before at The Academy Awards to Nelson Mandela.
26 Mar 1983
Duran Duran
went to No.1 on the UK singles chart with 'Is There Something I Should Know'. Their first No.1 and their eighth single release. The group were on a US promotional trip on this day, where they were greeted by 5,000 screaming fans at an in-store appearance in New York City.
26 Mar 1980
The Police
became the first Western pop group to play in Bombay, India for over ten years when they played a one off gig in the city.
26 Mar 1977
Hall and Oates
started a three week run at No.1 on the US singles chart with 'Rich Girl', the duo's first US No.1. Hall and Oates have sold an estimated 40 million records, making them the third-bestselling music duo of all time.
26 Mar 1976
British blues singer and musician Duster Bennett was killed in a car crash. After performing with Memphis Slim Bennett was driving home in a Ford Transit van in Warwickshire, England when he apparently fell asleep at the wheel. The van collided with a truck. His first album Smiling Like I'm Happy saw him playing as a one-man band, playing a bass drum with his foot and blowing a harmonica on a rack while playing a 1952 Les Paul Goldtop guitar given to him in 1968 by Peter Green from
Fleetwood Mac
.
26 Mar 1970
Peter Yarrow of Peter Paul and Mary pleaded guilty to 'taking immoral liberties' with a 14 year old girl in Washington D.C. He pleaded guilty and was sentenced to three months in jail. Just days earlier, the trio had won a Grammy Award for Best Recording for Children for their album, 'Peter, Paul and Mommy'.
26 Mar 1969
Marvin Gaye
was at No.1 on the UK singles chart, with 'I Heard It Through The Grapevine'. The song was first recorded by The Miracles and had also been a million seller in 1967 for
Gladys Knight
and the Pips.
26 Mar 1965
Mick Jagger
,
Brian Jones
and Bill Wyman all received electric shocks from a faulty microphone on stage during a
Rolling Stones
show in Denmark. Bill Wyman was knocked unconscious for several minutes.
26 Mar 1964
The British invasion continued to make its way around the world with
The Beatles
having the top six positions on the Australian pop chart.
Born on this day in music
26 Mar 1981
Jay Sean, British producer and songwriter who had the 2009 US No.1 single 'Down' with Lil Wayne and the critically acclaimed debut album Me Against Myself.
26 Mar 1971
John Hendy from English pop boy band East 17 who had the 1994 UK No.1 single 'Stay Another Day', plus 18 top-20 singles and four top-10 albums, and were one of the UK's most popular boy bands during the early to mid-1990s.
26 Mar 1968
Kenny Chesney, US country singer, songwriter, (2002 US No.1 album 'No Shoes, No Shirt', 2005 US No.1 album 'Be As You Are'). Married Bridget Jones and Chicago actress Renee Zellweger in May 2005.
26 Mar 1968
James Jonas Iha, guitarist with American alternative rock band, Smashing Pumpkins who had the 1995 US No.1 album Mellon Collie and the Infinite Sadness.
26 Mar 1959
British session drummer Chris Whitten who provided drums for the hit singles 'What I Am' by Edie Brickell & New Bohemians, 'World Shut your Mouth' by Julian Cope and '
The Who
le of the Moon' by The Waterboys. Whitten has also worked with
Paul McCartney
,
Dire Straits
, Tom Jones,
Johnny Cash
, The Pretenders, Swing Out Sister, ABC and The The.
26 Mar 1957
English music journalist Paul Morley who wrote for the New Musical Express from 1977 to 1983 and a co-founder of the record label ZTT Records. Morley was also a member of English avant-garde synth-pop group Art of Noise who had the 1988 UK No.5 single 'Kiss' with Tom Jones.
26 Mar 1955
Martin Price from English electronic music group 808 State who had the 1989 UK No.10 single 'Pacific State'. They took their name from the Roland TR-808 drum machine.
26 Mar 1953
Scottish musician William Lyall, keyboards with Pilot who had the 1975 UK No.1 single 'January'. He also worked with Sheena Easton and The Bay City Rollers. Lyall died in 1989.
26 Mar 1950
Teddy Pendergrass, soul singer, (1978 US No.25 single 'Close The Door', 1994 UK No.35 single 'The More I Get The More I Want'). One time member of Harold Melvin and the Bluenotes. Died on 13th Jan 2010 at the age of 59 following a difficult recovery from colon cancer surgery.
26 Mar 1949
Vicki Lawrence, American actress, comedian, and pop singer. In 1973, Lawrence became a one-hit wonder songstress, landing on the US chart with the No. 1 'The Night the Lights Went Out in Georgia'.
26 Mar 1949
Fran Sheehan, bass, Boston, (1977 UK No.22 single 'More Than A Feeling', 1986 US No.1 single 'Amanda'). Boston have sold more than 75 million records worldwide, including 31 million albums in the United States, of which 17 million were from their self-titled debut album and seven million were for their second album, Don't Look Back, making them one of the world's best-selling artists.
26 Mar 1948
English musician Richard Tandy, keyboardist, with Electric Light Orchestra, who had the 1979 UK No.3 & US No.4 single 'Don't Bring Me Down' plus 26 other Top 40 hits. He played the harpsichord on The Move's No.1 hit 'Blackberry Way'.
26 Mar 1948
Steven Tyler, multi-instrumentalist, best known as the frontman and lead singer of
Aerosmith
, known as the 'Demon of Screamin'.
Aerosmith
scored the 1989 UK No.13 single 'Love In An Elevator', their 1989 album Pump spent 53 weeks on the US charts, and the 1993 US No.1 & UK No.2 album Get A Grip, as well as the 1998 US No.1 & UK No.4 single 'I Don't Want To Miss A Thing'. In 2011, Tyler made his debut appearance as a judge on American Idol.
26 Mar 1944
Diana Ross, American singer, The
Supremes
(1964 UK & US No.1 single 'Baby Love' plus over 20 other US & UK Top 40 hits). Solo (1980 US No.1 single 'Upside Down, 1986 UK No.1 single 'Chain Reaction'). During the 1960s The
Supremes
became
Motown
's most successful act, and is to this day the United States' most successful vocal group. As part of the
Supremes
, her success made it possible for future African-American R&B and soul acts to find mainstream success.
26 Mar 1917
American rhythm-and-blues, funk, soul and blues singer Rufus Thomas who had the 1963 US No.10 single with 'Walking The Dog' and a 1970 UK No.18 & US No.28 single with 'Do The Funky Chicken'. Thomas died on December 15th 2001 of heart failure at the age of 84.