March 5th: The Biggest Music Headlines
Scroll down the page to see all the music headlines, stories, and events for March 5 throughout music history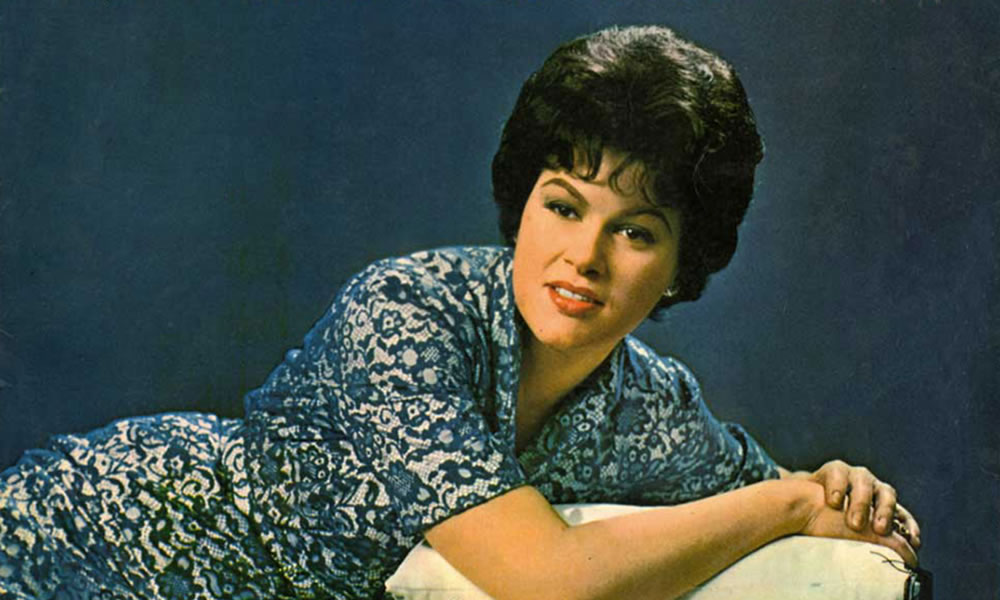 Patsy Cline Dies In Plane Crash
In 1963, tragedy struck when 30-year-old country star Patsy Cline was killed in a plane crash, alongside Cowboy Copas and Hawkshaw Hawkins. The Tennessee native, born Virginia Patterson Hensley, was traveling home from Kansas City, following a benefit concert for the widow of DJ "Cactus" Jack Call. At the time of her death, Cline was just beginning to enjoy crossover success on the US pop charts, with hits like "I Fall To Pieces" and "Crazy." In the years and decades that followed, Cline's influence only grew. In addition to breaking multiple glass ceilings as a woman in country music, Cline was also revered for her emotive vocals and bold persona. In 1973, she became the first woman to be inducted into the Country Hall of Fame.
In 2017, Ed Sheeran topped the UK albums chart with his third album ÷ (aka "Divide"). Shooting to No.1 within three days of its release, ÷ became the fastest-selling album by a male artist in UK pop history. Nine of its 16 songs entered the UK Top 10, breaking a record previously held by Calvin Harris. Controversially, the other seven tracks made the Top 20, which led to an overhaul of how the charts were compiled. Beginning on July 7, 2017, the number of tracks an artist could have in the chart at any one time was limited to three.
In 1956, Frank Sinatra released his tenth studio LP Songs For Swingin' Lovers!, which was his first to top the UK albums chart. In 2000, it was inducted into the Grammy Hall of Fame.
In 1983, Michael Jackson's "Billie Jean" began a seven-week run at the top of the Billboard Hot 100. The second single plucked from his record-breaking sixth studio album, Thriller, "Billie Jean" topped the charts in ten countries around the world and to date has sold an estimated 14 million copies.
In 1963, The Beatles recorded their third single "From Me To You," originally written by Lennon and McCartney as a B-side. It topped the UK charts but sold poorly when it was first released in America, selling less than 4,000 copies. Later, US interest in the band eventually helped to push the song to No. 41 on Billboard's Hot 100.
In 2002, The Osbournes made its debut on MTV. A fly-on-the-wall look at the life of ex-Black Sabbath singer Ozzy Osbourne and his family, the show was an instant hit and became the channel's most-viewed program. It ran for four seasons until 2005.
Looking for more things that happened on this day in music?
Keep scrolling for all of the headlines for March 5.
BORN ON MARCH 5:
1970: John Frusciante (Red Hot Chili Peppers)
1962: Craig and Charlie Reid (The Proclaimers)
1958: Andy Gibb
1957: Mark E. Smith (The Fall)
1956: Teena Marie
1948: Eddy Grant
Looking for more artists born on this day?
Keep scrolling for all of our March 5 birthdays.
---
What to find another day?
---
March 5th
5 Mar 2023
American musician Gary Rossington died at his home in Milton, Georgia age 71. He is best known as a founder of southern rock band Lynyrd Skynyrd who had the 1974 US No. 8 single 'Sweet Home Alabama' the 1977 US No. 5 album Street Survivors and the 1982 UK No.21 single 'Freebird'. He was also the longest-surviving founding member of Lynyrd Skynyrd and was also a founding member of the Rossington Collins Band, along with former bandmate Allen Collins.
5 Mar 2017
Ed Sheeran
was at No.1 on the UK album chart with his third studio album ÷ (pronounced 'divide'). All the tracks on the album reached the top 20 of the UK Singles Chart in the week of the album's release, due to heavy streaming. The dominance of its tracks on the UK chart led to calls for change on how the singles chart was compiled. The album won the Grammy Award for Best Pop Vocal Album at the 60th Annual Grammy Awards.
5 Mar 2012
Sony admitted that a number of
Michael Jackson
tracks had been stolen after its website was hacked. The singer, who died in June 2009 at the age of 50, had recorded unreleased duets with artists ranging from the late
Freddie Mercury
and Black Eyed Peas singer will.i.am.
5 Mar 2011
61 year-old Charles Mulchrone's teenage love for
The Beatles
paid dividends when he sold his old autograph book at Sheppard's auction house, Durrow, for 1,300 euros. It contained the signatures of
John Lennon
and Yoko Ono when the couple stayed at a hotel in Mulranny in the summer of 1968. Charles plucked up the courage to approach them and got their signatures, he said they were.
5 Mar 2008
Lou Pearlman, the man behind boy bands 'N Sync and the Backstreet Boys was set to plead guilty to a $300m (£152m) fraud scheme. The music mogul admitted to a court in Florida of running scams that defrauded investors and major banks for more than 20 years. The charges carried a maximum of 25 years in prison and a $1m (£506,000) fine.
5 Mar 2007
Records by the
Rolling Stones
and
Paul Simon
were chosen for preservation by the US Library of Congress. The Stones
'(I Can't Get No) Satisfaction'
and
Paul Simon
's Graceland album entered the National Recordings Registry, which preserves historic works for future generations. Other recordings chosen this year included Carl Perkins' 'Blue Suede Shoes', 'Be My Baby' by The Ronettes, 'A Change Is Gonna Come' by
Sam Cooke
and the eponymous album The Velvet Underground and Nico.
5 Mar 2006
Corinne Bailey Rae went to No.1 on the UK album chart with her debut album 'Corinne Bailey Rae.' Rae became only the fourth female British act in history to have her first album debut at No.1 on the UK chart.
5 Mar 2005
A commemorative plaque for the The
Jimi Hendrix Experience
was unveiled in Loisin-sous-Lens. Hendrix had appeared at The Twenty Club when it opened in 1967. It was his first European tour where he was totally unknown. Club owner Rikki Stein stated: 'The place was packed and at the end of 'Wild Thing', his first number, there was total silence. The entire audience just stood there, open-mouthed. They'd never seen or heard anything like it in their life'.
5 Mar 2004
UK guitarist John McGeoch died in his sleep aged 49. He had been a member of Magazine, who had the 1978 UK No.41 single 'Shot By Both Sides', and also worked with Siouxsie And The Banshees, Armoury Show and Public Image Ltd.
5 Mar 2002
The first episode of Osbourne's TV Show was aired on
MTV
in the US. Focusing on the madman and his family (his wife Sharon, and two of their three children). Oblivious to the camera, they bicker, squabble, curse and hang out backstage at Ozzy shows.
5 Mar 2000
Former rap artist MC Hammer became a preacher at the Jubilee Christian Centre in San Jose. Hammer had been declared bankrupt in 1996 after squandering his $50 million (£29.4 million) fortune.
5 Mar 2000
Madonna
went to No.1 on the UK singles chart with her version of the Don McLean 1972 hit 'American Pie'. It was her 50th UK hit and the singers ninth UK No.1 and taken from the soundtrack to the 2000 film The Next Best Thing.
5 Mar 1995
Viv Stanshall of The Bonzo Dog Doo Dah Band was killed in a house fire. The English singer-songwriter, painter, musician, author, and poet is best known for his work with the Bonzo Dog Doo-Dah Band, for his surreal exploration of the British upper classes in Sir Henry at Rawlinson End, and for narrating Mike Oldfield's Tubular Bells.
5 Mar 1994
Grace Slick was arrested for pointing a shotgun at police in her Tiburon, home in California. The singer was later sentenced to 200 hours of community service and three month's worth of Alcoholics Anonymous meetings.
5 Mar 1992
R.E.M.
cleaned up in The Rolling Stone Music Awards winning Album of the year, for 'Out Of Time', Artist of the year, Best single for 'Losing My Religion', Best video for 'Losing My Religion' and Best band, Best guitarist and Best songwriter awards.
5 Mar 1983
Michael Jackson
started a seven week run at No.1 on the US singles chart with 'Billie Jean', his fourth solo US No.1, also No.1 in the UK. And on this day Jacksons album
Thriller
went to No.1 for the first time on the UK album chart, it went on to become the biggest selling album of all time with sales over 65 million.
5 Mar 1982
Actor and singer John Belushi died from an overdose of cocaine and heroin. Belushi was one of the original cast members on US TV's Saturday Night Live, played Joliet 'Jake' Blues in The Blues Brothers and also appeared in the film Animal House. His tombstone reads "I may be gone, but rock n roll lives on."
5 Mar 1977
Barbra Streisand started a three week run at No.1 on the US singles chart with 'Love Theme From A Star Is Born', her second US No.1. It made No.3 in the UK. The
Eagles
were at No.2 with 'New Kid In Town' and The Steve Miller Band was at No.3 with 'Fly Like An Eagle'.
5 Mar 1975
Rod Stewart
met Swedish actress, Britt Ekland at a party in Los Angeles, the couple went on to have a high profile love affair.
5 Mar 1973
The former US manager of
Jimi Hendrix
Michael Jeffrey was one of 68 people killed in a plane crash in France. Jeffery was en-route to a court appearance in London related to Hendrix.
5 Mar 1971
Led Zeppelin
started a 12-date 'Thank You' tour for British fans, appearing at the clubs from their early days and charging the same admission prices as in 1968. The first show was at The Ulster Hall, Belfast, Northern Ireland where they played songs from their upcoming fourth album, including the first public performances of 'Black Dog', '
Stairway To Heaven
', 'Going To California' and 'Rock And Roll'.
5 Mar 1967
Pink Floyd
,
Jeff Beck
, The Ryan Brothers and Lee Dorsey all appeared at the Saville Theatre, Shaftesbury Avenue, London, England. Brian Epstein, manager of
The Beatles
leased the theatre in 1965, presenting both plays and music shows. The venue became notorious for its Sunday night concerts.
5 Mar 1965
The Mannish Boys released their second single 'I Pity The Fool', featuring a young
David Bowie
. Produced by Shel Talmy, (who was also producing the early singles and albums by
The Who
and
The Kinks
).
Jimmy Page
was Talmy's regular session musician and played the guitar solo on 'I Pity the Fool'.
5 Mar 1965
The
Rolling Stones
kicked off their fifth UK tour at The Regal Theatre, Edmonton, London. A 14-date package tour with The Hollies, The Konrads and Dave Berry and the Cruisers.
5 Mar 1963
The Beatles
recorded what would be their third single 'From Me to You' just five days after
John Lennon
and
Paul McCartney
wrote the song. Originally planned as the B-side of the record, it was switched to the A-side during the recording session, with 'Thank You Girl' demoted to the B-side.
5 Mar 1963
Country singers
Patsy Cline
, Cowboy Copas and Hawkshaw Hawkins were killed in a plane crash near Camden, Tennessee. They were travelling to Nashville after appearing at a benefit concert for the widow of Kansas City disc jockey 'Cactus' Jack Call, who had died in a car crash. On 7 March, country singer Jack Anglin was killed in a car crash on his way to Cline's funeral. Cline was the first country singer to cross over as a pop artist.
5 Mar 1956
Frank Sinatra
released his tenth studio album Songs for Swingin' Lovers! (the first album ever to top the UK Albums Chart). Sinatra aficionados often rank it his best album and many music critics consider it one of the greatest albums of its era. The original cover had Sinatra facing away from the young couple, but in 1957 Capitol altered the cover with a new image of Sinatra facing the couple.
5 Mar 1955
Elvis Presley
made his TV debut when he appeared on the weekend show 'Louisiana Hayride' on KWKH TV, broadcast from Shreveport Auditorium in Shreveport, Louisiana.
Born on this day in music
5 Mar 1982
Russell Leetch, bassist with English rock band The Editors, who had the 2007 UK No.1 album An End Has a Start and earned the band a Brit Awards nomination for best British Band.
5 Mar 1970
John Frusciante, guitarist with
Red Hot Chili Peppers
who had the 1992 UK No.26 single with 'Under The Bridge', the 1991 US No.3 album Blood Sugar Sex Magik and a 2002 UK No.1 album By The Way.
5 Mar 1964
Bertrand Cantat, French musician and former frontman of rock band Noir Désir. In 2003, he was sentenced to eight years in prison for killing his actress girlfriend during a fight after a violent row in a Lithuanian hotel.
5 Mar 1962
Identical twin brothers, Craig and Charlie Reid from the Scottish band The Proclaimers, who had the 1987 UK No.3 single 'Letter From America', 1988 UK No.6 album 'Sunshine Over Leith' as well as the 2007 UK No.1 single with the Comic Relief charity hit 'I'm Gonna Be (500 Miles).'
5 Mar 1958
Andy Gibb, younger brother of The
Bee Gees
. He had a 1978 UK No.10 single with 'An Everlasting Love' and a 1978 US No.1 single with 'Shadow Dancing', which spent seven weeks at the top, plus two other US No.1 singles. Gibb died on March 10th 1988.
5 Mar 1957
Mark E. Smith, singer from Manchester post-punk band The Fall. Smith formed the Fall in 1976 and was the only constant member of the band. He was known for his tempestuous relationship with his bandmates, and frequently fired them – there have been 66 different members over the years. Smith died on 24 January 2018 aged 60 after a long illness with lung and kidney cancer.
5 Mar 1956
Teena Marie, US singer who had the 1980 UK No. 6 single 'Behind The Groove'. In 2004, while Teena Marie was sleeping in a hotel room, a large picture frame fell and struck her on the head. The blow caused a serious concussion that would result in momentary seizures for the rest of her life. Marie died on December 26th 2010.
5 Mar 1952
Alan Clark, English musician who was the first and main keyboardist for the rock band
Dire Straits
. In 1983 he played on
Bob Dylan
's album Infidels and toured and recorded extensively with
Eric Clapton
. Clark has also played and recorded with other artists, including the
Bee Gees
,
Billy Joel
, Lou Reed, Prefab Sprout, Robert Cray, Al Green, Van Morrison, Roger Daltrey,
George Harrison
,
Elton John
,
Phil Collins
.
5 Mar 1951
Elaine Page, UK singer who had the 1985 UK No.1 single 'I Know Him So Well'.
5 Mar 1948
Eddy Grant, singer with The Equals who had the 1968 UK No.1 single 'Baby Come Back', and as a solo artist scored the 1982 UK No.1 single 'I Don't Wanna Dance'.
5 Mar 1939
Johnny Jenkins, American left-handed blues guitarist, who helped launch the career of
Otis Redding
. His flamboyant style of guitar playing also influenced
Jimi Hendrix
. In 1970, Jenkins released the album Ton-Ton Macoute! The opening track, a cover of Dr. John's 'I Walk on Guilded Splinters' has been sampled by numerous musicians, including Beck (Loser), and
Oasis
(Go Let It Out). Several tracks on Ton-Ton Macoute! featured
Duane Allman
. He died on 26 June 2006.
5 Mar 1933
American blues singer-songwriter and pianist Tommy Tucker who scored the 1964 US No.11 hit 'Hi Heel Sneakers'. Tucker left the music industry in the late 1960s, taking a position as a real estate agent in New Jersey. He died on 22 January 1982 aged 48, after being overcome by poisonous fumes while he was renovating the floors of his New York City home.