March 9th: The Biggest Music Headlines
Scroll down the page to see all the music headlines, stories, and events for March 9 throughout music history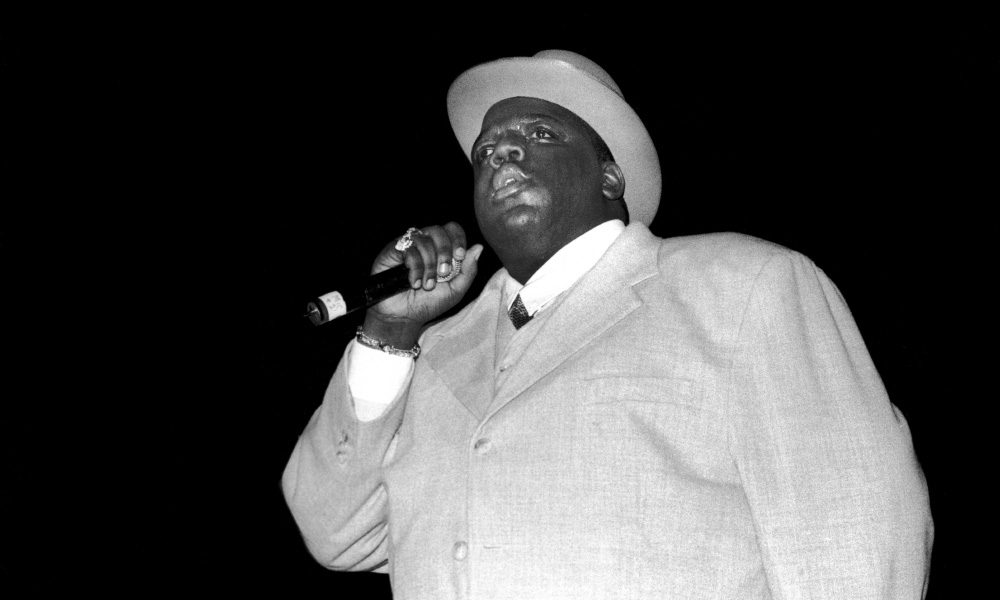 Rap Icon Notorious B.I.G. Shot And Killed
In 1997, 24-year-old rapper Notorious B.I.G. was shot and fatally wounded as he was traveling back to his hotel after leaving a Los Angeles awards party. Born Christopher Wallace, the artist – also known as Biggie Smalls – was a gangster rap icon and regarded by many as one of hip-hop's finest MCs. He topped the Billboard Hot 100 twice in 1997 with the singles "Hypnotise" and "Mo Money Mo Problems" and was commemorated by his wife, R&B singer Faith Evans, with the transatlantic chart-topper "I'll Be Missing You," based on a sample of The Police's "Every Breath You Take."
In 1987, U2 released The Joshua Tree, their first album to top the US charts. In addition to becoming the fastest-selling album in the UK, where it spent 201 weeks on the Official Charts, it also had the distinction of being the first album to sell a million copies in the recently introduced CD format.
In 1968, Bob Dylan's eighth album John Wesley Harding began a ten-week chart-topping run in the UK. The album included Dylan's original version of "All Along The Watchtower," a hit later that year for Jimi Hendrix. While the LP stalled at No. 2 in the US, stuck behind The Beatles' Magical Mystery Tour, it went gold after three months.
In 1985, the Liverpool group Dead Or Alive reached No.1 after 17 weeks on the UK chart with "You Spin Me Round (Like A Record)." The track also marked the debut chart-topper for the London-based production team Stock, Aitken & Waterman, who went on to rack up over 100 Top 40 UK hits.
In 1991, The Clash scored their only UK No.1 with "Should I Stay Or Should I Go," reissued after it was used in a Levi's jeans commercial. The track first appeared on the London punk band's 1982 album, Combat Rock, and originally made No.17 in the UK singles chart.
In 1966, The Beach Boys began recording "God Only Knows," which opened side two of their acclaimed Pet Sounds album and reached No. 2 in the UK singles chart. In the US, the song was relegated to the B-side of "Wouldn't It Be Nice" due to record company fears that the word "God" in its title might prove controversial.
In 1996, British boy band Take That racked up their eighth UK No.1 with a cover of the Bee Gees' "How Deep Is Your Love." It was the Mancunian quartet's final single before they split up.
Looking for more things that happened on this day in music?
Keep scrolling for all of the headlines for March 9.
BORN ON MARCH 9:
1930: Ornette Coleman
1942: John Cale (Velvet Underground)
1945: Robin Trower (Procol Harum)
1958: Martin Fry (ABC)
1968: Robert Sledge (Ben Folds Five)
1980: Chingy
1985: Wretch 32
1993: Suga (BTS)
Looking for more artists born on this day?
Keep scrolling for all of our March 9 birthdays.
---
What to find another day?
---
March 9th
9 Mar 2020
American record producer Keith Olsen died age 74. He worked with many artists including Rick Springfield,
Fleetwood Mac
,
Ozzy Osbourne
, the
Grateful Dead
, Whitesnake, Pat Benatar, Heart,
Santana
, Foreigner, Scorpions, Magnum, Journey, Emerson, Lake & Palmer, Joe Walsh, and Eric Burdon & the Animals.
9 Mar 2016
A study by The Journal of Advanced Nursing reported that pop records set a bad example by portraying ageing and old people in a negative light, focusing on dying and physical decline. Researchers trawled the musical archives from the 1930s to the present day for any tracks mentioning old age. The majority, 55 out of 76 songs, focused on 'bad' aspects of ageing.
The Beatles
and
Elton John
featured on the 'negative list', along with Pulp and
The Who
.
9 Mar 2012
76-year-old Jerry Lee Lewis married for the seventh time when he wed his caregiver Judith Brown. Lewis split from his sixth wife, Kerrie McCarver, in 2004 after twenty years of marriage. Brown, who was 14 years younger than Lewis, was previously married to the star's cousin Rusty.
9 Mar 2010
Lil Wayne was sentenced to a year in prison at New York City's Rikers Island jail complex after pleading guilty to gun possession. The charges were linked to his arrest in 2007 when a gun was found on his tour bus. His sentencing came after several delays; the first date was postponed to allow the rapper to have dental work and the second had to be rearranged after a fire broke out in the New York court complex.
9 Mar 2007
Brad Delp lead singer of US rock band Boston committed suicide by carbon monoxide poisoning in at his home in the New Hampshire town of Atkinson. He died from the smoke of two charcoal grills he'd lit inside his sealed master bathroom. He was found by police lying on a pillow on his bathroom floor with a note paper-clipped to his shirt which read: "Mr. Brad Delp. I am a lonely soul." Boston had the 1977 UK No.22 single 'More Than A Feeling' and the 1986 US No.1 single 'Amanda.'
9 Mar 2005
53-year-old Danny Joe Brown, the original lead singer of Molly Hatchet, died from renal failure due to complications from diabetes. Brown was the front man for the band's self-titled album in 1978, which went Platinum.
9 Mar 2004
Former Crazy Town guitarist Rust Epique died of heart failure from an apparent heart attack at his home in Las Vegas. Epique was 36. Crazy Town had the 1999 world-wide No.1 single 'Butterfly'.
9 Mar 1997
Notorious BIG was gunned down and killed as he left a party at the Petersen Automotive Museum in Los Angeles. Born Christopher Wallace the rapper was pronounced dead on arrival at Cedars Sinai Hospital. He was 24 years old.
9 Mar 1996
Take That
scored their eighth and last UK No.1 single (until re-forming in 2006) with their version of The
Bee Gees
1977 song 'How Deep Is Your Love', (originally intended for US singer Yvonne Elliman), and used as part of the soundtrack to the film Saturday Night Fever.
9 Mar 1991
'Should I Stay Or Should I Go' gave
The Clash
their only UK No.1 single after the track was used for a Levi's TV advertisement. The track was first released in 1982 from their album Combat Rock. The Spanish backing vocals were sung by
Joe Strummer
and Joe Ely.
9 Mar 1987
U2
released their fifth studio album The
Joshua Tree
which features the singles 'Where The Streets Have No Name', and 'I Still Haven't Found What I'm Looking For'. The album became the fastest selling in UK history and the first album to sell over a million CDs, spending a total of 201 weeks on the UK chart. It topped the charts in over 20 countries and became
U2
's first US No.1 album.
9 Mar 1985
Dead Or Alive were at No.1 on the UK singles chart with 'You Spin Me Round (Like A Record). It was the first No.1 for the production team of Stock, Aitken and Waterman who went on to produce over 100 UK Top 40 hits.
9 Mar 1985
Mick Jagger
released his solo single 'Just Another Night' a No. 12 hit in the US and No. 32 on the UK charts. The track was lifted from his debut solo album, She's the Boss.
9 Mar 1985
REO Speedwagon started a three week run at No.1 on the US singles chart with 'Can't Fight This Feeling', it made No.16 in the UK.
9 Mar 1981
Former
Led Zeppelin
singer Robert Plant played a secret gig at Keele University, England with his new band The Honey Drippers.
9 Mar 1975
Actor Telly Savalas was at No.1 on the UK singles chart with his version of the David Gates (from Bread) song 'If'. Savalas was currently high in the TV ratings playing the policeman Kojak.
9 Mar 1974
Alvin Stardust was at No.1 on the UK singles chart with 'Jealous Mind'. Know as Shane Fenton in the 1960s, it was the singer's only UK chart topper.
9 Mar 1971
Led Zeppelin
appeared at Leeds University, Leeds, England, during their 'Back To The Clubs' tour. This was the first tour which saw Zeppelin performing '
Stairway To Heaven
', 'Black Dog' and 'Going To California.'
9 Mar 1970
Having recently changed their name from Earth to
Black Sabbath
,
Ozzy Osbourne
, Tony Iommi, Geezer Butler and Bill Ward made their concert debut at The Roundhouse, London.
9 Mar 1968
Bob Dylan
started a ten week run at No.1 on the UK chart with John Wesley Harding. The album marked Dylan's return to acoustic music after three albums of electric rock music and was exceptionally well received by critics, also reaching No.2 on the US charts. The commercial performance was considered remarkable, considering that Dylan had made Columbia Records release the album without much publicity.
9 Mar 1967
Pink Floyd
and The Thoughts appeared at The
Marquee Club
London, England. The Marquee club has often been defined as 'the most important venue in the history of pop music', not only for having been the scene of the development of modern music culture in London, but also for having been an essential meeting point for some of the most important artists in rock music.
9 Mar 1966
The Beach Boys
started recording the Brian Wilson and Tony Asher penned song 'God Only Knows', which when released in May 1966 was the eighth track on the group's album
Pet Sounds
. It became a UK No.2 single in 1966 and the B-side of 'Wouldn't It Be Nice' when released in the US.
9 Mar 1964
The Beatles
filmed the last day of train scenes for the movie A Hard Day's Night. During their six days of filming aboard a moving train,
The Beatles
travelled a total of 2,500 miles on the rails.
9 Mar 1964
Capitol Records released a song called 'Letter To
The Beatles
' by The Four Preps. The lyrics describe a boy lamenting the fact that he's lost his girlfriend to The Fab Four. On its first day, the record shot to No.85 on the charts and it looked like The Preps were going to have another hit on their hands. Unfortunately they had included a few bars from 'I Want To Hold Your Hand' without permission and Capitol was forced to withdraw the single to avoid a lawsuit.
Born on this day in music
9 Mar 1993
Suga (Min Yoon-gi), South Korean singer, songwriter, with the boy band BTS. They became the first Korean act to top the US Billboard chart with their studio album Love Yourself: Tear (2018). BTS also became the fastest group since
The Beatles
to earn four US No.1 albums, doing so in less than two years. They became the first Asian act to chart a No.1 song in the US since Kyu Sakamoto with 'Sukiyaki' (1963).
9 Mar 1987
Bow Wow, (Shad Moss), US rapper who had the 2001 UK No. 6 single 'Bow Wow, That's My Name' and the US No.3 single 'Like You'. He appeared in the 2002 film All About the Benjamins, and played a supporting role in the film The Fast and the Furious: Tokyo Drift in 2006.
9 Mar 1985
Jermaine Sinclair, better known by his stage name Wretch 32 who scored three UK top-five charting songs from his 2011 debut album Black and White.
9 Mar 1980
Chingy, US rapper, (2003 US No.2 album 'Jackpot', 2003 US No.2 & UK No.17 single 'Right Thurr').
9 Mar 1970
Shannon Leto, American musician, 30 Seconds to Mars. Their 2018 album America peaked at No.2 on the US chart and No.4 in the UK.
9 Mar 1969
Adam Siegel, American rock guitarist and producer. Founding member of the Los Angeles punk band Excel, and subsequently became the lead guitarist for the Suicidal Tendencies side project Infectious Grooves.
9 Mar 1968
Robert Sledge, bassist from American alternative rock trio Ben Folds Five. Their single 'Brick' from the 1997 album Whatever and Ever Amen gained airplay on many mainstream radio stations.
9 Mar 1958
Martin Fry, singer with English pop band ABC who as part of the New Romantic movement had the 1982 UK No.4 & 1983 US No.18 'The Look Of Love'. Their 1982 debut album, The Lexicon of Love, was a UK No.1 and they achieved ten UK and five US Top 40 hit singles between 1981 and 1990.
9 Mar 1951
Frank Rodriguez, ? & The Mysterians, (1966 US No. 1 & UK No.37 single 96 Tears). The song was a UK No.17 hit for The Stranglers in 1990.
9 Mar 1949
Jimmy Fadden, from American country rock band, Nitty Gritty Dirt Band who scored the 1971 US No.9 single 'Mr Bojangles'.
9 Mar 1948
Chris Thompson, singer with Manfred Mann's Earth Band, who had the 1976 US No.1 & UK No.6 single 'Blinded By The Light'.
9 Mar 1948
Jeffrey Osborne, soul singer, (1984 UK No.11 & US No. 29 single 'On The Wings Of Love').
9 Mar 1946
Jim Cregan, guitarist who worked with Family and Cockney Rebel, who scored the 1975 UK No.1 single 'Make Me Smile', Come Up And See Me. He also worked with Rod Stewart.
9 Mar 1945
Robert Calvert, singer, poet, Hawkwind & solo, (1972 UK No.3 single 'Silver Machine'). Calvert died on 14th August 1988.
9 Mar 1945
Ron Wilson, drummer, The Surfaris, (1963 US No.2 & UK No.3 single 'Wipe Out'). Died of a brain anueryism on 7th May 1989.
9 Mar 1945
English rock guitarist and vocalist Robin Trower who with
Procol Harum
, had the 1967 UK No.1 single & US No.5 'A Whiter Shade Of Pale'. He formed the Robin Trower Band in 1973 and has since released over 20 albums.
9 Mar 1944
English guitarist Trevor Burton a founding member of The Move who scored the 1969 UK No.1 single 'Blackberry Way'. He later teamed up with Steve Gibbons who fronted the long-established Birmingham group The Uglys and was also a member of the Birmingham supergroup Balls and then fronted The Trevor Burton Band.
9 Mar 1942
Welsh singer, songwriter and record producer, John Cale who was a founding member of the American rock band Velvet Underground, who released the 1968 single 'White Light, White Heat', and the classic 1967 album Velvet Underground And Nico 'peeled banana' album. He produced the first albums of the Stooges, the Modern Lovers, Patti Smith, Squeeze, and Happy Mondays.
9 Mar 1942
Mark Lindsay, singer, guitarist with Paul Revere & The Raiders, (1971 US No.1 single with 'Indian Reservation' plus 14 other US Top 30 hit singles).
9 Mar 1936
Mickey Gilley, US singer, (1980 US No. 22 single 'Stand By Me' from the soundtrack 'Urban Cowboy').
9 Mar 1934
Lloyd Price, US singer, songwriter who had the 1959 US No.1 & UK No.7 single 'Stagger Lee' and the 1959 million-selling hit, 'Personality'. He was inducted into the Rock and Roll Hall of Fame in 1998. Price died on 3 May 2021 age 88.
9 Mar 1930
American jazz saxophonist, violinist, trumpeter and composer Ornette Coleman. He was one of the major innovators of the free jazz movement of the 1960s. Coleman died of a cardiac arrest at the age of 85 in New York City on June 11, 2015.