May 12th: The Biggest Music Headlines
Scroll down the page to see all the music headlines, stories and events for May 12 throughout music history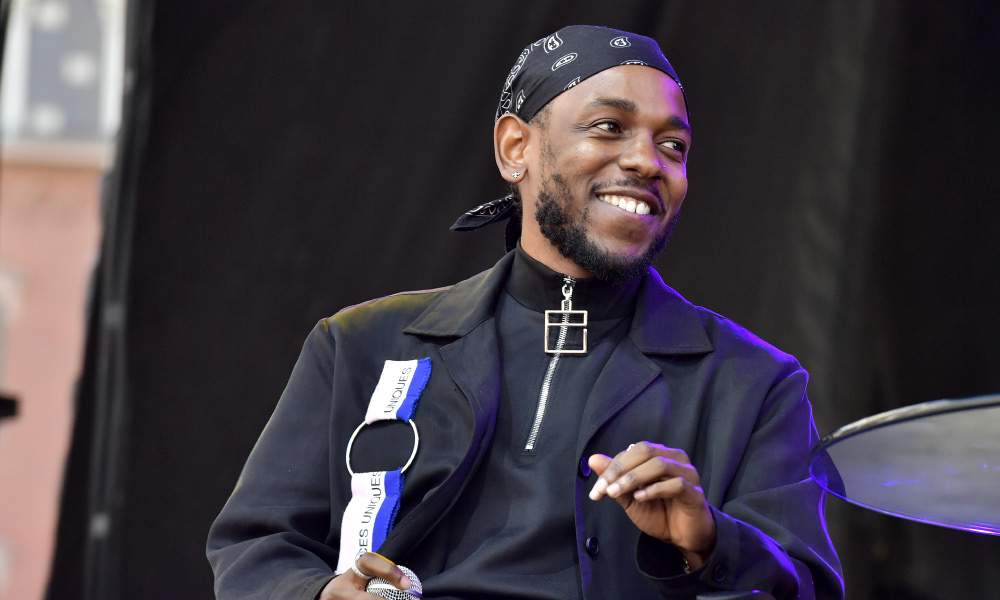 Kendrick Lamar Tops the Charts with His Pulitzer Prize-Winning LP
On this day in music, May 12, 2017, Kendrick Lamar topped the Billboard 200 with his fourth studio album, DAMN, less than a month after its release. The Compton-raised rapper enlisted the help of numerous artists and producers to collaborate on the album, including executive producer and Top Dawg Entertainment label head Anthony "Top Dawg" Tiffith, Sounwave, Rihanna, and U2. Widely considered to be among the best releases of the year, DAMN won Best Rap Album at the 2018 Grammys and became the first non-jazz or classical work to earn a Pulitzer Prize for Music.
In 1967, The Jimi Hendrix Experience released their debut album, Are You Experienced, in the UK. Broadly regarded as one of the greatest albums of all time, the record showcased Hendrix's revolutionary songwriting and guitar playing and was an immediate critical and commercial success, spending an impressive 33 weeks on the British charts. Across the Atlantic, the album was released several months later with revised album art that reflected the psychedelic nature of the music. Decades later, the LP was inducted into the National Recording Registry in recognition of its cultural significance.
In 1972, The Rolling Stones released Exile on Main St. on their self-titled label. Writing and recording began during the London sessions for their previous LP, Sticky Fingers, and continued through mid-1971 in the South of France. Featuring the hit singles "Happy" (with rare lead vocals from Keith Richards), "Sweet Virginia," and "Tumbling Dice," the band's 10th album topped the charts in six countries, including the UK and US. According to Mick Jagger, the band felt the cover artwork reflected "runaway outlaws using the blues as its weapon against the world."
In 1984, Lionel Richie's "Hello" began a two-week run atop the Billboard Hot 100. The single, which marked the former Commodore's second solo US No.1, also found massive success around the globe, including the UK, where it held the top spot for six weeks.
In 1965, Wilson Pickett recorded "In the Midnight Hour" at Stax Studios. Co-written with guitarist and producer Steve Cropper at Memphis' Lorraine Motel (the site of Martin Luther King, Jr.'s assassination three years later) the single reached No.1 on the R&B charts, marking the soul star's first chart-topper and his first hit for Atlantic Records.
In 1958, The Everly Brothers began a four-week run at the top of the Billboard Hot 100 with "All I Have to Do is Dream." Written by Boudleaux Bryant (of the husband-and-wife songwriting team Felice and Boudleaux Bryant), the song was recorded in two takes and featured Chet Atkins on guitar.
Looking for more things that happened on this day in music?
Keep scrolling for all of the headlines for May 12.
BORN ON MAY 12:
1928: Burt Bacharach
1940: Norman Whitfield (Songwriter, Producer)
1942: Ian Dury
1946: Ian McLagan (Small Faces)
1948: Steve Winwood
1950: Billy Squier
1976: Matt Mangano (Zac Brown Band)
Looking for more artists born on this day?
Keep scrolling for all of our May 12 birthdays.
---
What to find another day?
---
May 12th
12 May 2017
Kendrick Lamar was at No.1 on the US album chart with his fourth studio album Damn. It became the Billboard Year-End No.1 album of 2017 and was nominated for Album of the Year and won Best Rap Album at the 60th Annual Grammy Awards. The album also won the 2018 Pulitzer Prize for Music, making it the first non-jazz or classical work to earn the accolade.
12 May 2013
Thieves stole more than one million rand (£70,000) in takings after a Justin Bieber concert at Johannesburg's Soccer City stadium. The gang, armed with ropes, hammers and chisels, broke into a strongroom where the takings from the Justin Bieber concert and a gig the previous evening by
Bon Jovi
.
12 May 2008
Singer-songwriter
Neil Young
had a spider named after him. US university biologist Jason Bond discovered a new species of trapdoor spider and decided to name it after his favourite musician. Myrmekiaphila neilyoungi was found in Jefferson County, Alabama, in 2007.
12 May 2004
Barry and
Robin Gibb
from The
Bee Gees
were both presented with honorary degrees from Manchester University. They also picked up a posthumous award for their brother Barry. The brothers had once lived in Manchester, England.
12 May 2001
American singer and TV presenter Perry Como died aged 88. He scored fourteen US No.1 singles, from 150 US chart hits and over 25 UK chart hits, including the single 'Magic Moments' and 'Catch A Falling Star.' Como was once the highest-paid performer in the history of television.
12 May 2001
Travis played a gig at singer's Fran Healy's local primary school at Weston Park, Crouch End, London. The 150 crowd paid a £1 entry fee to the summer fete.
12 May 2000
Thieves stole the gates to Strawberry Fields the Merseyside landmark immortalised by
The Beatles
song. The 10' high iron gates were later found at local scrap metal dealers in Liverpool.
12 May 1996
17-year-old Bernadette O'Brien died the day after being injured 'body surfing' at a Smashing Pumpkins gig at The Point, Dublin.
12 May 1990
Adamski started a four-week run at No.1 on the UK singles chart with 'Killer'. The single featured Seal who remade the song under his own name, reaching the Top 10, the following year.
12 May 1986
12 May 1984
Lionel Richie started a two week run at No.1 on the US singles chart with 'Hello' his second US solo No.1, also a No.1 in the UK.
12 May 1981
Meat Loaf
filed for bankruptcy with debts of over $1 million. The singer stated; "I made almost nothing. That's how it was back then. The record company said Bat Out Of Hell never made a profit."
12 May 1977
After being dropped by both EMI and A&M records in less than 6 months, Virgin records announced they had signed the
Sex Pistols
.
12 May 1977
Led Zeppelin
received the outstanding contribution to British music at the second Ivor Novello Awards held at the Grosvenor Hotel, London.
12 May 1975
Jefferson Starship gave a free concert in New York's Central Park in front of 60,000 fans. The band and concert sponsor, WNEW-FM, were forced to pay $14,000 for cleaning up and damage done to the park after the event.
12 May 1973
Led Zeppelin
started a three-week run at No.1 on the US album chart with their fifth album
Houses Of The Holy
. The group's third US No.1 album went on to spend 39 weeks on the US chart.
Houses Of The Holy
has now been certified 11 times Platinum by the Recording Industry Association of America (RIAA) for US sales in excess of 11 million copies.
12 May 1972
The
Rolling Stones
released
Exile on Main Street
, the second album on their own label. The double set featured two hit singles, 'Tumbling Dice' and 'Happy'. In 2003, the album was ranked No. 7 on Rolling Stone magazine's list of the 500 greatest albums of all time, the highest of any Stones album on the list.
12 May 1971
12 May 1968
Brian Jones
made his final live appearance with The
Rolling Stones
when they appeared at the New Musical Express Poll Winners Concert at the Empire Pool, Wembley, England. Jones drowned while under the influence of drugs and alcohol after taking a midnight swim in his pool, on 3rd July 1969 aged 27.
12 May 1967
Pink Floyd
appeared at the Queen Elizabeth Hall, London, giving a special concert Games For May - Space Age Relaxation For The Climate Of Spring. This was reportedly the first show to include loudspeakers placed at the back of the hall to give a 'sound in the round', ie quadraphonic, effect. The sound system, developed by EMI technicians, was stolen after the show and not recovered for some years.
12 May 1967
Are You Experienced
by the
Jimi Hendrix Experience
was released in the UK. It is widely regarded as one of the greatest debuts in the history of rock music. The album features
Jimi Hendrix
's innovative approach to songwriting and electric guitar playing which soon established a new direction in psychedelic and hard rock music. The album spent 33 weeks on the UK charts and 106 weeks on the US Billboard Top LPs chart.
12 May 1965
12 May 1965
Wilson Pickett recored the soul classic 'In the Midnight Hour' with studio musicians Steve Cropper and Al Jackson of the Stax Records house band, including bassist Donald "Duck" Dunn. The song was composed by Pickett and Steve Cropper at the historic Lorraine Motel in Memphis where Martin Luther King, Jr. would later be assassinated in April 1968.
12 May 1963
Bob Dylan
walked out of rehearsals for the US TV Ed Sullivan show after being told he couldn't perform his song 'Talking John Birch Paranoid Blues' due to it mocking the US military and segregation. CBS officials asked Dylan to substitute it for another song, but the singer reportedly said: 'No, this is what I want to do. If I can't play my song, I'd rather not appear on the show'.
12 May 1961
The Beatles
in Hamburg, West Germany, signed a recording contract with producer Bert Kaempfert. That evening they played at The Top Ten Club, Reeperbahn, Hamburg.
12 May 1958
The Everly Brothers started a four-week run at No.1 in the US with 'All I Have To Do Is Dream'. Written by the husband and wife songwriting team Felice and Boudleaux Bryant, the track was recorded in just two takes.
Born on this day in music
12 May 1976
Matt Mangano American musician with the Grammy Award winning country music group, Zac Brown Band. Their 2015 album Jekyll + Hyde which debuted at No.1 on the US chart featured the single 'Heavy Is the Head' with vocals from Chris Cornell.
12 May 1972
West German-born British hip hop and R&B singer Mark Morrison, who had the 1996 UK No.1 single 'Return Of The Mack' and was a hit in several European countries.
12 May 1959
English guitarist and songwriter, Billy Duffy who with Theatre Of Hate, had the 1982 UK hit single 'Do You Believe In The Westworld'. And as a member of The Cult had the 1987 UK No.11 single 'Lil' Devil'.
12 May 1959
American rock singer-songwriter Ray Gillen. He was best known for his work with Badlands, in addition to his stint with
Black Sabbath
in the mid-1980s and recording most of the vocals on Phenomena's Dream Runner album. Gillen died on 1 December 1993 age 34 from an AIDS related disease in a New York Hospital.
12 May 1958
Eric Singer, drummer,
Kiss
. He debuted with the band on the 1992 album Revenge.
12 May 1956
12 May 1954
Barry Borden, from American Southern rock/hard rock band Molly Hatchet who had the 1980 album 'Beatin' The Odds and their hit song 'Flirtin' with Disaster'.
12 May 1950
American rock musician Billy Squier, who had the 1982 hit 'The Stroke', 1984 US No.15 single 'Rock Me Tonight'.
12 May 1948
Czech-born American musician, filmmaker, record producer and singer-songwriter Ivan Král. He played bass with
Blondie
, Patti Smith and Iggy Pop. His songs have been recorded by such artists as
U2
,
Pearl Jam
,
David Bowie
,
Simple Minds
and John Waite, among others. He died on 2 February 2020 age 71.
12 May 1948
English musician Steve Winwood, who with the Spencer Davis Group had the 1966 UK No.1 single 'Keep On Running', with Traffic the 1967 UK No.2 single 'Hole In My Shoe', Blind Faith, (with
Eric Clapton
,
Ginger Baker
and Ric Grech), 1969 UK & US No.1 album. Winwood played Hammond organ on the
Jimi Hendrix
Electric Ladyland album track 'Voodoo Chile'. He also had a successful solo career with hits including 'While You See a Chance', 'Valerie', 'Back in the High Life Again' and during the late 80s two US No.1 hits 'Higher Love' and 'Roll with It'.
12 May 1946
English keyboard instrumentalis Ian McLagan,
Small Faces
who had the 1967 UK No.3 & US No.17 single 'Itchycoo Park', and the 1968 UK No.1 album 'Ogden's Nut Gone Flake'. With The Faces, had the 1971 UK No.6 & US No.17 single 'Stay With Me'. Also worked with The
Rolling Stones
,
Bob Dylan
, Bonnie Raitt, Joe Cocker, Billy Bragg and
Bruce Springsteen
. He died on 3rd Dec 2014 died aged 69, due to complications from a stroke.
12 May 1945
12 May 1944
American Country singer-songwriter Billy Swan, who had the 1974 US No.1 & 1975 UK No.6 single 'I Can Help'.
12 May 1944
James Purify, singer from R&B duo James & Bobby Purify who had the 1976 US No.6 & UK No.12 single 'I'm Your Puppet'. Purify died Pensacola, Florida, of complications due to COVID-19 on 22 January 2021.
12 May 1943
David Walker, from American 1960s era pop and rock group Gary Lewis and the Playboys who scored the 1965 US No.1 single 'This Diamond Ring' and 11 other US Top 40 hits.
12 May 1942
English rock and roll singer-songwriter and actor Ian Dury. His 1977 UK No.5 album New Boots And Panties!! spent 90 weeks on the UK chart and he scored the 1979 UK No.1 single 'Hit Me With Your Rhythm Stick'. He was also a member of of Kilburn and the High Roads. Dury died on 27th March 2000 aged 57.
12 May 1940
Norman Whitfield, American songwriter and producer, best known for his work with
Berry Gordy
's
Motown
. Collaborated with
Barrett Strong
on such hits as, 'I Heard It Through the Grapevine', 'Ain't Too Proud to Beg', '(I Know) I'm Losing You', 'Cloud Nine', 'War', 'Papa Was a Rolling Stone' and 'Car Wash'. He died on September 16, 2008.
12 May 1928
American songwriter, arranger, producer and musician Henry Cosby who worked for
Motown
Records from its formative years. Along with Sylvia Moy, Cosby was a key collaborator with
Stevie Wonder
from 1963–1970. Cosby co-wrote three No.1 US hits: Stevie Wonder's 'Fingertips'1963), The
Supremes
'Love Child' (1968), and The Miracles' 'The Tears of a Clown'. He died on January 22, 2002.
12 May 1928
American composer, songwriter, record producer, pianist, and singer Burt Bacharach. With Hal David he wrote many classic songs including, 'Close To You', '24 Hours From Tulsa', 'Make It Easy On Yourself', 'Magic Moments', 'I Say A Little Prayer'. He won two Oscars for the film score to Butch Cassidy And The Sundance Kid, and for the song 'Raindrops Keep Fallin' On My Head'. Bacharach's songs have been recorded by more than 1,000 different artists and as of 2014, he had written 73 US and 52 UK Top 40 hits. Bacharach died of natural causes at his home in Los Angeles, California, on 8 February 2023, at the age of 94.