May 21st: The Biggest Music Headlines
Scroll down the page to see all the music headlines, stories and events for May 21 throughout music history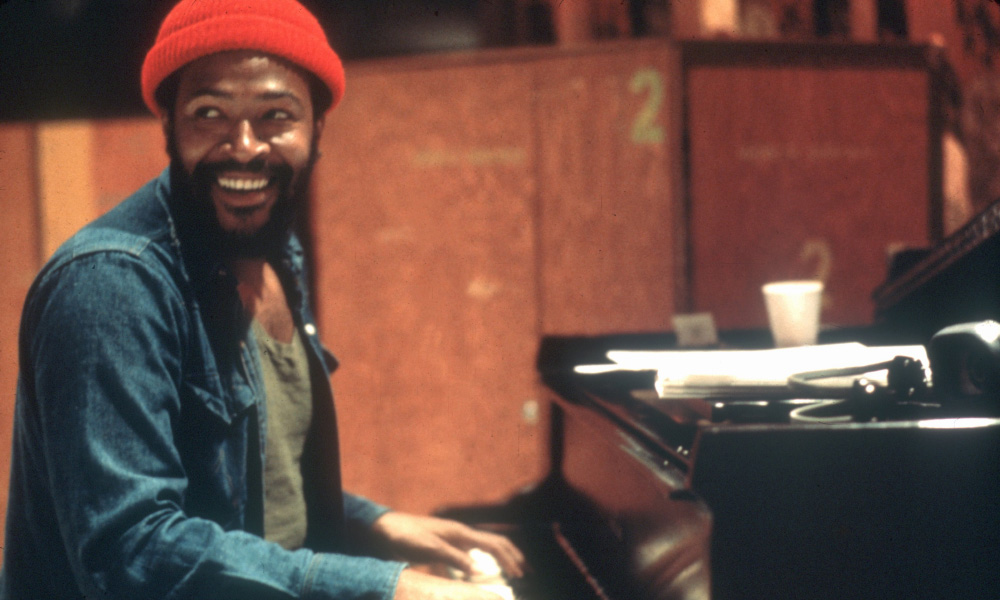 Marvin Gaye Releases a Socially Conscious Masterpiece
On this day in music, May 21, 1971, Marvin Gaye released his celebrated 11th studio album, What's Going On. The concept album, which revolved around the bittersweet homecoming of a Vietnam vet, delivered pointed social commentary about inequality in America. A landmark title, What's Going On marked a turning point in Gaye's career, finding the "Prince of Motown" swapping upbeat singles for honest and introspective lyricism. Considered to be one of the greatest albums of all time, the LP was met with broad critical acclaim and commercial success, remaining on the Billboard 200 for more than a year and spawning several hit singles, including the title track, "Mercy Mercy Me," and "Inner City Blues (Make Me Wanna Holler)."
In 1955, Chuck Berry recorded "Maybellene" – his debut single, and one of the world's first rock'n'roll songs – at Chicago's Universal Recording Studio. The tune, which was based around the 1938 Western Swing song, "Ida Red," by Bob Willis and his Texas Playboys, instantly appealed to young music fans around the country, breaking through the segregated radio waves. Released via the legendary blues imprint Chess Records, "Maybellene" topped Billboard's R&B chart and landed in the Hot 100's Top 5, effectively launching Berry's career and forever altering the course of popular music.
In 1970, Crosby, Stills, Nash & Young released their protest anthem, "Ohio." The poignant track was written by Young in response to the Kent State massacre, during which National Guardsmen killed and injured multiple unarmed student protesters, who were peacefully opposing the Vietnam War.
In 2011, Adele scored her first No.1 hit on the Billboard Hot 100 with "Rolling in the Deep." The Grammy-winning song, which led her sophomore album, 21, held the top spot for seven weeks, eventually becoming the best-selling digital song ever by a female artist in the US. Elsewhere, "Rolling in the Deep" topped the charts in more than 20 countries, including Canada, Brazil, Germany, and South Korea.
In 1982, Factory Records opened the Hacienda Club in Manchester, England. The storied venue would soon become ground zero for the "Madchester" rave and acid house scene, as well as an incubator for bands like New Order and Happy Mondays.
Looking for more things that happened on this day in music?
Keep scrolling for all of the headlines for May 21.
BORN ON MAY 21:
1904: Fats Waller
1941: Ronald Isley (The Isley Brothers)
1948: Leo Sayer
1955: Stan Lynch (Producer, Songwriter)
1972: The Notorious B.I.G.
1978: Adam Gontier (Three Days Grace)
1980: Gotye
1985: Mutya Buena (Sugababes)
Looking for more artists born on this day?
Keep scrolling for all of our May 21 birthdays.
---
What to find another day?
---
May 21st
21 May 2019
Scottish musician Jake Black (The Very Reverend D. Wayne Love), died age 59. He was a member of Alabama 3 who are best known for their track 'Woke Up This Morning' which was used for the opening credits of the TV series The Sopranos. In the United States, the band is known as A3, to avoid legal conflict with the country music band Alabama.
21 May 2016
Nick Menza, a former drummer in heavy metal band Megadeth, died after suffering a "massive heart attack" on stage, while performing with his band, OHM, in Los Angeles.
21 May 2015
American bass guitarist Louis Johnson died aged 60. He was a member of Brothers Johnson, (1980 US No.4 & UK No.6 single 'Stomp'). Johnson played on the
Michael Jackson
albums Off the Wall,
Thriller
and Dangerous, and hit songs 'Billie Jean' and 'Don't Stop 'Til You Get Enough'.
21 May 2015
Black Sabbath
received a lifetime achievement prize at the Ivor Novello songwriting awards. Guitarist Tony Iommi picked up the trophy, confirming the heavy metal band would embark on their "final tour" next year.
Ed Sheeran
was named songwriter of the year, and Annie Lennox was awarded the fellowship of the British Society of Songwriters, Composers and Authors (Basca) - the society's highest honour.
21 May 2013
Trevor Bolder, the bassist in
David Bowie
's legendary 1970s backing band Spiders From Mars, died from cancer at the age of 62. Bolder appeared on the studio albums Hunky Dory (1971), The Rise and Fall of
Ziggy Stardust
and the Spiders from Mars (1972), Aladdin Sane (1973), and Pin Ups (1973). He joined Uriah Heep in 1976, replacing John Wetton.
21 May 2013
Chris Brown was charged with a misdemeanour hit-and-run and driving without a valid license following an accident in the San Fernando Valley, California. If convicted, the singer could face up to one year in jail with other recent incidents including an outburst at a valet, a parking lot brawl with Frank Ocean and a fight with
Drake
in a New York nightclub.
21 May 2011
Adele
went to No.1 on the US singles chart with 'Rolling In The Deep', taken from her second studio album, 21. The video to the song was nominated for seven
MTV
Video Music Awards nominations, 'Rolling in the Deep' was also the Billboard Year End Hot 100 Number One Single of 2011. And on 12 February 2012, 'Rolling in the Deep' received three Grammy Awards for Record of the Year, Song of the Year, and Best Short Form Music Video.
21 May 2011
Bob Dylan
came out on top as both the most inspirational individual for poets and the dream collaborative partner, in a survey carried out by The Foyle Poetry Society. The extensive survey questioned poets asking which musician and which genre of music most inspired their writing. The young people, aged between 11 and 17, from countries throughout the world also voted for artists such as Regina Spektor,
David Bowie
, Florence and the Machine, Leonard Cohen, Morrissey and Pete Doherty.
21 May 2010
U2
's lead singer Bono had emergency spinal surgery after suffering an injury while preparing for tour dates. The 50-year-old singer was treated at a specialist neurosurgery clinic in Munich and was expected to stay there for a number of days.
21 May 2008
Lou Pearlman, the music mogul who created the Backstreet Boys and 'N Sync, was sentenced to 25 years in federal prison over a decades-long scam that swindled thousands of investors out of their life savings. Many victims were Pearlman's relatives, friends and retirees in their 70s or 80s who lost everything.
21 May 2007
Former singer with Creed, Scott Stapp was arrested at his Florida home and charged with assault. The 33-year-old was held without bail following the charges, which related to a domestic assault.
21 May 2006
Madonna
played the first of three sold out nights at The Los Angeles Forum in California, the first dates on her Confessions Tour. The 60-date tour grossed over $260 million, becoming the highest grossing tour ever for a female artist.
21 May 2005
Former East 17 singer Brian Harvey was rushed to hospital following his second suicide bid in a month. The singer battled with police outside his house after taking an overdose of sleeping pills.
21 May 2003
Mariah Carey
hit back at
Eminem
's threats to sample the slushy voicemail messages she left on his mobile. Carey described the rapper as "a little girl" saying it's "like dealing with a girlfriend in 7th grade, and he shouldn't do it because it'll get him in a bit of trouble with her lawyers."
21 May 2001
Producer, arranger and keyboardist Tommy Eyre died of cancer aged 51. Worked with
George Harrison
, Wham! Dusty Springfield, and B.B. King. Played and arranged Joe Cocker's hit 'With A Little Help From My Friends' and Gerry Rafferty's 'Baker Street'.
21 May 1988
Prince
scored his first UK No.1 album with 'Lovesexy.' The cover (based on a photo by Jean Baptiste Mondino) caused some controversy upon release as it depicts
Prince
in the nude. Some record stores refused to stock it or wrapped the album in black.
21 May 1988
Wet Wet Wet and Billy Bragg were at No.1 on the UK singles chart with 'With A Little Help From My Friends' and 'She's Leaving Home.' The two Beatles songs had been recorded for the childLine charity, sales of the single, which spent four weeks at No.1 on the UK chart, were over £600,000, all of which was donated to ChildLine .
21 May 1983
David Bowie
went to No.1 on the US singles chart with 'Let's Dance', featuring blues guitarist
Stevie Ray Vaughan
. It was Bowie's first single to reach number one on both sides of the Atlantic. The music video was made by David Mallet on location in Australia including a bar in Carinda in New South Wales, featured Bowie playing with his band while impassively watching an Aboriginal couple's struggles against metaphors of Western cultural imperialism.
21 May 1982
The Hacienda Club was opened in Manchester, England.
Madonna
made her UK TV debut at the club when C4 music show
The Tube
was broadcast live. Home to many Manchester acts including
Oasis
, Happy Mondays,
The Smiths
, Charlatans, James, M People who all played at the club, (The club closed in 1997).
21 May 1980
A thief broke into Electric Lady Studios in New York City, the recording studio built by
Jimi Hendrix
and stole five Hendrix gold records for the albums '
Are You Experienced
'', 'Axis: Bold as Love', 'Cry of Love', 'Rainbow Bridge' and Live at Monterey.
21 May 1980
Joe Strummer
of
The Clash
was arrested at a much-troubled gig in Hamburg, Germany, after smashing his guitar over the head of a member of the audience; he was released after an alcohol test proved negative.
21 May 1979
Elton John
started a tour of Russia, when he played the first of eight concerts making him the first Western star ever to do so.
21 May 1977
Rod Stewart
was at No.1 on the UK singles chart with the double A sided single 'I Don't Want To Talk About It / First Cut Is The Deepest.' The Danny Whitten song 'I Don't Want To Talk About It' was also a UK No.3 hit for Everything But The Girl in 1988.
21 May 1977
Stevie Wonder
started a three week run at No.1 on the US singles chart with his tribute to Duke Ellington, 'Sir Duke', his sixth US No.1, it made No.2 in the UK.
21 May 1974
Two would-be concert promoters were arrested by police in America on fraud charges in connection with selling mail order tickets for a forthcoming Elten John show. (Elten with an E and not an O). Police took away over $12,000 in cheques.
21 May 1972
The Doors
,
Pink Floyd
, the
Faces
, Family, Curved Air, Atomic Rooster,
The Kinks
,
Rory Gallagher
, Uriah Heep, Country Joe McDonald, Buddy Miles, Status Quo, Brinsley Schwarz, Spencer Davis, The Strawbs and Humble Pie all appeared at the 2nd British Rock Meeting, Insel Grun, Germersheim, West Germany. The festival was due to take place in Mannheim, West Germany, but after protests from the locals, the concert actually took place in nearby Germersheim.
21 May 1971
Marvin Gaye
released his eleventh studio album What's Going On. The concept album consisting of nine songs tells the story from the point of view of a Vietnam veteran returning to the country he had been fighting for, and seeing only hatred, suffering, and injustice. What's Going On is regarded as one of the landmark recordings in pop music history, and one of the greatest albums of the 20th century.
21 May 1970
Crosby, Stills, Nash & Young released the protest single Ohio, written and composed by
Neil Young
in reaction to the Kent State shootings of May 4, 1970, when unarmed college students were shot by the Ohio National Guard. The guardsmen fired 67 rounds over a period of 13 seconds, killing four students and wounding nine others, one of whom suffered permanent paralysis.
21 May 1968
Rolling Stone
Brian Jones
appeared at Great Marlborough Street Magistrates court, London on a charge of possession of marijuana, Jones was released on £200 bail.
21 May 1967
Jimi Hendrix
signed with Reprise Records on the US Warner Brothers label. They released the guitarist's albums
Are You Experienced
? Axis: Bold as Love and Electric Ladyland.
21 May 1966
The Castiles (with
Bruce Springsteen
on vocals) appeared at Freehold Regional High School in New Jersey. They were performing at their own high school for the very first time. All five members of the band were Juniors at Freehold High School.
21 May 1963
The Beatles
recorded two BBC radio programs at the Playhouse Theatre in London. They recorded five songs for Saturday Club and six songs for Steppin' Out.
21 May 1955
Chuck Berry
recorded 'Maybellene' at Universal Recording Studios, Chicago, Illinois. The song adapted in part from the Western swing fiddle tune 'Ida Red' is said to be one of the first rock and roll songs. The track became Berry's debut single release in July of this year where it peaked at No.5 on the US chart.
Born on this day in music
21 May 1985
Mutya Buena, singer with British girl group Sugababes who had the 2002 UK No.1 single, 'Round Round'. In 2006, British Hit Singles & Albums named the Sugababes as the most successful female act of the 21st century with six UK No.1 singles and eighteen UK top ten hits.
21 May 1980
Belgian born, Australian multi-instrumentalist and singer-songwriter Wouter De Backer, known professionally as Gotye. His 2012 single 'Somebody That I Used to Know' topped charts in the US, UK, Australia, as well as 23 other national charts.
21 May 1978
Adam Wade Gontier, lead singer and guitarist from Canadian rock band Three Days Grace. The band has a string of No.1 songs on the Billboard Alternative Songs Chart.
21 May 1975
Lee Gaze, guitarist, from Welsh rock band Lostprophets, who scored the 2006 UK No.1 album Liberation Transmission.
21 May 1972
American rapper The Notorious B.I.G. (aka Biggie Smalls, aka Christopher G. Wallace). He scored the 1997 US No.1 single 'Hypnotize'. He was gunned down on the streets of Los Angeles on 9th March 1997 aged 24. Three more albums have been released since his death and he has sold over 17 million records in the United States.
21 May 1964
Martin Blunt, bassist with English indie rock band The Charlatans who had the 1990 UK No.9 single 'The Only One I Know'. In the UK, all of the band's thirteen studio albums have charted in the Top 40 of the UK Albums Chart, three of them being No.1s.
21 May 1963
Tim Lever, from English pop band, Dead Or Alive, who scored the 1985 UK No.1 single 'You Spin Me Round, Like A Record'.
21 May 1963
American-born Irish musician, singer-songwriter and producer Kevin Shields best known as the vocalist and guitarist of the band My Bloody Valentine. Shields has also worked with with Patti Smith, Primal Scream and Dinosaur Jr. In 2003, Shields contributed four original compositions to the soundtrack for Sofia Coppola's 2003 film, Lost in Translation which earned him nominations for a British Academy of Film and Television Arts (BAFTA) awards.
21 May 1955
Stan Lynch, American musician, songwriter and record producer who was the original drummer for
Tom Petty
& The Heartbreakers, (1977 single 'American Girl', 1989 UK No.28 single 'I Won't Back Down', 1991 UK No.3 album 'Into The Great Wide Open'). He partnered with longtime friend Don Henley to help put together Eagles' reunion album Hell Freezes Over and as a producer and writer, Lynch has worked with a diverse array of acts, such as The Band,
Eagles
, Don Henley, Jackopierce, Joe 90, Scotty Moore, The Fabulous Thunderbirds, The Jeff Healey Band, Tim McGraw and
Ringo Starr
.
21 May 1948
British born singer-songwriter Leo Sayer who had the 1977 UK & US No.1 single 'When I Need You', the Chrysalis record label their first UK No.1. Sayer also co-wrote 'Giving It All Away', which gave Roger Daltrey of
The Who
his first solo hit in 1973.
21 May 1947
American singer, guitarist, keyboard player and songwriter Bill Champlin who joined Chicago in 1981. He sang (with Peter Cetera) on the bands 1984 hit single 'Hard Habit to Break'.
21 May 1943
Hilton Valentine, English musician, who was the original guitarist in The Animals who had the 1964 UK & US No.1 single 'House Of The Rising Sun'. He died on 29 January 2021 at the age of 77
21 May 1943
John Dalton, bass guitar player, best known as a member of
The Kinks
from 1966 & 1969 to 1976 and played on the 1967 UK No.2 single 'Waterloo Sunset'.
21 May 1943
Vincent Crane, English keyboardist who was best known as the organist for The Crazy World of Arthur Brown and Atomic Rooster. The Crazy world of Arthur Brown scored the 1968 UK No.1 and US No.12 single 'Fire', and Atomic Rooster, the 1971 UK No.4 single 'The Devil's Answer'. He died on 14th February 1989 from a deliberate overdose of Anadin tablets in at age 45.
21 May 1941
Ronald Isley, from American group The Isley Brothers who first came to prominence in 1959 with their fourth single, 'Shout', and then the 1962 hit 'Twist and Shout. The Isley Brothers also scored the hits 'This Old Heart Of Mine', 'Summer Breeze' and 'Harvest for the World'. Sixteen of their albums charted in the Top 40.
21 May 1940
English rock and roll singer-songwriter and guitarist Tony Sheridan. He was best known as an early collaborator of
The Beatles
and the only non-Beatle to appear as lead singer on a Beatles recording ('My Bonnie') which charted as a single. Sheridan died on 16 February 2013.
21 May 1934
American guitarist Sonny Forriest who was a member of The Coasters. The American rhythm and blues/rock and roll vocal group scored the 1958 US No.1 single 'Yakety Yak', the 1959 US No.2 and UK No.6 single 'Charlie Brown', as well as 'Young Blood' and 'Poison Ivy'. Forriest died on Jan 10th 1999.
21 May 1904
Fats Waller, American jazz pianist, organist, composer, singer and comedic entertainer. His best-known compositions, 'Ain't Misbehavin'' and 'Honeysuckle Rose', were inducted into the Grammy Hall of Fame in 1984 and 1999. In 1926 Waller was kidnapped at gunpoint in Chicago and driven to a club owned by gangster Al Capone. Inside the club he was ordered to perform at what turned out to be a surprise birthday party for the gangster. Waller died 15 December 1943.