May 8th: The Biggest Music Headlines
Scroll down the page to see all the music headlines, stories and events for May 8 throughout music history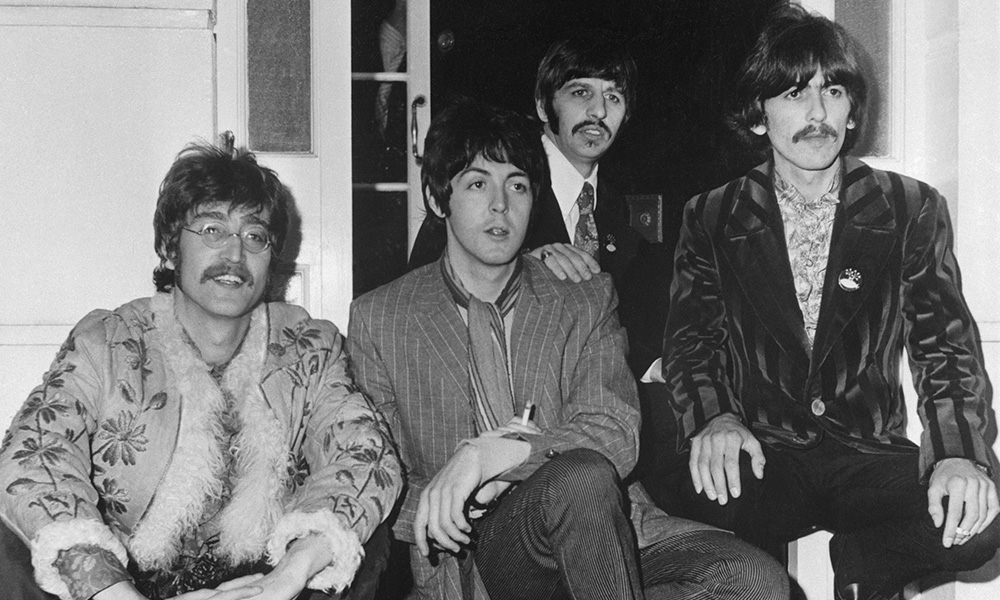 The Beatles Release Their Final Album
On this day in music, May 8, 1970, The Beatles released their 12th and final album, Let It Be, nearly a month after their disbandment. Recorded before Abbey Road and initially titled Get Back, Paul McCartney devised the record in an attempt to restore the band's chemistry after friction within the quartet. Lead single "Get Back" was issued in April 1969, while "Let It Be" and "I Me Mine" were recorded in January 1970 without John Lennon. Despite the controversy surrounding the album, it went on to be a best-seller, topping charts around the globe.
In 2016, a recently-departed Prince held the top two spots on the Billboard albums chart with The Very Best of Prince and Purple Rain. Born Prince Rogers Nelson, the legendary singer, songwriter, and guitarist died on April 21, 2016, at the age of 57. Today, he is recognized as one of the biggest recording artists of all time, selling over 100 million records worldwide.
In 1993, Aerosmith's 11th studio album, Get A Grip, topped the Billboard 200, marking the long-running band's first to hit the No.1 position. Selling over 20 million copies worldwide, it re-introduced Aerosmith to a new generation of fans, thanks to hits like "Cryin'" and the Grammy-winning "Livin' on the Edge" and "Crazy."
In 1982, Vangelis' "Chariots of Fire – Titles," the theme to the film Chariots of Fire, topped the US singles chart. The now-classic instrumental track marked the Greek composer's first and only No.1 hit on the Billboard Hot 100.
In 2008, country artist Eddy Arnold died a week before his 90th birthday. A Nashville sound innovator of the 1950s, Arnold sold over 85 million records and placed nearly 150 songs on the Billboard country charts. Also known as "The Tennessee Plowboy," he was a member of the Grand Ole Opry and Country Music Hall of Fame.
In 2014, rock'n'roll pioneer Chuck Berry was named one of the 2014 Polar Music Prize laureates. The Swedish international award recognizes "significant achievements in music and/or musical activity, or for achievements which are found to be of great potential importance for music or musical activity" and has been called the Sweden "Nobel Prize of Music."
Looking for more things that happened on this day in music?
Keep scrolling for all of the headlines for May 8.
BORN ON MAY 8:
1911: Robert Johnson
1940: Ricky Nelson
1943: Toni Tennille (Captain & Tennille)
1944: Bill Legend (T. Rex)
1951: Philip Bailey (Earth, Wind & Fire)
1953: Alex Van Halen (Van Halen)
1975: Enrique Iglesias
1977: Joe Bonamassa
Looking for more artists born on this day?
Keep scrolling for all of our May 8 birthdays.
---
What to find another day?
---
May 8th
8 May 2016
Following his unexpected death,
Prince
had the top two spots on the Billboard albums chart with The Very Best of Prince at No.1 and Purple Rain at No.2. With his music unavailable on most streaming services and download distributors, physical albums were in many cases the best way to get his music.
8 May 2014
Chuck Berry
was named as one of the 2014 Polar Music Prize laureates. A spokesperson from the award committee said: "In the course of three minutes he conjures up an image of the everyday life and dreams of a teenager, often with the focus on cars.
Chuck Berry
, born in 1926, was the first to drive up onto the highway and announce that we are born to run."
8 May 2013
Ja Rule was released from prison after serving nearly two years on gun and tax evasion charges. The rapper was let out of a prison in Ray Brook, New York, but would remain under house arrest until 28 July. The 37-year-old pleaded guilty to not filing tax returns over a five-year period in 2011 and attempted criminal possession of a weapon the year before. He was sentenced to 28 months in prison after failing to pay $1.1m (£710,319) in taxes between 2004 and 2008. The rapper was also sentenced to two years in prison for possessing a semi-automatic handgun, which police found hidden in his car after a concert in New York in 2007.
8 May 2013
A painting by Fernand Leger owned by
Madonna
sold for $7.2 million (£4.7m) in New York. The singer bought the 1921 Cubist work, Three Women at the Red Table, in 1990 for $3.4m (£2.2m). According to Sotheby's, proceeds from the sale "would benefit
Madonna
's Ray of Light Foundation, supporting girls' education projects in the Middle East and South Asia".
8 May 2008
American audio engineer Larry Levine died of emphysema in Encino, California at the age of 80. He was known for his work with Phil Spector on the Wall of Sound recording technique. He worked on
The Beach Boys
influential 1966 album
Pet Sounds
and received the 1966 Grammy Award for Best Engineered Recording for 'A Taste of Honey' performed by Herb Alpert & the Tijuana Brass. The recording also won the Grammy Award for Record of the Year in 1966.
8 May 2008
American Country artist Eddy Arnold died of natural causes, one week before his 90th birthday. He sold more than 85 million records and had 147 songs on the US charts, including 28 number one hits on Billboard's Country Singles chart. He was once managed by Colonel Tom Parker (who later managed
Elvis Presley
). Arnold had the 1965 US No.4 hit, 'Make The World Go Away'.
8 May 2006
The
Rolling Stones
called off their forthcoming European tour after guitarist
Keith Richards
underwent emergency brain surgery. The 62 year-old guitarist suffered "mild concussion" when he fell out of a coconut tree on holiday in Fiji.
8 May 2005
Bruce Springsteen
was at No.1 on the US album chart with 'Devils and Dust' his 13th No.1 studio album.
8 May 1996
A Los Angeles judge ruled against
Tommy Lee
and wife Pamela Anderson in their bid to keep Penthouse magazine from publishing still photos from an X-rated home movie that was stolen from their home.
8 May 1993
Aerosmith
entered the US album chart at No.1 with 'Get A Grip', a No.2 hit in the UK. The album went on to sell over 20 million copies worldwide as well as winning the band two Grammy awards.
8 May 1993
Mark Knopfler received an honorary music doctorate from the University of Newcastle upon Tyne, England.
8 May 1984
Roger Waters released his first solo album The Pros And Cons Of Hitch Hiking. The concept album, as originally envisioned by Waters in 1977, rotated around a man's thoughts during a midlife crisis, and featured guest musicians
Eric Clapton
on guitar, David Sanborn on saxophone and Michael Kamen on piano.
8 May 1982
Paul McCartney
scored his fifth UK No.1 album with 'Tug Of War'. The album featured the duet with
Stevie Wonder
'Ebony & Ivory', which was inspired by McCartney hearing comedian Spike Milligan say "black notes, white notes, and you need to play the two to make harmony, folks!", (the ebony (black) and ivory (white) keys on a piano).
8 May 1982
Vangelis went to No.1 on the US singles chart with 'Chariots Of Fire', his only US No.1. Vangelis was accused of plagiarising 'Chariots of Fire' from a song by fellow Greek composer Stavros Logaridis called 'City of Violets'. Vangelis won in court by convincing the judge to allow him to bring his keyboard setup into the court to demonstrate his method of composing by improvising new music.
8 May 1982
Neil Bogart died of cancer at the age of 39. Bogart was the founder of Casablanca Records, with Peter Guber, home of Donna Summer, The Village People,
Kiss
, T.Rex and Joan Jett.
8 May 1976
ABBA
scored their third UK No.1 single with 'Fernando', the song went on to become
ABBA
's biggest selling single, with sales over 10 million. And also on day
Abba
started a nine-week run at No.1 on the UK album chart with their 'Greatest Hits' album.
8 May 1976
BBC
Radio 1
DJ Johnny Walker announced he was quitting the station after being told he must pretend to like The Bay City Rollers.
8 May 1976
Former lead singer of the Lovin Spoonful John Sebastian went to No.1 on the US singles chart with 'Welcome Back', taken from the US TV show 'Welcome Back Kotter'.
8 May 1974
UK 36-year-old British keyboard player, Graham Bond, took his own life. The artist was briefly a member of Blues Incorporated, a group led by Alexis Korner, before forming the Graham Bond Quartet, with a lineup of Bond on vocals and organ,
Ginger Baker
on drums and
Jack Bruce
on bass.
8 May 1970
The Beatles
twelfth and final album, Let It Be was released, (it was recorded before the
Abbey Road
album, and was originally to be called 'Get Back'). The album came in a deluxe-boxed edition with a 'Get Back' book.
8 May 1969
8 May 1965
The filming of the promotional film for
Bob Dylan
's '
Subterranean Homesick Blues
' took place at the side of the Savoy Hotel in London. Actors in the background were Allen Ginsberg and Bob Neuwirth. The original clip was actually the opening segment of D. A. Pennebaker's film, Dont Look Back, a documentary on
Bob Dylan
's 1965 tour of England. In the film, Dylan, who came up with the idea, holds up cue cards for the camera with selected words and phrases from the lyrics. The cue cards were written by Donovan, Allen Ginsberg, Bob Neuwirth and Dylan himself. While staring at the camera, he flipped the cards as the song played.
8 May 1964
The Beatles
had held the No.1 position on the US singles chart for fourteen weeks with three No.1's in succession. 'I Want To Hold Your Hand' for seven weeks, 'She Loves You' for two weeks and 'Can't Buy Me Love', for five weeks.
8 May 1954
BBC radio in the UK banned the Johnny Ray song 'Such a Night' after listeners complain about its 'suggestiveness'. Ray was famous for his emotional stage act, which included beating up his piano, and writhing on the floor.
Born on this day in music
8 May 1996
American rapper, and songwriter 6ix9ine. 'Trollz', his third collaboration with Minaj, debuted at No.1 in the US.
8 May 1985
Matt Willis, bassist from English pop rock band Busted. Formed in 2000, the band had four UK No.1 singles, and released two studio albums - Busted (2002) and A Present for Everyone (2003) - before disbanding in January 2005.
8 May 1978
Ana Maria Lombo, singer from Eden's Crush, the American girl group who were created on the American television series Popstars who scored the 2001 Canadian No.1 and US No. 8 single 'Get Over Yourself'.
8 May 1977
American blues rock guitarist and singer Joe Bonamassa, who has released nine studio albums as well as being a member of Black Country Communion.
8 May 1976
H, (Ian Watkins), singer with British dance-pop group Steps. Between 1997 and 2001 Steps scored two No.1 singles in the UK, two No.1 albums and 14 consecutive top 5 singles in the UK.
8 May 1976
Martha Wainwright, Canadian / American, singer-songwriter, daughter of Loudon Wainwright III and Kate McGarrigle and sister of Rufus Wainwright. Appeared on recordings by her family members and has released several independent EPs. Her full length self-titled debut was released in 2005.
8 May 1975
Spanish singer, songwriter, actor, Enrique Iglesias, who had the 2000 US No.1 single 'Be With You' and the 2002 UK No.1 & US No.3 single 'Hero'. He is widely regarded as the King of Latin Pop and has sold over 170 million records (albums and singles combined) worldwide.
8 May 1972
Australian singer-songwriter, comedian, Darren Hayes, who with Savage Garden had the 1998 US No.1 & UK Top 5 single 'Truly Madly Deeply', the hit 'To the Moon and Back', and the solo 2002 UK No.8 single 'Insatiable'.
8 May 1964
Dave Rowntree, drummer with Blur who had the 1994 UK No.1 album 'Parklife' which spent over 2 years on the UK chart, and the 1995 UK No.1 single 'Country House', plus over 12 other UK Top 40 singles. Rowntree now also works as a solicitor, animator, radio presenter and political activist.
8 May 1953
Alex Van Halen, Dutch-American musician, best known as the drummer and co-founder of the hard rock band
Van Halen
who had the 1984 US No.1 & UK No.7 single 'Jump'. Alex has become an ordained minister and presided at the wedding of his brother Eddie Van Halen in 2009.
8 May 1951
American musician Chris Frantz, drummer, with Talking Heads, who had the 1983 US No.9 single 'Burning Down The House', 1985 UK No.6 single 'Road To Nowhere'.
8 May 1951
Philip Bailey, American R&B, soul, gospel and funk singer, songwriter with Earth, Wind & Fire, who had the 1975 US No.1 single 'Shining Star', and the 1981 UK No.3 single 'Let's Groove'. The band has received 20 Grammy nominations and were the first African-American act to sell out Madison Square Garden. As a solo artist he scored the 1985 UK No.1 single 'Easy Lover' a duet with
Phil Collins.
8 May 1944
Bill Legend, English musician and former drummer for glam rock band
T. Rex
. Legend played drums on four albums: Electric Warrior, The Slider, Tanx and Zinc Alloy.
8 May 1943
Danny Whitten, guitarist, singer, songwriter. Member of
Neil Young
's Crazy Horse and writer of 'I Don't Wanna Talk About It', covered by Rod Stewart, Rita Coolidge and Everything But The Girl. The
Neil Young
song 'The Needle and the Damage Done' was written about Whitten's heroin use (before he died of an overdose on Nov 18th 1972).
8 May 1943
English musician Paul Samwell-Smith, bassist with The Yardbirds, who had the 1965 UK No.3 and US No.6 single 'For Your Love'. The Yardbirds spawned such noteworthy musicians as
Jeff Beck
,
Eric Clapton
and
Jimmy Page
.
8 May 1943
Toni Tennille, from husband-and-wife duo The Captain and Tennille who had the 1980 US No.1 & UK No.7 single 'Do That To Me One More Time' and the hit 'Love Will Keep Us Together'. They divorced in July 2014.
8 May 1941
John Fred Gourrier, from John Fred and His Playboy Band who had the 1968 US No.1 & UK No.3 single 'Judy in Disguise (With Glasses)' which was a parodic play on the title of
The Beatles
' song 'Lucy in the Sky with Diamonds'. He died on 15th April 2005 after a long battle with kidney disease aged 63.
8 May 1940
American rock and roll star Ricky Nelson, who had the 1958 US No.1 'Poor Little Fool', the 1961 UK No.2 single 'Hello Mary Lou' plus over 30 US Top 40 hit singles. From age eight he starred alongside his family in the radio and television series The Adventures Of Ozzie and Harriet. In 1972, Nelson reached the Top 40 one last time with 'Garden Party'. Nelson died in a plane crash northeast of Dallas in De Kalb, Texas on 31st December 1985.
8 May 1911
American blues singer-songwriter Robert Johnson. His landmark recordings in 1936 and 1937 influenced later generations including Muddy Waters, Elmore James,
Eric Clapton
(
Cream
covered 'Crossroads), The
Rolling Stones
('Love In Vain'). Johnson is now recognised as a master of the blues. He died on 16th August 1938 at the age of 27.