November 2nd: The Biggest Music Headlines
Scroll down the page to see all the music headlines, stories and events for November 2 throughout music history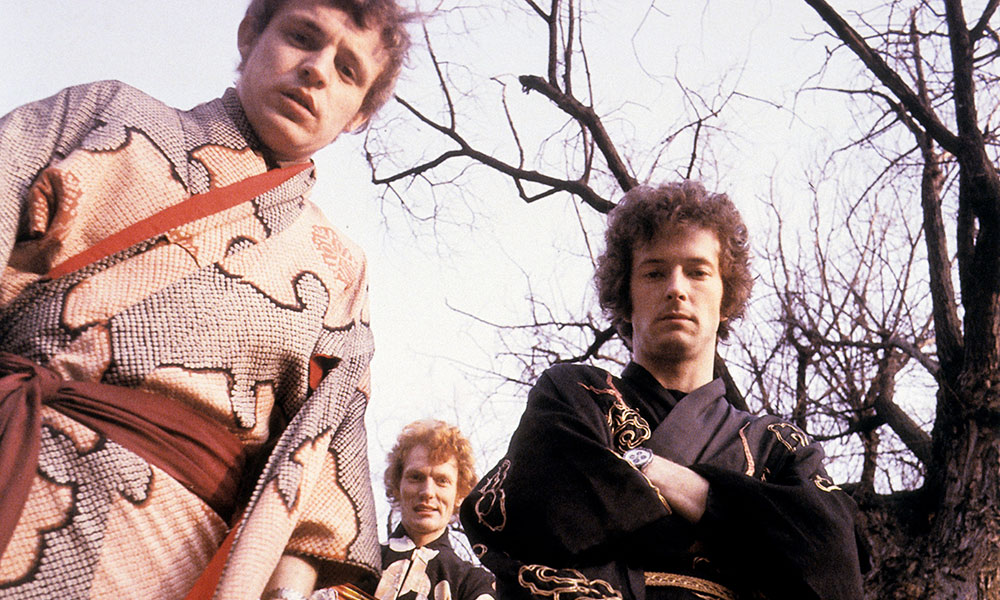 Cream Release Their Masterpiece, 'Disraeli Gears'
On November 2, 1967, Cream released their highly-influential sophomore album, Disraeli Gears. Regarded as one of the greatest records of all time, Disraeli Gears found the British group moving away from their blues roots and instead weaving in heavier guitars and elements of psychedelia. In addition to such hits as "Sunshine of Your Love" and "Strange Brew," the album included tracks like "Tales of Brave Ulysses" (which showcases one of the earliest uses of a wah-wah pedal) and "SWLABR." Disraeli Gears also marked Cream's breakthrough on the US charts, where it peaked at No.4.
In 1969, Creedence Clearwater Revival released their fourth studio album and third LP of the year, Willy and the Poor Boys. Concluding a year of unprecedented productivity, the album featured such hits as the anti-war anthem, "Fortunate Son" and "Down on the Corner." At the time of its release, the highly-regarded title was a No.3 hit in the US, a No.1 hit in France, and a Top Ten best-seller in the UK.
In 1999, Foo Fighters released their third studio album, There Is Nothing Left to Lose, featuring their best-selling hit, "Learn to Fly." The record not only won them their first Grammy Award, but also marked their first LP with drummer Taylor Hawkins.
In 2015, Adele debuted atop the US charts with her record-breaking hit, "Hello." The emotional ballad, which appeared on her album 25, held its place on the Billboard Hot 100 for ten consecutive weeks and became the first single to sell more than a million digital copies in one week. Today, it remains one of the best-selling digital singles of all time.
In 1978, The Police released their debut album, Outlandos d'Amour (loosely translated from French to "Outlaws of Love"). Thanks to the popularity of "Roxanne," the album was a breakout success, landing at No.6 in the UK and No.23 in the US. Now considered to be among one of the best debut albums of all time, Outlandos d'Amour also included the hits "Can't Stand Losing You" and "So Lonely."
In 1996, singer Eva Cassidy died at the age of 33, following a battle with skin cancer. Just a few years later, the American artist would become famous when her recordings of "Over the Rainbow" and Sting's "Fields of Gold" gained traction on UK radio. In the following years, she would become the only artist to have three posthumous No.1 albums in the UK – 2001's Songbird, 2002's Imagine, and 2003's American Tune.
Looking for more things that happened on this day in music?
Keep scrolling for all of the headlines for November 2.
BORN ON NOVEMBER 2:
1944: Keith Emerson (Emerson, Lake & Palmer)
1962: Maxine Nightingale
1957: Carter Beuford (Dave Matthews Band)
1961: kd Lang
1965: Bobby Dall (Poison)
1969: Reginald Arvizu (Korn)
1975: Chris Walla (Death Cab for Cutie)
1979: Nelly
Looking for more artists born on this day?
Keep scrolling for all of our November 2 birthdays.
---
What to find another day?
---
November 2nd
2 Nov 2021
Irish-born American rock musician, singer and songwriter Declan Mulligan died age 83. He was best known as a guitarist of rock band The Beau Brummels that formed in San Francisco in 1964 and broke into the mainstream with their debut single, 'Laugh, Laugh'.
2 Nov 2018
The widow of Soundgarden singer Chris Cornell was suing his doctor, accusing him of overprescribing drugs that ultimately led to his death in 2017. Vicki Cornell alleged that Dr Robert Koblin 'negligently and repeatedly' prescribed the singer 'dangerous mind-altering controlled substances'. Cornell was found in a Detroit hotel room and his death was ruled a suicide.
2 Nov 2018
American guitarist Glenn Schwartz the original guitar player of the James Gang died at the age of 78. He later joined the Los Angeles based blues band Pacific Gas & Electric and in 1970, scored a national top 20 hit with the song 'Are You Ready?'
2 Nov 2016
Taylor Swift
was the highest-paid woman in music, according to Forbes' annual list, having earned more than double her nearest competitor
Adele
. The 26-year-old pop star had amassed earnings of $170m (£137.8m) over the past year, mainly thanks to a world tour named after her recent 1989 album.
2 Nov 2015
Adele
went to No.1 on the US singles chart with 'Hello', the lead track from her third album 25. 'Hello' became the first song to sell more than a million digital copies in a single week and the third highest weekly sales total since Nielsen SoundScan began tracking sales in 1991.
2 Nov 2014
Acker Bilk, the clarinet player passed away at the age of 85. Bilk's 1962 instrumental tune 'Stranger on the Shore' became the UK's biggest selling single of 1962: it was in the UK charts for more than 50 weeks, peaked at No.2, and was the first No.1 single in the United States by a British artist in the era of the modern Billboard Hot 100 pop chart.
2 Nov 2009
Ronnie Wood
was given an Outstanding Contribution award at the Classic Rock Roll of Honour ceremony in London, England. Who guitarist Pete Townshend presented the award to Wood, who had joined The
Rolling Stones
full time in 1976.
2 Nov 2008
X-Factor Finalists started a three week run at No.1 on the UK singles chart with 'Hero', to raise money for Help for Heroes ' a charity that provides support for wounded servicemen and women, and the Poppy Appeal. The song was a Top 10 hit for
Mariah Carey
in 1993.
2 Nov 2007
Led Zeppelin
's eagerly-awaited reunion concert in London was postponed for two weeks after guitarist
Jimmy Page
broke a finger. The tribute concert in honour of late Atlantic Records founder Ahmet Ertegun scheduled for 26 November would now take place on 10 December. More than a million fans applied for the 20,000 tickets available, which cost £125 each. Profits from the show would go towards scholarships in Ertegun's name in the UK, USA and the country of his birth Turkey.
2 Nov 2007
Ozzy Osbourne
claimed his reputation had been tarnished after a party supposedly involving him was organised by US police officers to round up missing criminal suspects. Over 500 people in North Dakota with outstanding arrest warrants were sent invitations and more than 30 suspects turned up. Osbourne said it was "insulting" that his name had been used but police argued it was a "creative" way to fight crime. Ozzy had been selected because he was due to play a gig in a nearby arena, which was used to explain why he would supposedly have attending the party.
2 Nov 2004
Guitarist
Eric Clapton
collected his CBE from Buckingham Palace for his services to music.
2 Nov 2002
Armed police arrested an international gang who were planning to kidnap former
Spice Girl
Victoria Beckham and her two young children. The gang had planned to ransom Victoria for £5m.
2 Nov 1999
Foo Fighters
released their third studio album There Is Nothing Left to Lose, the album marks the first appearance of drummer Taylor Hawkins. Early pressings of the disc included a temporary tattoo, similar to the one featured on the album cover.
2 Nov 1996
American vocalist and guitarist Eva Cassidy, died of skin cancer aged 33. Two years after her death, Cassidy's music was brought to the attention of British audiences, when her versions of 'Fields of Gold' and 'Over the Rainbow' were played by Mike Harding and Terry Wogan on BBC Radio 2. She is the only artist to score three posthumous UK No.1 albums: 2001's Songbird; 2002's
Imagine
and 2003's American Tune. In 2001 she also had a UK No.42 single with 'Over The Rainbow' and the 2007 UK No.1 single 'What a Wonderful World' with Katie Melua.
2 Nov 1991
U2
scored their second UK No.1 single with 'The Fly', taken from their album 'Achtung Baby'. The song was also a showcase for a persona Bono had invented called "The Fly".
2 Nov 1984
The Rev
Marvin Gaye
Sr. was sentenced to a suspended six-year sentence and probation for the manslaughter of his son,
Marvin Gaye
. He later died at a nursing home in 1998.
2 Nov 1979
AC/DC
played the second of three sold out nights at the Hammersmith Odeon, London, England, with
Def Leppard
supporting.
2 Nov 1978
The Police
released their debut album, Outlandos d'Amour. The working title, 'Police Brutality,' was changed to make is sound more romantic. The title loosely translates as 'Outlaws of Love' but the term 'Outlandos' is actually a mix of the words for 'Outlaws' and 'Commandos.' Elevated by the success of its lead single, 'Roxanne', Outlandos d'Amour peaked at No. 6 on the UK Albums Chart and at No. 23 in the United States. The album spawned two additional hit singles: 'Can't Stand Losing You' and 'So Lonely'.
2 Nov 1974
George Harrison
became the first Beatle to undertake a solo world tour when he played the first show of a 30-night tour in Vancouver, Canada.
2 Nov 1974
Stevie Wonder
went to No.1 on the US singles chart with 'You Haven't Done Nothin', the singers fourth US No.1. The track featured The Jackson Five on backing vocals.
2 Nov 1969
Sugar Sugar
by The Archies was at No.1 on the UK singles chart. The single became the longest running One Hit Wonder in the UK with eight week's at the top of the charts.
2 Nov 1969
Creedence Clearwater Revival
released Willy and the Poor Boys, the third studio album that the band released in this year. The album features the songs 'Down on the Corner', from which the album got its name, and 'Fortunate Son', which is a well known protest song and their version of the Lead Belly song 'Cotton Fields'.
2 Nov 1967
Cream
released their second studio album
Disraeli Gears
which became the group's American breakthrough, becoming a massive seller in 1968, and reaching No.4 on the American charts. The album features the two singles 'Strange Brew' and 'Sunshine of Your Love'.
2 Nov 1967
2 Nov 1963
The Konrads, featuring
David Bowie
appeared at Shirley Parish Hall, Shirley, Croydon, England.
2 Nov 1958
Tommy Edwards was at No.1 on the UK singles chart with 'It's All In The Game.' Written by Charles Dawes, later Vice President of the United States under Calvin Coolidge. It is the only No.1 pop single to have been co-written by a US Vice President.
Born on this day in music
2 Nov 1979
Nelly, (Cornell Haynes Jr), 2000 US No.1 album 'Country Grammar, ' 2002 US & UK No.1 single 'Dilemma'.
2 Nov 1975
Chris Walla, guitarist, Death Cab for Cutie, 2008 US No.1 album 'Narrow Stairs.'
2 Nov 1969
Andy Barker, from English electronic music group 808 State who had the 1989 UK No.10 single 'Pacific State'. They took their name from the Roland TR-808 drum machine.
2 Nov 1969
Reginald Arvizu, bassist from American nu metal band Korn who scored the 1998 US No.1 album, Follow The Leader. Twelve of the band's official releases have peaked in the top ten of the Billboard Chart.
2 Nov 1965
Bobby Dall, Poison, bassist from American rock band Poison who scored the 1988 US No.1 & 1989 UK No.13 single 'Every Rose Has Its Thorn' and have sold over 45 million records worldwide.
2 Nov 1962
Ron McGovney the original bass guitarist in
Metallica
from October 1981 to December 1982 having previously played with guitarist James Hetfield in the garage band Leather Charm.
2 Nov 1961
Kathryn Dawn Lang, (kd Lang), singer, songwriter, (1993 UK No.15 single 'Constant Craving').
2 Nov 1957
Carter Beauford, American drummer, percussionist, and founding member of Dave Matthews Band. Beauford was ranked No.10 by a Rolling Stone magazine reader's poll in 2010 for greatest drummers of all time.
2 Nov 1956
Chris Fairbrass, guitar, Right Said Fred, (1991 US No.1 & UK No.2 single 'I'm Too Sexy', 1993 UK No.1 album 'Up').
2 Nov 1952
Maxine Nightingale, singer, (1975 UK No.8 single 'Right Back Where We Started').
2 Nov 1947
English multi-instrumentalis Dave Pegg from UK folk group, Fairport Convention. Pegg has also worked with many other artists including
Nick Drake
, John Martyn, Sandy Denny, Richard & Linda Thompson.
2 Nov 1945
John David Souther, singer, songwriter. The Souther, Hillman, Furay Band, (1974 US No.27 single 'Fallin' In Love').
2 Nov 1944
Keith Emerson, keyboards, from English progressive rock band The Nice, who had the 1968 UK hit single an instrumental rearrangement of Leonard Bernstein's 'America'. And as Emerson Lake and Palmer, had the 1977 UK No.2 single 'Fanfare For The Common Man'. Emerson died on 11 March 2016 in Santa Monica, California, of a self-inflicted gunshot wound to the head. He had become "depressed, nervous and anxious" because nerve damage in his hands had hampered his playing.
2 Nov 1941
Bruce Welch, guitar, The Shadows, (1960 UK No.1 single 'Apache' plus 28 other UK top 40 singles), Member of Marvin Welch and Farrar and producer.
2 Nov 1941
Brian Poole, British singer, the lead singer of 1960s beat band the Tremeloes (1957–1962) then Brian Poole and the Tremeloes (1962–1967). He scored the 1963 UK No.1 'Do You Love Me' and the 1967 UK No.1 & US No.11 single 'Silence Is Golden'. His daughters Karen and Shellie formed Alisha's Attic in the 90s.
2 Nov 1938
American singer Jay Black, known as 'The Voice,' whose height of fame came in the 1960s when he was the lead singer of Jay and the Americans. The band had numerous hits including 'Come a Little Bit Closer', 'Cara Mia', and 'This Magic Moment'. He died from pneumonia age 82 on 22 October 2021.
2 Nov 1937
American singer Earl Carroll lead vocalist for the doo-wop group The Cadillacs, the group's biggest hit was 'Speedo', Carroll's subsequent nickname. He joined The Coasters in 1961. Carroll died on Nov 25th 2012.
2 Nov 1936
American musician Max Crook. A pioneer of electronic music he was the featured soloist on Del Shannon's 1961 hit 'Runaway', which he co-wrote and on which he played his own invention, the Musitron. Crook also recorded a series of instrumentals, credited as Maximilian. He died on 1 July 2020 age 83.
2 Nov 1921
English singer Pearl Carr who with here husband Teddy Johnson were a English husband-and-wife team of entertainers, popular during the 1950s and early 1960s. They represented the United Kingdom in the Eurovision Song Contest 1959 and finished second with 'Sing, Little Birdie' which was a top 20 hit. Carr died on 16 February 2020 age 98.