November 21st: The Biggest Music Headlines
Scroll down the page to see all the music headlines, stories and events for November 21 throughout music history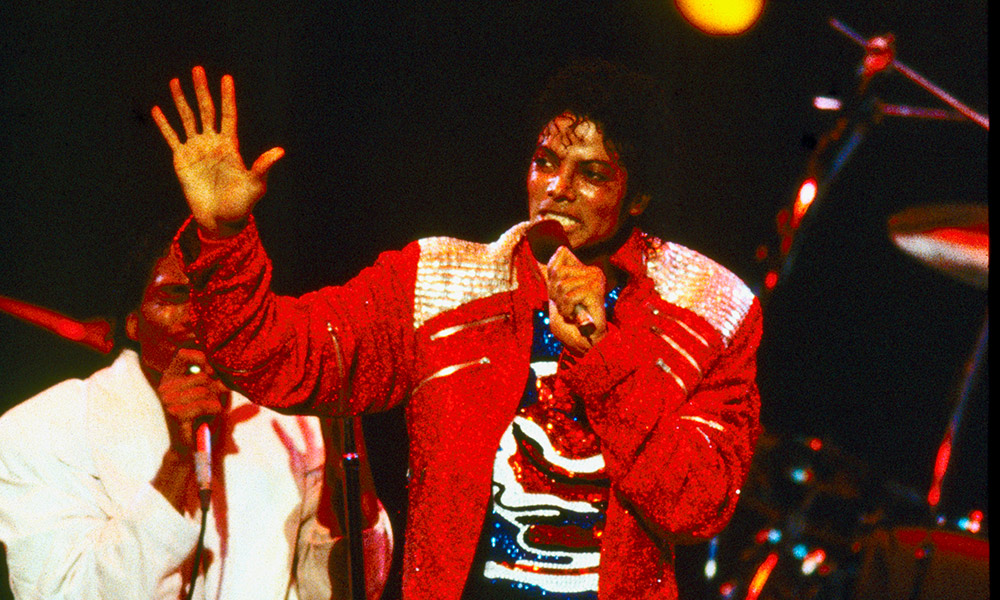 'Michael Jackson's Thriller' Premieres In Los Angeles
On November 21, 1983, a nearly 14-minute music video for Michael Jackson's "Thriller" premiered in Los Angeles. Directed by John Landis (An American Warewolf in London, Three Amigos, Trading Places), the ghoulish visual paid homage to some of Hollywood's biggest horror films, including a voiceover from the genre's original icon, Vincent Price. Michael Jackson's Thriller saw heavy rotation on MTV, helping to make its namesake album become the highest-selling LP in history.
In 1981, Queen and David Bowie topped the UK pop chart with their collaborative hit, "Under Pressure." The Bowie-Freddie Mercury-fronted duet came about by chance when both acts were recording at the same studio in Montreux, Switzerland.
In 2003, Phil Spector was formally charged with the murder of actress Lana Clarkson. After an initial 2007 mistrial, the producer was found guilty of second-degree murder in 2009. He died in 2021 while serving a nineteen-year prison sentence.
In 2017, singer, songwriter, and actor, David Cassidy, died at the age of 67. The former teen heartthrob, who starred in the TV show The Partridge Family, scored several hits with the fictional family band, including 1970's "I Think I Love You," before launching a successful solo career.
In 1970, two months after his death, Jimi Hendrix scored his sole UK No.1 single with "Voodoo Child (Slight Return)."
In 1991, Aerosmith became the first band to make a guest appearance on the animated series, The Simpsons, during the third season's "Flaming Moe's" episode. Numerous acts have followed in their footsteps, including R.E.M., Smashing Pumpkins, Sonic Youth, Phish, and the White Stripes.
In 1988, former Led Zeppelin guitarist Jimmy Page embarked on his first-ever solo tour. Accompanying him on drums was Jason Bonham, the son of his late, former bandmate, John Bonham.
Looking for more things that happened on this day in music?
Keep scrolling for all of the headlines for November 21.
BORN ON NOVEMBER 21:
1941: Andrew Love (Memphis Horns)
1948: Lonnie Jordan (War)
1965: Björk
1968: Alex James (Blur)
1985: Carly Rae Jepsen
1988: Drew McFarlane (Glass Animals)
Looking for more artists born on this day?
Keep scrolling for all of our November 21 birthdays.
---
What to find another day?
---
November 21st
21 Nov 2017
American actor, singer, songwriter, and guitarist David Cassidy died of liver failure aged 67. He was known for his role as Keith Partridge, the son of Shirley Partridge (played by his stepmother Shirley Jones), in the 70s musical-sitcom The Partridge Family, which led to him becoming one of popular culture's teen idols. The Partridge Family had the 1970 US No.1 single 'I Think I Love You', and the 1972 UK No.3 single 'Breaking Up Is Hard To Do'. As a solo artist he scored the 1972 UK No.1 single 'How Can I Be Sure'.
21 Nov 2012
Stone Roses guitarist John Squire's art studio burnt down at his home in Macclesfield, Cheshire, England, after it caught fire. Two paintings from Squire's recent Celebrity series were lost but no other works were in the studio at the time.
21 Nov 2009
Pete Doherty was arrested on suspicion of possessing a controlled drug, moments after escaping a prison sentence at a court-hearing. The Babyshambles singer allegedly dropped a wrap of 'little blue crystals' when he was being frisked by security as he entered the court.
21 Nov 2007
The
Red Hot Chili Peppers
were suing a US network over the name of its TV show, Californication saying the title was "immediately associated in the mind of the consumer" with its 1999 album and single release. The band filed a lawsuit against Showtime Network - the makers of the TV show, which featured David Duchovny as a writer going through a mid-life crisis. "For some TV show to come along and steal our identity is not right," said the band's singer, Anthony Kiedis. He described Californication as "the signature CD, video and song of the band's career".
21 Nov 2004
Eminem
was at No.1 on the US album chart with 'Encore', his third US No.1 album. Girls Aloud started a two week run at No.1 on the UK singles chart with their version of the Pretenders 'I'll Stand By You.' This was 2004's single for the Children In Need appeal with its proceeds going towards the charity.
21 Nov 2003
An acoustic guitar on which the late Beatle
George Harrison
learned to play fetched £276,000 at a London auction. His father originally bought the Egmond guitar for Harrison for £3.50. Another item auctioned was a signed invitation to the post-premiere celebrations for
The Beatles
Hard Days Night film, which went for £17,250.
21 Nov 2003
Record producer Phil Spector appeared before a California court and was formally charged with murder. B-movie actress Lana Clarkson had been found at his mansion in February of this year with a fatal gunshot wound to her face. Spector pleaded not guilty to her murder during a brief hearing in Alhambra, near Los Angeles and was released on $1m bail.
21 Nov 1995
Legendary manager of
Led Zeppelin
Peter Grant died from a heart attack aged 60. Known as being one of the shrewdest and most ruthless managers in rock history, Grant secured 90% of concert gate money and intimidated record store owners who dealt in bootlegs. The former wrestler, also worked as a film extra and bodyguard. During the early 60's Grant worked as a tour manager for
Bo Diddley
, The Everly Brothers,
Little Richard
,
Chuck Berry
, Eddie Cochran, Gene Vincent and The Animals.
21 Nov 1994
After a five-year wait, The Stone Roses released the single 'Love Spreads'. In true Roses fashion the group turned down an appearance on BBC 1's TV show
Top Of The Pops
to promote the new single.
21 Nov 1992
Charles and Eddie were at No.1 in the UK singles chart with 'Would I Lie To You' the debut single by the pop-soul duo and their only chart topper.
21 Nov 1991
Aerosmith
made a guest appearance in the Simpsons TV animated comedy. Other acts who have appeared on the show included:
Red Hot Chili Peppers
, The Smashing Pumpkins, Sonic Youth,
U2
, The Moody Blues, The B-52's,
The Who
,
R.E.M.
, Phish, Blink-182,
Metallica
, and The White Stripes.
21 Nov 1990
Mick Jagger
married Jerry Hall in Bali. The marriage was declared 'null and void' on 13th August 1999 after a judge ruled that the six- hour ceremony in Bali was never registered.
21 Nov 1988
In 1988, former
Led Zeppelin
guitarist
Jimmy Page
embarked on his first-ever UK solo tour. Accompanying him on drums was
John Bonham
, the son of his late, former bandmate, John Bonham.
21 Nov 1987
Billy Idol knocked Tiffany from the No.1 single position on the US singles chart with his version of Tommy James ' Mony Mony'. Tiffany had been at No.1 with another Tommy James song ' I Think We're Alone Now.'
21 Nov 1983
Michael Jackson
's 14-minute video for
Thriller
was premiered in Los Angeles. Directed by John Landis and co-starring former Playboy centerfold Ola Ray. The video (like the song) contains a spoken word performance by horror film veteran Vincent Price. The video was filmed at the Palace Theatre in downtown Los Angeles, the zombie dance sequence at the junction of Union Pacific Avenue and South Calzona Street in East Los Angeles and the final house scene in the Angeleno Heights neighborhood at 1345 Carroll Avenue.
21 Nov 1981
Olivia Newton John started a ten week run at No.1 in the US singles chart with 'Physical', the singers fourth US No.1 went on to sell over 2 million copies, a became a No.7 hit in the UK.
21 Nov 1981
Queen
and
David Bowie
were at No.1 in the UK with
Under Pressure
. They recorded the song together when both acts were working in a Swiss recording studio. It was David Bowie's first released collaboration with another recording artist.
21 Nov 1980
Don Henley was arrested after a naked 16-year old girl was found at his home in Los Angeles suffering from a drug over-dose, he received a $2,000 fine with two years probation.
21 Nov 1976
The Stranglers supported by Chelsea appeared at The Nashville, London, England. This was Billy Idol's last gig with Chelsea, who then joined fame in the punk band Generation X before becoming a solo artist.
21 Nov 1975
At the start of
Elton John
week in Los Angeles, the singer received a Star on Hollywood's Walk Of Fame.
21 Nov 1974
Wilson Pickett was arrested in New York City for possession of a dangerous weapon after he pulled a gun during an argument.
21 Nov 1971
Elton John
kicked off a 13-date UK tour at The Coventry Theatre, promoting his new album Madman Across The Water. The album cover for Madman Across the Water was embroidered over two weeks by Janis Larkham, wife of the album art director David Larkham. She used the back of an old Levi's jacket, and the original was gifted to John.
21 Nov 1970
The Partridge Family started a three week run at No.1 on the US singles chart with 'I Think I Love You'. The song was featured in the first episode of the Partridge Family TV series, made by the same company that made The
Monkees
.
21 Nov 1970
Two months after his death Jimi Hendrix was at No.1 on the UK singles chart with 'Voodoo Child (Slight Return)' the closing track on Electric Ladyland, the third and final album by The
Jimi Hendrix Experience
. This was the guitarist's only UK No.1 single. Hendrix's solo on the track was named the 11th greatest solo of all-time in Guitar World's 100 Greatest Guitar Solos.
21 Nov 1960
Maurice Williams and The Zodiacs went to No.1 on the US singles chart with 'Stay', the shortest ever US No.1 single at one minute 37 seconds. A No.14 hit in the UK in 1961.
21 Nov 1960
The Beatles
played at the Kaiserkeller Club in Hamburg, Germany without
George Harrison
. The guitarist had been deported on this day for being underage (he was 17) and not legally allowed to remain in a nightclub after midnight.
21 Nov 1955
RCA Records purchased
Elvis Presley
's recording contract from Sam Phillips at Sun Records for an unprecedented sum of $35,000. In September 1931, RCA Victor introduced the first 33⅓ rpm records sold to the public, and later in 1949, RCA Victor introduced the 7-inch 45 rpm fine-grooved vinyl record.
21 Nov 1954
American singer and actress Rosemary Clooney was at No.1 on the UK singles chart with 'This Ole House.' This song was also a No.1 for Shakin' Stevens in 1981. Her nephew, George Clooney was a pallbearer at her funeral in 2002.
Born on this day in music
21 Nov 1988
Drew MacFarlane guitarist from Glass Animals. Their song 'Heat Waves' reached No.1 in Australia in February 2021 and eventually reached No.1 in the US Billboard Hot 100 and No.5 on the UK Singles Chart. At the 2022 Brit Awards, Glass Animals were nominated for two Brit Awards (Best British Rock Act and 'Heat Waves' for Best British Single).
21 Nov 1985
Canadian singer, songwriter, and actress, Carly Rae Jepsen. Her 2012 single 'Call Me Maybe' reached No.1 in 18 countries and culminating as the year's best-selling single globally.
21 Nov 1970
Francis Macdonald, drummer, Teenage Fanclub, (1992 UK No.31 single 'What You Do To Me') The Pastels.
21 Nov 1968
Alex James, bassist with Blur who scored the 1995 UK No.1 single 'Country House', plus over 12 other UK Top 40 singles. Their 1994 UK No.1 album 'Parklife' spent over 2 years on the UK chart. Also a member of Me Me Me, (with Stephen Duffy), who scored the 1996 UK No.19 single 'Hanging Around'. James has become notable for his production of award-winning cheeses including 'Alex James Presents' – a range of British artisan cheeses – 'Good
Queen
Maude', 'Blue Monday', 'Little Wallop', 'Farleigh Wallop', and most recently 'Goddess.'
21 Nov 1967
Margret Ornolfsdottir, keyboards, The Sugarcubes, (1992 UK No.17 single 'Hit').
21 Nov 1965
Icelandic singer, songwriter, actress, record producer, and DJ. Bjork Gudmundsdottir. Was a member of The Sugarcubes whose 1987 single 'Birthday' was a hit on US and UK indie stations. Björk embarked on a solo career in 1993 and several of Björk's albums have reached the top 20 on the Billboard chart, plus she has had 30 singles reach the top 40 on pop charts around the world.
21 Nov 1953
American guitarist, singer, and songwriter Asa Brebner. He was a member of The Modern Lovers led by Jonathan Richman. They are best know for their 1976 hit 'Roadrunner' which Rolling Stone ranked it Number 274 on their list of the 500 Greatest Songs of All Time. He died on 10 March 2019 aged 65.
21 Nov 1950
Livingston Taylor, singer, songwriter, (brother of James Taylor), 1978 US No. 30 single 'I Will Be In Love With You').
21 Nov 1950
American singer, songwriter, musician David Williams who was best known for his work as a prolific session rhythm guitarist, working with artists including Earth, Wind & Fire, The Jacksons, Boz Scaggs,
Michael Jackson
,
Madonna
, Bryan Ferry, Herbie Hancock and the
Temptations
. Williams died of cardiac arrest on March 6, 2009, in Hampton, Virginia aged 58.
21 Nov 1950
American guitarist Gary Pihl best known for playing with Sammy Hagar (from 1977 - 1984) and in the band Boston who he joined in 1986.
21 Nov 1948
American singer-songwriter Lonnie Jordan from American funk band War. Their album The World Is a Ghetto was the best-selling US album of 1973. They also scored the 1973 US No.2 single 'Cisco Kid'.
21 Nov 1948
American–English rock keyboardist, John 'Rabbit' Bundrick. He worked with The Who, Free, Back Street Crawler, Bob Marley and the Wailers and Roger Waters.
21 Nov 1941
Andrew Love, saxophone player based in Memphis, Tennessee, best known for being a member of The Memphis Horns. With trumpet player Wayne Jackson, the two created the signature horn sound at Stax on hit records by
Otis Redding
, Sam & Dave and others such as
Neil Diamond
,
Elvis Presley
and Dusty Springfield. Love died on 12th April 2012 aged 70.