November 29th: The Biggest Music Headlines
Scroll down the page to see all the music headlines, stories and events for November 29 throughout music history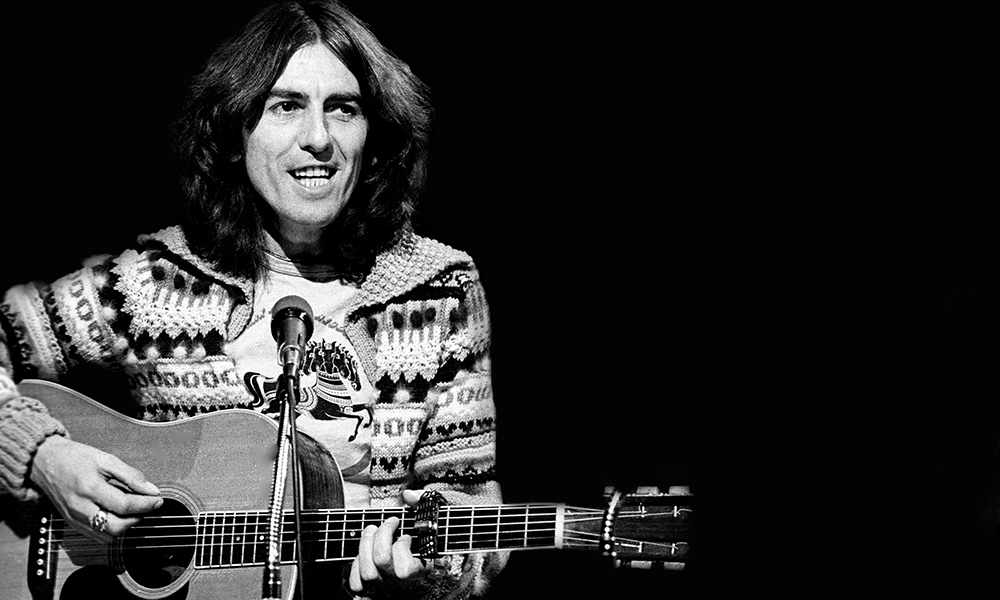 George Harrison Loses His Battle With Cancer
In 2001, singer, songwriter, and former Beatles guitarist, George Harrison lost his battle with cancer at the age of 58. While Harrison was often known as "The Quiet Beatle," his contributions to the band were significant, including such enduring hits as "Something," "Here Comes the Sun," and "While My Guitar Gently Weeps." His love of Indian classical music (and particularly his use of the sitar), meanwhile, transformed the band's sound. As a solo artist, Harrison released such influential albums as All Things Must Pass and Living in the Material World, while he organized the first major benefit concert, and subsequent album, The Concert for Bangladesh. In the 80s, Harrison formed the supergroup The Traveling Wilburys, alongside Jeff Lynne, Roy Orbison, Bob Dylan, and Tom Petty.
In 1980, John Lennon and Yoko Ono released Double Fantasy. The Grammy-winning album, which featured such songs as "Watching the Wheels," "Beautiful Boy (Darling Boy)," and "(Just Like) Starting Over," arrived just three weeks before Lennon's tragic death.
In 1997, the collaborative single "Perfect Day," which benefited the BBC's Children in Need organization, topped the UK charts. The cover of the 1973 Lou Reed song featured 29 artists, including Bono, Elton John, and David Bowie.
In 2009, 48-year-old Britain's Got Talent runner-up, Susan Boyle, scored a runaway hit with I Dreamed a Dream. In addition to topping the UK and US charts with her album, the release marked the highest-selling debut in UK chart history, while across the Atlantic, it set first-week sales records for a debut by a female artist.
In 1980, ABBA scored their ninth and final No.1 hit in the UK with "Super Trouper."
Looking for more things that happened on this day in music?
Keep scrolling for all of the headlines for November 29.
BORN ON NOVEMBER 29:
1917: Merle Travis
1933: John Mayall
1941: Denny Doherty (The Mamas & the Papas)
1943: Tim Davis (Steve Miller Band)
1951: Barry Gondreau (Boston)
1968: Jonathan Knight (New Kids on the Block)
1974: Apl.De.Ap (Black Eyed Peas)
1979: The Game
Looking for more artists born on this day?
Keep scrolling for all of our November 29 birthdays.
---
What to find another day?
---
November 29th
29 Nov 2019
American musician and songwriter, Irving Burgie regarded as one of the greatest composers of Caribbean music died aged 95. He composed 34 songs for Harry Belafonte, including eight of the 11 songs on the Belafonte album Calypso (1956), the first album of any kind to sell one million copies. He was inducted into the Songwriters Hall of Fame in 2007.
29 Nov 2013
Dick Dodd, drummer and vocalist for The Standells on their 1966 hit 'Dirty Water', died of cancer at the age of 68. 'Dirty Water' became an anthem for sports fans in Boston with its refrain of "Boston, you're my home," despite the group having no direct connection with the city.
29 Nov 2009
Susan Boyle's album became the best-selling debut in UK chart history when it went to No.1 on the UK chart. The 48 year-old runner-up in ITV's Britain's Got Talent, sold 410,000 copies of 'I Dreamed a Dream'. Boyle also topped the US charts, setting a first-week sales record for a female debut album with 701,000 copies sold in its first week.
29 Nov 2007
Morrissey was set to sue UK music weekly the NME after it failed to apologise for an article focusing on his views on immigration. The magazine had criticised the 48 year old singer and former
Smiths
star for allegedly telling a reporter Britain had lost its identity due to high levels of immigration.
29 Nov 2007
Former Lynyrd Skynyrd drummer Artimus Pyle, a convicted sex offender, was arrested for failing to properly register a new permanent address. The 59-year-old had pleaded guilty in 1993 to charges of attempted capital sexual battery by an adult on a victim younger than 12 and being principal to lewd and lascivious behavior on a child younger than 16. He was sentenced to eight years of probation.
29 Nov 2007
Control, the biopic about late
Joy Division
singer
Ian Curtis
scooped five prizes at the British Independent Film Awards. The black-and-white film, which featured The Killers,
David Bowie
and New Order on the soundtrack, was shot for just £3m.
29 Nov 2005
Pop Idol creator Simon Fuller dropped his £100m copyright case against the
X Factor
's
Simon Cowell
after Fuller settled the case out of court in a deal which made him a joint partner in the
X Factor
show. Mr Fuller had claimed Mr Cowell's ITV talent show
X Factor
copied his successful Pop Idol format, in a case taken to London's High Court. As part of the settlement, Mr Cowell agreed to appear in at least five more series of American Idol.
29 Nov 2002
Three paintings by Sir
Paul McCartney
were bought for just £35 each at the Secrets Postcard Sale at London's Royal College of Art. Members of the public gambled on whether they were buying works by celebrity artists at a fraction of their value, as a picture's creator was only made known after it has sold.
29 Nov 2001
Beatles guitarist
George Harrison
died in Los Angeles of lung cancer aged 58. Following the breakup of
The Beatles
Harrison had a successful career as a solo artist and later as part of the
Traveling Wilburys
. The youngest member of
The Beatles
, (aged 16 when he joined), his compositions include 'Taxman', 'Here Comes the Sun', 'Something', and 'While My Guitar Gently Weeps'. Harrison released the acclaimed triple album,
All Things Must Pass
, in 1970, from which came the worldwide No.1 single '
My Sweet Lord
.'
29 Nov 2000
U2
's Larry Mullen came to the rescue of motorcyclist who had been involved in an accident. Larry was driving home when he saw the motorcyclist who had crashed and stopped to call for help on his phone and then waited for the ambulance to arrive.
29 Nov 1999
American singer and bandleader Curtis Knight died aged 54.
Jimi Hendrix
had been a member of his band in the 60s. Though Hendrix wasn't in the group very long, he was featured on over 60 songs, 26 studio and 35 live recordings some of which have been released on record.
29 Nov 1997
Whitney Houston
pulled out of a concert sponsored by the Moonies two hours before she was due on stage after finding out the event was a mass wedding for over 1,000 Moonie couple's. The religious group said they had no intention of suing providing the singer returned the $1m fee she had received.
29 Nov 1997
'Perfect Day' performed by various artists including
Elton John
,
Bono
, Tom Jones &
David Bowie
went to No.1 on the UK singles chart. Originally written and recorded in 1973 by Lou Reed, this new collaboration of 29 major artists was a fund raiser for the BBC Children In Need charity.
29 Nov 1980
ABBA
scored their ninth and last UK No.1 single with 'Super Trouper', the group's 25th Top 40 hit in the UK. The name "Super Trouper" referred to the gigantic spotlights used in stadium concerts.
29 Nov 1980
John and Yoko's Double Fantasy album was released. Though initially poorly received, the album is notable for its association with Lennon's murder three weeks after its release, whereupon it became a worldwide commercial success, and went on to win the 1981 Album of the Year at the 24th Annual Grammy Awards.
29 Nov 1976
Lancaster local council cancelled the
Sex Pistols
gig at Lancaster Poly, England. The reason was given in a statement by the council saying: 'We don't want that sort of filth (The
Sex Pistols
) in the town limits.'
29 Nov 1969
The Beatles
went to No.1 on the US singles chart with their twenty-sixth release in the United States.'Come Together / Something', which became the group's 18th US No.1. Lennon was inspired by Timothy Leary's campaign for governor of California titled "Come together, join the party" against Ronald Reagan giving him the idea for the track.
'Something'
was the first Beatles song written by
George Harrison
to appear as an A-side.
29 Nov 1965
Colorado Governor John A. Love declared a
Rolling Stones
day throughout the State as The Stones appeared at The Denver Coliseum in Colorado during a North American tour.
29 Nov 1963
'I Want To Hold Your Hand' by
The Beatles
was released in the UK. For the first time ever in the UK advanced orders passed the million mark before it was released.
Born on this day in music
29 Nov 1979
The Game, (Jayceon Terrell Taylor), American rapper, (2005 US No.1 with his debut album, The Documentary).
29 Nov 1974
Apl.De.Ap, vocals, Black Eyed Peas, (2003 US & UK No.1 single 'Where Is The Love').
29 Nov 1971
American musician Keith Carlock who has played drums with Toto, Steely Dan, James Taylor, John Mayer and Sting. In Modern Drummer's 2009 Readers Poll, he was voted best Pop, Fusion, and All-Around drummer.
29 Nov 1968
Jonathan Knight, from American boy band New Kids On The Block, who had the 1989 UK No.1 single 'You Got It, The Right Stuff', and the 1990 US No.1 single 'Step By Step'. They enjoyed success in the late 1980s and early 1990s and have sold more than 80 million records worldwide
29 Nov 1968
Martin Carr, guitarist, singer with English alternative rock band The Boo Radleys who had the 1995 UK No.9 single 'Wake Up Boo'.
29 Nov 1959
Wendy Wu, Photos, (1980 UK No.56 single 'Irene').
29 Nov 1958
Michael Dempsey, bassist from the English new wave band The Lotus Eaters who had the 1983 UK No.15 single 'First Picture Of You' which was a hit in continental Europe, notably France, Italy, Belgium and Spain. Dempsey has also worked with
The Cure
and Associates.
29 Nov 1957
Jennifer Batten, American guitarist who has worked as a session musician and solo artist. Batten played in all three of
Michael Jackson
's world tours, and from 1999 to 2001 she toured and recorded with
Jeff Beck
.
29 Nov 1951
Roger Troutman, American composer, songwriter, producer, multi-instrumentalist and the founder of the band Zapp who helped spearhead the funk movement and heavily influenced west coast hip hop due to the scene's heavy sampling of his music over the years. Troutman was found shot and critically wounded outside his northwest Dayton recording studio on 25th April 1999.
29 Nov 1951
Barry Goudreau, guitar, Boston, (1977 UK No.22 single 'More Than A Feeling', 1986 US No.1 single 'Amanda'). Boston have sold more than 75 million records worldwide, including 31 million albums in the United States, of which 17 million were from their self-titled debut album and seven million were for their second album, Don't Look Back, making them one of the world's best-selling artists.
29 Nov 1947
Ronnie Montrose, guitarist, Montrose, Edgar Winter Group, (1973 US No.1 & UK No.18 single 'Frankenstein). He died on 3 March 2012 from a self-inflicted gunshot wound after taking his own life.
29 Nov 1944
English drummer, singer and songwriter Twink who was a central figure in the English psychedelic movement. He was a member of The Pretty Things and The Pink Fairies. He has converted to Islam and changed his name to Mohammed Abdullah.
29 Nov 1944
Felix Cavaliere, keyboards, with American rock band, The Rascals (initially known as The Young Rascals) who had the US No.1 hits 'Good Lovin'' (1966), 'Groovin'' (1967), and 'People Got to Be Free' (1968).
29 Nov 1943
Tim Davis American drummer, singer and songwriter, who co-founded the Steve Miller Band who had the 1974 US No.1 & 1990 UK No.1 single 'The Joker', the 1976 hit 'Fly Like an Eagle' and the 1982 US No.1 hit 'Abracadabra'. He died on 20 September 1988 age 44.
29 Nov 1941
Denny Doherty, from American folk rock vocal group The Mamas & the Papas who had the 1965 hit 'California Dreamin'', the 1966 US No.1 single 'Monday Monday' and the 1967 hit 'Dedicated to the One I Love'. Doherty died on 19th Jan 2007 at the age of 66 after a short illness. Doherty started his musical career in 1956 with a band called the Hepsters and in 1963, established a friendship with Cass Elliot when she was with a band called The Big 3.
29 Nov 1940
Chuck Mangione, US composer, arranger who had the 1978 US No.4 single, 'Feels So Good'.
29 Nov 1939
Meco Monardo, (1977 US No.1 & UK No.7 single 'Star Wars Theme').
29 Nov 1933
John Mayall, 'father of the UK blues movement', his Bluesbreakers Band has featured
Eric Clapton
Mick Taylor,
Mick Fleetwood
, John McVie, Jack Bruce, Peter Green and Jimmy McCulloch.
29 Nov 1917
country singer, songwriter Merle Travis, who invented the first solid body electric guitar. He wrote 'Sixteen Tons' a 1955 US No.1 for Ernie Ford. Travis died 20th October 1983.