November 6th: The Biggest Music Headlines
Scroll down the page to see all the music headlines, stories and events for November 6 throughout music history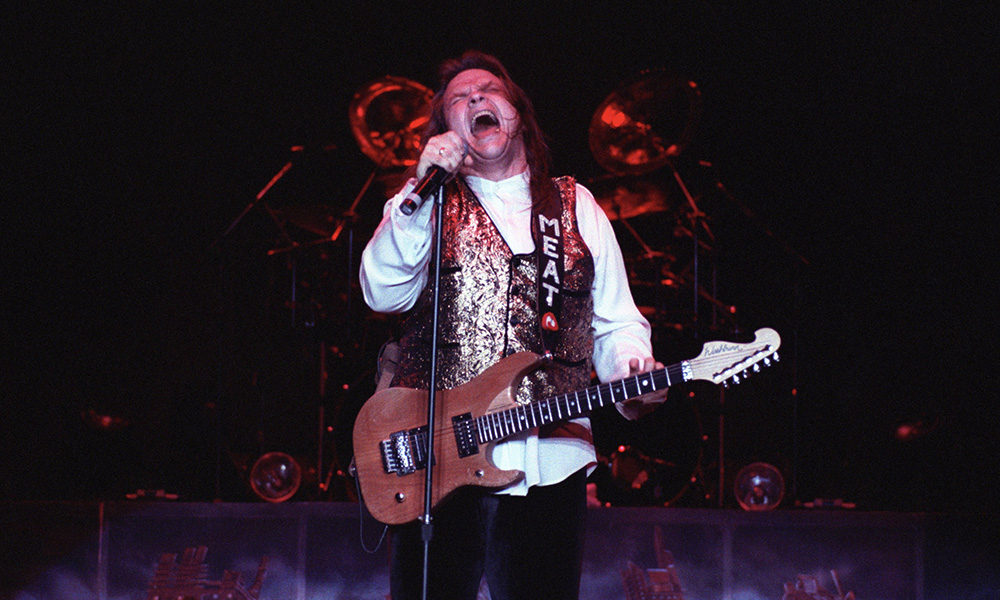 Meat Loaf Hits No.1, While Fans Ponder What 'That' Is
On November 6, 1993, Meat Loaf scored his first No.1 hit on the Billboard Hot 100 with "I'd Do Anything For Love (But I Won't Do That)," featuring Lorraine Crosby. Written by the artist's longtime collaborator, Jim Steinman, the epic power ballad clocked in at just over 12 minutes (the shortest single version was cut down to 5:13) and appeared on Meat Loaf's multi-platinum-selling album, Bat Out of Hell II: Back into Hell, a sequel to his 1977 debut. The song became a global sensation, topping the charts across Europe, as well as in Australia, Canada, and the UK, where it was named the best-selling single of 1993. While audiences are still questioning what "that" actually means, the Grammy-winning song remains a favorite, decades later.
In 2014, with the release of 1989, Taylor Swift became the only recording artist to have three albums that sold more than one million copies each in their first week (following 2012's Red and 2010's Speak Now). The chart-topping title remained in the Billboard 200's Top Ten for a full year after its release.
In 1975, the Sex Pistols played their very first live show at London's renowned art school, Central Saint Martins. The set lasted a total of ten minutes and found the punk pioneers opening for Bazooka Joe – a band featuring Stuart Goddard (the future Adam Ant) on bass.
In 2005, Madonna scored her 36th Top Ten hit on the Billboard Hot 100 with "Hung Up." The feat tied her with Elvis Presley, who held the record for the most Top Ten singles on the US pop chart.
In 1970, a newly-formed Aerosmith made their live debut at Nipmuc Regional High School in Mendon, MA. The Boston band would release their self-titled debut a little more than two years later.
In 1993, Pearl Jam's Vs broke US records for the highest album sales in one week. The highly-anticipated LP, which debuted at the top of the Billboard 200, followed the group's genre-defining debut, Ten.
Looking for more things that happened on this day in music?
Keep scrolling for all of the headlines for November 6.
BORN ON NOVEMBER 6:
1884: Adolph Sax (inventor of the saxophone)
1948: Glenn Frey (Eagles)
1961: Craig Goldy (Dio)
1963: Paul Brindley (The Sundays)
1966: Paul Gilbert (Mr. Big)
1979: Trevor Penick (O-Town)
Looking for more artists born on this day?
Keep scrolling for all of our November 6 birthdays.
---
What to find another day?
---
November 6th
6 Nov 2018
English cellist Hugh McDowell died of cancer on aged 65. McDowell performed with the first live line-up of ELO in 1972 while only 19 years old. He also worked with Roy Wood in Wizzard.
6 Nov 2014
Taylor Swift
's latest album 1989 debuted at No.1 on America's Billboard albums chart selling 1.287 million copies in its first week. Swift was now the only act to earn three million-selling weeks with an album. Before 1989, Red sold 1.208 million in it's first week, while Speak Now clocked up 1.047 million sales.
6 Nov 2014
American musician Rick Rosas died aged 65. He was one of the most sought after studio session musicians in Los Angeles. Throughout his career, he played with
Neil Young
, Joe Walsh, Crosby, Stills, Nash & Young, Jerry Lee Lewis,
Ron Wood
and many others. In 2014, Rosas joined
Neil Young
and Crazy Horse on their European tour, following Billy Talbot's inability to tour due to a stroke - making Rosas the only bassist to have played with three of Young's major band-based projects, Buffalo Springfield, Crosby, Stills, Nash & Young and Crazy Horse.
6 Nov 2007
Meat Loaf
cancelled his European tour after being diagnosed with a cyst on his vocal cords. The 60-year-old had already scrapped two gigs on doctor's orders. Speculation had surrounded the tour after he cut short a gig in Newcastle, telling the audience it is "the last show I may ever do in my life".
6 Nov 2005
Madonna
scored her 36th Top Ten single with 'Hung Up', equaling the record with
Elvis Presley
for the most Top Ten singles. 'Hung Up' was also
Madonna
's 47th Top Forty single, the most for any female artist. The track sampled the instrumental riff from
ABBA
's 'Gimme, Gimme, Gimme'.
6 Nov 2005
The Official UK Charts announced that Robbie Williams had sold the most albums in the UK so far this century with sales of 6.3m.
Coldplay
were at number two, with sales of 6.2m albums and Dido was in third place 5.7m albums sold. The figures were based on albums sold in the UK from 1st January 2000 to 11th October 2005 excluding greatest hits, live albums and downloads.
6 Nov 2005
Clear Channel agreed to remove posters with 50 Cent holding a gun in one hand and a microphone in the other in the Los Angeles area after a rally was held in protest, the company also agreed to remove 21 posters in Philadelphia. The posters were plugging the rapper's forthcoming film 'Get Rich or Die Tryin.' "The message could be 'rob to get rich' said Bilal Qayyum, a leader of the anti violence group Men United for a Better Philadelphia.
6 Nov 2003
Winners at this years
MTV
awards included Christina Aguilera for Best female,
Coldplay
won Best group, Justin Timberlake won Best album for 'Justified', The Panjabi MC won best dance act. Best R&B act went to Beyonce.
Eminem
won the best hip-hop act award for the fifth year running. Reggae artist Sean Paul took the best new act award and best video was won by Sigur Ros. An estimated one billion people in 28 countries watched the show, which was held in Edinburgh, Scotland for the first time.
6 Nov 2003
Metallica
kicked off their 137-date Madly in Anger with the World Tour at Yoyogi Taiikukanin Tokyo, Japan. The Madly in Anger with the World tour was the fourth-highest grossing tour of 2004, reaping $60,500,000 in ticket sales.
6 Nov 2000
Madonna
played her first show in eight years when she performed a short 20 minute set at New York's Roseland Ballroom.
Madonna
wore a tight black vest bearing the sequinned name of 18 year-old
Britney Spears
.
6 Nov 1993
Meat Loaf
was at No.1 on the US singles chart with 'I'd' Do Anything For Love (But I Won't Do That). The track was also a No.1 in over 25 other countries.
6 Nov 1993
Pearl Jam
went to No.1 on the US album chart with 'Vs', selling 950,378 copies making it the highest sales in US album history in one week.
6 Nov 1990
Madonna
released 'Justify My Love', the first VHS video single in the US. (
Queen
released 'Who Wants To Live Forever' as a Video Single in the UK four years earlier). Co written by Lenny Kravitz, the song became Madonna's ninth No.1 single on the Billboard Hot 100, peaking at No.2 in the United Kingdom.
6 Nov 1982
Jennifer Warnes and Joe Cocker started a three week run at No.1 on the US with a song taken from the film 'An Officer And A Gentleman', 'Up Where We Belong'.
6 Nov 1982
Soft Cell's 'Tainted Love' achieved the longest unbroken run on the UK charts when it logged its 43rd week in the Top 100.
6 Nov 1977
ABBA
started a four week run at No.1 on the UK single chart with 'The Name Of The Game', the group's 6th No.1. The song was first called 'A Bit Of Myself.'
6 Nov 1976
The Steve Miller Band went to No.1 on the US singles chart with 'Rock 'n' Me', the group's second US No.1, a No.11 in the UK.
6 Nov 1975
The
Sex Pistols
made their live debut at St Martin's School Of Art in central London, supporting a band called Bazooka Joe, which included Stuart Goddard (the future Adam Ant). The Pistols' performance lasted 10 minutes.
6 Nov 1973
Michael Martin and Phil Kaufman were charged and fined $300 each for the theft of a coffin containing
Gram Parsons
body. The court heard that the two men were merely carrying out Parson's wishes to be cremated in the desert.
6 Nov 1972
During a UK tour, Billy Murcia of The New York Dolls died after choking on his coffee after an overdose of Mandrax. The influential American band formed in 1972 and made just two albums, the 1973 'New York Dolls' and 1974 'Too Much Too Soon'.
6 Nov 1971
Cher started a two week run at No.1 on the US singles chart with 'Gypsys, Tramps and Thieves', the singers first US solo No.1, it made No.4 in the UK.
6 Nov 1970
Aerosmith
performed their first ever gig when they played at Nipmuc Regional High School in Mendon, Massachusetts. Sometimes referred to as "The Bad Boys from Boston",
Aerosmith
became the best-selling American rock band of all time, having sold more than 150 million albums worldwide. They also hold the record for the most gold and multi-platinum albums by an American group.
6 Nov 1968
The
Grateful Dead
and Jefferson Airplane played at the opening night of San Francisco's Fillmore West. Formerly known as the Carousel Ballroom it was briefly operated by a collective formed by the Grateful Dead, Jefferson Airplane, Quicksilver Messenger Service and
Big Brother and the Holding Company
as a social/musical "laboratory experiment". The venue Became famous under the direction of concert promoter Bill Graham from 1968 to 1971.
6 Nov 1968
Joe Cocker was at No.1 in the UK singles chart with his version of
The Beatles
song 'With A Little Help From My Friends'. The song was also a UK No.1 for Wet Wet Wet in 1988 and Pop Idol duo Sam and Mark in 2004.
6 Nov 1968
The
Monkees
' three quarter of a million dollar feature film, Head opened in New York City. Instead of being aimed at their target audience of teeny boppers, the film contained a dark theme about the manipulation of the group with walk-on appearances by inappropriate guests and scenes of Vietnam War atrocities. Reviews were harsh and the picture was a box office disaster.
6 Nov 1967
During a three hour session
Bob Dylan
recorded 'All Along The Watchtower' and 'John Wesley Harding' at Columbia Recording Studios in Nashville, Tennessee. The
Jimi Hendrix Experience
later recorded their version of 'All Along the Watchtower' on January 21, 1968, at Olympic Studios in London after Hendrix had been given a tape of Dylan's recording by publicist Michael Goldstein, who worked for Dylan's manager Albert Grossman.
6 Nov 1967
Working at Abbey Road studio in London,
The Beatles
mixed four songs,
'Hello Goodbye'
, 'Your Mother Should Know', 'Magical Mystery Tour' and 'I Am the Walrus'. Due to the radio feed used in
'I Am The Walrus'
being recorded in mono, the song changes from stereo to mono at the line "Sitting in an English garden".
6 Nov 1965
The
Rolling Stones
started a two week run at No.1 on the US singles chart with 'Get Off Of My Cloud', the group's second US No.1. The song knocked
The Beatles
'
Yesterday
' from the No.1 position.
6 Nov 1964
During their first promotional visit to the UK,
The Beach Boys
appeared live on ITV's Ready Steady Go! playing 'I Get Around' and 'When I Grow Up (To Be A Man)'. Ready Steady Go! was one of the UK's first rock/pop music TV programmes which ran from August 1963 until December 1966.
6 Nov 1961
Jimmy Dean started a five week run at No.1 on the US singles chart with 'Big Bad John', a No.2 on the UK chart. Jimmy went on to present a prime time variety show on US TV.
Born on this day in music
6 Nov 1979
Trevor Penick, from American boy band O-Town, who were the winners of US TV show 'Making The Band' They scored the 2001 US No. 3 single 'All Or Nothing'.
6 Nov 1966
Paul Gilbert, guitarist, with American hard rock supergroup Mr. Big, who had the 1992 US No.1 & UK No.3 single 'To Be With You'.
6 Nov 1964
Corey Glover, Living Colour, (1991 UK No.12 single 'Love Rears Its Ugly Head').
6 Nov 1963
Paul Brindley, guitarist with English alternative rock band The Sundays. Their first album, Reading, Writing and Arithmetic, was released in 1990 and was a UK Top 5 hit along with the single 'Here's Where the Story Ends'.
6 Nov 1961
Craig Goldy, guitarist, Dio.
6 Nov 1950
Chris Glen, bassist from the Sensational Alex Harvey Band who had the 1975 UK No.7 single 'Delilah, and the 1975 album Next.
6 Nov 1948
Glenn Frey, guitar, vocals, the
Eagles
, (1977 US No.1 & UK No.8 single 'Hotel California', plus 5 US No.1 albums. 'Greatest Hits 1971-1975' is the second biggest selling album in the world with sales over 30m). Solo (1985 UK No.12 single 'The Heat Is On'). Frey died on 18 Jan 2016 died at the age of 67 in New York City from complications arising from rheumatoid arthritis, colitis and pneumonia.
6 Nov 1947
John Wilson, drummer with the Northern Irish band Them who had the 1965 UK hits 'Baby, Please Don't Go' and 'Here Comes The Night' with Van Morrison on lead vocals. Morrison quit the band in 1966 and went on to a successful career as a solo artist.
6 Nov 1946
Scottish-Australian musician, songwriter and record producer George Young. With The Easybeats he had the 1966 UK No.6 & 1967 US No. 16 single 'Friday On My Mind'. After the band broke up in 1969, Young and fellow member Harry Vanda embarked on a songwriting career that saw the pair produce dozens of hits. They became two of Australia's best-known songwriters, with Young's work including 'Love Is In The Air' and 'Yesterday's Hero' both hits for John Paul Young. Vanda and Young were also the producers of early work by
AC/DC
, formed by his younger brothers Malcolm and Angus Young. George Young died on 22 October 2017 at the age of 70, three weeks before his brother Malcolm Young (of AC/DC) died.
6 Nov 1942
Doug Sahm, Tex Mex Singer, songwriter, guitarist, Sir Douglas Quintet, (1965 US No. 13 single 'She's About A Mover'). Died 18th November 1999.
6 Nov 1941
Guy Clark, singer, songwriter, wrote songs for
Johnny Cash
, Ricky Skaggs, 1997 album 'Essential Guy Clark'. Clark died May17th 2016 in Nashville following a lengthy battle with lymphoma.
6 Nov 1932
American drummer Paul English. He was Willie Nelson's long-time drummer and was the titular "Paul" of the Willie Nelson album Me and Paul as well as the title track of that album. English also had a role in Nelson's movie Red Headed Stranger (1986). He died on 11 Feb 2020 after a bout of pneumonia age 87.
6 Nov 1932
American country music singer and musician Stonewall Jackson. His breakthrough came in the country Top 40 in late 1958, with a song written by a young George Jones, 'Life to Go'. He died on 4 December in Nashville, Tennessee, at the age of 89.
6 Nov 1894
Adolph Sax, inventor of the saxophone.