October 28th: The Biggest Music Headlines
Scroll down the page to see all the music headlines, stories and events for October 28 throughout music history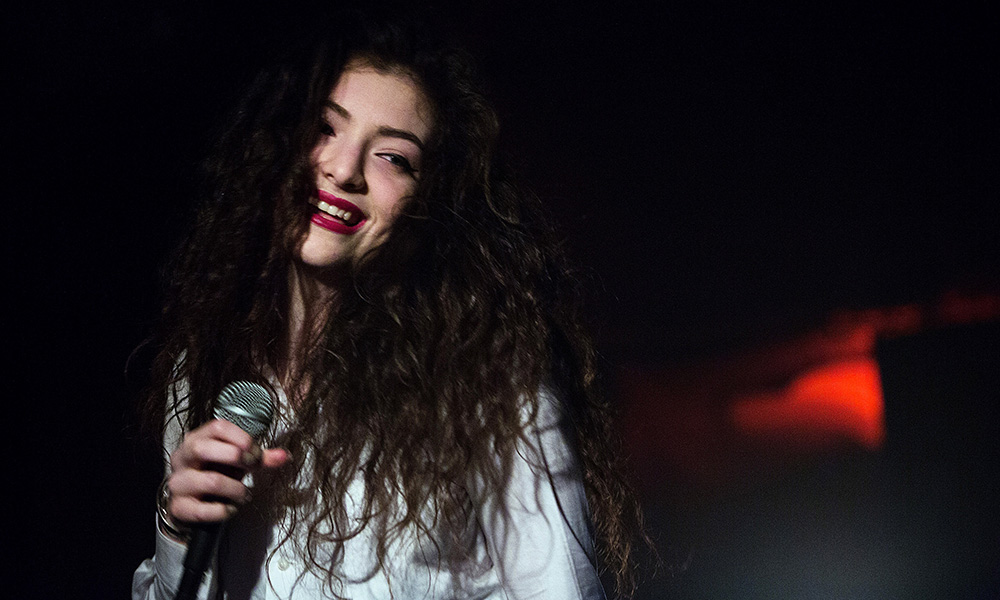 Lorde Earns Her Crown With Chart-Topping Debut 'Royals'
On October 28, 2013, Lorde emerged as the leader of a new generation of pop stars when her debut single, "Royals," topped the UK singles chart. The accomplishment made her the youngest solo artist to earn the No.1 spot since Billie Piper, with 1998's "Because I Want To." The anthemic song also hit No.1 in the US, making the 16-year-old the youngest female artist to top the Billboard Hot 100 since 1987, when Tiffany scored a No.1 hit with "I Think We're Alone Now." Lorde also became the first artist from New Zealand to top the Hot 100 and the youngest musician to top the chart with a song they had written, surpassing Soulja Boy and "Crank Dat (Soulja Boy)."
In 1989, Janet Jackson began a four-week run at No.1 on the US album chart with Janet Jackson's Rhythm Nation 1814. The LP, which included such enduring hits as "Love Will Never Do (Without You)," "Miss You Much," "Rhythm Nation," and "Escapade," became Jackson's second consecutive album to top the Billboard 200 and was certified 6× Platinum.
In 1972, Stevie Wonder released his 15th studio album, Talking Book, which featured such career favorites as "Superstition" and "You Are the Sunshine of My Life." The album, alongside Music of My Mind (also released that same year), is widely cited as the start of Wonder's "classic period."
In 1995, Coolio scored his first UK No.1 single with "Gangsta's Paradise." The song was featured in the soundtrack for the film Dangerous Minds and samples Stevie Wonder's 1976 song "Pastime Paradise."
In 2007, X Factor winner Leona Lewis went to No.1 on the UK singles chart with "Bleeding Love," the first single from her debut album, Spirit. The song was a hit across the world; it sold more than one million copies in the United Kingdom and was downloaded over four million times in the US, where it was the best-selling digital song of 2008.
In 2007, country legend Porter Wagoner died in Nashville at the age of 80. Known as "Mr. Grand Ole Opry," the Country Hall of Famer scored more than 80 charting singles during his lengthy career. Waggoner also served as the host of the long-running TV series, The Porter Wagoner Show, where he famously introduced Dolly Parton to audiences in 1967. Parton remained a regular on the show through 1974.
In 1964, the first of two nights of "The T.A.M.I. Show" took place at the Civic Auditorium in Santa Monica, CA. The bill included Smokey Robinson & The Miracles, The Beach Boys, Chuck Berry, Marvin Gaye, The Supremes, The Rolling Stones, and more.
In 2001, Afroman began a two-week run at No.1 on the UK singles chart with his stoner anthem, "Because I Got High."
Looking for more things that happened on this day in music?
Keep scrolling for all of the headlines for October 28.
BORN ON OCTOBER 28:
1936: Charlie Daniels
1953: Desmond Child (songwriter)
1957: Stephen Morris (Joy Division)
1958: William Reid (The Jesus and Mary Chain)
1969: Ben Harper
1987: Frank Ocean
Looking for more artists born on this day?
Keep scrolling for all of our October 28 birthdays.
---
What to find another day?
---
October 28th
28 Oct 2022
One of the last survivors of rock 'n' roll's golden age Jerry Lee Lewis died aged 87. Nicknamed "the Killer", he was described as Rock and roll's first great wild man and had worldwide hits with 'Whole Lotta Shakin' Goin' On' and 'Great Balls of Fire'. His life was also marred by scandal and violence. His career was briefly halted when, aged 22, he married his 13-year-old cousin Myra Gale Brown. In 1976 he accidentally shot his bass player, Norman "Butch" Owens, in the chest when playing with a loaded .357 Magnum. His career was briefly halted when, aged 22, he married his 13-year-old cousin Myra Gale Brown.
28 Oct 2019
Musician Stephen Morris appealed for the return of his £250,000 antique violin after leaving it on a train. He forgot the 310-year-old instrument, in a white case, when he got off the train in London with his bike. Morris who has played on Bond film scores and recorded with
David Bowie
said: "It's devastating to lose it. I was really only its custodian and had hoped to pass it on to another violinist eventually".
28 Oct 2016
Elvis Presley
broke the record for the most No.1 albums by a solo artist. The late singer's new album The Wonder Of You beat competition from Lady Gaga and Michael Buble to become his 13th album to top the chart. Before now, Elvis and
Madonna
were tied record holders with 12 No.1 albums each to their names.
28 Oct 2014
Police in Manchester England, said "an
Oasis
fan" could've been responsible for breaking into an art gallery to steal a picture of the band after a window was smashed at MASA-UK in Greater Manchester. The black-and-white painting by Olga Tsarevska Loma was inscribed with 'otz2013'.
28 Oct 2013
New Zealand singer Lorde topped the UK singles chart with her debut single, 'Royals', making her the youngest solo artist to score a UK No.1 since 15-year-old Billie Piper's 'Because We Want To' in 1998. 16 year old Lorde was signed to Universal on a development deal at just 13 years old, after a friend's father sent them home recordings of her singing Duffy and Pixie Lott tracks.
28 Oct 2011
The organisers of a planned
Metallica
concert in India were arrested after the show was called off, leading fans of the band to destroy the stage and vandalize equipment.
Metallica
had been booked to play in Delhi on Friday, but they postponed the show after a security barrier in front of the stage collapsed. The four promoters of the gig, were arrested on fraud charges after they refused to refund tickets. Around 25,000 people had purchased tickets to see what would have been
Metallica
's first-ever concert in India.
28 Oct 2008
A statue honouring
AC/DC
's
Bon Scott
was unveiled at the Fremantle Fishing Boat Harbour in Western Australia. Although born in Scotland, Scott grew up in Fremantle after his family emigrated to Australia in 1952. Bon started out his newfound Australian life in Melbourne, his family lived in the suburb of Sunshine for 4 years before moving to Fremantle. Scott was born in 1946 died on 20th February 1980. He is buried in Fremantle cemetery.
28 Oct 2007
X Factor
winner Leona Lewis went to No.1 on the UK singles chart with the first track from her debut album 'Bleeding Love.' Lewis had the biggest week one sales so far in 2007 this year outselling the rest of the top five put together, with 218,000 copies. She beat
Take That
's 'Rule The World' into second place.
28 Oct 2007
Country musician Porter Wagoner died in Nashville aged 80 from lung cancer. Wagoner helped launch the career of
Dolly Parton
and had his own US TV show, which ran for 21 years until 1981. Wagoner signed his first record deal in 1955, and had hits including 'Carroll County Accident' and 'Green Green Grass of Home'.
28 Oct 2005
A former producer of the rap group So Solid Crew was jailed for at least 30 years for murdering a love rival. Earlier this month a jury found Carl Morgan, 24, of Battersea, south London, guilty of shooting Colin Scarlett in Tooting, south London, last year. They failed to reach a verdict on the same charge faced by rapper Megaman, real name Dwayne Vincent, who would face a retrial next March. The judge said the life sentence showed gun crime would not be tolerated. Morgan appeared in the band's video for the track 21 Seconds.
28 Oct 2004
Courtney Love was ordered to stand trial on a charge of assault with a deadly weapon after Kristin King told a Los Angeles court Ms Love threw a bottle and a lit candle at her after turning up at the home of a former boyfriend in the early hours. Ms King told the court Ms Love was "vicious" and "erratic" when she allegedly attacked her while she slept on a sofa on 25 April. She said Ms Love then sat on her, pulled her hair and pinched her left breast in the "worst pinch I ever had", before managing to flee.
28 Oct 2001
Afroman (Joseph Foreman), started a two-week run at No.1 on the UK singles chart with 'Because I Got High.' The song about how cannabis use was degrading his quality of life, rose from obscurity to popularity after it was circulated around the Internet.
28 Oct 1997
R.E.M.
drummer Bill Berry announced that he was leaving the group after 17 years, becoming a farmer.
28 Oct 1995
Coolio featuring L.V. scored his first UK No.1 single with 'Gangsta's Paradise'. The song sampled the chorus of the 1976
Stevie Wonder
song 'Pastime Paradise' and featured in the 1995 movie Dangerous Minds (starring Michelle Pfeiffer).
28 Oct 1989
28 Oct 1978
28 Oct 1978
The live-action movie KISS Meets the Phantom of the Park, was shown on NBC-TV in the U.S. The four rock stars had to deal with a mad scientist who went crazy in an amusement park. All four members of
Kiss
had just released their individual solo albums.
28 Oct 1978
Nick Gilder went to No.1 on the US singles chart with 'Hot Child In The City', not a hit in the UK.
28 Oct 1974
Jamaican reggae artist Ken Boothe was at No.1 on the UK singles chart with his version of a song by David Gates (from Bread), 'Everything I Own.' Boy George also took the song to No.1 in 1987.
28 Oct 1973
David Cassidy was at No.1 on the UK singles chart with 'Daydreamer / The Puppy Song', the singers second No.1. 'The Puppy Song' was Cassidy's version of the Harry Nilsson song.
28 Oct 1972
Stevie Wonder
released his 15th studio album Talking Book. The album's first track, 'You Are the Sunshine of My Life', hit No.1 on the Billboard charts, and earned Wonder his first Grammy Award. The album featured a guest appearance of
Jeff Beck
on the track 'Superstition'.
28 Oct 1972
The United States Council for World Affairs announced it was adopting
The Who
song 'Join Together' as it's official theme tune.
28 Oct 1967
'Diana Ross and The
Supremes
Greatest Hits' started a five-week run at No.1 on the US album chart. Although original member Florence Ballard is pictured on the cover and sings on all the tracks, by the time the LP was released, she had been fired from the group and replaced by Cindy Birdsong.
28 Oct 1964
28 Oct 1962
The Beatles
played at the Empire in Liverpool, their first gig at Liverpool's top theatre. Eight acts were on the bill including
Little Richard
, Craig Douglas, Jet Harris and Kenny Lynch & Sounds Incorporated.
28 Oct 1961
Raymond Jones went into Liverpool's NEMS Record store trying to buy
The Beatles
records that had been released in Germany. Shop manager Brian Epstein promised to investigate further.
28 Oct 1958
Buddy Holly
appeared on Dick Clark's American Bandstand, where he lip-synched 'It's So Easy' and 'Heartbeat'. It would be Holly's last major TV appearance.
28 Oct 1957
After a show at the Pan Pacific Auditorium in Los Angeles, local police told
Elvis Presley
that he was not allowed to wiggle his hips onstage, the local press also ran headlines saying Elvis would have to clean up his act. The next night, the Los Angeles Vice Squad filmed his entire concert, to study his performance.
28 Oct 1956
Elvis Presley
made his second appearance on US TV's The Ed Sullivan Show, where the host presents him with a gold record for 'Love Me Tender'.
Born on this day in music
28 Oct 1987
American singer and songwriter Frank Ocean. His debut studio album, Channel Orange, released in July 2012 reached No. 2 on the US album chart. His second studio album Blonde debuted at No.1 in the US and the UK.
28 Oct 1969
American singer-songwriter and multi-instrumentalist, Ben Harper. Two-time Grammy Award winner, winning awards for Best Pop Instrumental Performance and Best Traditional Soul Gospel Album, in 2005.
28 Oct 1963
Italian musician and singer-songwriter, Eros Ramazzotti who has sold over 55 million records and worked with artists such as Cher, Tina Turner, Andrea Bocelli, Patsy Kensit, Anastacia, Joe Cocker, Nicole Scherzinger and Ricky Martin.
28 Oct 1959
Neville Henry, from British new wave group The Blow Monkeys who had the 1986 hit 'Digging Your Scene' and the 1987 UK No.5 single 'It Doesn't Have To Be This Way'.
28 Oct 1958
Dave Wyndorf, lead vocalist, guitarist, pianist, trombonist, and songwriter for the American rock group Monster Magnet.
28 Oct 1958
William Reid, The Jesus and Mary Chain, (1987 UK No.8 single 'April Skies').
28 Oct 1957
Stephen Morris, drums,
Joy Division
, (1980 UK No.13 single 'Love Will Tear Us Apart'). New Order, (1983 UK No.9 single 'Blue Monday'). The Other Two, (1991 UK No.41 single 'Tasty Fish').
28 Oct 1953
Desmond Child, American musician, songwriter, and producer who has co-written over 70 Top 40 singles, with songs that have sold over 300 million albums worldwide. His collaborations include
Bon Jovi
, Bonnie Tyler,
Aerosmith
, Ricky Martin, Weezer, Shakira, Jennifer Rush,
Kiss
, Joan Jett & The Blackhearts, Cher, Katy Perry, and Alice Cooper.
28 Oct 1948
Telma Hopkins, singer from American pop music group Dawn who were popular in the 1970s. Their signature hits include 'Candida', 'Knock Three Times', and 'Tie a Yellow Ribbon Round the Ole Oak Tree'.
28 Oct 1944
Jamaican reggae vocalist and songwriter Bob Andy. He was widely regarded as one of reggae's most influential songwriters and recorded with Marcia Griffiths as Bob and Marcia that had a major 1970 UK hit with 'Young, Gifted and Black'. The Jamaican government conferred the Order of Distinction in the rank of Commander on Andy in October 2006 for his contributions to the development of Jamaican music. He died of cancer on 27 March 2020 age 75.
28 Oct 1941
Hank Marvin, guitar, The Shadows, 1963 UK No.1 single 'Foot Tapper', plus 28 other UK Top 40 singles. He also played on many hits with Cliff Richard and was a member of Marvin, Welch and Farrar.
28 Oct 1940
British singer Wayne Fontana, who had the 1966 UK No.2 single with Mindbenders, 'Groovy Kind Of Love', and the 1965 US No.1 single 'Game Of Love'. Fontana died from cancer on 6 August 2020 at the age of 74.
28 Oct 1937
Graham Bond, UK R&B keyboard player, saxophonist with The Graham Bond Organisation. He died on 8th May 1974 after committing suicide by throwing himself under a London tube train at Finsbury Park station. Bond had worked with Alexis Korner,
Jack Bruce
and
Ginger Baker
.
28 Oct 1936
Charlie Daniels who is known for his No.1 country hit 'The Devil Went Down to Georgia'. Daniels has been active as a singer since the early 1950s and was inducted into the Grand Ole Opry on January 24, 2008. He died of a hemorrhagic stroke on 6 July 2020, age 83.
28 Oct 1927
Cleo Laine, English jazz singer, who had the 1961 UK No.5 single 'You'll Answer To Me'. Laine is the only female performer to have received Grammy nominations in the jazz, popular and classical music categories. She is the widow of jazz composer and musician Sir John Dankworth.