October 8th: The Biggest Music Headlines
Scroll down the page to see all the music headlines, stories and events for October 8 throughout music history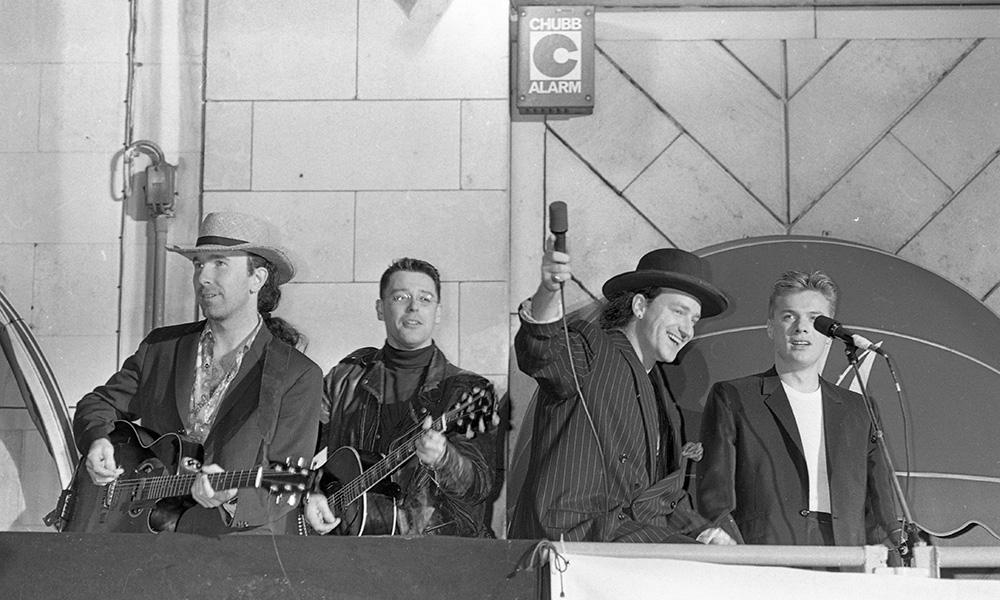 U2 Score Their First UK No.1 Hit
On October 8, 1988, U2 celebrated their first No.1 hit in the UK with "Desire." The Irish rockers' 12th single appeared on the album Rattle and Hum, which featured both live and studio recordings. In addition to being a career landmark for U2, the high-energy track (built on a classic Bo Diddley beat), also broke chart records in the US, becoming the first song to top both Billboard's Modern Rock Tracks and Mainstream Rock Tracks charts. The following year, "Desire" earned a Grammy Award for Best Rock Performance by a Duo or Group.
Also in 1988, Pink Floyd's 1973 album, The Dark Side of the Moon, ended its record-breaking run on the Billboard 200, after a whopping 741 weeks.
In 2000, Radiohead scored their first No.1 album in the US when Kid A debuted atop the Billboard 200. Their fourth studio album, which also debuted at the top of the UK charts, found the British group taking a new direction with their music. Moving away from guitar-driven rock, the band experimented with electronic and ambient music, integrating synths, samples, and loops, with orchestral instrumentation. The broadly acclaimed album, which featured such songs as "Everything in Its Right Place," "How to Disappear Completely," and "The National Anthem," earned a Grammy Award for Best Alternative Album.
In 1987, Chuck Berry received a star on the Hollywood Walk of Fame. The celebration coincided with the premiere of his biopic, Hail, Hail Rock & Roll.
In 1965, a band called The Fluorescents, featuring Bruce Springsteen on vocals, played their first official club gig at the I.B. Club in Howell, NJ. Tickets were just $1.00.
In 1964, Roy Orbison took the No.1 spot on the UK pop charts with "Oh, Pretty Woman." The song, which would become one of his signature hits, marked Orbison's third chart-topper in the UK, following "Only the Lonely" (1960) and "It's Over" (1964).
Looking for more things that happened on this day in music?
Keep scrolling for all of the headlines for October 8.
BORN ON OCTOBER 8:
1934: Doc Green (The Drifters)
1945: Ray Royer (Procol Harum)
1947: Tony Wilson (Hot Chocolate)
1948: Johnny Ramone (The Ramones)
1967: Teddy Riley (Blackstreet)
1985: Bruno Mars
Looking for more artists born on this day?
Keep scrolling for all of our October 8 birthdays.
---
What to find another day?
---
October 8th
8 Oct 2021
British drummer and percussionist Everett Morton died age 71. As the drummer for the early 1980s ska band The Beat he enjoyed a string of hits singles, including 'Mirror in the Bathroom', 'Too Nice to Talk To', 'Can't Get Used to Losing You', and 'Hands Off...She's Mine'.
8 Oct 2020
English musician and songwriter Brian Locking died age 81. He was the bassist with The Wildcats in 1956 and The Shadows, between 1962 and 1963. During his time with the Shadows he appeared with Cliff Richard in the musical film Summer Holiday. Locking also toured as aa session player with artist's including Gene Vincent, Eddie Cochran and Joe Brown, as well as Conway Twitty and Brenda Lee.
8 Oct 2019
Malcolm 'Molly' Duncan died aged 74. He was a tenor saxophonist who co-founded the Scottish funk group The Average White Band who scored the 1974 hit 'Pick up the Pieces'.
8 Oct 2015
Scottish singer-songwriter Jim Diamond died at the age of 64. His first hit was 'I Won't Let You Down' (1982), as the lead singer in the trio PhD, and the solo hit 'I Should Have Known Better', a UK No.1 hit in 1984.
8 Oct 2013
Philip Chevron, the guitarist with Irish folk-punk band The Pogues, died of cancer aged 56. He formed punk band The Radiators From Space in 1976 before joining The Pogues, who became best known for their 1987 Christmas hit single 'Fairytale of New York' featuring Kirsty MacColl.
8 Oct 2012
Record label bosses at EMI recalled a vinyl, anniversary edition of
The Beatles
' hit single '
Love Me Do
' after discovering they had accidentally pressed a version that included session musician Andy White playing drums instead of
Ringo Starr
. Copies of the disc featuring the wrong version were reportedly selling on eBay.
8 Oct 2007
Arctic Monkeys were named the best act in the world at this year's Q Awards held in London. Best album went to
Amy Winehouse
for Back to Black and Muse won Best live act. The icon of the year went to Sir
Paul McCartney
, former Blur frontman Damon Albarn took the prize for inspiration, Classic songwriter award went to Billy Bragg and Lifetime achievement award went to Johnny Marr. The late Tony Wilson, founder of Manchester's Factory Records was named Q's hero.
8 Oct 2006
The Killers started a three week run at No.1 on the UK album chart with 'Sam's Town' the US bands second album.
8 Oct 2004
Britney Spears
split with the manager who had guided her career since she was 13 years old. Larry Rudolph said he and the singer had "mutually agreed not to renew their nine-year management relationship".
8 Oct 2003
Coldplay
singer Chris Martin asked Australian police to drop a charge of malicious damage after allegedly attacking a photographer's car. Martin was charged in July after breaking a windscreen with a rock after being photographed surfing. Martin did not appear in court at Byron Bay, New South Wales, when his lawyer, Megan Cusack, asked for the charge to be dropped.
8 Oct 2000
Radiohead
started a two-week run at No.1 on the UK album chart their fourth studio album 'Kid A'. The album became the first
Radiohead
release to debut at No.1 in the US.
8 Oct 1992
8 Oct 1988
On their 12th single release,
U2
scored their first UK No.1 with 'Desire.' The track which was also a US No.3 hit was taken from their album 'Rattle And Hum.'
8 Oct 1988
8 Oct 1987
Chuck Berry
was awarded a star on the Hollywood Walk of Fame. His film biography, Hail, Hail Rock & Roll also premiered on the same night.
8 Oct 1987
The three members from ZZ Top made advance bookings for seats on the first passenger flight to the Moon. The boys are still waiting for confirmation of the trip.
8 Oct 1977
One half of TV cop show "Starsky & Hutch" (he was blonde Hutch), David Soul was at No.1 on the UK singles chart with 'Silver Lady', his second and last UK No.1 single.
8 Oct 1971
Led Zeppelin II
was enjoying its 100th week on the UK album charts. It was the band's first album to hit No.1 in the US, knocking
The Beatles
'
Abbey Road
twice from the top spot, where it remained for seven weeks. When first released the album had advance orders of 400,000 copies in the USA, (the advertising campaign was built around the slogan Led Zeppelin II Now Flying).
8 Oct 1969
David Bowie
played the first of a 10 date tour supporting Humble Pie at Coventry Theatre, Coventry, England. Fronted by former
Small Faces
singer Steve Marriott and featuring Bowies old school friend Peter Frampton. Frampton's father, Owen taught Art at Beckenham Technical School were Bowie was a pupil. Another of his pupils was George Underwood, who became a painter and designed three
David Bowie
album covers,
Space Oddity
, Hunky Dory and
Ziggy Stardust
.
8 Oct 1967
Jimi Hendrix
, Arthur Brown and John's Children all appeared at the Saville Theatre in London, England.
8 Oct 1966
Cream
drummer
Ginger Baker
collapsed during a gig at Sussex University, England after playing a 20 minute drum solo. He later recovered in a local hospital.
8 Oct 1965
The Florescents supported by The Castiles, which featured a young singer called
Bruce Springsteen
appeared at the I.B. Club in Howell, New Jersey. This was The Castiles first publicly advertised nightclub appearance. Admission was $1.00.
8 Oct 1965
During a UK tour The
Rolling Stones
appeared at The ABC, Stockton on Tees. Also on the bill, Spencer Davis Group, Unit Four + 2, The Checkmates, The End, and Charles Dickens and The Habits.
8 Oct 1964
Working at Abbey Road studios in London,
The Beatles
recorded their next single 'She's a Woman' in seven takes plus overdubs, recording the song from start to finish in five hours.
8 Oct 1964
Roy Orbison
was at No.1 on the UK singles chart with 'Oh Pretty Woman', his third UK No.1. The title was inspired by Orbison's wife Claudette interrupting a conversation to announce she was going out; when Orbison asked if she was okay for cash, his co-writer Bill Dees interjected "A pretty woman never needs any money."
Born on this day in music
8 Oct 1985
Bruno Mars, (Peter Gene Hernandez), American singer-songwriter and record producer. Scored the 2010 world wide No.1 'Just The Way You Are' and the 2011 hit 'The Lazy Song'.
8 Oct 1967
Teddy Riley, US singer, Blackstreet, (1996 UK No. 9 & US No.1 'No Diggity', featuring Dr Dre).
8 Oct 1959
James Johnstone, from British post-punk band Pigbag who had the 1982 UK No.3 single 'Papa's Got A Brand New Pigbag'.
8 Oct 1949
Hamish Stewart, guitarist, bassist, singer. His first band was the Dream Police, before he was invited to join the recently formed Average White Band who scored the 1975 US No.1 & UK No.6 single 'Pick Up The Pieces'. Stewart was a member of the
Paul McCartney
band during the 90s, and later toured as the bass player with
Ringo Starr
& His All-Starr Band.
8 Oct 1949
Harry Bowens, from American group Was Not Was, who had the 1992 UK No.4 single 'Shake Your Head'.
8 Oct 1948
Johnny Ramone, (John Cummings), guitarist from American punk rock band,
Ramones
who had the 1977 hit single 'Sheena Is A Punk Rocker'. They are often cited as the first band to define the punk rock sound. Cummings died of prostate cancer on 15th September 2004.
8 Oct 1947
American singer Sheila Ferguson from The Three Degrees, (singing lead vocals on most of the group's biggest hits), most notably the 1974 'When Will I See You Again', which was a huge international success topping the UK Singles Chart and peaked at number 2 on the US chart.
8 Oct 1947
Tony Wilson, Hot Chocolate, who had the 1975 US No.3 single 'You Sexy Thing' the 1977 UK No.1 single 'So You Win Again' and over 25 other Top 40 hits.
8 Oct 1945
American musician Butch Rillera from Redbone who had the 1971 UK No.2 & US No.21 single 'The Witch Queen Of New Orleans' and the 1974 US No. 4 hit single, 'Come and Get Your Love.' Redbone are accredited in the NY Smithsonian as the first Native American rock/Cajun group to have a No.1 single in the United States and internationally.
8 Oct 1945
Ray Royer, guitarist,
Procol Harum
, 1967 UK No.1 & US No.5 single 'A Whiter Shade Of Pale' (one of the few singles to have sold over 10 million copies) and scored the hits 'Homburg', 'Conquistador'.
8 Oct 1941
British musician George Bellamy, rhythm guitar for the Tornados. Their instrumental 'Telstar', reached No.1 all over the world and was the first British rock song to be a No.1 single in the United States. Bellamy wrote one of The Tornados' tracks, 'Ridin' the Wind', which also was a hit single in the USA.
8 Oct 1941
English musician Dave Arbus, violin, flute, saxophones with East Of Eden who had the 1971 UK No.7 single 'Jig A Jig'.
8 Oct 1940
American singer Fred Cash, from The Impressions, who had the 1965 US No.7 single 'Lilies Of The Field'.
8 Oct 1934
Doc Green, The Drifters, (1960 US No.1 & UK No.2 single 'Save The Last Dance For Me').
8 Oct 1932
Nashville-based record producer and pedal steel guitar player Pete Drake. He played on such hits as Lynn Anderson's 'Rose Garden', Charlie Rich's 'Behind Closed Doors'
Bob Dylan
's 'Lay Lady Lay' and
Tammy Wynette
's 'Stand by Your Man'.
Drake
died on 29 July 1988 aged 55.