September 16th: The Biggest Music Headlines
Scroll down the page to see all the music headlines, stories and events for September 16 throughout music history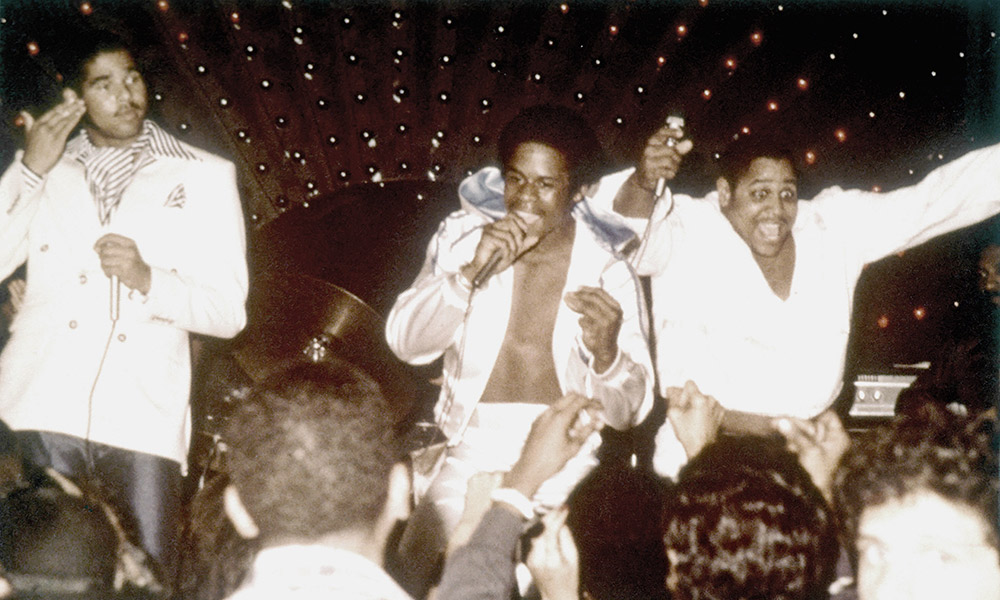 The Sugarhill Gang Popularize Hip-Hop With 'Rapper's Delight'
On September 16, 1979, The Sugarhill Gang introduced the world to hip-hop with their single "Rapper's Delight." Opening with the now-classic lyric "I said a hip hop the hippie to the hippie/ To the hip hip hop and you don't stop," the track riffs off the upbeat bassline of Chic's "Good Times," and features the dextrous wordplay of Michael "Wonder Mike" Wright, Henry "Big Bank Hank" Jackson, and Guy "Master Gee" O'Brien. While the track wasn't the first instance of rap on record, it was the first single to popularize the genre on a global level, landing in the US Top 40, and in the Top Ten in the UK, Canada, and across Europe. It has since been added to the Library of Congress's National Recording Registry.
In 1977, 29-year-old singer, songwriter, and guitarist Marc Bolan was tragically killed when a car driven by his girlfriend, Gloria Jones, left the road and hit a tree in London. Known for pairing glitter make-up and feather boas with searing guitar riffs, Bolan was a pioneering figure in the British glam rock movement, whose band T.Rex rose to fame with such hits as "Get It On," "20th Century Boy," and "Children of the Revolution." His work, meanwhile, would inspire artists across multiple genres for decades to come – from the punk and new wave movements to Britpop.
In 1967, The Jimi Hendrix Experience's debut album, Are You Experienced? entered the Billboard 200, where it would remain for 106 weeks, including 77 weeks in the Top 40. While the album was embraced by critics upon its release, its legacy would only grow. Ranked among the greatest albums of all time by multiple outlets, including Rolling Stone, the title has also been added to the Library of Congress's National Recording Registry.
In 1985, Kate Bush released her fifth studio album, Hounds of Love, featuring such UK hits as "Cloudbusting," "Hounds of Love," and "The Big Sky," plus the enduring smash, "Running Up That Hill."
In 1970, Jimi Hendrix made his final public appearance, playing alongside Eric Burdon at Ronnie Scott's in London.
Looking for more things that happened on this day in music?
Keep scrolling for all of the headlines for September 16.
BORN ON SEPTEMBER 16:
1925: B.B. King
1942: Bernie Calvert (The Hollies)
1944: Betty Kelly (Martha & The Vandellas)
1963: Richard Marx
1969: Justine Frischmann (Elastica)
1979: Flo-Rida
1992: Nick Jonas
Looking for more artists born on this day?
Keep scrolling for all of our September 16 birthdays.
---
What to find another day?
---
September 16th
16 Sep 2022
Robbie Williams overtook Elvis Presley (13 No.1s), to become the solo artist with the most UK No.1 albums ever when his latest album XXV topped the UK chart. Only
The Beatles
had more UK No.1 albums than Robbie with 15 across their career.
16 Sep 2018
English multi-instrumentalist musician and record producer Maartin Allcock died aged 61. He was a member of British folk rock band Fairport Convention and Jethro Tull and also played keyboards for The Mission.
16 Sep 2014
American singer Ariana Grande was at No.1 on the US album chart with My Everything the singers second studio album. The album also debuted at No.1 in Australia and Canada and peaked in the top ten of twenty countries worldwide.
16 Sep 2013
A souvenir booklet from the 1967
Monterey Pop Festival
signed by
Jimi Hendrix
fetched $6,500 on eBay. The artifact also included autographs from three members of the Mamas and Papas.
16 Sep 2013
Jackie Lomax died at his home in England aged 69. He first gained notice as the vocalist and bass player with The Undertakers, which were part of the Mersey Beat movement. He was later one of the first artists to sign with
The Beatles
label, Apple, with
George Harrison
penning his single 'Sour Milk Sea'.
16 Sep 2009
Mary Travers from Folk trio Peter, Paul And Mary, passed away after suffering from leukemia for several years. She was 72. Mary's lead vocal can be heard on the group's biggest hit, 1969's 'Leaving On A Jet Plane'.
16 Sep 2008
Norman Whitfield died in Los Angeles, California from diabetes and other illnesses. The
Motown
songwriter and producer collaborated with
Barrett Strong
on such hits as 'I Heard It Through the Grapevine', 'Ain't Too Proud to Beg', '(I Know) I'm Losing You', 'Cloud Nine', 'War', 'Papa Was a Rolling Stone', and 'Car Wash'.
16 Sep 2006
Bob Dylan
was at No.1 on the US album chart with 'Modern Times.' Entering the U.S. charts at No.1, making it Dylan's first album to reach that position since 1976's Desire, 30 years prior. At 65, Dylan became the oldest living musician to top the Billboard albums chart. (85 year-old Tony Bennett broke this record in 2011 with his Duets album). The record also reached number one in Australia, Canada, Denmark, Ireland, New Zealand, Norway and Switzerland.
16 Sep 2004
Weather Girls singer Izora Armstead died aged 62 of heart failure at a hospital in San Leandro, East San Francisco. Also member of Two Tons O' Fun featured on four Sylvester albums, including '(You Make Me Feel) Mighty Real.'
16 Sep 2001
Austrian act DJ Otzi went to No.1 on the UK singles chart with 'Hey Baby', a Euro-dance version of Bruce Channel's No.2 hit from 1962.
16 Sep 1998
At a Sotheby's auction a notebook belonging to former Beatles roadie Mal Evans containing the lyrics to 'Hey Jude' sold for £111,500, a two-tone denim jacket belonging to
John Lennon
went for £9,200 and the Union Jack dress worn by
Spice Girl
Ginger Spice sold for £41,320.
16 Sep 1996
Pearl Jam
played the first night on their 'No Code' tour at the Key Arena in Seattle, Washington. Because of the band's refusal to play in Ticketmaster's venue areas, they were forced to use alternate ticketing companies for the shows which fans complained were to be out-of-the-way and hard to get to.
16 Sep 1996
21 year-old Ricardo Lopez was found dead in his Hollywood apartment after committing suicide. Before his death Ricardo had mailed an acid bomb to Icelandic singer Bjork's London management.
16 Sep 1988
Former Clash drummer Topper Headon was released from jail after serving 10 months of a 15-month sentence on a narcotics charge.
16 Sep 1985
Kate Bush
released her fifth studio album Hounds of Love. The album's lead single, 'Running Up That Hill', became one of Bush's biggest hits and the album produced three further successful singles, 'Cloudbusting', 'Hounds of Love', and 'The Big Sky'. NME placed Hounds of Love 48th on their "500 Greatest Albums of All-Time" list.
16 Sep 1979
The Sugarhill Gang's 'Rapper's Delight' was released. While it was not the first single to feature rapping, it is generally considered to be the song that first popularized hip hop in the United States and around the world. The song's opening lyric "I said a hip, hop, the hippie, the hippie to the hip hip hop" is world-renowned.
16 Sep 1977
29-year-old former
T Rex
singer
Marc Bolan
was killed instantly when the car driven by his girlfriend, Gloria Jones, left the road and hit a tree in Barnes, London. Miss Jones broke her jaw in the accident. The couple were on the way to Bolan's home in Richmond after a night out at a Mayfair restaurant. A local man who witnessed the crash said, 'When I arrived a girl was lying on the bonnet and a man with long dark curly hair was stretched out in the road - there was a hell of a mess.'
16 Sep 1972
Wishbone Ash, Family, Steppenwolf, John Kay Band, Slade, Uriah Heep, Roy Wood and Wizzard, Wild Angels, Glencoe, Sunshine and Cold Comfort Farm all appeared at this years Buxton Festival in Derbyshire, England.
16 Sep 1970
Led Zeppelin
won 'best group' in the Melody Maker readers Poll. This was the first time in eight years that
The Beatles
hadn't won 'best group.'
16 Sep 1970
Jimi Hendrix
joined Eric Burdon on stage at Ronnie Scotts in London for what would become the guitarist's last ever public appearance.
16 Sep 1967
Jimi Hendrix
's debut LP,
Are You Experienced
? entered the Billboard Hot 200 album chart, where it stayed for 106 weeks, including 77 weeks in the Top 40. In 2003, Rolling Stone magazine ranked it No.15 on their 500 Greatest Albums of All Time and two years later it was selected for permanent preservation in the National Recording Registry at the Library of Congress in the United States.
16 Sep 1967
Working at Abbey Road studios in London
The Beatles
recorded 11 takes of 'Your Mother Should Know', giving the song a stronger beat, but this version of the song was discarded in favour of the original recording.
16 Sep 1966
Member of Parliament Tom Drilberg asked Britain's House of Commons to officially "deplore" the action of a magistrate who'd earlier called The
Rolling Stones
"complete morons...who wear filthy clothes."
16 Sep 1963
'She Loves You' by
The Beatles
was released by Swan Records in the US. Although the song was currently No.1 in the UK, 'She Loves You' was ignored in the US until 1964 when it would reach the top of the US Pop chart.
16 Sep 1957
The Biggest Show Of Stars package tour kicked off at Brooklyn Paramount featuring:
Buddy Holly
& The Crickets, The Drifters, The Everly Brothers and Frankie Lymon. On some dates, artists were unable to play because of segregation laws.
16 Sep 1956
Anne Shelton was at No.1 on the UK singles chart with 'Lay Down Your Arms.' Shelton was a British vocal star of the 40s & 50s and one time singer with the Glenn Miller Orchestra.
Born on this day in music
16 Sep 1993
American record producer, record executive, and DJ Leland Tyler Wayne, professionally known as Metro Boomin (also known as Young Metro or simply Metro). He has amassed over a dozen top 20 US hits.
16 Sep 1992
Nick Jonas, American singer-songwriter and actor, Jonas Brothers, 2009 US No.1 album 'Lines, Vines and Trying Times'.
16 Sep 1992
Jake Roche, British singer, songwriter and actor, best known as the lead vocalist of the band Rixton, who scored the 2014 UK No.1 single 'Me and My Broken Heart'.
16 Sep 1984
Katie Melua, UK singer, songwriter, (2004 UK No.1 album 'Call Off The Search', 2004 UK Top 10 single 'The Closest Thing To Crazy', 2007 UK No.1 single 'What a Wonderful World' with Eva Cassidy).
16 Sep 1979
Flo Rida (Tramar Lacel Dillard), American rapper. Worked with 2 Live Crew. 2008 US No.1 single 'Low', featuring T-Pain.
16 Sep 1977
Musiq Soulchild, (Talib Johnson), American R&B artist, (2007 US No.1 album 'Luvanmusiq').
16 Sep 1976
Tina Barrett from English pop group S Club 7 who had the 1999 UK No.1 single 'Bring It All Back'. Their 2000 UK No.1 album 7 spent over a year on the UK chart. The group was formed in 1998 and quickly rose to fame by starring in their own BBC television series, Miami 7.
16 Sep 1975
Shannon Noll, Australian singer, runner-up of the first series of Australian Idol (2003). 2004 Australian No.1 single 'What About Me?'
16 Sep 1969
Justine Frischmann, guitar, vocals, Elastica, (1995 UK No.13 single 'Waking Up'). Also a member of early Suede.
16 Sep 1964
Dave Sabo, guitarist from American heavy metal band Skid Row. The group achieved commercial success in the late 1980s and early 1990s, with its first two albums Skid Row (1989) and Slave to the Grind (1991) the latter of which reached No.1 on the Billboard chart. He was the original lead guitar player for
Bon Jovi
, playing several local shows with them before Richie Sambora replaced him in 1983.
16 Sep 1963
Richard Marx, singer, songwriter, (1989 US No.1 & UK No.2 single 'Right Here Waiting', 1992 UK No.3 single 'Hazard').
16 Sep 1962
Stephen Jones, singer, guitarist, from British indie band Babybird, who had the 996 UK No.3 single 'You're Gorgeous', and the 1996 UK No. 9 album Ugly Beautiful.
16 Sep 1961
Bilinda Butcher, My Bloody Valentine, (1991 UK No.29 single 'To Here Knows When').
16 Sep 1959
Victory Tischler-Blue bassist on the all-female American rock band the
Runaways
third studio album, Waitin' for the Night. She toured with the band from fall of 1977 to late 1978.
16 Sep 1953
Alan Barton from
Black Lace
who had the 1984 UK No.2 single 'Agadoo'. The track earned them the dubious accolade of being voted as the worst song of all time by a panel of music writers for Q Magazine. Barton replaced Chris Norman in Smokie in 1986, recording six albums with them. He died on 23 March 1995 aged 41 from injuries incurred when Smokie's tour bus crashed during a hailstorm in Cologne, Germany.
16 Sep 1953
American bass player Michael Rhodes best known for his session work and touring in support of other artists including Steve Winwood, Larry Carlton, the Dixie Chicks, Reba McEntire, Rosanne Cash, Vince Gill, J.J. Cale, Dolly Parton, Randy Travis, Faith Hill, Toby Keith, and Kenny Chesney. He was also an active sideman in recordings and touring of Joe Bonamassa. He died of pancreatic cancer on 4 March 2023 age 69.
16 Sep 1952
Ron Blair,
Tom Petty
& The Heartbreakers, (1977 single 'American Girl', 1989 UK No.28 single 'I Won't Back Down', 1991 UK No.3 album 'Into The Great Wide Open').
16 Sep 1952
American musician Tom Leadon. He was one of the founding members of Tom Petty's original band, Mudcrutch, and remained its guitarist following its revival in 2007. Leadon also played bass in Linda Ronstadt's band. He was the brother of Bernie Leadon, the former banjoist and guitarist of the Eagles. Tom Leadon died on 22 March 2023 age 70.
16 Sep 1950
David Bellamy, Bellamy Brothers, (1976 US No.1 single 'Let Your Love Flow', 1979 UK No.3 single 'If I Said I Had A Beautiful Body Would You Hold It Against Me').
16 Sep 1948
Kenny Jones, drummer, The
Small Faces
(1967 UK No.3 single 'Itchycoo Park' & 1968 UK No.1 album 'Ogden's Nut Gone Flake'). The
Faces
(1972 UK No.6 single 'Stay With Me').
The Who
(after
Keith Moon
, 1981 UK No.9 single 'You Better You Bet').
16 Sep 1944
American singer Betty Kelly from Martha And The Vandellas, (1964 US No.2 & 1969 UK No.4 single 'Dancing In The Street'). She was also a member of Motown singing group The Velvelettes.
16 Sep 1942
Bernie Calvert, bassist with British pop/rock group The Hollies ( from 1966 until 1981), who have scored over 30 top 40 hits, including 'Just One Look', 'Bus Stop', 'Carrie Anne', and later 'He Ain't Heavy, He's My Brother' and 'The Air That I Breathe'.
16 Sep 1941
Joe Butler, The Lovin Spoonful, (1966 US No.1 & UK No.8 single 'Summer In The City').
16 Sep 1925
B.B. King, US blues guitarist. He gained the nickname "Beale Street Blues Boy", which was later shortened to "Blues Boy" and finally to B.B. King. He was a major influence on
Eric Clapton
and Rolling Stone magazine placed him behind only
Jimi Hendrix
and Duane Allman in its list of the 100 greatest guitarists of all time. King died in his sleep on May 14, 2015 from a series of small strokes caused by type 2 diabetes.