September 6th: The Biggest Music Headlines
Scroll down the page to see all the music headlines, stories and events for September 6 throughout music history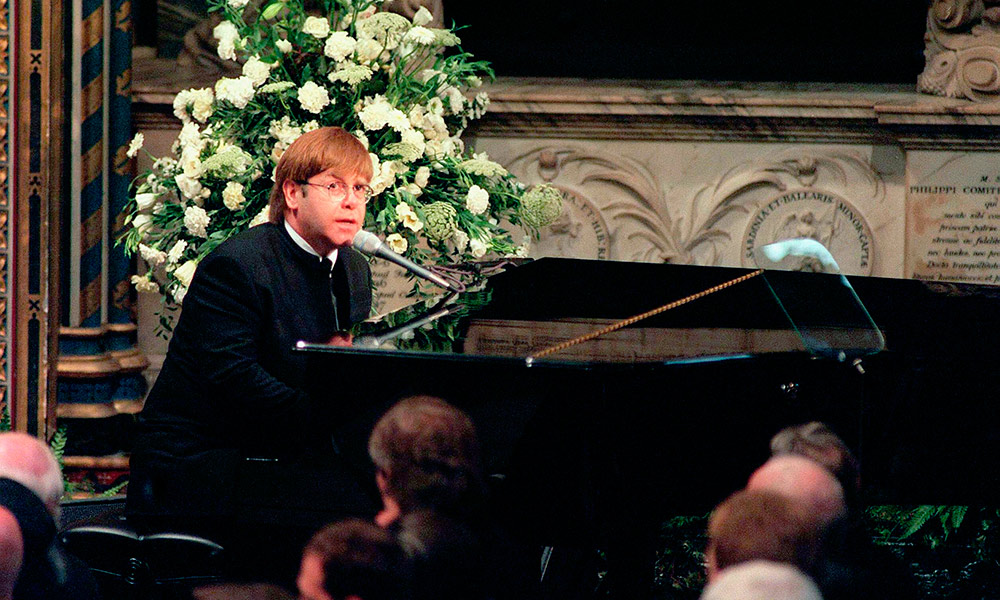 Elton John Records A Loving Tribute To Princess Diana
On September 6, 1997, Elton John recorded a re-imagined version of his 1973 song, "Candle in the Wind," after performing it at the funeral of his friend, Princess Diana. While the ballad was initially written in honor of actress Marilyn Monroe, the singer-songwriter altered the lyrics to create a loving tribute to the late Princess of Wales after her tragic death. After an estimated global audience of 2.5 billion watched the performance during its live broadcast, Elton chose to release the song (just one week later), with proceeds benefiting Diana's charities. "Candle in the Wind 1997" went on to top the US and UK charts and became the best-selling single of all time in both countries. The song also hit No.1 around the world, including in Japan, Australia, Canada, and across Europe.
In 1970, The Jimi Hendrix Experience performed their final show at the Open Air Love & Peace Festival in Fehmarn, Germany. Less than two weeks later, the 27-year-old guitar virtuoso would be dead. Among the songs in the band's set were "Hey Joe," "Purple Haze," and "Foxy Lady." While bootlegs of the now-famous performance were distributed over the years, it wasn't until 2005 that the audio – taken from a recording by the festival's promoter – was officially released as Live at the Isle of Fehmarn.
In 1968, The Beatles recruited Eric Clapton to add his now-legendary guitar solo to the George Harrison-penned song, "While My Guitar Gently Weeps." Clapton became the first famous non-Beatles musician to guest on one of their songs.
In 1975, Glen Campbell began a two-week run atop the Billboard Hot 100 with "Rhinestone Cowboy," his first No.1 after 13 Top 40 hits. The song later earned three Grammy nominations and was named the Country Music Association's Song of the Year in 1976.
In 2016, Barbra Streisand extended her US chart record (notching more No.1 albums than any other female artist) after she scored her 11th No.1 album with Encore: Movie Partners Sing Broadway. The Billboard 200 chart position widened Streisand's lead over Madonna, who trailed her with eight No.1s, while the multi-hyphenate star also overtook records held by Elvis Presley (10) and tied with Bruce Springsteen.
In 1990, Creedence Clearwater Revival's rhythm guitarist, Tom Fogerty, died at the age of 49. Fogerty co-founded the best-selling band alongside his brother, John, as well as Doug Clifford, and Stu Cook. Fogerty released several solo albums after leaving CCR in 1971.
Looking for more things that happened on this day in music?
Keep scrolling for all of the headlines for September 6.
BORN ON SEPTEMBER 6:
1925: Jimmy Reed
1943: Roger Waters (Pink Floyd)
1947: Sylvester
1969: Marc Anthony
1969: Macy Gray
1971: Dolores O'Riordan (The Cranberries)
1974: Nina Persson (The Cardigans)
Looking for more artists born on this day?
Keep scrolling for all of our September 6 birthdays.
---
What to find another day?
---
September 6th
6 Sep 2020
American R&B and soul singer and a one-time lead singer for The Temptations, Bruce Williamson Jr. died age 49. Williamson appeared on the group's recent albums, Back to Front and Still Here, and countless concerts, TV appearances, and a cameo in Walk Hard: The Dewey Cox Story.
6 Sep 2016
Barbra Streisand extended her US chart record after she scored her 11th US No.1 album with her Encore: Movie Partners Sing Broadway. The star had already notched up more chart toppers than any other female artist, and now extends her lead over
Madonna
, who has eight. She also overtook
Elvis Presley
, who has 10, to tie with
Bruce Springsteen
.
6 Sep 2011
A California judge ruled that
Madonna
did not hold a trademark over the phrase "Material Girl" for her line of clothing just because she wrote a song by that name in 1985. An L.A. retailer called LA Triumph has been using the name "Material Girl" clothing and has registered it as a trademark.
6 Sep 2010
Morrissey caused controversy after he claimed that the Chinese were a "sub-species" because of the way they treat animals. In an interview with UK paper The Guardian, the former
Smiths
frontman said: "Did you see the thing on the news about their treatment of animals and animal welfare? Absolutely horrific. You can't help but feel that the Chinese are a sub-species."
6 Sep 2008
US rock band Great White whose pyrotechnics sparked a fire that killed 100 people, agreed to pay $1m (£564,000) to survivors and victims' relatives. The blaze began at The Station nightclub in the US state of Rhode Island in 2003 when the band's tour manager shot off pyrotechnics at the start of the concert. More than 200 people were also injured in the blaze. One band member, guitarist Ty Longley, was killed in the fire. Tour manager Daniel Biechele pleaded guilty in 2006 to 100 counts of involuntary manslaughter and was given parole in March after serving less than half of his four-year prison sentence.
6 Sep 2006
Victor Willis, who performed as the policeman in The Village People was given three years probation for drugs offences after pleading no contest to the charges, dating from March 2006. Willis co-wrote some of the group's biggest hits - including 'YMCA' and 'In The Navy.'
6 Sep 2006
A man named Paul van Valkenburgh from Florida died of lung cancer. An obituary published in a local paper was picked up by the Associated Press, which ran a short obituary of the dead man but giving him the wrong name. The real Paul Vance, who was alive and well and living in Coral Springs, Florida, contacted local media after viewing a report of his death on local TV. He announced that he was still alive and was able to prove this with a stack of royalty cheques from ASCAP from his biggest hit 'Itsy Bitsy Teeny Weeny Yellow Polka-Dot Bikini.' He told a reporter for the New York Times that his relatives and friends, shocked by the AP report, had called to check on him after the media reports.
6 Sep 2005
Sir
Bob Geldof
was awarded the freedom of his native Dublin after the City Council voted in favour of giving him the accolade in honour of his campaign against world poverty and alleviating debt in Africa.
6 Sep 2004
Jamiroquai singer Jay Kay was banned for six months and fined £750 after being clocked driving at more than 100mph. His lawyers had argued at Perth Sheriff Court that he needed his licence so he could have "respite" from his busy professional life. But Sheriff Robert McCreadie said his conduct was "entirely unacceptable". Jay Kay admitted driving a four-wheel-drive vehicle at 105mph on the A9 in Perthshire in February while overtaking.
6 Sep 2001
American band Earth, Wind & Fire announced that Viagra would sponsor their forthcoming 30th anniversary American tour.
6 Sep 1997
Elton John
recorded a new version of 'Candle In The Wind' after performing the song live at Diana Princess of Wales funeral. An estimated 2.5 billion people around the world watched Elton play the special tribute to Diana. The track went on to become the biggest selling single of all-time.
6 Sep 1994
English keyboard player Nicky Hopkins died aged 50, in Nashville, Tennessee, of complications from intestinal surgery. Was a highly respected session musician, worked with The
Rolling Stones
,
Jeff Beck
,
The Beatles
,
The Who
,
The Kinks
,
Small Faces
,
Led Zeppelin
,
John Lennon
,
George Harrison
, and the
Jerry Garcia
Band.
The Kinks
song 'Session Man' from Face to Face is dedicated to (and features) Hopkins.
6 Sep 1990
Tom Fogerty rhythm guitarist with
Creedence Clearwater Revival
died aged 49, due to complications from AIDS acquired during a blood transfusion. During 1969 CCR scored three US Top Ten albums and four Top 5 singles and after leaving CCR in 1971 Fogerty released several solo albums.
6 Sep 1988
2,000 items of
Elton John
's personal memorabilia including his boa feathers, 'Pinball Wizard' boots and hundreds of pairs of spectacles were auctioned at Sotheby's in London.
6 Sep 1986
All girl group Bananarama went to No.1 on the US singles chart with 'Venus', the song had also been a No.1 for Dutch group Shocking Blue in 1970.
6 Sep 1985
'Desperately Seeking Susan' went on general release in the UK, the movie featured
Madonna
and Rosanna Arquette. The filmmakers had initially wanted Diane Keaton and Goldie Hawn to play the roles of Roberta and Susan, but the director decided to cast newcomers Rosanna Arquette and
Madonna
instead.
6 Sep 1980
The Jam
were at No.1 on the UK singles chart with 'Start!', the group's second UK No.1 and taken from the band's fifth album Sound Affects.
6 Sep 1978
Record producer Tom Wilson died. He worked with various US acts including
Bob Dylan
(The Times They Are a-Changin', Another Side of
Bob Dylan
, and Bringing It All Back Home),
Frank Zappa
(Freak Out!),
Simon And Garfunkel
(Wednesday Morning, 3 A.M.) and The Velvet Underground, (White Light/White Heat).
6 Sep 1975
Glen Campbell
started a two week run at No.1 on the US singles chart with 'Rhinestone Cowboy', his first No.1 after 13 Top 40 hits. The record gained three Grammy nominations and was the Country Music Association's Song of the Year for 1976.
6 Sep 1975
Rod Stewart
was at No.1 on the UK singles chart with his version of the Sutherland Brothers song 'Sailing'. The song had been featured in the BBC TV series about HMS Ark Royal.
6 Sep 1974
The 101 All Stars (featuring
Joe Strummer
), made their debut at The Telegraph, Brixton Hill, London.
6 Sep 1970
Jimi Hendrix
made his final live appearance when he appeared at the Isle Of Fehmarn in Germany. The guitarist died 12 days later on 18th Sept 1970 after choking on his own vomit.
6 Sep 1968
Working at Abbey Road studio's in London on
George Harrison
song 'While My Guitar Gently Weeps'.
Eric Clapton
added the guitar solo (and became the first famous outside musician to play on a Beatles recording) and George recorded his lead vocal.
6 Sep 1967
Engelbert Humperdinck was at No.1 on the UK singles chart with 'The Last Waltz', the singers second UK No.1.
6 Sep 1963
Cilla Black signed a management contract with Beatles manager Brian Epstein. Cilla changed her name to Black, (it was white), after a misprint in the music paper 'Mersey Beat'.
6 Sep 1953
Guy Mitchell was at No.1 on the UK singles chart with 'Look At That Girl' his second No.1 this year. As an international recording star of the 1950s he sold over six million singles.
Born on this day in music
6 Sep 1980
English singer and media personality Kerry Katona who with Atomic Kitten had the 2000 UK No.1 single 'Whole Again'. Katona left the group in 2001. Katona was the winner of the third series of I'm a Celebrity...Get Me Out of Here! in 2004
6 Sep 1974
Nina Persson, singer with Swedish rock band The Cardigans who had the 1997 UK No.2 single 'Lovefool' which was included in the soundtrack to the 1996 film Romeo + Juliet.
6 Sep 1973
Anika Noni Rose, Tony Award-winning American singer and actress. Appeared in the 2006 motion picture musical Dreamgirls.
6 Sep 1971
Dolores O'Riordan, singer, songwriter with The Cranberries who had the 1994 hit singles 'Linger', 'Dreams' and 'Zombie'. The bands 1993 album Everybody Else Is Doing It So Why Can't We spent a total of 86 weeks on the UK chart. She died unexpectedly on 15 January 2018 while she was in London, England, for a recording session.
6 Sep 1970
Cheyne Coates, Australian singer, Madison Avenue, (1999 Australian No.1 and 2000 UK No.1 single 'Don't Call Me Baby').
6 Sep 1970
American rock musician and multi-instrumentalist, Dean Fertita. Was a member of The Waxwings, The Raconteurs and joined Queens of the Stone Age to replace the late Natasha Shneider.
6 Sep 1969
Macy Gray US singer, (Natalie McIntyre), 1999, UK No. 6 single 'I Try' 1999 US No. 4 album 'How Life Is'.
6 Sep 1969
Marc Anthony, US singer, songwriter, (2000 US No.2 single 'You Sang To Me').
6 Sep 1969
Paddy Boom, (Patrick Seacor), drums, Scissor Sisters, (2004 UK No.1 self-titled album, 2004 UK No. 12 single 'Laura').
6 Sep 1969
Ce Ce Peniston, US singer, (1992 UK No.2 single 'Finally').
6 Sep 1967
American musician William DuVall, best known as being the current co-vocalist and a rhythm guitarist for the grunge band Alice in Chains.
6 Sep 1965
British musician Terry Bickers, lead guitarist, with House Of Love who rose to prominence in 1987 with their first single 'Shine On' released on the independent label Creation.
6 Sep 1961
Pal Waaktaar, guitar,
A-Ha
(1985 US No.1 single 'Take On Me', 1986 UK No.1 single 'The Sun Always Shines On TV'). The first Norwegian group to score a UK and US No.1.
6 Sep 1961
Colin Ferrguson, H2o, (1983 UK No. 17 single 'Dream To Sleep').
6 Sep 1958
English singer Buster Bloodvessel, (Douglas Trendle) who with Bad Manners had the 1981 UK No. 3 single 'Can Can'. He took his stage name from the bus conductor played by Ivor Cutler in the
The Beatles
1967 film Magical Mystery Tour.
6 Sep 1954
Stella Barker, The Belle Stars, (1983 UK No.3 single 'Sign Of The Times).
6 Sep 1948
Claydes Smith, Kool & The Gang, (1981 US No.1 & UK No.7 single 'Celebration', 1984 UK No.2 single 'Joanna', plus over 15 other Top 40 hits).
6 Sep 1947
Sylvester James, singer, (1978 US No.36 & UK No. 8 single 'You Make Me Feel Mighty Real'). Died on 16th December 1988.
6 Sep 1943
Roger Waters: singer, songwriter, bassist and co-founder of
Pink Floyd
. Following the departure of bandmate
Syd Barrett
in 1968, over time Waters became the band's principal lyricist. Waters left Pink Floyd in 1985 and released a series of successful solo albums. He has also authored an opera, Ca Ira. The most active of all the Floyd members, he has toured extensively as a solo act since 1999, playing
The Dark Side Of The Moon
in its entirety as well as the current and hugely successful
The Wall
tour.
6 Sep 1942
Dave Bargerdon, from jazz-rock American music group Blood Sweat & Tears. They scored the 1969 US No.2 single 'Spinning Wheel', and the 1969 US No.12 single 'You've Made Me So Very Happy'. They had a US No.1 with their second album Blood, Sweat & Tears in 1968.
6 Sep 1940
Jackie Trent, singer, 1965 UK No.1 single 'Where Are You Now (My Love). With her husband Tony Hatch she wrote songs for
Frank Sinatra
, Petula Clark, Des O'Connor, Val Doonican, Shirley Bassey, Vikki Carr, and Dean Martin. Trent died in hospital on 21 March 2015, aged 74, in Minorca, Spain, after a long illness.
6 Sep 1925
Jimmy Reed, blues singer, guitarist, 1964 UK No.45 single 'Shame Shame, Shame'. Wrote 'Big Boss Man', Bright Light's Big City'. Major influence on The
Rolling Stones
.
Elvis Presley
covered 'Baby What You Want Me To Do'. Reed died on 29th August 1976.