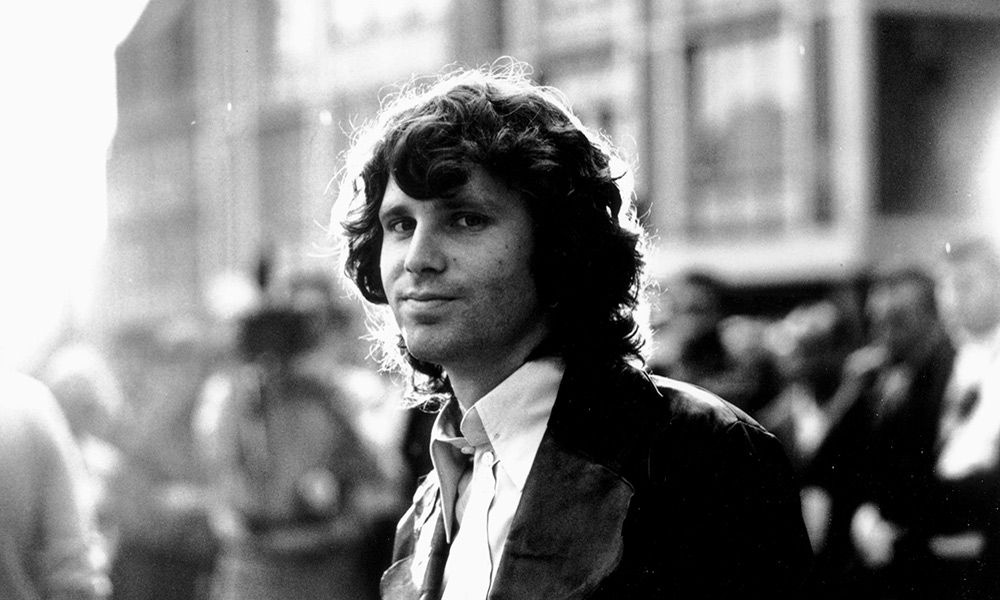 On 9th Dec 1967, The Doors appeared at the New Haven Arena in New Haven, Connecticut. Before the show, a policeman found singer Jim Morrison making out with an 18-year-old girl in a backstage shower and, after an argument, the policeman sprayed Mace in Morrison's face.
Once on stage, Morrison told the story of the backstage episode and started taunting the police, who dragged him off the stage and arrested him. The crowd riots, leaving the venue in disarray. Many are arrested. Later, over 100 protestors gathered at the police station in a demonstration and more arrests were made.
The Doors were banned from The Ed Sullivan Show in 1967 after Jim broke his agreement with the show's producers, who were feeling nervous about drug references in a song's lyrics. Morrison said before the live performance that he wouldn't sing the words, "girl, we couldn't get much higher" from "Light My Fire" but he did anyway. The Doors also performed their new single, "People Are Strange." You can hear the screams from the control room! Major sponsors pulling out of advertising spots! I shouldn't laugh (I recommend you see this on Youtube). The song hit number 1.
Other well-documented incidents include Morrison being arrested and charged with public drunkenness after harassing a security guard at a Las Vegas adult movie theatre in 1968. I think the singer was on a bender because the following night, after a gig at The Pussy Cat A Go Go in Vegas, Morrison taunted a security guard in the parking lot by pretending to smoke a joint, resulting in a fight. The police arrived and arrested Morrison and charged him with vagrancy, public drunkenness, and failure to possess sufficient identification.
Later in the year on the band's first European tour, The Doors were forced to perform as a trio at a concert in Amsterdam after the singer collapsed while dancing during Jefferson Airplane's performance who were on the same bill.
In 1969, the FBI in Phoenix, Arizona arrested Morrison for drunk and disorderly conduct aboard a plane. Morrison, who was on his way to a Rolling Stones concert with actor Tom Baker, had been drinking and annoying the stewardesses. The pair spent the night in jail and were released on $2,500 bail.
Possibly his most famous onstage incident was in 1969 when he was charged with lewd and lascivious behaviour after showing his penis to the audience during a show in Miami. He was later acquitted on charges of lewd and lascivious behaviour but was found guilty of exposing himself during the concert. At his trial at the Dade County Courthouse in Miami, the judge sentenced Morrison to six months hard labor and a $500 (£270) fine for public exposure and 60 days hard labor for profanity. The sentence was appealed, but Morrison was never brought to trial, as he would die in Paris France on July 3, 1971.
Morrison had developed a severe alcohol and drug dependency, which culminated in his untimely death. In March 1971, to get away from the court cases, Morrison flew with his girlfriend to Paris where they took up residence in the city in a rented apartment on the Rue Beautreillis (on the Right Bank).
Morrison died on July 3, 1971, at age 27. In the official account of his death, he was found in a Paris apartment bathtub by his girlfriend Pam Courson. Pursuant to French law, no autopsy was performed because the medical examiner stated that there was no evidence of foul play. The absence of an official autopsy has left many questions regarding Morrison's cause of death.
Morrison, who didn't write songs using an instrument, would come up with melodies for his own lyrics, with the other band members contributing chords and rhythm. He didn't play any instrument live (except for maracas on a few occasions) or in the studio. Morrison was the perfect rock and roll frontman — wild, sexy, and unpredictable.