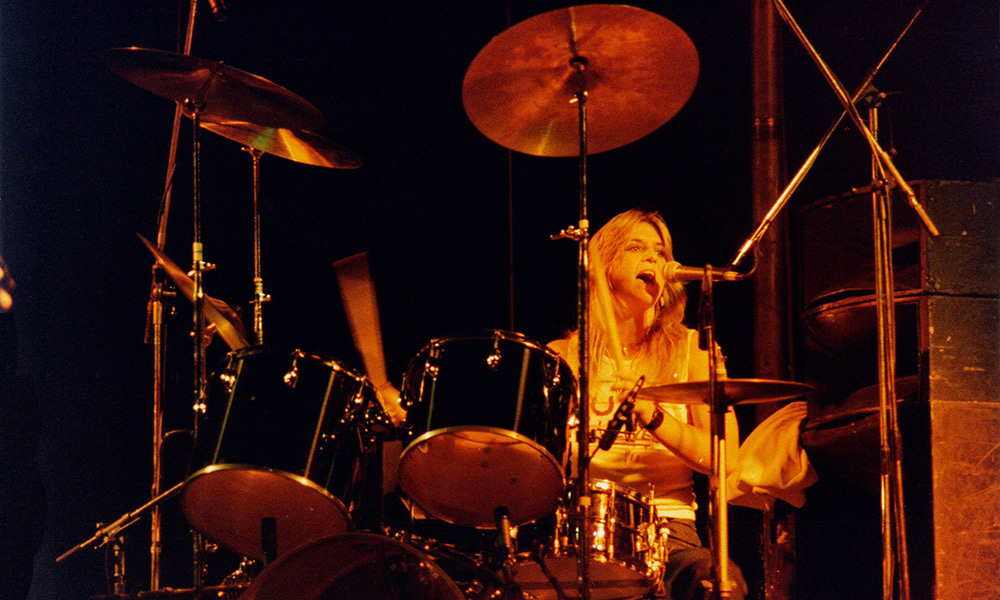 On 21st Oct 2006, American musician, singer, songwriter, and drummer Sandy West died. West was a founding member (with Joan Jett) of all-girl group The Runaways, and hailed by fans and critics alike to be one of the most groundbreaking drummers in rock and roll history.
OK, name me some female drummers? Honey Lantree (from The Honeycombs), Karen Carpenter, Debbi Peterson from The Bangles, Meg White, yes I'm struggling too.
We've always had female groups, but as a rule these were made up of singers and not 'players', The Andrew Sisters, Supremes, The Crystals, The Ronettes etc.
But for a bunch of girls who played their own instrument's in the 'rock' world was almost unheard of.
Do you know who the most successful girl group of all time is? The Supremes? TLC? Destiny?s Child? No, The Spice Girls! The Spice Girls, come on? I'm all for 'Girl Power' but?
Yo, I'll tell you what I want, what I really really want,
So tell me what you want, what you really really want,
I'll tell you what I want, what I really really want,
So tell me what you want, what you really really want,
I wanna, I wanna, I wanna, I wanna, I wanna really
really really wanna zigazig ha.
So girl groups, to make an impression, had to have a novelty angle. The best example I can think of was the all-girl group The Ladybirds, who were a very attractive bunch of young Danish girls, I know this because I've seen the pictures. The Ladybirds career high point came when they opened for Led Zeppelin in 1968. Their gimmick was to play 'topless'. Now, I don't have a problem with that, but you're never going to be taken that seriously as a musician when delivering your best tune exposing your breasts.
And in the 70's and 80's we did have Fanny, Vixen and Girlschool who all achieved a certain amount of success.
And then from Los Angles California, came The Runaways. Even their name was spot on, it conjured up teenage freedom and rebellion.
The Runaways were formed in late 1975 by drummer Sandy West and rhythm guitarist Joan Jett after they had both introduced themselves to producer Kim Fowley, who gave Jett's phone number to West. Cherie Currie, Jackie Fox and lead guitarist Lita Ford made up the rest of the group.
The Runaways were signed to Mercury Records in 1976 and their debut album, The Runaways, was released shortly after. The band toured the U.S. and played numerous sold out shows. They headlined shows with opening acts such as Cheap Trick, Tom Petty and the Heartbreakers and Van Halen.
Their second album, Queens of Noise was released in 1977 and the band began a world tour. In the summer of that year, the group arrived in Japan for a string of sold-out shows. At the time only ABBA, Kiss and Led Zeppelin were selling more records than the girls in the land of the rising sun. The girls were unprepared for the onslaught of fans that greeted them at the airport. The mass hysteria was later described by guitarist Jett as being "like Beatlemania". While in Japan, The Runaways had their own TV special, did numerous television appearances and released the live album Live in Japan.
The following year became messy, members left and the band played their last concert on New Year's Eve 1978 at the Cow Palace near San Francisco and officially broke up in April 1979.
The Runaways were the first proper all-girl rock n' band and a great one at that. Joan Jett went on to became a huge star while the other members struggled after never really seeing the financial rewards from their record sales.
In 2005, Sandy was diagnosed with lung cancer, which later spread to her brain, and she died on October 21, 2006, at the age of 47. Joan Jett said in a statement, "We shared the dream of girls playing rock and roll. Sandy was an exuberant and powerful drummer," adding, "I am overcome from the loss of my friend. I always told her we changed the world."
And they certainly did.