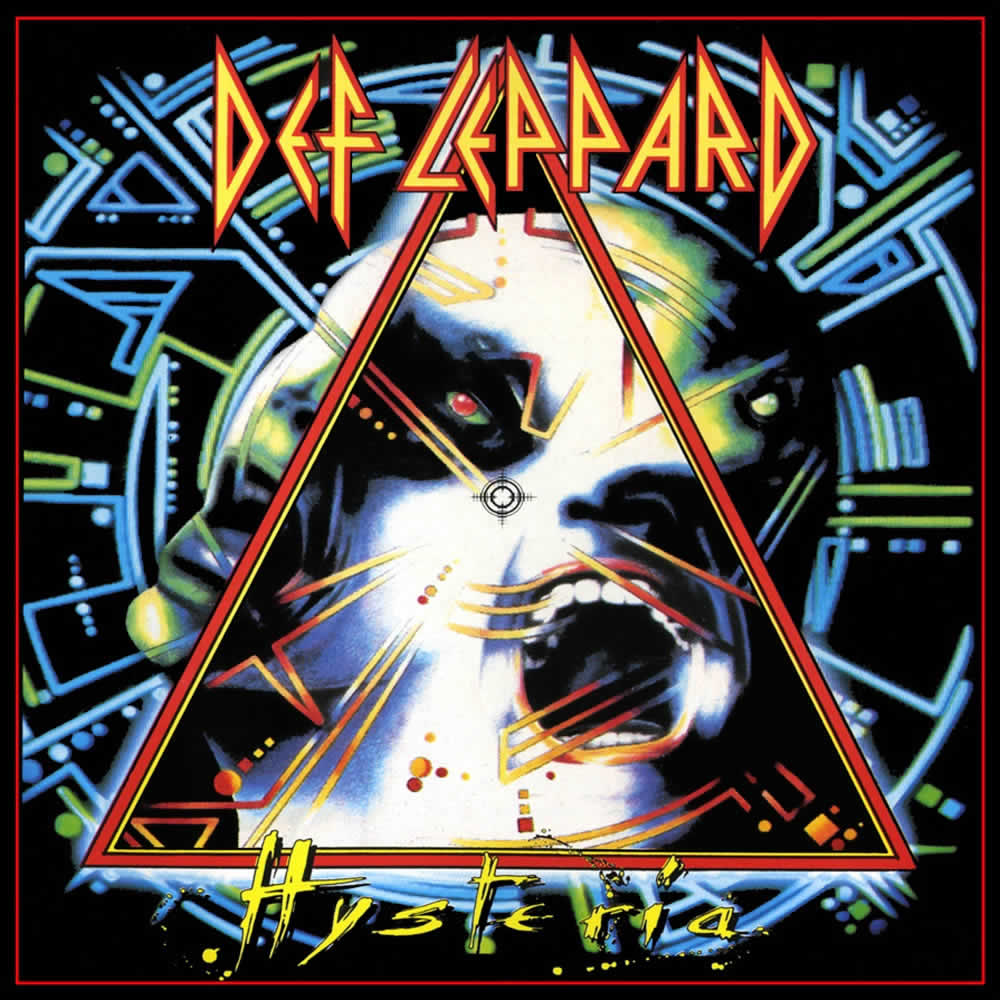 Def Leppard were under no illusions about what they wanted to do: they wanted to become the biggest band in the world, and were prepared to do whatever it took to achieve their ambition. Perhaps if they'd known exactly how much 'whatever it took' would turn out to be, they'd have knocked it on the head and got a job at B&Q. But it's a good thing they didn't, because the album that resulted from their very real battle against extinction turned out to be one of the classic British rock albums.
By February 1984 Def Leppard were already a big deal – well, in the USA anyway. The band that started out in a spoon factory in Sheffield had a respectable count of massive US gigs and six million sales of 1983's Pyromania to their name when they settled into a shared house in Dublin to start the grand cycle all over again.
To say they were worried would be an understatement. The pressures of success come from all directions – fans, management, your label, all need whatever you do next to be better than what you did last. But no one can tell you how to achieve that. Waking up after another drunken night in the city, drummer Rick Allen observed: "This is hysteria!" And, boom, they were off…
"We were scared," singer Joe Elliott recounts. "We had absolutely nothing in the way of ideas. We'd learned we couldn't write on the road". Fortunately, they had Robert John 'Mutt' Lange on board, the producer who had got so much out of them in their two previous studio epics, High'n'Dry and Pyromania. In classic 'sixth member' mode, Lange had already become part of the organisation and was happy to work on co-writing.
The first song to be written to anything like completion was "Animal". And it set out the band's stall big-time. Guitarists Collen and Steve Clark demolished the concept of the big riff, replacing the solid rock face with a complex construction of fine brickwork.
As soon as the management and label heard "Animal", they knew everything was going to be okay. How wrong they were. With a stack of songs in their pocket, the band moved to Hilversum, Holland, in August to begin the recording. Which is where the first kick in the nuts took the wind out of them: Mutt Lange had just completed work on The Cars' Heartbeat City, and was forced to decide that he was too emotionally exhausted to work on Def Leppard's album.
Management attempted a coup by putting Jim Steinman in the producer's chair. The thinking seemed to go like this: Meat Loaf's Bat Out Of Hell was a classic album, and Hysteria is going to be one too, so surely Steinman can do what's needed? But as Elliott pointed out at the time, Steinman was more of a writer than a producer.
Lange suggested they bring in Nigel Green, who had engineered Leppard's previous two albums, so, working alongside Green the band started down the 'self-produced' trail.
On New Year's Eve, Rick Allen crashed his car in Yorkshire, and in the accident his left arm was torn off. It was a cruel blow for anyone, let alone a musician. But with the kind of time the band had been experiencing, there must have been question marks over everyone's heads, despite the band's insistence ever since that no thought of quitting or getting a new drummer entered their heads.
With true Yorkshire grit, Allen was up and about in a matter of weeks, working with pioneering electronic drum makers Simmons to create a kit that could be played with two feet and one arm.
After further weeks of struggling through recording sessions, attempting to imitate their missing producer, Lange finally felt able to return to work, and committed to Hysteria. And then – as if to confirm that bad things really do come in threes – they had to scrap all the recordings again. Elliott says, almost shuddering at the memory. "It was Mutt's encouragement that helped us do that. The thing is, it wasn't terrible. What we'd done was good enough – as good as Pyromania – but Mutt said: 'Why do Pyromania 2? That was a leap from High'n'Dry, now we have to make a leap from Pyromania.' We were thinking: 'Can we do this?' It turned out we could."
When Lange spoke, they listened. Instead of using big amps they used Rockmans, small Walkman-like machines that generated a sound you could control to the nth degree. They began exploring multi-layered vocal effects, and experimenting with samplers so primitive they had to be triggered manually. Slowly but surely, things began to come together.
As work moved towards the completion of 11 tracks, Lange was convinced they still didn't have an album – there was still something missing. With the budget bust, the money men panicking and the band exhausted, no one agreed with him. Until one day, during a break, Elliott picked up a guitar and played a few notes of an idea he'd had. "I was just farting around," Elliott explains, "when Mutt came back from the toilet, or wherever, and he said: 'What the hell are you playing? That's the best hook I've heard in five years!" They worked it up a bit into what became "Pour Some Sugar On Me."
By early 1986 Def Leppard were stretched to their emotional limits, and decided they needed to get out of the studio. They booked a number of low-key shows in Ireland, leading up to some European festival dates over the summer.
Mutt Lange took five months to mix Hysteria, most of that time spent setting the mood. And there was one more ball-breaking kick for Leppard when he had to spend three weeks in hospital with a leg injury. Finally, in early 1987, the album was finished: in the end a dozen tracks instead of the usual 10, with a lot of good songs having fallen along the wayside. Everyone held their breath as the release date was announced for August – 43 months, almost five years after the project had begun.
"Animal" was the first single (Women in the US), and it gave the band their first UK hit. Over the following months, another five tracks were released as singles as the band headed out on tour. Where fate had been throwing punches at Def Leppard it was now smiling on them (and maybe even throwing them a kiss or two).
Almost 20 years after its release, Elliott has been interviewed about Hysteria countless times; "If one word sums the whole experience up, it would be 'determination'," he says. "We were still young – I was 24, Rick was 20. We could deal with things like that. But you couldn't again – Pink Floyd have always said there could never be a The Wall 2. There could never be a Hysteria 2. We crossed over without selling out. We set out to be the biggest band in the world. And for a short while, we were."