Dip dip dip Mm mm mm – Get A Job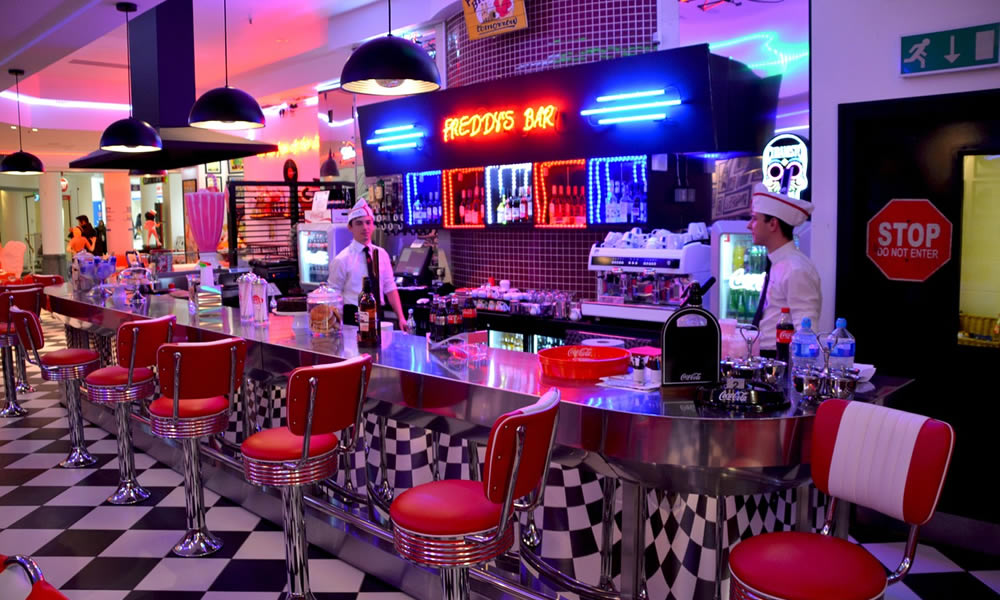 On 12th July 1954, 19 year-old Elvis Presley signed a recording contract with Sun Records. He also gave in his notice for his day job at The Crown Electric Company where he was a truck driver. He actually had two jobs – he was also working in the evening as a movie theater usher. How cool would that be? The King of Rock & Roll showing you to your seat, (apart from the fact that he wasn't the King of Rock & Roll just yet).
Anyway, this got me thinking about all those menial jobs our future stars were forced to do, to make a living before they became rich and famous. How else could they afford to buy that gleaming new Fender Telecaster or pay for studio time to record those first demos?
And to us normal folk, we would be oblivious to the fact that, Madonna might have served us a Whopper with fries at Burger King or that leading world peacemaker Bono worked as a petrol pump attendant, filling up your Dad's car when he was visiting long-lost relatives in Southern Ireland. And maybe Kurt Cobain taught you or your children how to swim, whilst working as a swimming instructor at the Y.M.C.A. Or maybe Sting taught you when he was working as a schoolteacher in Newcastle upon Tyne.
Some budding superstars had totally inappropriate employment before they became famous. Can you imagine waking up from an appendectomy to find your good self being pushed through the hospital wards by David Lee Roth? (Mick Jagger also worked as a hospital porter). Or maybe you just spotted Mark Stoermer, the future bass guitarist with The Killers, who once worked as an organ/blood/body part delivery boy.
Some future stars would do anything to pay the rent. Guns 'n' Roses singer Axl Rose was paid to smoke cigarettes as part of a science experiment, while Elton John worked as a tea boy at Mills Music publishers. Before forming Blondie, Debbie Harry worked as a Playboy bunny. Surprisingly Irish singer Sinead O'Connor once worked as a French maid kissogram and not so surprising is the news that Courtney Love worked as stripper while traveling from city to city in America.
And then of course unless you're in the Rolling Stones, or a handful of other bands, chances are your pop career isn't going to last a lifetime. So what to do for the next 40 years? You still have to pay the rent.
Former Undertones singer Fergal Sharkey, who sang about "Teenage Kicks", has had some very high profile positions within the UK music industry working for the Radio Authority and is now the CEO of British Music Rights.
Richard Coles, former member of the Communards, who had the 1986 #1 hit "Don't Leave Me This Way", is now Curate of St Paul's Church in Knightsbridge, London. Remember Jesus Jones? They had the 1991 U.S. #2 hit 'Right Here Right Now', and right now singer Mike Edwards is now a personal trainer.
Noddy Holder, former singer with 70's Glam rock group Slade, who scored six #1 UK hits, is now an actor and radio presenter. He has also been seen appearing in TV commercials for supermarket chain Asda as well as selling us Fish Fingers.
David Rowntree, the former drummer with BritPop band Blur, who had hits such as "Park Life" and "Beetle Bum" became a part-time politician, (having stood as Labour's parliamentary candidate for the Cities of London and Westminster at the 2010 General Election), and is now a lawyer. Still on drummers: Terry Chimes (aka Tory Crimes), who bashed the skins on the first Clash album, is now a chiropractor. All good sensible jobs!
Which brings me round to other stars' possible future jobs – apart from spending the rest of their lives appearing on 'Celebrity' TV shows…
Could Britney Spears become a child minder?
Madonna a marriage counsellor?
The last word goes to super cool White Stripes guitarist Jack White, who once ran a one-man business of his own, called Third Man Upholstery. His slogan was: "Your furniture's not dead."