April 6th: The Biggest Music Headlines
Scroll down the page to see all the music headlines, stories and events for April 6 throughout music history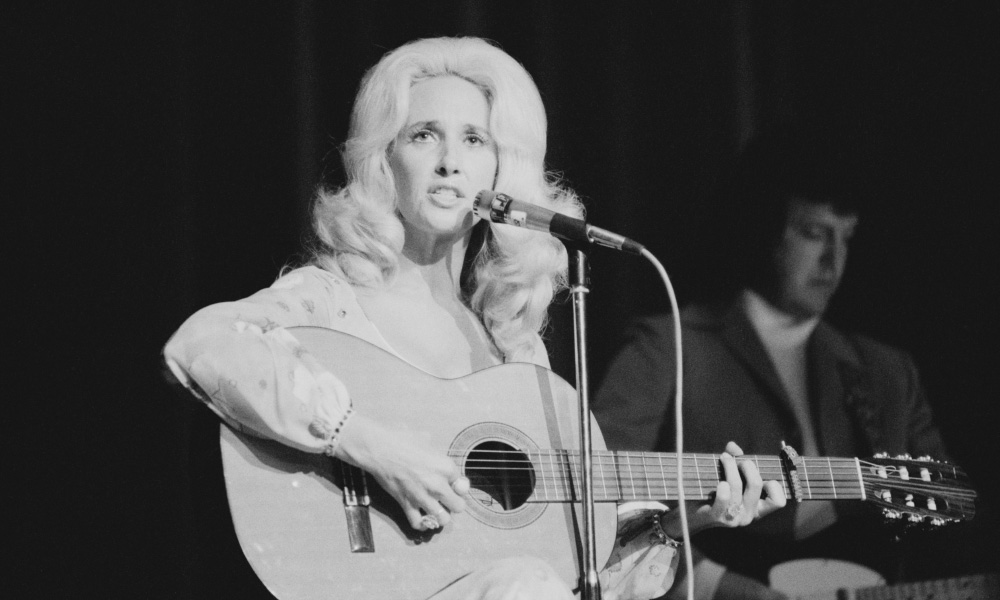 Tammy Wynette, The First Lady Of Country Music, Dies
On this day in music, April 6, 1998, 55-year-old country icon Tammy Wynette passed away. Born Virginia Wynette Pugh in Mississippi, she started performing in her teens. In 1967, just one year after releasing her first single, Wynette scored her first of 17 No. 1 singles on the Billboard country chart. In 1968, her signature songs "D-I-V-O-R-C-E" and "Stand By Your Man" (a UK No.1 in 1975) brought her wider fame by crossing over into the pop charts. She continued to rack up hits during the 70s, 80s, and 90s, and in 1998 was inducted into the Country Music Hall of Fame. In a surprising 1991 collaboration with British avant-garde electronic band KLF, she recorded "Justified and Ancient," which topped the charts in 18 countries.
In 1971, The Rolling Stones, whose Decca contract had expired the previous year, launched their own label, Rolling Stones Records, in a deal with Atlantic Records. The label introduced the band's iconic lips and tongue logo, designed by London art student, John Pasche. The label's inaugural release was Brian Jones Presents the Pipes of Pan At Joujouka, regarded by some as the first world music album.
In 2016, country music troubadour Merle Haggard died on his 79th birthday. Born in California, he spent time in prison as a young man before transforming his life by pursuing a successful career as a singer/songwriter. Haggard was one of the key architects of the 1960s Bakersfield country sound, defined by jangly guitar and soaring lap steel guitar lines. He topped the US country singles chart 36 times between 1966 and 1987; his final album, Timeless, was released in 2015.
In 1974, the California Jam festival took place at a motor speedway track in Ontario, California. Over 200,000 people attended the one-day event, which was headlined by the British bands Deep Purple and Emerson, Lake & Palmer. Also on the bill were Earth, Wind & Fire, the Eagles, and Black Sabbath.
In 1968, the British prog-rock group Pink Floyd announced that their co-founder Syd Barrett was no longer with the group. Barrett, who suffered from psychiatric problems, recorded two solo albums in 1970 before withdrawing from the public eye.
In 1998, 48-year-old Wendy O. Williams, who fronted the US punk rock group The Plasmatics, took her own life. Williams was renowned for her shocking onstage antics, which ranged from using explosives to destroy equipment to chainsawing guitars and performing partially nude.
Looking for more things that happened on this day in music?
Keep scrolling for all of the headlines for April 6.
BORN ON APRIL 6:
1937: Merle Haggard (Singer/songwriter)
1944: John Stax (Pretty Things)
1947: Tony Conner (Hot Chocolate)
1951: Ralph Cooper (Air Supply)
1953: Christopher Franke (Tangerine Dream)
1965: Frank Black (Pixies)
1978: Robert Glasper
1978: Myleene Klass (Hear'Say)
Looking for more artists born on this day?
Keep scrolling for all of our April 6 birthdays.
---
What to find another day?
---
April 6th
6 Apr 2023
English singer and actor Paul Cattermole died age 46. He was best known for being a member of the pop group S Club 7 from 1998 until his departure in 2002. Cattermole returned to the band in 2014 for their reunion tour and was originally due to return in 2023 for a planned second reunion tour before his death.
6 Apr 2022
Ed Sheeran won a British High Court copyright battle over his 2017 hit 'Shape of You'. Judge Antony Zacaroli ruled that Sheeran had "neither deliberately nor subconsciously copied" Sami Chokri's song 'Oh Why'. Chokri, a grime artist who performs under the name Sami Switch, had claimed the "Oh I" hook in Sheeran's track was "strikingly similar" to an "Oh why" refrain in his own track. After the ruling, Sheeran said "It's really damaging to the songwriting industry. There's only so many notes and very few chords used in pop music. Coincidence is bound to happen if 60,000 songs are being released every day on Spotify. That's 22 million songs a year and there's only 12 notes that are available." 'Shape of You' was the UK's best-selling song of 2017 in the UK and is Spotify's most-streamed ever.
6 Apr 2019
American country musician Jim Glaser died age 81. With The Glaser Brothers they charted nine singles on the Billboard Hot Country Singles charts and became members of the Grand Ole Opry in the 1960s.
6 Apr 2016
American singer, songwriter, guitarist, and fiddler, Merle Haggard died of complications from pneumonia at his home in Palo Cedro, California. Along with Buck Owens, Haggard and his band the Strangers helped create the Bakersfield sound, which is characterized by the twang of Fender Telecaster and the unique mix with the traditional country steel guitar sound. Haggard scored over 10 US Country No.1 albums during his career.
6 Apr 2009
PRS for Music announced that the money made by UK artists overseas increased by £20m ($29.45) in 2008, with British talent earning almost £140m ($206.23) in 2008. It said international tours by UK acts including
The Police
,
Coldplay
,
Elton John
and
Iron Maiden
had boosted income. Four of the top 10 bestselling albums globally were by British artists,
Coldplay
's Viva La Vida or Death and All His Friends was the bestselling album, with 6.8 million copies sold, while Welsh singer-songwriter Duffy was fourth with her debut album Rockferry, Leona Lewis and
Amy Winehouse
were sixth and seventh respectively.
6 Apr 2006
Eminem
filed for divorce from his wife Kim less than three months after the couple re-married.
Eminem
first married his high school sweetheart Kimberly Scott in 1999. He fantasised about her death in his 2000 hit 'Kim' and their first marriage ended the following year. The couple remarried on 14 January 2006.
Eminem
was seeking joint custody of their 10-year-old daughter Hailie Jade Scott.
6 Apr 2004
Guitarist and singer Niki Sullivan, died suddenly of a heart attack, at his home in Independence, Missouri aged 66. Sullivan was one of the three original members of
Buddy Holly
's backing group, The Crickets. He co-wrote a number of his hit songs and sang back-up vocals on 27 of the 32 songs Buddy recorded over his brief career.
6 Apr 2000
An all-star tribute to
Joni Mitchell
was held at the Hammerstein Ballroom in New York City featuring performances by
Elton John
,
Bryan Adams
, Shawn Colvin, James Taylor, Cyndi Lauper, Richard Thompson, k.d. Lang, and Mary Chapin Carpenter.
6 Apr 2000
Eighties pop star Steve Strange lead singer of Visage - was arrested after stealing a £10.99 Teletubbies doll in Bridgend, south Wales. He was given a suspended jail sentence after being caught on a shoplifting spree stealing cosmetics and clothes from High Street stores. Strange was already on bail for stealing a £15 ladies' jacket from Marks and Spencer in Cardiff when he was arrested.
6 Apr 1999
An all star tribute to singer, songwriter
Johnny Cash
took place in New York City with Sheryl Crow, Chris Isaak and
U2
all performing for the TV special.
6 Apr 1998
48-year-old Punk icon Wendy O. Williams, former frontwoman of The Plasmatics, took her own life near her Connecticut home.
6 Apr 1998
American country singer
Tammy Wynette
died aged 55. She scored 12 hit singles including 'Stand By Your Man', and sold over 30 million records world-wide, married five times and once filed for bankruptcy. Known as the first lady of country music. Wynette had the 1991 hit with The KLF 'Justified and Ancient' which became a No. 1 hit in eighteen countries.
6 Apr 1987
Roger Waters' lawyers issued a statement that Roger believed himself to be the creative driving force behind
Pink Floyd
and therefore he would contest the use of the name by anyone else and any former members of
Pink Floyd
.
6 Apr 1985
UK singer, songwriter Gilbert O'Sullivan won a lawsuit against his manager Gordon Mills for unpaid royalties and was awarded $2 million.
6 Apr 1979
Rod Stewart
married actor George Hamilton's ex-wife Alana Hamilton in Beverly Hills, California. The couple had a daughter, Kimberly, and a son, Sean. Alana and Rod Stewart divorced in 1984
6 Apr 1974
The California Jam 1 festival took place in Ontario, California, featuring the
Eagles
,
Black Sabbath
,
Deep Purple
, Earth, Wind & Fire, ELP, Black Oak Arkansas and Seals & Croft. Over 200,000 fans attended.
6 Apr 1973
David Bowie
released 'Drive-In Saturday' which became a Top 3 UK hit. The lyrics name-checked
Mick Jagger
'When people stared in Jagger's eyes and scored', the model Twiggy 'She'd sigh like Twig the wonder kid', and Carl Jung 'Jung the foreman prayed at work'.
6 Apr 1971
The
Rolling Stones
launched their own record label, Rolling Stones Records', with Atlantic Records, (after their recording contract with Decca Records expired). The first album to be released was
Brian Jones
Presents the Pipes of Pan at Joujouka in 1971, and is widely credited with being the first world music LP.
6 Apr 1968
Cliff Richard sang 'Congratulations' the UK entry in the Eurovision Song Contest held at the Royal Albert Hall London, winning second place behind the entry from Spain.
6 Apr 1968
Pink Floyd
announced founder
Syd Barrett
had officially left the group. Barrett was suffering from psychiatric disorders compounded by drug use.
6 Apr 1968
Simon And Garfunkel
went to No.1 on the US album chart with the soundtrack of Mike Nichols' movie The Graduate. The film boosted the profile of the folk-rock duo and on the strength of the hit single 'Mrs. Robinson', the soundtrack album rose to the top of the charts.
6 Apr 1967
The first master tape of
The Beatles
new album
Sgt. Pepper's Lonely Hearts Club Band
was made. The song order on side one is different from the final product at this point, the last five songs on that side being initially ordered as follows: 'Being For the Benefit of Mr. Kite', 'Fixing a Hole', 'Lucy In the Sky with Diamonds', 'Getting Better', and 'She's Leaving Home'. The Beatles had specified that there were to be no gaps between songs - a unique idea at the time.
6 Apr 1966
The first session of what would become
The Beatles
album
Revolver
started in the evening at Abbey Road studios London, with the recording of the basic track of a new
John Lennon
song 'Tomorrow Never Knows.'
6 Apr 1965
The Beach Boys
went into the United Western Recorders recording studio complex in Hollywood to start work on a new Brian Wilson and Mike Love song 'California Girls.' They recorded 44 takes of the backing track until Brian Wilson was satisfied with the results.
Born on this day in music
6 Apr 1978
British singer, pianist, and model, Myleene Klass from Hear'Say who had the 2001 UK No.1 single 'Pure And Simple'. More recently, Klass is known as a television and radio presenter.
6 Apr 1978
American singer, pianist and record producer Robert Glasper. His 2012 album Black Radio won the Grammy Award for Best R&B Album at the 55th Grammy Awards.
6 Apr 1965
Frank Black, (born Charles Michael Kittridge Thompson IV) guitarist, singer, with American alternative rock band Pixies, who released the 1988 album Surfer Rosa. They influenced bands such as
Nirvana
,
Radiohead
, Bush, Blur and Weezer. Formed Frank Black and the Catholics in 1993, Pixies reformed in 2004. Black has released over 10 solo albums.
6 Apr 1953
Christopher Franke, keyboards from German electronic music band Tangerine Dream who are considered a pioneering act in electronic music.
6 Apr 1951
Ralph Cooper, drummer for the Australian soft rock band Air Supply who scored the 1980 UK No.11 single 'All Out Of Love' and the 1981 US No.1 single 'The One That You Love'.
6 Apr 1947
Tony Conner, Hot Chocolate who had the 1975 US No.3 single 'You Sexy Thing' the 1977 UK No.1 single 'So You Win Again' and over 25 other Top 40 hits. Hot Chocolate started their recording career making a reggae version of
John Lennon
's 'Give Peace a Chance', and was contacted by Apple Records, saying that Lennon liked this version, and the group was subsequently signed to Apple Records.
6 Apr 1944
John Stax, English musician, bass, harmonica, backing vocals with the Pretty Things. He played on all of their charting singles, which included 'Rosalyn', (covered by
David Bowie
on his Pinups album) 'Don't Bring Me Down', 'Road Runner', and 'Cry to Me'. They took their name from Willie Dixon's 1955 song 'Pretty Thing'.
6 Apr 1941
6 Apr 1939
American blues guitarist Beverly Watkins. She worked with artists like
James Brown
, B.B. King, and Ray Charles. Watkins died after a heart attack on 1 October 2019 at the age of 80.
6 Apr 1937
Merle Haggard, American singer, songwriter, guitarist, and fiddler. Along with Buck Owens, Haggard and his band the Strangers helped create the Bakersfield sound, which is characterized by the twang of Fender Telecaster and the unique mix with the traditional country steel guitar sound. Haggard scored over 10 US Country No.1 albums during his career. He died on 6 April 2016 of complications from pneumonia at his home in Palo Cedro, California.