August 15th: The Biggest Music Headlines
Scroll down the page to see all the music headlines, stories and events for August 15 throughout music history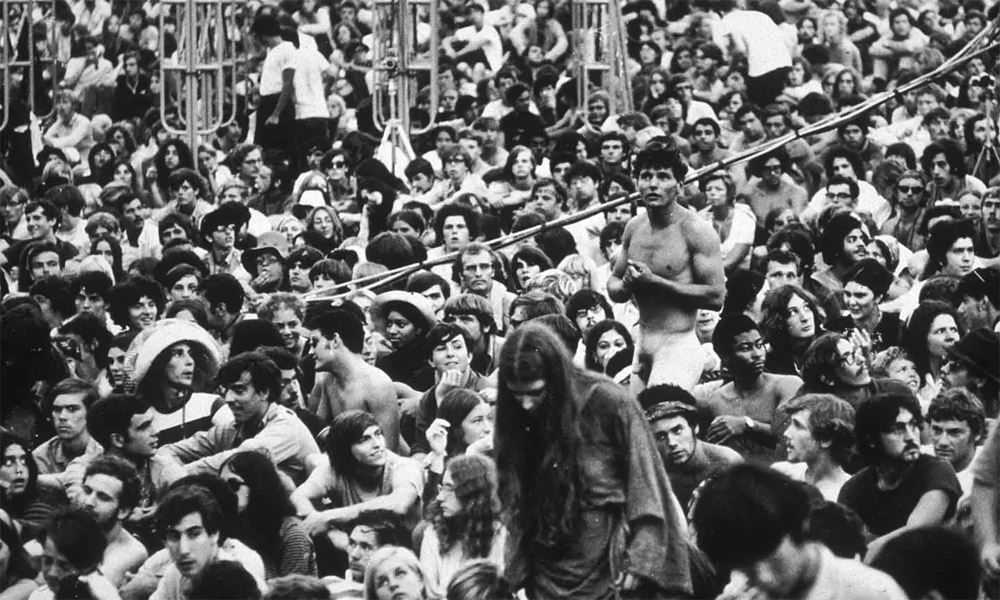 Woodstock, Three Historic Days Of Peace And Music
On August 15, 1969, the Woodstock Festival kicked off at Max Yasgur's farm in Bethel, New York. Approximately 400,000 fans trekked to the three-day event to see acts like Crosby, Stills, Nash & Young, Jimi Hendrix, Santana, Grateful Dead, Joe Cocker, Janis Joplin, and Jefferson Airplane, among 25 others perform. Billed as "Three Days of Peace & Music," Woodstock offered the counterculture generation a respite, amid the Vietnam war and unrest at home, and would become a defining moment of the era, as well as an iconic milestone in pop culture history. The festival would be captured in a subsequent documentary (1970's Woodstock) as well as a best-selling soundtrack to the film.
In 1965, The Beatles made history at New York's Shea Stadium, as they performed in front of 55,600 fans – the largest concert attendance ever at the time. The band's setlist included such hits as "Twist and Shout," "Ticket to Ride," and "Help!" Among the famous attendees were Mick Jagger and Keith Richards of the Rolling Stones.
…It would have been hard to envision then, but less than three decades later, on August 15, 1991, Paul Simon played a free concert to one million fans at NYC's Central Park.
In 1976, ABBA released their enduring single, "Dancing Queen." The song was an instant global hit, topping the charts across Europe, Mexico, Australia, and South Africa, among other territories. The dancefloor classic also became the Swedish group's one and only No.1 hit in the US.
In 1992, Boyz II Men set a new record for the most weeks (13) spent at the top of the Billboard Hot 100. The vocal group broke a 36-old record, previously held by Elvis.
In 2020, Taylor Swift's surprise eighth studio album, Folklore, broke the world record for the biggest opening day on Spotify for an album by a female act. The album would later become the highest-selling album of the year.
In 2008, producer Jerry Wexler who was instrumental in shaping the midcentury R&B landscape (and actually coined the term "Rhythm & Blues" in the 1940s), died at the age of 91. Wexler produced some of the most iconic hits in history, including Aretha Franklin's "Respect" and Wilson Pickett's "In the Midnight Hour."
Looking for more things that happened on this day in music?
Keep scrolling for all of the headlines for August 15.
BORN ON AUGUST 15:
1933: Bill Pinkey (The Drifters)
1946: Jimmy Webb (singer and songwriter)
1948: Tom Johnston (The Doobie Brothers)
1950: Tommy Aldrige (Whitesnake)
1972: Mike Graham (Boyzone)
1978: Tim Foreman (Switchfoot)
1984: Ted Dwane (Mumford & Sons)
1985: Nipsey Hussle
1989: Joe Jonas (Jonas Brothers)
Looking for more artists born on this day?
Keep scrolling for all of our August 15 birthdays.
---
What to find another day?
---
August 15th
15 Aug 2020
Taylor Swift
was at No.1 on the UK album chart her eighth studio album Folklore. Upon release, Folklore broke the Guinness World Record for the biggest opening day on Spotify for an album by a female act. Three of its tracks reached the top 10 of the official charts in eight countries. It was Swift's seventh consecutive No.1 album on the US Billboard 200 and became the best-selling album of 2020.
15 Aug 2012
American musician Bob Birch died from an self-inflicted gunshot wound in his Los Angeles home, aged 56. Birch was badly injured in a car accident in 1995 and since then struggled with constant headaches, dizziness, vertigo, and severe pain throughout his body. He worked with Doobie Brothers,
Bryan Adams
, Lionel Richie,
George Michael
,
Eric Clapton
, B.B. King,
Phil Collins
, Keith Emerson,Barry Manilow and
Elton John
.
15 Aug 2009
U2
's first UK gig on their current tour broke the attendance record for a Wembley Stadium concert. Over 88,000 people attended the show.
15 Aug 2008
US record producer Jerry Wexler, who influenced the careers of singers including
Aretha Franklin
, Ray Charles and
Bob Dylan
died at his home in Sarasota, Florida aged 91. Wexler produced the
Aretha Franklin
hit 'Respect', the Wilson Pickett song, 'In the Midnight Hour' and helped
Bob Dylan
win his first Grammy award by producing the 1979 album, Slow Train Coming. He also coined the term 'rhythm and blues' while writing for Billboard magazine in the late 1940s.
15 Aug 2007
Sixteen solo
John Lennon
albums were made available to download on iTunes for the first time. A deal was approved by the late Beatle's widow Yoko Ono following a lengthy legal battle between the band's label Apple Corps and Apple Inc, which owned Tunes.
15 Aug 2005
Leonard Cohen filed a lawsuit in Los Angeles Superior Court alleging that his former manager, Kelley Lynch, mismanaged his retirement funds to the tune of $5 million. The fraudulent activities purportedly began during the five years Leonard spent away from his career in seclusion at the Mount Baldy Zen Center monastery.
15 Aug 2004
Rolling Stones
drummer Charlie Watts was being treated for throat cancer after being diagnosed with the disease in June.
15 Aug 2002
A memorial to
John Lennon
was unveiled in the remote Scottish village of Durness where Lennon had spent his holidays from age seven to fifteen. The lyrics from 'In My Life' had been inscribed on three stones.
15 Aug 2000
David Bowie
and his wife Iman celebrated the birth of their first child a baby girl named Alexandria Zahra Jones.
15 Aug 1998
Boyzone scored their fourth UK No.1 single with 'No Matter What', making them the first Irish group to have four No.1 singles. Also Boyzone became the first act in history to reach the Top 5 with their first 12 single releases. The song came from the Andrew Lloyd Webber musical 'Whistle Down The Wind'.
15 Aug 1995
The Dublin hotel owned by
U2
'The Clarence' was damaged by a fire which took over three hours to control. Also 'The Kitchen' nightclub in the same building was affected by the fire and was evacuated.
15 Aug 1995
Vince Neil's daughter, Skylar Neil, died of cancer at the age of 4. The Motley Crue singer later founded the Skylar Neil Memorial Fund in her honor. Since that time, Neil and the foundation have raised awareness and funding for various children's illnesses and has donated millions of dollars to The T.J. Martell Foundation, and it sponsors an annual golf tournament to raise money for children with cancer.
15 Aug 1992
Boyz II Men started a 13 week run at No.1 on the US singles chart with 'End Of The Road' the group's first US No.1. Taken from the Eddie Murphy film 'Boomerang', it broke the 36-year-old record held by Elvis for the longest run at No.1
15 Aug 1992
INXS
went to No.1 on the UK chart with their eighth studio album Welcome To Whoever You Are, their first UK No.1 album, (the first album by an Australian artist to debut on the UK album chart at No.1 one since AC/DC's Back in Black, released in 1980). The album featured the UK hit singles 'Heaven Sent', 'Baby Don't Cry' and 'Beautiful Girl'.
15 Aug 1992
Jamaican singer-song writer Jackie Edwards died. Edwards worked as a singer, songwriter for Island Records. He wrote both 'Keep On Running' and 'Somebody Help Me', that became No.1 singles for The Spencer Davis Group as well as releasing his own albums.
15 Aug 1991
Paul Simon
played a free concert in New York's Central Park before an audience of three quarters of a million people.
15 Aug 1991
Nirvana
played a concert at The Roxy Theater in Los Angeles, where they invited fans to attend the shoot for their first video,
'Smells Like Teen Spirit'
which was being filmed two days later. Hundreds of fans showed up at the shoot and appeared in the video.
15 Aug 1987
Michael Jackson
had his third UK No.1 with the single 'I Just Can't Stop Loving You', a duet with Siedah Garrett. It was originally intended to be a duet between Jackson and either Barbra Streisand or
Whitney Houston
. Session singer Siedah Garrett also worked with
Madonna
.
15 Aug 1981
Diana Ross and Lionel Richie started a nine week run at No.1 on the US singles chart with 'Endless Love', a No.7 in the UK. The song was the title from a film starring Brooke Shields.
15 Aug 1979
The futuristic satire film 'Americathon' premiered in Los Angeles featuring
Meat Loaf
. The soundtrack included songs by
The Beach Boys
, Nick Lowe and Elvis Costello.
15 Aug 1976
ABBA
released 'Dancing Queen' as the lead single from their fourth studio album, Arrival. Dancing Queen' (which had the working title of 'Boogaloo') went on to top the charts in more than a dozen countries including the United States where it became ABBA's only No.1.
15 Aug 1969
Woodstock
Festival was held on Max Yasgur's 600 acre farm in Bethel outside New York. Attended by over 400,000 people, the event featured,
Jimi Hendrix
,
Crosby Stills Nash & Young
,
Santana
,
The Who
,
Creedence Clearwater Revival
,
Grateful Dead
,
Janis Joplin
, The Band, Canned Heat, Joan Baez, Melanie, Ten Years After, Sly and the Family Stone, Johnny Winter, Jefferson Airplane, Ravi Shanker, Country Joe and the Fish, Blood Sweat and Tears, Arlo Guthrie, and Joe Cocker. During the three days there were three deaths, two births and four miscarriages.
15 Aug 1969
During a North American tour
Led Zeppelin
appeared at the Hemisfair Arena in San Antonio. Jethro Tull and Sweet Smoke were also on the bill. During the show Zeppelin received abuse from locals due to the length of their hair.
15 Aug 1967
The
Jimi Hendrix Experience
played a one night only show at The Fifth Dimension club, Ann Arbor, Michigan. The club is now demolished.
15 Aug 1966
During a US tour
The Beatles
appeared at the D.C. Stadium in Washington DC to over 32,000 fans. Tickets cost $3. Five members of the Ku Klux Klan, led by the Imperial Wizard of Maryland, picketed the concert.
15 Aug 1965
The Beatles
set a new world record for the largest attendance at a pop concert when they played in front of 55,600 fans at Shea Stadium in New York City. The Beatles were paid $160,000 for the show, the set list included: 'Twist and Shout', 'She's a Woman', 'I Feel Fine', 'Dizzy Miss Lizzie', 'Ticket to Ride', 'Can't Buy Me Love', 'Baby's In Black', 'I Wanna Be Your Man', 'A Hard Day's Night', 'Help!', and 'I'm Down'. Two of the
Rolling Stones
were among the audience,
Mick Jagger
and
Keith Richards
and later that evening;
Bob Dylan
visited
The Beatles
at their hotel.
15 Aug 1962
Lennon and McCartney drove from Liverpool to Skegness, to ask
Ringo Starr
to join the Beatles, (Starr was playing a residency with Rory Storm & the Hurricanes at Butlins). Shortly before, Starr had agreed to join Kingsize Taylor in Hamburg, as Taylor was offering £20 a week, but Lennon and McCartney offered £25 a week, which Starr accepted.
15 Aug 1960
Elvis Presley
started a five week run at No.1 on the US singles chart with 'It's Now Or Never', also No.1 in the UK. The song which was based on the Italian song, 'O Sole Mio', gave Presley his first post-army No.1.
15 Aug 1955
Elvis Presley
attended a meeting in Memphis with his manager Bob Neal, Colonel Tom Parker and Vernon Presley, at which a new contract was signed that named Colonel Parker as "special advisor" with control of virtually every aspect of Elvis' career. Parker was not really a Colonel at all, but a Dutch immigrant named Andreas Cornelius van Kujik, whose honorary title was given to him in 1948 by Governor Jimmie Davis of Louisiana. He was a flamboyant promoter whose pre-Elvis experience included shows called The Great Parker Pony Circus and Tom Parker And His Dancing Turkeys and was a veteran of carnivals, medicine shows and various other entertainment enterprises.
Born on this day in music
15 Aug 1989
Joe Jonas, American singer and actor, Jonas Brothers, 2009 US No.1 album 'Lines, Vines and Trying Times'.
15 Aug 1985
American rapper, songwriter Nipsey Hussle. He initially became known for his numerous mixtapes, including his Bullets Ain't Got No Name series, The Marathon, The Marathon Continues and Crenshaw. His debut studio album Victory Lap was released in February 2018 to critical acclaim and commercial success and was nominated for Best Rap Album at the 61st Annual Grammy Awards in 2019. He died on 31 March 2019 age 33 after being shot multiple times in the parking lot of his store, Marathon Clothing, in South Los Angeles.
15 Aug 1984
Ted Dwane, bassist of the Grammy Award winning British folk rock band Mumford & Sons. Their second studio album 'Babel' released in 2012 debuted at No.1 on both the UK Albums Chart and the US Billboard 200. It became the fastest selling album of 2012 in the UK. The live performance at the 2011 Grammy ceremony with
Bob Dylan
and The Avett Brothers led to a surge in popularity for the band in the US. The band received eight total Grammy nominations for Babel and won the Grammy Award for Album of the Year.
15 Aug 1984
David Welsh, guitarist, from American rock band The Fray who scored the 2005 US Top 3 single 'How to Save a Life'. The group's self-titled, second album, released in 2009, debuted at No.1 on the Billboard charts.
15 Aug 1978
Tim Foreman bassist for Switchfoot. Their 2014 album Fading West reached No.6 on the US album chart.
15 Aug 1974
Simon Dawbarn, vocals, 911, (1998 UK No.2 single 'More Than A Woman').
15 Aug 1972
Mike Graham, vocals, Boyzone, who have had 21 UK hit singles, including 6 UK No.1 singles. Their breakthrough hit was their second single and cover version of the classic
Osmonds
hit, 'Love Me for a Reason', which peaked at No.2 on the UK Singles Chart.
15 Aug 1962
Marshall Schofield, The Fall, (1987 UK No.30 single 'There's A Ghost In My House').
15 Aug 1961
Matt Johnson, English singer, songwriter, The The, who had the 1993 UK hit single 'Slow Emotion Replay'.
15 Aug 1950
American singer and songwriter Billy Griffin. He is best known for replacing Smokey Robinson as lead singer of The Miracles in 1972. He co-wrote the Miracles' most successful single, the No.1 hit 'Love Machine', in 1975.
15 Aug 1950
Tommy Aldridge, drums, Whitesnake, (1987 US No.1 & UK No.9 single 'Here I Go Again').
15 Aug 1948
American musician Tom Johnston the guitarist and vocalist, known principally as a founder and songwriter for The Doobie Brothers who have sold more than 40 million albums worldwide. They scored the 1979 US No.1 single 'What A Fool Believes' and the 1993 UK No.7 single 'Long Train Runnin.'
15 Aug 1946
Jimmy Webb American singer, songwriter who wrote the 1968 hit for Richard Harris 'MacArthur Park', plus 'Galveston', for
Glen Campbell
(and other hits for Campbell), and 'Up Up and Away', a hit for 5th Dimension. According to BMI, his song 'By the Time I Get to Phoenix' was the third most performed song in the fifty years between 1940 and 1990. Webb is the only artist ever to have received Grammy Awards for music, lyrics, and orchestration.
15 Aug 1942
Pete York, Spencer Davis Group (1966 UK No.1 single 'Keep On Running').
15 Aug 1941
Don Rich, country musician who helped develop the Bakersfield sound in the early 1960s. He was a noted guitarist and fiddler, and a member of the Buckaroos, the backing band of country singer Buck Owens. Rich died on July 17, 1974.
15 Aug 1938
Stix Nesbert Hooper, The Crusaders, (1979 UK No.5 & US No.36 single 'Street Life').
15 Aug 1933
Bobby Helms, American country music singer best known for his 1957 hit, 'Jingle Bell Rock'. Died of emphysema at his home in Martinsville, Indiana. He was 63.
15 Aug 1933
Bill Pinkney, The Drifters, (1960 US No.1 & UK No.2 single 'Save The Last Dance For Me'). He died on July 4th 2007.
15 Aug 1933
Floyd Ashman from the American vocal group The Tams who had the 1964 US hit 'What Kind of Fool (Do You Think I Am)' and the 1971 UK No.1 single 'Hey Girl Don't Bother Me'. The group took their name from the Tam o'shanter hats they wore on stage.
15 Aug 1896
Leon Theremin, Russian inventor. Most famous for his invention of the theremin, one of the first electronic musical instruments. He first performed the theremin with the New York Philharmonic in 1928. He died on 3rd November 1993.