August 16th: The Biggest Music Headlines
Scroll down the page to see all the music headlines, stories and events for August 16 throughout music history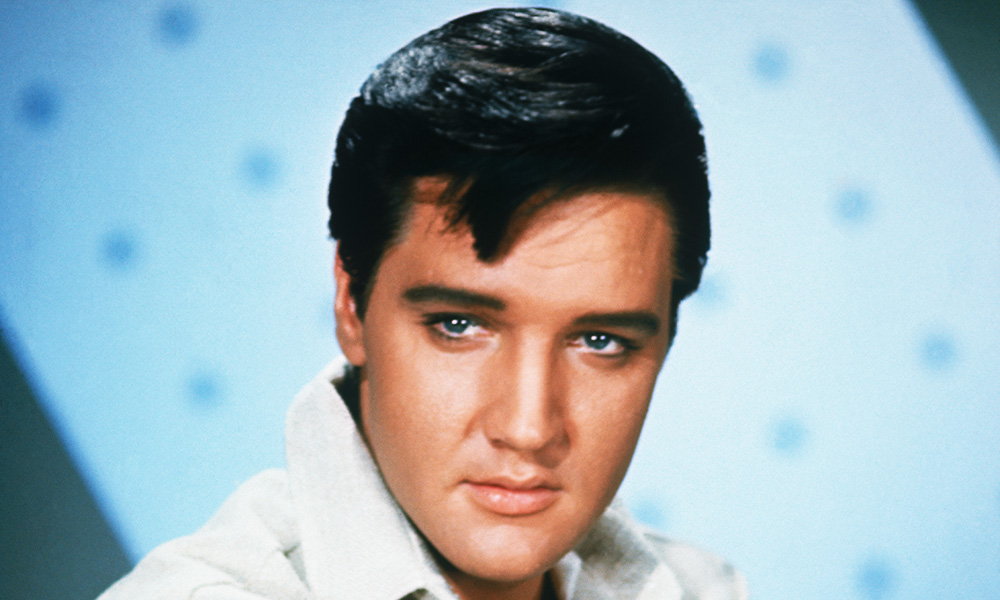 The World Mourns The King Of Rock'n'Roll And The Queen Of Soul
On August 16, 1977, millions of fans around the world mourned as they learned of the death of Elvis Presley, who was just 42 when he died of heart failure. In the following days, thousands of fans would gather around his home, Graceland, to pay tribute to "The King of Rock'n'Roll," while approximately 80,000 fans lined the streets of Memphis, TN to catch a view of the funeral procession. In a statement the following day, President Jimmy Carter, paid tribute to the artist, crediting him with "permanently chang[ing] the face of American popular culture."
In 2018, the world lost another musical icon, Aretha Franklin. The "Queen of Soul" had sold over 75 million records, won 18 Grammy Awards, and scored more than 15 Top 40 hits when she died at the age of 76. Among her greatest hits were "Respect" (1967), "I Say a Little Prayer" (1968), "(You Make Me Feel Like) A Natural Woman" (1967), and "Think" (1968). Two decades later, in 1987, Franklin found a new generation of fans with her No.1 hit, "I Knew You Were Waiting (For Me)," with George Michael. Among her many honors, Franklin received the Presidential Medal of Freedom, the National Medal of Arts, and a Grammy Lifetime Achievement Award.
In 1962, 12-year-old "Little" Stevie Wonder released his first single, "I Call It Pretty Music (But The Old People Call It The Blues)." Accompanying the young artist on drums was none other than future soul star, Marvin Gaye.
In 1975, Genesis' frontman and co-founder, Peter Gabriel, announced that he was leaving the band. He would be replaced 18 months later, after an exhaustive search, by the band's drummer, Phil Collins.
In 1986, at the UK's Monsters of Rock Festival, Def Leppard drummer Rick Allen made his first live appearance with the band after losing his arm in a car accident.
In 1968, weeks after signing to Motown Records, The Jackson 5 made their formal debut at the Los Angeles Forum, opening for Diana Ross and The Supremes.
In 1979, The Knack received a gold record from the RIAA for "My Sharona." The song, which became the hottest hit of the summer, was written for frontman Doug Fieger's then-girlfriend, Sharona Alperin.
Looking for more things that happened on this day in music?
Keep scrolling for all of the headlines for August 16.
BORN ON AUGUST 16:
1942: Robert "Squirrel" Lester (The Chi-Lites)
1953: James Taylor (Kool & The Gang)
1957: Tim Farriss (INXS)
1958: Madonna
1964: Matt Lukin (Mudhoney)
1972: Emily Robison (The Chicks)
1980: Vanessa Carlton (singer-songwriter)
1991: Young Thug
Looking for more artists born on this day?
Keep scrolling for all of our August 16 birthdays.
---
What to find another day?
---
August 16th
16 Aug 2019
A bandstand where
David Bowie
played soon after the release of his first hit single
'Space Oddity'
was given a Grade II listing. The singer performed from the stand to a small audience in Croydon Road Recreation Ground on 16 August 1969. The bandstand was the centrepiece of a one-day festival, which Bowie helped to organise and later inspired him to write the seven-minute song, 'Memory Of A Free Festival'.
16 Aug 2018
American singer and songwriter
Aretha Franklin
died in Detroit at the age of 76. Known as 'The Queen of Soul' and one of the best-selling musical artists of all time, having sold more than 75 million records worldwide was diagnosed with cancer in 2010. During her career she scored over 15 Top 40 hits and won 18 Grammy Awards. Hits include the 1967 US No.1 & UK No.10 single 'Respect', the 1968 UK No.4 single 'I Say A Little Prayer' and the 1987 UK No.1 single with
George Michael
, 'I Knew You Were Waiting'. In 2010 Rolling Stone magazine ranked her number one on their list of the '100 Greatest Singers of All Time'.
16 Aug 2015
One Direction were at No.1 on the UK singles chart with 'Drag Me Down'. It was the band's first single since Zayn Malik's departure earlier in this year The track won the fan-voted 'Best Video Award' at the 2016 Brit Awards.
16 Aug 2007
A fan of the 1980s pop band Wham! was silenced after becoming the first noise nuisance to be prosecuted by Newcastle city council's night watch team. Brian Turner had tormented neighbours by playing their hit song 'Last Christmas' all night at full volume from 1am onwards. Magistrates fined Turner, of Sandyford, Newcastle-upon-Tyne, £200 and ordered him to pay £215 costs.
16 Aug 2005
Madonna
suffered three cracked ribs, a broken collarbone and a broken hand in a horse-riding accident on her country estate. The accident happened when she fell off a new horse in the grounds of her Ashcombe House on the border of Wiltshire and Dorset on her 47th birthday. The singer was treated at hospital in Salisbury, 90 miles (150 kilometres) south-west of London.
16 Aug 2005
P Diddy appeared on the US TV Today Show and announced that he was altering his stage name again, dropping the "P." and referring to himself simply as "Diddy." The name change to Diddy upset Richard "Diddy" Dearlove, a London based DJ who took out court proceedings against P Diddy over the use of the name. He won when an out of court settlement of £110,000 was agreed and as a result, Combs is no longer be able to use the name Diddy in the UK.
16 Aug 2000
Alan Caddy guitarist with The Tornadoes died. He had the 1962 UK & US No.1 single 'Telstar' which became the first major hit from a UK act on the American chart. Caddy also played on sessions and worked on arrangements for Spencer Davis Group, Kiki Dee, Pretty Things and Dusty Springfield.
16 Aug 1997
On the 20th anniversary of
Elvis Presley
death over 30,000 fans descended on Memphis Tennessee for a 10-minute mourning circuit circling his grave. A poll found that almost a third of the fans were keeping an eye out for him in the crowd.
16 Aug 1997
Will Smith started a four-week run at No.1 on the UK singles chart with 'Men In Black' taken from the film of the same name. The song won Smith a Grammy in 1997 for Best Rap Solo Performance.
16 Aug 1997
Blur, Prodigy, Beck, Kula Shaker, Dodgy,
Foo Fighters
, Placebo, James, Ash, Dodgy and Gene all appeared at the two day V97 UK festival in Chelmsford and Leeds, weekend tickets, £50.
16 Aug 1988
Kiss
played at The
Marquee Club
in London, England on their current 129-date Crazy Nights world tour.
16 Aug 1986
Rick Allen
, drummer with
Def Leppard
made his first live appearance with the band after losing an arm in a car accident, when they appeared at the Monsters Of Rock Festival, Castle Donington, England.
16 Aug 1986
Madonna
started a two week run at No.1 on the US singles chart with 'Papa Don't Preach.' The singers fourth US No.1, & No.1 in the UK. Also on this day
Madonna
went to No.1 on the US album chart with 'True Blue'.
16 Aug 1983
After dating for six years,
Paul Simon
married actress Carrie Fisher, who played Princess Leia in the first Star Wars trilogy. The marriage would last less than two years, but the two continued to date off and on after they split.
16 Aug 1979
The biggest single of the summer in the US, The Knack's 'My Sharona' was awarded a Gold record for selling one million copies. The Knack's Doug Fieger wrote the song for his girlfriend, Sharona Alperin, whose picture appeared on the single's cover.
16 Aug 1977
Elvis Presley
was found dead lying on the floor in his bathroom by his girlfriend Ginger Alden, he had been seated on the toilet reading 'The Scientific Search For Jesus'. He died of heart failure at the age of 42. His first record for RCA, '
Heartbreak Hotel
' was also his first US No.1. He starred in 31 films. Elvis holds the record for the most entries on the US Hot 100 chart with 154. Elvis became the first rock 'n' roll artist to be honoured by the US Postal Service with a stamp.
16 Aug 1975
The Stylistics were at No.1 on the UK singles chart with 'Can't Give You Anything (But My Love)', the Philadelphian soul group's only UK No.1.
16 Aug 1975
Peter Gabriel announced that he was leaving
Genesis
. The group auditioned more than 400 singers during the next 18 months before deciding that
Phil Collins
, who had been the drummer for Genesis since 1970, could front the band.
16 Aug 1970
This week's UK Top 5 singles: No.5,
Free
, '
All Right Now
', No.4, Shirley Bassey, 'Something', No.3, Hotlegs, 'Neanderthal Man', No.2,
The Kinks
, 'Lola' and No.1,
Elvis Presley
, 'The Wonder Of You', (his 16th UK No.1).
16 Aug 1970
The final day of the three day UK Yorkshire Folk, Blues & Jazz Festival at Krumlin, Yorkshire took place featuring
The Kinks
, Mungo Jerry, Yes,
Ginger Bakers Air Force
and Edgar Winter. Weekend tickets, £3.
16 Aug 1969
Hippie leader Abbie Hoffman was knocked offstage by Pete Townshend while attempting to make a political statement during
The Who
's set at
Woodstock
. Later, Townshend said he didn't know it was Hoffman at the time.
16 Aug 1969
During a North American tour
Led Zeppelin
appeared at the Convention Hall in Asbury Park with Joe Cocker as support. Zeppelin had been asked to perform at
Woodstock
but due to this gig commitment were unable to attend. And down the road
Bruce Springsteen
's band Child played the first of two shows over two days at the Student Prince, Ashbury Park. Springsteen was also unable to attend
Woodstock
due to these gigs.
16 Aug 1969
Crosby, Stills, Nash & Young supported by
Joni Mitchell
appeared at the Auditorium Theater in Chicago, Illinois.
16 Aug 1968
Bruce Springsteen
's new band Earth made their live debut at the Off Broad Street Coffee House in Red Bank, New Jersey, admission was 75c. The lineup of the group consisted of Springsteen (guitars & vocals), John Graham (bass), Michael Burke (drums) and 'Flash Craig' (organ). The group only had a 6-month existence.
16 Aug 1968
Working at Abbey Road studios on
George Harrison
song 'While My Guitar Gently Weeps', taking the song from its early acoustic version into an electric version.
16 Aug 1968
The Jackson Five made their formal debut with Diana Ross and The
Supremes
at the Great Western Forum, California.
16 Aug 1962
Little
Stevie Wonder
(aged 12), released his first single, 'I Call It Pretty Music, (But The Old People Call It The Blues)', the single featured
Marvin Gaye
on drums.
16 Aug 1962
Brian Epstein told Pete Best that the other Beatles wanted him out of the group, and that he was being replaced. Epstein then asked Best to perform with
The Beatles
that night at the Riverpark Ballroom in Chester, Cheshire. Pete Best does not show up, drummer Johnny Hutchinson of The Big Three filled in the temporary vacancy.
16 Aug 1961
Patsy Cline
recorded 'Crazy'. The ballad composed by Willie Nelson became one of her signature tunes and gave Cline a No.2 country hit in 1962. Nelson originally wrote the song for country singer Billy Walker, but Walker turned it down. The song's eventual success helped launch Nelson as a performer as well as a songwriter.
16 Aug 1958
After being drafted in the US Army,
Elvis Presley
was assigned to the 3rd Armored Division in Friedberg, West Germany. On the anniversary of his death today in 1977, listen to how the world's most popular recording artist adapted to military life and kept his career on track.
Born on this day in music
16 Aug 1991
American rapper and singer Young Thug. In 2017 he featured on the hit song 'Havana' by Cuban pop singer Camila Cabello, which became his first No.1 single on the US Billboard chart.
16 Aug 1980
Bob Hardy, bassist with Scottish indie rock band Franz Ferdinand, who were the winners of the 2004 Mercury Music Prize for their self-titled debut album.
16 Aug 1980
Venessa Carlton, (2002 UK No.6 single 'A Thousand Miles').
16 Aug 1972
Emily Robison, singer-songwriter with The Chicks. With sales of 27.2 million albums in the US alone, they have become one of the top-selling all-female bands and biggest selling country groups in America. Robinson also formed Court Yard Hounds with her sister and fellow Chicks member, Martie Maguire.
16 Aug 1967
MC. Remedee, Cookie Crew, (1988 UK No.5 single 'Rock Da House').
16 Aug 1964
Matt Lukin, bassist with American alternative rock band Mudhoney. Their early releases on the Sub Pop label were massively influential on the Seattle music scene.
16 Aug 1958
Madonna
, (Madonna Louise Veronica Ciccone), singer, actress. First hit was the 1984 UK No.6 single 'Holiday'. With sales of over 300 million records worldwide, Madonna is certified as the best-selling female recording artist of all time by Guinness World Records. She is the most successful solo artist in the history of the US Billboard Hot 100 chart and holds the record for the most No.1 singles by a female artist in Australia, Canada, Italy, Spain, and the United Kingdom.
16 Aug 1957
Tim Farriss, guitarist from Australian rock band INXS, who had the 1988 UK No.2 & US No.1 single 'Need You Tonight'. Their 1987 album Kick has sold over 10m copies in the US alone and features four Top 10 singles; 'Need You Tonight,' 'Devil Inside', 'New Sensation,' and 'Never Tear Us Apart.' INXS has sold over 55 million records worldwide.
16 Aug 1953
James Taylor, Kool & The Gang, (1981 US No.1 & UK No.7 single, Celebration. 1984 UK No.2 single 'Joanna', and over 15 other top 40 hits).
16 Aug 1949
Scott Asheton, drums, Iggy Pop And The Stooges, (1973 album 'Raw Power'). He died on 15th March 2014.
16 Aug 1948
Barry Hay, Golden Earring, (1974 UK No.7 & US 13 single 'Radar Love').
16 Aug 1946
Gordon Fleet, The Easybeats, (1966 UK No.6 & 1967 US No. 16 single 'Friday On My Mind').
16 Aug 1945
Kevin Ayers, singer, songwriter, and founder member of Soft Machine, who had the 1970 UK No.18 album, 'Third'. Ayers who was a major influential force in the English psychedelic movement died on 18th February 2013.
16 Aug 1945
Gary Loizzo, from American rock band American Breed who scored the 1967 US No.5 single 'Bend Me, Shape Me', (a hit on the British charts for the British group Amen Corner).
16 Aug 1942
Robert "Squirrel" Lester, second tenor in the Chicago-based singing group The Chi-Lites that charted 21 songs in the Billboard Hot 100 Pop Chart. Their major hits came in 1971 and 1972, with 'Have You Seen Her' and 'Oh Girl'. He died on 21 January 21, 2010.
16 Aug 1915
Singer, Al Hibbler, (1955 UK No.2 & US No.3 single 'Unchained Melody'). The American baritone vocalist, sang with Duke Ellington's orchestra before having several pop hits as a solo artist.