August 19th: The Biggest Music Headlines
Scroll down the page to see all the music headlines, stories and events for August 19 throughout music history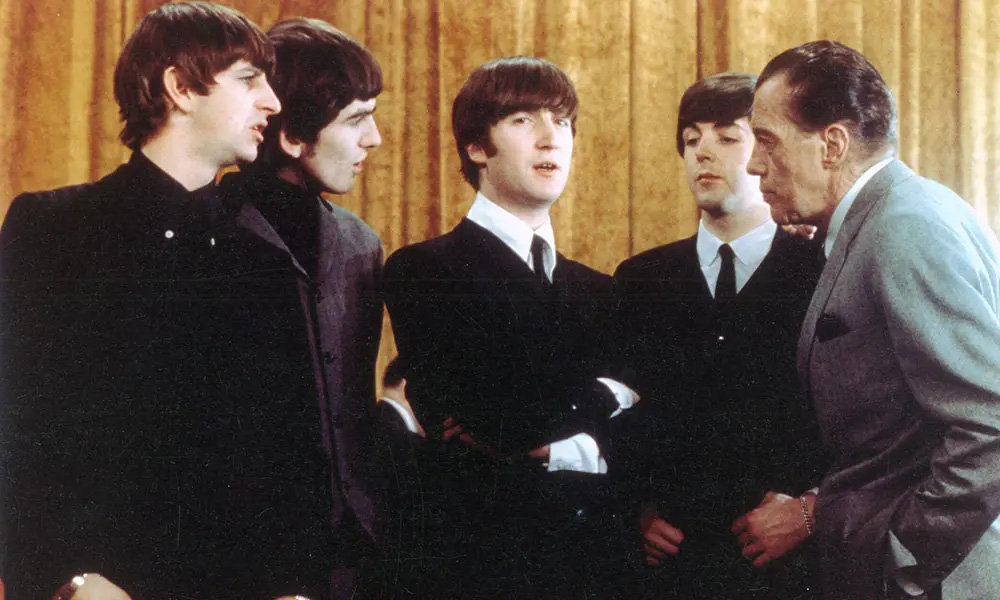 The Beatles Embark On Their First North American Tour
On August 19, 1964, The Beatles kicked off their first North American tour at San Francisco's Cow Palace. Playing to an audience of 17,130, the band performed a 12-song set, including such hits as "Twist and Shout," "All My Loving," and "Can't Buy Me Love." The Righteous Brothers, Jackie DeShannon, The Bill Black Combo, and The Exciters all served as support. One of the very first tours of its kind, the 25-city run included 32 shows all around the US and Canada, including stops at the Hollywood Bowl, New York's Forest Hills Stadium, and Toronto's Maple Leaf Gardens.
In 1972, David Bowie, billed as Ziggy Stardust, played a pivitol, sold-out concert at London's Rainbow Theatre. The theatrical show, which incorporated a variety of media, wowed critics and audiences alike, including Mick Jagger, Elton John, Rod Stewart, and Alice Cooper, who were all reportedly in attendance.
In 1977, The Sex Pistols kicked off a six-date undercover UK tour as "The S.P.O.T.S." (Sex Pistols On Tour Secretly). Due to their rowdy reputation, the band knew that they were unlikely to be booked in clubs (or would be shut down by the police) and so, they assumed a different name in each venue (including "Tax Exiles" and "A Mystery Band of International Repute")
In 2005, a life-size bronze statue of Thin Lizzy frontman Phil Lynott was erected in the singer, songwriter, and bassist's home city of Dublin, Ireland. Lynott, who died in 1986 at 36, was celebrated during an unveiling ceremony, which was attended by his former Thin Lizzy bandmates, including Gary Moore, Brian Robertson, and Scott Gorham.
In 1988, it was announced that Patsy Cline's "Crazy" and Elvis Presley's "Hound Dog were the most-played jukebox songs of the past 100 years.
Looking for more things that happened on this day in music?
Keep scrolling for all of the headlines for August 19.
BORN ON AUGUST 19:
1939: Ginger Baker (Cream)
1940: Johnny Nash (singer-songwriter)
1945: Ian Gillan (Deep Purple)
1951: John Decon (Queen)
1969: Nate Dogg (rapper)
1989: Lil Romeo (rapper, actor)
Looking for more artists born on this day?
Keep scrolling for all of our August 19 birthdays.
---
What to find another day?
---
August 19th
19 Aug 2019
The guitar
Duane Allman
played on the classic
Derek and the Dominos
song 'Layla' sold for $1million (£820,000) at auction. The 1957 Gibson Les Paul Goldtop was Allman's main guitar during the first two years of the Allman Brothers Band and was played on their 1969 self-titled debut album and 1970 follow-up Idlewild South. 'Layla' was one of the final recordings that featured Allman playing that guitar as soon after, the guitarist swapped it for a 1959 Les Paul.
19 Aug 2019
American bass guitarist Larry Taylor died age 77. He is best known as a member of Canned Heat from 1967. Before joining Canned Heat he had been a session bassist for The Monkees and Jerry Lee Lewis. He was the younger brother of Mel Taylor, long-time drummer of The Ventures.
19 Aug 2016
American record producer and fraudster Lou Pearlman died aged 62 from cardiac arrest. He was the manager of successful 1990s boy bands such as Backstreet Boys and NSYNC. In 2006, he was accused of running one of the largest and longest-running Ponzi schemes in history, leaving more than $300 million in debts. After being apprehended, he pled guilty to conspiracy, money laundering, and making false statements during a bankruptcy proceeding. In 2008, Pearlman was convicted and sentenced to up to 25 years in prison.
19 Aug 2014
Kate Bush
requested fans did not take any photographs or record footage using mobile devices at her upcoming 22-date run of performances in London, England. The 56-year-old star said on her website: "I very much want to have contact with you as an audience, not with iPhones, iPads or cameras." The musician added it would mean "a great deal to me" but admitted that it was "a lot to ask".
19 Aug 2013
Lady Gaga asked her fans to stop sending online threats to her critics.The singer said she would not condone "hateful or abusive language" directed towards others, adding "this is not a healthy way to handle your emotions".Some of her fans had tweeted death threats to dance producer Deadmau5, who criticised Gaga's video collaboration with artist Marina Abramovic.
19 Aug 2008
Saxophonist LeRoi Moore, a founding member of the Dave Matthews Band, died aged 46. Publicist Ambrosia Healy said he died from injuries sustained in a vehicle accident in June on his Virginia farm.
19 Aug 2005
A life-size bronze statue designed by Paul Daly of Phil Lynott was unveiled on Harry Street in Dublin. The ceremony was attended by his former
Thin Lizzy
band members Gary Moore, Brian Robertson and Scott Gorham. Lynott who died in 1986 aged 36 had a string of hits including 'Whiskey in the Jar', 'The Boys are Back in Town', 'Jailbreak' and 'Waiting for an Alibi'.
19 Aug 2003
A man from Nottinghamshire who sent threatening emails to S Club singer Tina Barrett was jailed for six months. 41 year-old Steven Hindley, showered the singer with roses, chocolates and teddy-bears. But when the messages were ignored, he began to mention threats to the band, including a potential sniper attack. One email begged Miss Barrett to visit him at his home, claiming he was the victim of an incurable brain-tumour and had just three weeks to live.
19 Aug 2001
American soul singer Betty Everett died aged 61. She had the 1964 US No.6 single 'The Shoop Shoop Song (It's In His Kiss'), later covered by Cher.
19 Aug 1999
Lauryn Hill won New Artist Of The Year and Album Of The Year at the US 'Source Hip Hop Music Awards' in Los Angeles. R. Kelly won R&B Artist of The Year; DMX won Artist Of The Year and solo and live performer Of The Year.
19 Aug 1996
James Brown
appeared in Montauk, New York, as part of his Back at the Ranch tour. Brown who had a history of beating his wife, offered money that was raised at the event to an anti-violence organization called The Retreat, but was turned down.
19 Aug 1988
'Crazy' by
Patsy Cline
and
Elvis Presley
's 'Hound Dog' were announced as the most played jukebox songs of the first hundred years. The jukebox had been around since 1906, but earlier models had been first seen in 1889.
19 Aug 1979
American Rockabilly singer Dorsey Burnette died from a heart attack at his home in Canoga Park, California. He wrote 'It's Late', a hit for Ricky Nelson and Shakin' Stevens. After his death, singer and friend Delaney Bramlett organized a benefit concert for Dorsey's widow at the Forum in Inglewood, California, in which Kris Kristofferson, Hoyt Axton. Tanya Tucker,
Glen Campbell
, Duane Eddy, Delaney and Bonnie, Gary Busey and Roger Miller appeared. Dorsey Burnette's pioneering contribution to the genre has been recognized by the Rockabilly Hall of Fame.
19 Aug 1978
The Commodores started a five-week run at No.1 on the UK singles chart with 'Three Times A Lady'. Lionel Richie wrote the song about his love for his wife, mother and grandmother hence 'Once, Twice, Three Times a Lady.'
19 Aug 1977
19 Aug 1974
The Three Degrees were at No.1 on the UK singles chart with 'When Will I See You Again.' The girl group's only UK No.1. They were Prince Charles' favourite group of the 70s.
19 Aug 1973
Rita Coolidge and Kris Kristofferson were married in Malibu, California. Kristofferson had just enjoyed a number 1 country hit with 'Why Me', which included Coolidge on backing vocals. The couple divorced near the end of 1979.
19 Aug 1972
David Bowie
played the first of two nights at the Rainbow Theatre in England on his current 182-date
Ziggy Stardust
world tour.
19 Aug 1971
Led Zeppelin
kicked off a North American tour at the Pacific Coliseum in Vancouver, Canada. The band played to a sold out crowd of over 17,000 fans, another 3,000 fans outside the venue who didn't have tickets started a battle with local police.
19 Aug 1969
Joni Mitchell
, David Crosby, Stephen Stills and Jefferson Airplane all appeared on the ABC TV Dick Cavett Show from Television Center in New York City.
19 Aug 1967
19 Aug 1964
The Beatles
kicked off a North American tour at the Cow Palace in San Francisco, California, to a crowd of 17,130. Playing 12 songs which made up their repertoire for the entire tour: 'Twist and Shout', 'You Can't Do That', 'All My Loving', 'She Loves You', 'Things We Said Today', 'Roll Over Beethoven', 'Can't Buy Me Love', 'If I Fell', 'I Want to Hold Your Hand', 'Boys', 'A Hard Day's Night', and 'Long Tall Sally'. Supporting acts were The
Righteous Brothers
, The Bill Black Combo, The Exciters, and Jackie DeShannon.
Born on this day in music
19 Aug 1989
Lil' Romeo, rapper, actor Lil' (Percy Romeo Miller Jr), appeared in his own Nickelodeon show called Romeo. Son of rapper Master P, (2001 US No.4 single 'My Baby').
19 Aug 1983
Missy Higgins, Australian singer-songwriter, (2004 Australian No.1 single 'Scar', 2007 Australian No.1 single 'Steer').
19 Aug 1980
Darius, singer, 2001 UK TV's Popstars contestant, who became famous for his rendition of
Britney Spears
'Baby One More Time' and scored the 2002 UK No.1 single 'Colourblind'. He later performed the role of Billy Flynn in the West End production of Chicago and played the lead role of Sky Masterson in Guys and Dolls. Darius was found unresponsive on 11 August 2022 in his apartment in Rochester, Minnesota, and he was pronounced dead later that day.
19 Aug 1970
MC Eric, Technotronic, (1989 UK No.2 single 'Pump Up
The Jam
').
19 Aug 1969
American rapper, singer, songwriter, and actor Nate Dogg who began his career as a member of the California rap trio 213, alongside his longtime friend Warren G and his cousin Snoop Dogg. Nate Dogg who is regarded as one of the pioneers of West Coast hip hop died on 15 March 2011 aged 41.
19 Aug 1963
Joey Tempest, Europe, (1986 UK No.1 single 'The Final Countdown').
19 Aug 1951
John Deacon, bass,
Queen
. He was the last to join the band and also the youngest, being only 19 years old. Deacon wrote a number of
Queen
's hit singles, including 'You're My Best Friend', 'Spread Your Wings', 'I Want to Break Free', and the band's biggest selling single in the United States, 'Another One Bites the Dust'.
19 Aug 1945
English singer and songwriter Ian Gillan from
Deep Purple
, who had the 1970 UK No.2 single 'Black Night' and the 1973 US No. 4 single 'Smoke On The Water'. Gillan has also been a member of Episode Six, Ian Gillan Band, Gillan,
Black Sabbath
, Gillan & Glover and WhoCares.
19 Aug 1943
Billy J Kramer, singer, (1964 UK No.1 & US No.7 single 'Little Children').
19 Aug 1940
American singer-songwriter Johnny Nash, who had the 1972 US No.1 single 'I Can See Clearly Now', and the 1975 UK No.1 single 'Tears On My Pillow'. Nash died of natural causes on 6 October 2020 age 80.
19 Aug 1940
Roger Cook, songwriter, as a member of Blue Mink, (1970 UK No.3 single 'Melting Pot'). Cook has had more than 80 top 30 hits, including 'Something's Gotten Hold Of My Heart', 'Long Cool Woman In A Black Dress' , 'You've Got Your Troubles' and 'I'd Like To Teach The World To Sing.'
19 Aug 1939
Ginger Baker
, drummer with
Cream
who had the 1966 UK No.11 single 'I Feel Free'. Baker was also a member of the Graham Bond Organisation, Blind Faith, and Ginger Bakers Airforce and is also known for his numerous associations with World music, mainly the use of African influences. He has also had other collaborations such as with Gary Moore, Hawkwind and Public Image Ltd. Baker died on 6 October at the age of 80.