August 20th: The Biggest Music Headlines
Scroll down the page to see all the music headlines, stories and events for August 20 throughout music history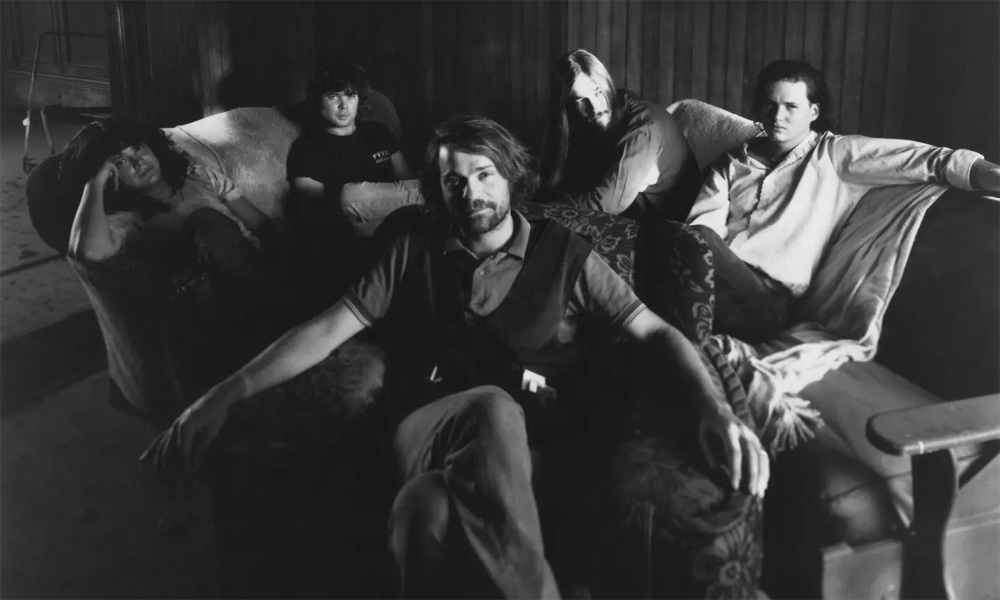 The Tragically Hip's Final Show
On August 20, 2016, The Tragically Hip played their final show together, months after announcing that frontman Gord Downie had terminal brain cancer. After releasing their 13th studio album, Man Machine Poem, the Canadian band chose to go out on a high note with a 15-date goodbye tour. While the final, sold-out show took place at Kingston, Ontario's Rogers K-Rock Centre (now the Leon Centre), the concert was broadcast to more than 11.7 million people. Viewing events took place at locations around the country, including a public screening in Kingston, attended by approximately 22,000 fans. The concert was later released as The Tragically Hip: A National Celebration.
In 1988, Iron Maiden, KISS, David Lee Roth, Megadeth, Guns N' Roses, and Helloween appeared at England's Monsters Of Rock festival at Castle Donington. Despite a bout of bad weather leading up to the event, Monsters of Rock attracted over 107,000 attendees.
In 1965, Rolling Stones manager Andrew Loog Oldham launched Immediate Records with Tony Calder. The label's first release was The McCoy's "Hang On Sloopy," while their roster would go on to include titles from Rod Stewart, Small Faces, Fleetwood Mac, and Humble Pie. They ceased operations in 1970.
In 1979, Bob Dylan released Slow Train Coming, his first album after converting to Christianity. Featuring songs about his newfound faith, the record alienated many of his longtime fans while also drawing in new Christian fans. His single "Gotta Serve Somebody" earned a Grammy for Best Male Rock Vocal Performance in 1980.
In 1965, Davy Jones & The Lower Third released "You've Got a Habit of Leaving," the first of two singles that David Bowie recorded with the band. Bowie, born David Jones, changed his name soon after to avoid confusion with Davy Jones of The Monkees, and the single would mark the last track released under his birth name.
In 1983, The Police headlined John F. Kennedy Stadium in Philadelphia with support from Joan Jett and The Blackhearts, Madness, and R.E.M. The Police opened with "Synchronicity I" and played 21 songs, including their future hit "Every Breath You Take."
In 2018, soul musician Eddie Willis died from polio complications at age 82. During the 1960s and early 1970s, Willis played electric guitar and electric sitar for The Funk Brothers, Motown Records' in-house studio band. Among the numerous songs he appeared on was The Marvelettes' "Please Mr. Postman," The Temptations' "The Way You Do the Things You Do," and Stevie Wonder's "I Was Made to Love Her."
Looking for more things that happened on this day in music?
Keep scrolling for all of the headlines for August 20.
BORN ON AUGUST 20:
1942: Jerry Garcia (The Grateful Dead)
1959: Joe Elliot (Def Leppard)
1960: Chuck D
1963: Coolio
1964: Adam Duritz (Counting Crows)
1968: Dan Donegan (Disturbed)
1981: Ashley Parker (O-Town)
Looking for more artists born on this day?
Keep scrolling for all of our August 20 birthdays.
---
What to find another day?
---
August 20th
20 Aug 2021
American country music singer-songwriter and short-story author Tom T. Hall died from a self-inflicted gunshot wound to the head. He wrote 12 No.1 hit songs, with 26 more that reached the Top 10, including the No.1 international pop crossover hit 'Harper Valley PTA' by Jeannie C. Riley.
20 Aug 2020
American rock drummer Frankie Banali died from pancreatic cancer age 68. He is most widely known for his work with multi-platinum heavy metal band Quiet Riot.
20 Aug 2018
American soul musician Eddie Willis died from complications of polio at the age of 82. Willis played electric guitar and occasional electric sitar for
Motown
's in-house studio band, The Funk Brothers, during the 1960s and early 1970s. He performed many hits including 'Please Mr. Postman' by The
Marvelettes
, 'The Way You Do the Things You Do' by The
Temptations
, 'You Keep Me Hanging On' by The
Supremes
, and 'I Was Made to Love Her' by
Stevie Wonder
.
20 Aug 2016
The Tragically Hip drew a sell-out crowd to the show in Kingston, Ontario, as their dying singer Gord Downie bid Canada farewell. The show was broadcast live across Canada and was shown at hundreds of public screenings across the country in bars and outdoor venues.
20 Aug 2016
Former 3 Doors Down guitarist Matt Roberts died at the age of 38 from a prescription drug overdose. The American rock band rose to international fame with their first single, 'Kryptonite', which charted in the top three on the Billboard chart. The released their debut album, The Better Life, in 2000 which became the 11th-best-selling album of the year and was certified 6x platinum in the United States.
20 Aug 2013
It was reported that
Beyoncé
had spent almost £1,500 at an Essex branch of chicken chain Nando's following her performance at the V Festival in the UK. The headliner's receipt was posted on Twitter and Nando's Chelmsford manager confirmed a member of Beyonce's entourage called in with the order. The order included 48 whole chickens, 24 tubs of coleslaw, 58 chicken wing platters and 48 portions of chips. The receipt showed the meal was apparently paid for in cash.
20 Aug 2009
20 Aug 2008
The daughter of late country star
Johnny Cash
called the use of her father's name to endorse a US presidential candidate 'appalling'. Country star John Rich implied Mr Cash would have backed Republican hopeful John McCain while appearing at a rally in Florida, according to media reports. Writing on her website, Roseanne Cash called the remarks 'presumptuous'. 'Even I would not presume to say publicly what I 'know' he thought or felt,' she added.
20 Aug 2007
The funeral of Manchester music mogul and broadcaster, Tony Wilson was held at St Mary's Roman Catholic Church in Manchester. Peter Hook and Stephen Morris - two members of first Factory signing
Joy Division
and later incarnation, New Order attended along with Happy Mondays front man, Shaun Ryder.
20 Aug 2006
The
Rolling Stones
played the first of two nights at Twickenham Stadium on their 'A Bigger Bang' world tour. Feeder and The Charlatans also appeared.
20 Aug 2004
A man from Stoke-on-Trent, England, named
Bryan Adams
as the 'other man' in his divorce papers after years spent trying to cope with his wife's obsession with the singer. Rob Tinsley said he had to live with a 6ft cut-out of Adams which stood at the foot of the bed and posters on the bedroom walls.
20 Aug 2003
Madame Tussauds in London opened an interactive Pop Idol display with a speaking waxwork of judge
Simon Cowell
. The waxwork made comments such as: 'That was extraordinary. Unfortunately extraordinarily bad.' 'Do you really think that you could become a Pop Idol' Well then you're deaf.' 'Thank you. Goodbye and That was the worst performance I've ever seen.'
20 Aug 2000
Spiller went to No.1 on the UK singles chart with 'Groovejet'. The Italian DJ and producer mixed the track based on an old 1970s hit 'Love Is You' by Carol Williams, with new vocals by Sophie Ellis-Bextor.
20 Aug 2000
Janet Jackson
went to No.1 on the US singles chart with 'Doesn't Really Matter'. Nelly started a five week run at No.1 on the US album chart with 'Country Grammar'.
20 Aug 1997
BBC TV aired the documentary '
Oasis
Right Here Right Now', with the group talking about their troublesome last year, plus performances of three new songs from the Manchester band.
20 Aug 1992
A US Doctor filed a $35m lawsuit against the Southwest Bell phone company. He alleged that his wife died because he could not reach 911 due to all lines being jammed by demand of Garth Brooks concert tickets.
20 Aug 1990
20 Aug 1988
Steve Winwood went to No.1 on the US album chart with his fifth solo album 'Roll With It'. The title cut also topped the US singles charts.
20 Aug 1988
Iron Maiden
,
Kiss
, David Lee Roth, Megadeth, Guns N' Roses and Helloween all appeared at this year's 'Monsters Of Rock' Festival, Castle Donington, England. Two rock fans died while 'slam dancing' as Guns N' Roses played.
20 Aug 1983
Madness, Joan Jett,
The Police
and
R.E.M.
all appeared at JFK Stadium in Philadelphia.
20 Aug 1979
Bob Dylan
released 'Slow Train Coming', an album of religious songs, including the Grammy Award winning single, 'Gotta Serve Somebody'. The album alienated many of his long time fans.
20 Aug 1973
Bruce Springsteen
played the first of a seven night run at Oliver's in Boston, Massachusetts playing two 60-minute sets each night.
20 Aug 1969
After finishing 'I Want You, (She's So Heavy)',
The Beatles
worked on the running order for the
Abbey Road
album. A preliminary master tape was compiled, the medley was originally slated for side one of the album, and the placement of 'Octopus's Garden' and 'Oh! Darling' were reversed from the final version. The album was to end with the slashed guitar chord that finishes 'I Want You (She's So Heavy)'. This was the last time all four Beatles were together in Abbey Road studios.
20 Aug 1968
The director of the University of Tennessee's audio lab, Dr. David M. Lipscomb, reported that a guinea pig subjected over a three month period to 88 hours of Rock music recorded at a Knoxville disco at 120 decibels suffered acute damage to the inner ears. Steve Paul, the owner of a New York disco replied "Should a major increase in guinea pig attendance occur at The Scene, we'll certainly bear their comfort in mind."
20 Aug 1966
The Beatles
touring America for the last time, were forced to cancel and reschedule their performance in Cincinnati's open-air stadium, Crosley Field. Heavy rain (and no cover provided) made electrocution a virtual certainty if
The Beatles
had attempted to perform.
20 Aug 1965
The
Rolling Stones
manager Andrew Loog Oldham and his partner Tony Calder launched Immediate records. Their first release was The McCoy's 'Hang On Sloopy',
Mick Jagger
,
Eric Clapton
and Nico (later to join Velvet Underground), all attended the launch party. The label became the home of the
Small Faces
, Nice, Amen Corner and Chris Farlowe and a young producer - guitarist
Jimmy Page
.
20 Aug 1965
Davy Jones & The Lower Third released the single 'You've Got a Habit of Leaving' the last song that
David Bowie
(born David Jones), released before changing his name to avoid confusion with Davy Jones of The
Monkees
, and the first of two singles that he recorded with The Lower Third after leaving his previous band, The Manish Boys.
Born on this day in music
20 Aug 1992
Demi Lovato, American actress and singer-songwriter. (Mitchie Torres in the Disney Channel Movie Camp Rock). 2009 US No.1 album 'Here We Go Again'.
20 Aug 1985
Michael Shuman, American rock musician best known for playing bass with Queens of the Stone Age who he joined in 2007. He also sings and plays the guitar and various other instruments in Mini Mansions, and formerly co-fronted Wires on Fire and Jubilee.
20 Aug 1979
Jamie Cullum, UK Jazz, singer, songwriter, instrumentalist, (2003 UK No.5 album 'Twentysomething').
20 Aug 1971
Fred Durst, vocals, Limp Bizkit, (2001 UK No.1 single 'Rollin' & 2000 US & UK No.1 album 'Chocolate Starfish and the Hotdog Flavoured Water').
20 Aug 1966
Dimebag Darrell, guitarist, Pantera, (1994 UK No.19 single 'I'm Broken'). Darrell was killed on 8th December 2004 after a man stormed the stage during a Damageplan show at the Alrosa Villa Club in Columbus, Ohio and began firing shots at the band and crowd.
20 Aug 1952
American singer-songwriter-musician Doug Fieger, with The Knack. Their first single, 'My Sharona' was an international No.1 hit in 1979. Fieger wrote 'My Sharona' for Sharona Alperin, who later became his girlfriend. He died of cancer on 14th Feb 2010 aged 57.
20 Aug 1952
John Hiatt, American rock guitarist, pianist, singer, and songwriter. His songs have been covered by a variety of artists including
Bob Dylan
, The Searchers, Ry Cooder, Linda Ronstadt, Bonnie Raitt,
Eric Clapton
, B.B. King, Willie Nelson, Three Dog Night, Joan Baez, and Iggy Pop.
20 Aug 1949
Phil Lynott, Irish singer, songwriter, bass player,
Thin Lizzy
. (1973 UK No.6 single 'Whisky In The Jar'). Lynott died on 4th Jan 1986 of heart failure and pneumonia after being in a coma for eight days following a drug overdose. A life-size bronze statue of Phil Lynott was unveiled on Harry Street in Dublin in 2005.
20 Aug 1948
Robert Plant, singer with
Led Zeppelin
who had the 1969 US No.4 single Whole Lotta Love. The bands fourth album released in 1971 featuring the rock classic
Stairway To Heaven
has sold over 37 million copies. Plant had the 1983 solo hit single Big Log. Also a member of The Honeydrippers, (with
Jimmy Page
,
Jeff Beck
& Nile Rodgers), who had the 1984 US No.3 single Sea Of Love. Plant scored the Grammy award winning 2007 album Raising Sand with bluegrass star Alison Krauss.
20 Aug 1947
David Lasley American recording artist, singer and songwriter. He was known for his contributions as a background singer and songwriter for such artists as Bonnie Raitt, James Taylor, Luther Vandross, Chic,
Aretha Franklin
, Dionne Warwick, Dusty Springfield and Boz Scaggs. He died on 9 December 2021 age 74.
20 Aug 1947
American trombone player, songwriter, James Pankow, with Chicago who had the 1976 UK & US No.1 single 'If You Leave Me Now'. The band formed in 1967 in Chicago, Illinois as The Chicago Transit Authority before shortening the name in 1970. Chicago have had five consecutive No.1 albums on the Billboard chart and 20 top-ten singles on the Billboard Hot 100.
20 Aug 1946
Ralf Hutter, German musician best known as the lead singer, keyboardist, founding member and leader of the electronic music and pop band Kraftwerk who had the 1982 UK No.1 single 'Computer Love / The Model'.
20 Aug 1942
Isaac Hayes, singer, (1971 US No.1 & UK No.4 single, 'Theme From Shaft', 1998 UK No.2 single as Chef 'Chocolate Salty Balls'). Hayes was found dead at his home on 10th Aug 2008, aged 65.
20 Aug 1941
English singer-songwriter and musician Dave Brock best known as being one of the founders of space rock group Hawkwind who had the 1972 UK No.3 single 'Silver Machine'.
20 Aug 1940
John Lantree, The Honeycombs, (1964 UK No.1 single 'Have I The Right').
20 Aug 1937
English rock and roll drummer Clem Cattini with The Tornadoes who had the 1962 UK & US No.1 single 'Telstar'. The first major hit from a UK act on the American chart. Cattini has featured on a record 44 different UK No.1 singles, from artists such as Tom Jones,
T. Rex
, The Seekers, Bay City Rollers, Rolf Harris and Hot Chocolate. He was also considered for
Led Zeppelin
– he was initially on
Jimmy Page
's shortlist of drummers when forming the band before they settled on
John Bonham
.
20 Aug 1934
'Sneaky' Pete Kleinow, American country-rock steel guitar player. He was one of the original members of the Flying Burrito Brothers with the Byrds' Chris Hillman and
Gram Parsons
. Also worked with
John Lennon
and
Joni Mitchell
. He died 6 Jan 2007 aged 72.
20 Aug 1931
Paul Robi, from American vocal group The Platters who had the 1959 UK & US No.1 single 'Smoke Gets In Your Eyes'. The Platters were one of the first African-American groups to be accepted as a major chart group and were, for a period of time, the most successful vocal group in the world. He died of cancer on 1st February 1989.
20 Aug 1924
Jim Reeves US country singer. The first country singer to crossover into the pop market. (1960 US No.2 single 'He'll Have To Go', 1966 UK No.1 single 'Distant Drums'). Reeves was killed in a plane crash on 31st July 1964 when the single engine aircraft flying from Arkansas to Nashville crashed in thick fog.