December 2nd: The Biggest Music Headlines
Scroll down the page to see all the music headlines, stories and events for December 2 throughout music history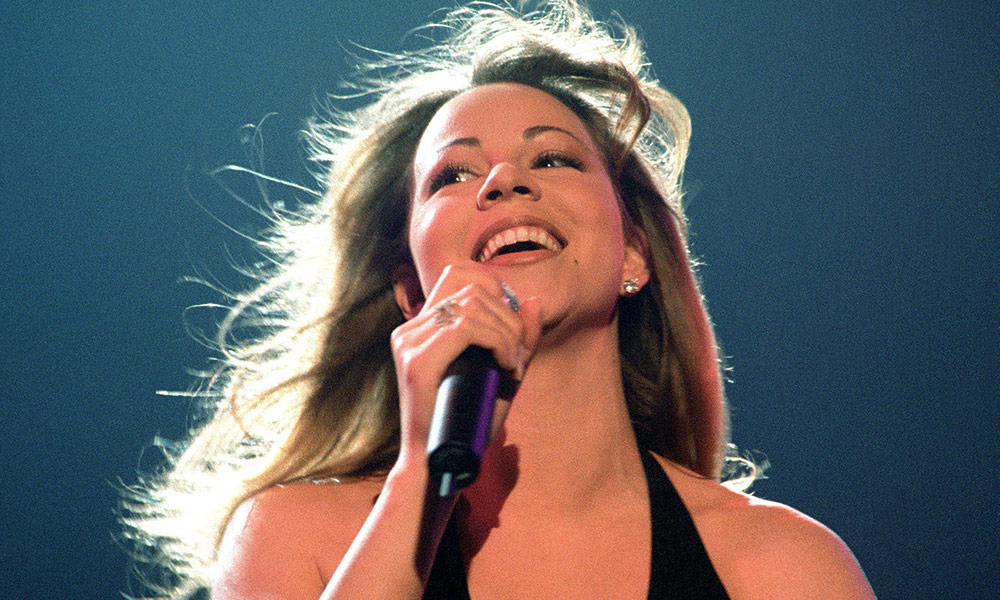 Mariah Carey Makes Chart-Topping History
On this day in music, December 2, 1995, Mariah Carey became the first artist in history to have two consecutive singles debut at No.1 on the Billboard Hot 100, after her duet with Boyz II Men, "One Sweet Day," topped the chart. The ballad followed the success of "Fantasy," which dropped in September, and marked the first single by a female artist to open at the top of the chart, and only the second single to debut at No.1 after "You Are Not Alone" by Michael Jackson. Carey and Boyz II Men performed their hit at the 38th Grammy Awards and, later, at Princess Diana's memorial service in September 1997.
In 2012, the surviving members of Led Zeppelin (Jimmy Page, John Paul Jones, and Robert Plant) were celebrated as Kennedy Center Honorees. Jack Black introduced the group during the prestigious ceremony, declaring them to be "the greatest rock and roll band of all time," while Ann and Nancy Wilson of Heart recruited Jason Bonham (son of the band's late drummer, John Bonham) to join them for a moving performance of "Stairway To Heaven."
In 1983, MTV aired the full, 14-minute version of Michael Jackson's "Thriller" video for the first time. Inspired by Hollywood's classic horror flicks, the short film was directed by filmmaker John Landis, written by Landis and Jackson, and starred Jackson and actress/model Ola Ray. In 2009, it was the first music video to be preserved in the National Film Registry by the Library of Congress.
In 1978, Neil Diamond and Barbra Streisand's "You Don't Bring Me Flowers" landed at No.1 on the Billboard Hot 100. The song has a unique history that began when each artist individually recorded the song. As a gag, an engineer at a Louisville, KY radio station spliced together each version, creating a duet. The result was so successful, however, that the station added it to their regular rotation. Soon, a Chicago radio station created its own version. Eventually, Neil Diamond (who wrote the song alongside Alan and Marilyn Bergman) recorded an official duet with Streisand.
In 1966, David Bowie released his first single, "Rubber Band," on the Decca subsidiary, Deram. The Baroque pop tune was part of a three-song audition tape that Bowie's manager, Kenneth Pitt, used to persuade the label to sign him.
Looking for more things that happened on this day in music?
Keep scrolling for all of the headlines for December 2.
BORN ON DECEMBER 2:
1941: Tom McGuinness (Manfred Mann)
1960: Rick Savage (Def Leppard)
1968: Nate Mendel (Foo Fighters)
1978: Chris Wolstenholme (Muse)
1978: Nelly Furtado
1981: Britney Spears
1991: Charlie Puth
Looking for more artists born on this day?
Keep scrolling for all of our December 2 birthdays.
---
What to find another day?
---
December 2nd
2 Dec 2021
English music manager Richard Cole died age 75. He is most known for having been the tour manager of
Led Zeppelin
from 1968 to 1980. He was the author of the book called Stairway to Heaven: Led Zeppelin Uncensored.
2 Dec 2016
Duran Duran
said they were "outraged and saddened" at losing a High Court fight to reclaim US rights to some of their most famous songs. The group had argued that US copyright laws gave them the right to call for a reversion of copyright after 35 years. 'Girls on Film', 'Rio' and 'A View to a Kill'' were among the disputed tracks.
2 Dec 2014
American saxophone player Bobby Keys died as a result of cirrhosis at his home in Franklin, Tennessee. Keys started touring at age fifteen with Bobby Vee and fellow Texan
Buddy Holly
and was best known as being the main saxophone player for The
Rolling Stones
. When on tour with the Stones, according to legend Keys filled a bathtub with Dom Perignon champagne and drank most of it. Keys appeared on albums by Lynyrd Skynyrd, Harry Nilsson, Delaney & Bonnie and Friends,
George Harrison
,
John Lennon
,
Eric Clapton
, Joe Cocker and other prominent musicians.
2 Dec 2013
Reggae singer Junior Murvin, best known for the 1976 hit song 'Police and Thieves', died in Jamaica aged 67. 'Police and Thieves' (produced by Lee "Scratch" Perry), was a hit in Jamaica and also took off in the UK where it found an audience with punk rock aficionados.
2 Dec 2013
Roger Taylor and Brian May opened the
Queen
Studio Experience - Montreux, an exhibition of
Queen
memorabilia at Mountain Studios in Switzerland, where they had recorded many classic tracks spanning seven albums and where
Freddie Mercury
recorded his last vocal. The exhibition would open to the public a day later.
2 Dec 2012
Led Zeppelin
received a prestigious award from Barack Obama for their significant contribution to American culture and the arts. Dressed in black suits and bow ties, Robert Plant, John Paul Jones and
Jimmy Page
were among a group of artists who received Kennedy Centre Honours at a dinner event at the White House. In his tribute to the band, Mr Obama said: "When
Jimmy Page
, Robert Plant, John Paul Jones and
John Bonham
burst onto the musical scene in the late 1960s, the world never saw it coming." The president thanked the former band members for behaving themselves at the White House given their history of "hotel rooms being trashed and mayhem all around".
2 Dec 2009
Scottish songwriter, lyricist, vocalist, producer, pianist, and co-creator of The Alan Parsons Project Eric Woolfson died from kidney cancer age 64. Woolfson wrote songs for Marianne Faithfull, Frank Ifield, The Tremeloes, Marmalade, Dave Berry, and Peter Noone. Following the 10 successful albums he made with Alan Parsons, he sold over 50 million albums worldwide.
2 Dec 2008
American singer, actress, guitarist, songwriter, and a civil and human rights activist Odetta died of heart disease age 77. She influenced many of the key figures of the folk-revival of that time, including
Bob Dylan
, Joan Baez, Mavis Staples, and
Janis Joplin
. Time magazine included her song 'Take This Hammer' on its list of the 100 Greatest Popular Songs. Martin Luther King Jr. called her the queen of American folk music.
2 Dec 2007
Sharon and
Ozzy Osbourne
made more than $800,000 (£389,032) for charity after they sold off some of their possessions from their former US home. Items sold included the family's custom pool table for $11,250 (£5,470) and a pair of Ozzy's trademark round glasses went for $5,250 (£2,553). The beaded wire model of the Eiffel Tower that adorned the kitchen fetched $10,000 (£4,862), while skull-adorned trainers worn by Ozzy sold for $2,625 (£1,276).
2 Dec 2006
David Mount the drummer with Mud died in London. They had the 1974 UK No.1 single 'Tiger Feet' (best-selling single of 1974). Plus 14 other UK Top 40 singles.
2 Dec 2006
25 year old singer and actress Beyonce was set to earn more money than any other Black actress for her performance in her latest film 'Dreamgirls'. The musical based on the history of Diana Ross and The
Supremes
would earn the singer a £5m fee.
2 Dec 2006
Dutch singer Mariska Veres from Shocking Blue died of cancer at the age of 59. Had the 1970 US No.1 & UK No.8 single 'Venus', (later covered by girl group of Bananarama). Shocking Blue was also responsible for the first Nirvana single, a cover of their song 'Love Buzz'.
2 Dec 2003
Darkness singer Justin Hawkins was held for two hours at JFK Airport, New York after police mistook him for a wanted man with the same name and looks. The police only agreed to let him go after Justin's fiance and manager Sue Whitehouse produced a tour schedule to prove that he was in England on July 4th when the crime was committed.
2 Dec 2002
Oasis
singer
Liam Gallagher
was arrested and charged with assault after he Kung-Fu kicked a police officer. The incident happened at the Bayerischer hotel in Munich, the singer lost his two front teeth in the brawl and an
Oasis
minder was knocked out cold.
2 Dec 2001
Singer Valerie Jones died aged 45. One-third of the sister group The Jones Girls, who sang back-up vocals with Lou Reed, Diana Ross,
Aretha Franklin
, Lou Rawls, Teddy Pendergrass and Betty Everett.
2 Dec 2000
Thieves broke into the London home
Madonna
shared with Guy Ritchie. The raiders forced their way in through a basement door then took a set of car keys before loading up Guy Ritchie's car with some of the couple's possessions and driving off.
2 Dec 1995
Mariah Carey
went to No.1 on the US singles chart with her duet with Boyz II Men 'One Sweet Day'. It made Carey the first artist in history to have two consecutive single debut at No.1, 'Fantasy' being her first.
2 Dec 1983
MTV
aired the full 14-minute version of
Michael Jackson
's
Thriller
video for the first time. Now regarded as the most influential pop music video of all time, in 2009, the video was inducted into the National Film Registry of the Library of Congress, the first music video to ever receive this honor, for being "culturally, historically or aesthetically" significant.
2 Dec 1982
US folk singer David Blue died of a heart attack aged 41 while jogging in New York's Washington Square Park. Member of
Bob Dylan
's Rolling Thunder Revue during the late 70s. He wrote 'Outlaw Man' covered by the
Eagles
on their 1973 Desperado album.
2 Dec 1978
Rod Stewart
was at No.1 on the UK singles chart with 'Da Ya Think I'm Sexy', the singers fifth UK chart topper. A plagiarism lawsuit by Brazilian musician Jorge Ben Jor confirmed that the song had been derived from his composition 'Taj Mahal'. Stewart agreed to donate all his royalties from the song to United Nations Children's Fund.
2 Dec 1978
Neil Diamond
and Barbra Streisand's 'You Don't Bring Me Flowers' was at No.1 on the US singles chart. A radio station engineer had spliced together Neil's version with Barbra's version and got such good response, the station added it to their playlist. When
Neil Diamond
was told about it, he decided to re-record the song with Streisand herself, and within weeks of its release, the single went to No.1 in the US and No.5 in the UK.
2 Dec 1976
The first day of the photo shoot for the forthcoming
Pink Floyd
Animals
album cover took place at Battersea Power Station in London, England with a giant inflatable pig lashed between two of the structure's tall towers. A trained marksman was hired ready to fire if the inflatable escaped, but was not needed on this, the first day. Unfortunately the following day the marksman hadn't been rebooked, so when the inflatable broke free from its moorings, it was able to float away, eventually landing in Kent where it was recovered by a local farmer, reportedly furious that it had 'scared his cows.'
2 Dec 1969
Cindy Birdsong of The
Supremes
was kidnapped at knifepoint by a maintenance man who worked in the building she lived in. She later escaped unharmed by jumping out of his car on the San Diego freeway. The kidnapper was arrested in Las Vegas four days later.
2 Dec 1967
The
Monkees
album, 'Pisces, Aquarius, Capricorn and Jones Ltd' went to No.1 on the US album chart. It was their fourth album to sell over a million copies, following 'The
Monkees
', 'More Of The
Monkees
' and 'Headquarters'.
2 Dec 1966
David Bowie
released 'Rubber Band', his first single on the Deram label. It was part of a three-track audition tape Bowie's new manager Kenneth Pitt used to persuade the label to sign him. Despite some good reviews in the music press, the single was a flop, once more failing to break into the UK charts.
2 Dec 1963
The Beatles
recorded an appearance on the UK TV comedy program The Morecambe and Wise Show.
The Beatles
played 'This Boy', 'All My Loving', and 'I Want to Hold Your Hand' and also participate in comedy sketches with Eric Morecambe and Ernie Wise. The program was broadcast on April 18, 1964.
2 Dec 1957
Al Priddy a DJ on US radio station KEX in Portland was fired after playing
Elvis Presley
's version of 'White Christmas' The station management said, 'it's not in the spirit we associate with Christmas'.
Born on this day in music
2 Dec 1991
American singer and songwriter Charlie Puth best known for writing and singing on Wiz Khalifa's US No.1 single 'See You Again', taken from the Furious 7 soundtrack.
2 Dec 1986
Tal Wilkenfeld, Australian bass guitarist who has gained worldwide attention performing alongside some of rock and jazz music's most notable artists including
Jeff Beck
.
2 Dec 1981
Britney Spears
, US singer, (1999 US & UK No.1 single ''Baby One More Time', 1999 album 'Baby One More Time', spent 82 weeks on the UK chart. Biggest selling teenage act in the world with album sales over 40m).
2 Dec 1978
Canadian singer and songwriter Nelly Furtado. Her debut album Whoa, Nelly! (2000) spawned two top 10 hit singles; 'I'm Like a Bird' and 'Turn Off the Light'. Furtado's third album Loose (2006) became her best selling album with 12 million copies sold worldwide.
2 Dec 1978
Chris Wolstenholme, bassist from English rock band Muse who scored the 2003 UK No.1 album Absolution, and the 2003 UK No.8 single, 'Time Is Running Out'. Muse were nominated for five Grammy Awards, of which they won Best Rock Album for The Resistance.
2 Dec 1971
Donna Matthews, guitar, Elastica, (1995 UK No.13 single 'Waking Up').
2 Dec 1968
Nate Mendel, American bassist with,
Foo Fighters
, The Jealous Sound, Sunny Day Real Estate, and The Fire Theft. Mendel was also a member of Diddly Squat, and punk bands Christ On A Crutch.
2 Dec 1960
Rick Savage, bass player,
Def Leppard
, (1987 UK No.6 single 'Animal' 1987 world wide No.1 album Hysteria 1988 US No.1 single 'Love Bites').
2 Dec 1960
Sydney Youngblood, singer, (1989 UK No.3 single 'If Only I Could').
2 Dec 1949
Jamaican musician Garth Dennis. He was a founder member of Black Uhuru, later a member of The Wailing Souls for ten years. He grew up in Trenchtown and became friends with
Bob Marley
, Peter Tosh, and Bunny Wailer. He died from complications of pneumonia age 72 on 9 December 2021.
2 Dec 1942
Ted Bluechel Jr, drums, vocals, The Association, (1967 US No.1 single 'Windy').
2 Dec 1941
Tom McGuinness, guitar, vocals, Manfred Mann, who had the 1964 UK & US No.1 single 'Do Wah Diddy Diddy'. As a member of McGuinness Flint had the 1970 UK No.2 single 'When I'm Dead And Gone'. McGuinness later became a member of The Blues Band.
2 Dec 1933
Ernest Warren singer with Fifties doo-wop group The Spaniels. Their 1954 hit 'Goodnite, Sweetheart, Goodnite' was featured in such films as Three Men and a Baby and American Graffiti. The Spaniels became one of the first artists to sign with Vee-Jay Records, the first large, independent Afro-American owned record label. He died on 7 May 2012.
2 Dec 1906
Dr Peter Carl Goldmark, who invented the long-playing microgroove record in 1945. The invention went on to revolutionise the way people listened to music. Goldmark was Killed in a car crash on 7th December 1977.