December 9th: The Biggest Music Headlines
Scroll down the page to see all the music headlines, stories and events for December 9 throughout music history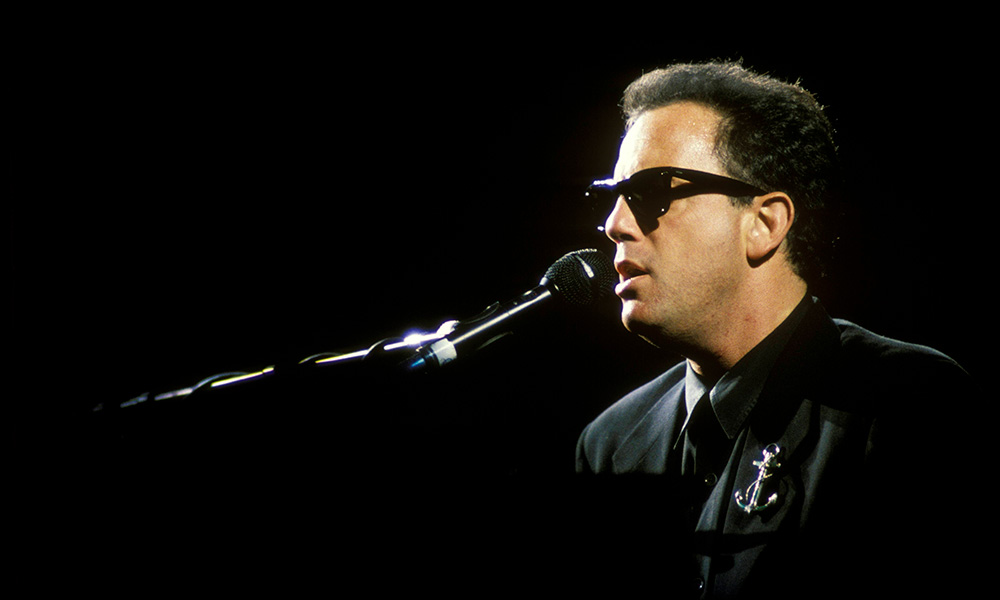 Billy Joel Tops the Charts with 'We Didn't Start the Fire'
On this day in music, December 9, 1989, Billy Joel began a two-week run at the top of the Billboard Hot 100 with the anthemic, "We Didn't Start The Fire." The artist was inspired to write the song when he met a 21-year-old friend of Sean Lennon's during a recording session. Lennon declared, "It's a terrible time to be 21," which made Joel recall what was going on in the world when he turned 21. The Grammy-winning track lists an astonishing 118 global events that took place between 1949 (the year of Joel's birth) and 1989 and marked the Long Island native's third No.1 hit of the decade.
In 2000, U2 made their first-ever appearance on Saturday Night Live. The Irish group performed "Beautiful Day" and "Elevation," both off their tenth studio album, All That You Can't Leave Behind, produced by Brian Eno and Daniel Lanois.
In 1978, Chic began a seven-week run at the top of the Billboard Hot 100 with "Le Freak." The disco track was inspired by events that took place on New Year's Eve, 1977, when the group's co-founders, Nile Rogers and Bernard Edwards, were refused entrance to Studio 54, despite being guests of Grace Jones. The lyrics of the hook were originally "F__k off!"
In 1991, during their Use Your Illusion Tour, Guns N' Roses played the first of three nights at Madison Square Garden. The tour was one of the longest runs in rock history, consisting of 194 shows in 27 countries from January 20, 1991, to July 17, 1993.
In 1992, George Harrison was honored as the first recipient of the Century Award, presented by Tom Petty at the third annual Billboard Music Awards.
In 2013, recipients of the 36th annual Kennedy Center Honors included jazz fusion pioneer Herbie Hancock, singer-songwriter Billy Joel, and guitarist and songwriter Carlos Santana.
In 1966, Cream released their debut, Fresh Cream, in the UK. The album peaked at No.6 on the UK charts.
In 2016, The Rolling Stones hit No.1 in the UK with Blue & Lonesome, the band's first studio album to reach the top spot in 22 years.
Looking for more things that happened on this day in music?
Keep scrolling for all of the headlines for December 9.
BORN ON DECEMBER 9:
1932: Junior Wells
1941: Sammy Strain (The O'Jays)
1950: Joan Armatrading
1957: Donny Osmond
1964: Paul H. Landers (Rammstein)
1968: Brian Bell (Weezer)
1969: Jakob Dylan (The Wallflowers)
1971: Geoff Barrow (Portishead)
1972: Tre Cool (Green Day)
Looking for more artists born on this day?
Keep scrolling for all of our December 9 birthdays.
---
What to find another day?
---
December 9th
9 Dec 2021
David Lasley American recording artist, singer and songwriter died age 74. He was known for his contributions as a background singer and songwriter for such artists as Bonnie Raitt, James Taylor, Luther Vandross, Chic,
Aretha Franklin
, Dionne Warwick, Dusty Springfield and Boz Scaggs.
9 Dec 2021
Jamaican musician Garth Dennis died from complications of pneumonia age 72. He was a founder member of Black Uhuru, later a member of The Wailing Souls for ten years. He grew up in Trenchtown and became friends with
Bob Marley
, Peter Tosh, and Bunny Wailer.
9 Dec 2020
American record producer, songwriter and musician Jason Slater died age 49. He was bassist and backup vocalist for the American rock band Third Eye Blind and Slater went on to produce many projects, including four albums by progressive rock band Queensryche.
9 Dec 2019
Roxette singer Marie Fredriksson died aged 61 following a 17-year long battle with cancer. The Swedish duo achieved their biggest success when their 1987 single 'It Must Have Been Love' was featured on the Pretty Woman soundtrack in 1990. It topped the charts in more than 10 countries, and gave the band their biggest UK hit, reaching No.3.
9 Dec 2019
The widow of Chris Cornell filed a complaint in a Florida federal court in a row over unpaid Soundgarden royalties. Court documents claimed that Cornell's former bandmates were attempting to "strong-arm Chris' Estate into turning over certain audio recordings created by Chris before he passed away."
9 Dec 2016
The
Rolling Stones
topped the UK chart with their latest album Blue & Lonesome, the bands first original studio album to reach No.1 for 22 years and the 12th album by The
Rolling Stones
to reach the top of the charts.
9 Dec 2013
Recipients honoured at the 36th annual national John F. Kennedy Center for the Performing Arts were: pianist, keyboardist, bandleader and composer Herbie Hancock; singer and songwriter
Billy Joel
and guitarist and songwriter
Carlos Santana
.
9 Dec 2010
Eric Clapton
announced he was to sell off part of his extensive guitar collection to raise money for his Crossroads rehab Centre in Antigua. Highlights of the sale would include a guitar Clapton played at the
Cream
reunion shows in 2005, estimated to sell for more than £13,000. The sale to be held by Bonhams in New York would also feature a vast collection of amps and speakers, including a pair of Marshall speaker cabinets.
9 Dec 2006
Mariah Carey
threatened legal action against porn star Mary Carey in an attempt to stop her trademarking her similar-sounding stage name. The singer believed fans could get the two performers confused if the adult film actress Mary Carey's trademark application was successful.
9 Dec 2005
A man charged with stealing more than $300,000 worth of
Elvis Presley
's jewelry from the Elvis-A-Rama museum appeared in a Las Vegas court. 30 year old Eliab Aguilar was arrested on November 3rd after police said he approached a retired Elvis impersonator and offered to sell him several items including Presley's 1953 class ring from Humes High School worth $32,000, a 41 carat ruby and diamond ring worth $77,000 and a gold-plated Smith & Wesson .38 special.
9 Dec 2005
Joss Stone, Lemar and Ms. Dynamite backed by the African Children's Choir and 1,200 school children set a new world record for the most children singing simultaneously. The 'Big Sing' was held at The Royal Albert Hall, London. The singers led a performance of 'Lean On Me' which was broadcast to more than half a million people.
9 Dec 2003
Ozzy Osbourne
was admitted to Wexham Park Hospital in Slough, Berkshire after being injured in a quad bike accident at his UK home. The 55 year-old singer broke his collarbone, eight ribs and a vertebra in his neck. News of Osbourne's accident reached the House of Commons, where the government sent a goodwill message.
9 Dec 2001
Channel 4 TV apologised to viewers after
Madonna
said 'motherfucker' during live UK TV coverage at The Tate Gallery, London.
Madonna
was presenting a prize to artist Martin Creed. A TV spokesman said that did have a bleeper system but they missed the offending word.
9 Dec 2001
Winners at The Smash Hits awards included Atomic Kitten, Best single for 'Whole Again', Westlife won Best band and Best album for 'World Of Our Own', and Blue won Best newcomer, Steps won Best live act, Shaggy won Best male act,
Britney Spears
won Best Female Act, Destiny's Child won Best R&B act, S Club 7's Rachel Stevens won Most Fanciable Female and Best Video went to Gorillaz, 'Clint Eastwood.'
9 Dec 2000
U2
made their first-ever appearance on the long-running NBC program 'Saturday Night Live.' The band played 'Beautiful Day' and 'Elevation.'
9 Dec 2000
Sharon Corr of The Corrs called for the legalisation of cannabis, claiming that the drug has medicinal properties. Sharon said, 'Some people with certain conditions can get a brief reprieve from their symptoms through cannabis'.
9 Dec 1995
Michael Jackson
scored his 6th solo UK No.1 single when 'Earth Song' started a 6-week run at the top of the charts. It gave Jackson the UK Christmas No.1 of 1995 and his best-selling UK single ever. The song kept the first single released by
The Beatles
in 25 years, 'Free as a Bird', off the No.1 position.
9 Dec 1992
George Harrison
was the recipient of the first Century Award, presented by
Tom Petty
at the third Billboard Music Awards in Universal City, California.
9 Dec 1991
During their Use Your Illusion Tour, Guns N' Roses played the first of three nights at Madison Square Garden in New York City, New York.
9 Dec 1989
Billy Joel
started a two week run at No.1 on the US singles chart with 'We Didn't Start The Fire'. Its lyrics are made up from rapid-fire brief allusions to over a hundred headline events between 1949 (Joel was born on May 9 of that year) and 1989, when the song was released on his album Storm Front.
9 Dec 1988
According to a poll released in the US, the music of
Neil Diamond
was favoured as the best background music for sex, Beethoven was the second choice and Luther Vandross was voted third.
9 Dec 1978
Sex Pistols
bassist Sid Vicious was charged with assault after attacking Todd Smith, singer Patti Smith's brother, at a Skafish concert at Hurrah, a New York dance club. Vicious was sent to Rikers Island metro jail for fifty-five days to undergo a painful and enforced detoxification.
9 Dec 1978
Boney M had their second UK No.1 single with their version of the Harry Belafonte 1957 hit 'Mary's Boy Child'. On the list of the all-time best selling singles in the UK, Boney M. appear in fifth place (with 'Rivers of Babylon') and tenth place (with 'Mary's Boy Child/Oh My Lord'). The single sold almost 1.8 million copies.
9 Dec 1978
Chic started a seven week run at No.1 on the US singles chart with 'Le Freak.' Nile Rodgers later stated that the song was devised during New Years Eve of 1977, as a result of him and bassist Bernard Edwards being refused entrance to Studio 54, in New York City, where they had been invited by Grace Jones, due to Jones's failure to notify the nightclub's staff. He said the lyrics of the refrain were originally "Fuck off!" rather than "Freak out!"
9 Dec 1972
Neil Diamond
released the live double album Hot August Night, from a concert on August 24, 1972, which was one of ten sold out concerts that Diamond performed that month at The Greek Theatre in Los Angeles. The album peaked at No.5 on the US chart and spent 29 weeks at No.1 on the Australian chart.
9 Dec 1967
The Doors
appeared at the New Haven Arena, New Haven, Connecticut. Before the show a policeman found singer
Jim Morrison
making out with an 18 year-old girl in a backstage shower and after an argument the policeman sprays mace in Morrison's face. Once on stage Morrison tells the story of the backstage episode and starts taunting the police who drag him off the stage and arrest him. The crowd riots leaving the venue in disarray and many are arrested. Later over 100 protestors gathered at the police station in demonstration and more arrests were made.
9 Dec 1966
Supergroup
Cream
released their debut studio album Fresh Cream in the UK. The three piece of
Eric Clapton
,
Jack Bruce
and
Ginger Baker
also released their second single 'I Feel Free' on the same day.
9 Dec 1961
The Beatles
agent Sam Leach attempted to introduce the group to London agents by promoting a show at The Palais Ballroom in Aldershot, England. The show was not advertised properly and, as a result, only 18 people attended, (local newspaper, The Aldershot News, failed to publish the advertisement for the show). However, the band and friends had their own fun after the show, including a mock funeral for
Paul McCartney
.
Born on this day in music
9 Dec 1972
Frank Wright III, 'Tre Cool', drums,
Green Day
, (he replaced the band's former drummer John Kiffmeyer in 1990).
Green Day
are one of the world's best-selling bands of all time, having sold more than 75 million records worldwide. He has also worked on the
Green Day
side-projects The Network and the Foxboro Hot Tubs.
9 Dec 1971
English music producer, composer, disc jockey, instrumentalist, Geoff Barrow, Portishead, (1995 UK No.13 single 'Glory Box').
9 Dec 1970
English bassist Zak Foley, EMF who had the 1990 world wide hit single 'Unbelievable' which reached No.3 on the UK singles chart, and was a No.1 hit on the US Billboard Hot 100 chart. The name EMF is believed to be an abbreviation of Epsom Mad Funkers. Foley died 3 January 2002 of a drug overdose aged 31.
9 Dec 1969
American singer and songwriter Jakob Dylan, (the son of
Bob Dylan
and his wife Sara), from American rock band
The Wallflowers
who had the 1997 US No.3 album Bringing Down The Horse.
9 Dec 1968
American guitarist, singer and songwriter Brian Bell, Weezer, 1995 UK No.12 single, '
Buddy Holly
'. Bell also fronts the rock band The Relationship, and was previously the lead vocalist and guitarist of the indie rock band Space Twins.
9 Dec 1964
Paul H. Landers, rhythm-guitarist, for the German rock band Rammstein who formed in Berlin in 1994. Five of their albums reached No.1 on the German album charts.
9 Dec 1958
Nick Seymour, bass, Crowded House, (1992 UK No.7 single 'Weather With You').
9 Dec 1957
Donny Osmond, American singer, who had the 1971 US No.1 single with 'Go Away Little Girl', a 1972 UK No.1 single with 'Puppy Love' plus seven other UK Top 40 singles. As part of American family group The
Osmonds
he had the 1971 US No.1 single 'One Bad Apple', the 1974 hit 'Crazy Horses' and the 1974 UK No.1 single 'Love Me For A Reason'. The
Osmonds
have sold over 75 million records world wide.
9 Dec 1954
American songwriter Sara Allen best known for her work with the duo
Hall and Oates
. Though never married, she was in a long-time relationship with Daryl Hall until 2001. She contributed to many of the duo's hit singles, including 'Private Eyes', 'I Can't Go for That (No Can Do)' and 'Maneater'.The song 'Sara Smile', Hall and Oates' first American hit, was about Sara Allen.
9 Dec 1954
Jack Sonni, American guitarist, best known as "the other guitarist" in
Dire Straits
during the band's Brothers in Arms era. He met founding Dire Straits members and guitarists David and Mark Knopfler while working in a guitar shop in Manhattan in 1978. Sonni died on 30 August 2023, aged 68.
9 Dec 1950
British singer-songwriter and guitarist Joan Armatrading, who scored the 1983 UK No.11 single 'Drop The Pilot'. She also received an Ivor Novello Award for Outstanding Contemporary Song Collection in 1996.
9 Dec 1946
Walter 'Clyde' Orange, drums, vocals from American funk/soul band, The Commodores, who had the 1978 UK & US No.1 single 'Three Times A Lady' as well as the hits 'Easy' and 'Nightshift'.
9 Dec 1946
Dennis Dunaway, bassist with the Alice Cooper Band who co-wrote some of the band's most notable songs, including 'I'm Eighteen' and 'School's Out'.
9 Dec 1944
English writer, comedian and musician Neil Innes who was a member of Bonzo Dog Doo Dah Band. They had the 1968 UK No.5 single 'I'm The Urban Spaceman'. He composed music for Monty Python's Flying Circus and wrote and performed The Rutles a TV spoof on
The Beatles
. He died on 29 December 2019 aged 75.
9 Dec 1943
John Traynor, from Jay and the Americans, who had the 1962 hit with 'She Cried' and the 1969 US No.6 single 'This Magic Moment'.
9 Dec 1941
Dan Hicks, best-known as the lead musician and founder of the 70s acoustic band Dan Hicks and His Hot Licks. He died on 6 Feb 2016 at the age of 74 after suffering with throat and liver cancer. Hot Licks' hits included 'I Scare Myself' and 'Canned Music', which blended genre such as country, blues, jazz and swing.
9 Dec 1941
Sam Strain, The O'Jays, (1973 US No.1 & UK No.9 single 'Love Train').
9 Dec 1932
Junior Wells, US blues singer, harmonica player. Worked with Muddy Waters, Van Morrison,
Carlos Santana
, Bonnie Raitt, toured with The
Rolling Stones
in 1970. He died on 5th January 1998.