February 26th: The Biggest Music Headlines
Scroll down the page to see all the music headlines, stories, and events for February 26 throughout music history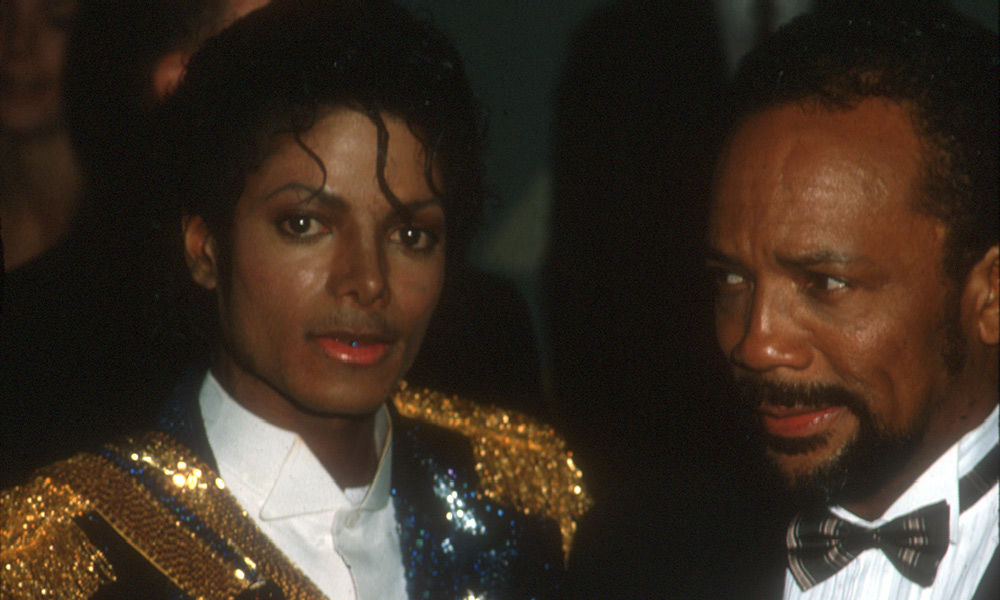 Michael Jackson's 'Thriller' Tops US Charts
On this day in music, February 26, 1983, Michael Jackson's Thriller topped the Billboard Album chart – and was well on its way to becoming the best-selling album of the year, worldwide. Produced by Quincy Jones, Jackson's sixth studio album marked his creative and commercial breakthrough as a solo artist and, eventually, spent a whopping 37 non-consecutive weeks at No.1. Thriller also produced a record-breaking seven Top Ten hits on the Billboard Hot 100, while it later earned an unprecedented eight Grammy Awards. Today, it remains the world's best-selling album of all time.
In 1966, Nancy Sinatra scored her first No.1 hit in the US with "These Boots Are Made For Walkin'." Written by Lee Hazlewood, and featuring instrumentation by The Wrecking Crew, the song marked the beginning of a long creative partnership between Sinatra and Hazlewood. The swinging track – which also topped the charts in the UK, Australia, and South Africa, among other territories – became an anthem for female empowerment.
In 1980, Island Records' Rob Partridge and Bill Stewart offered U2 a recording contract after watching their performance at Dublin's National Boxing Stadium. A month later, the Irish rock band signed a four-year, four-album contract with the label. Their first single with Island, "11 O'Clock Tick Tock," dropped in May, followed by their debut LP, Boy in October.

In 1965, not long before he joined the Yardbirds, session musician Jimmy Page released his first single, "She Just Satisfies," in the UK. The future Led Zeppelin guitarist played all of the instruments (aside from drums), produced the song, and sang lead vocals.
In 2011, a survey from royalty-distribution service BMI announced that Queen's "We Will Rock You" was still the most-played song at US sporting events, more than 30 years after its release. BMI further calculated that US radio and TV performances of the 1977 hit added up to more than 18 years of continuous airplay.
Looking for more things that happened on this day in music?
Keep scrolling for all of the headlines for February 26.
BORN ON FEBRUARY 26:
1928: Fats Domino
1932: Johnny Cash
1945: Mitch Ryder
1953: Michael Bolton
1968: Tim Commerford (Rage Against The Machine)
1971: Max Martin (Producer and songwriter)
1971: Erykah Badu
1979: Corinne Bailey Rae
1982: Nate Ruess (Fun)
Looking for more artists born on this day?
Keep scrolling for all of our February 26 birthdays.
---
What to find another day?
---
February 26th
26 Feb 2019
English drummer Andy Anderson died of cancer aged 68. He is best known for his work with The Cure playing on the singles 'Love Cats' and 'The Caterpillar'. He also worked with many other artists including Steve Hillage, Edwyn Collins, Mike Oldfield, The Gun Club and Peter Gabriel.
26 Feb 2015
The childhood home of former Beatle
Paul McCartney
sold for £150,000 ($231,000) at an auction in Liverpool. McCartney moved into the house, in Western Avenue, Speke, aged four with his parents Jim and Mary in 1947, and lived in the three-bedroom house for six years.
26 Feb 2014
Tim Lambesis, the singer for US metal band As I Lay Dying, pleaded guilty to attempting to hire an undercover agent to murder his estranged wife. He was arrested in May 2013 after prosecutors said he met a sheriff's deputy posing as a hit man, called Red, and handed over $1,000 (£600) along with his wife's address and front door security code.
26 Feb 2011
It was announced that
Queen
's We Will Rock You was still the most-played song at US sporting events, according to a new survey from BMI, the royalty-distribution service. According to its data, based off of MLB, NFL and NHL games in 2009-2010, We Will Rock You was the No.1 song overall, as well as for the NFL specifically.
26 Feb 2009
A 10-minute version of
The Beatles
'Revolution 1' was leaked onto the internet, giving fans a never-before-heard listen of what The
White Album
sessions must have been like. Only two copies of the take were made when the song was completed on June 4th, 1968. One copy left the studio with Lennon that day and the other remained behind. It was unclear which copy appeared on the bootleg, nor how anyone acquired it.
26 Feb 2008
Two original members of UK boy band Busted went to court, claiming an estimated £10m in unpaid royalties. Ki McPhail and Owen Doyle claimed they wrote songs with James Bourne and Matt Willis when the group formed in 2001, but said they were forced to sign away their rights after "threats" when they were sacked from the band later that year. The songs include 'Year 3000' and 'What I Go To School For', which went on to be hits for the group.
26 Feb 2001
Winners at the Brit Awards included
Coldplay
, Best British group and Best British album for 'Parachutes', Robbie Williams, Best British Male artist and Best single for 'Rock DJ', Sonique, Best British Female artist, Best Dance act went to Fat Boy Slim, A1 won Best British Newcomer, Westlife won Best Pop act,
Eminem
won Best International Male solo artist and
U2
won Outstanding contribution to music.
26 Feb 1997
American songwriter Ben Raleigh died in a fire in his kitchen after setting fire to his bathrobe while cooking. He co-wrote 'Scooby Doo Where Are You' and 'Tell Laura I Love Her.'
26 Feb 1987
The first five
The Beatles
albums, Please Please Me, With the Beatles, A Hard Day's Night, Beatles for Sale and Help! were released on Compact disc. Capitol Records decided to release the original UK mixes of the Beatles albums, (the first four CDs were released in mono). This marked the first time that many of these mono mixes were available in the US.
26 Feb 1983
Michael Jackson
's
Thriller
went to No.1 on the US album chart.
Thriller
broke racial barriers in pop music, enabling Jackson's appearances on
MTV
and meeting with President Ronald Reagan at the White House. The album was one of the first to use music videos as successful promotional tools, and the videos for the songs '
Thriller
', 'Billie Jean', and 'Beat It' all received regular rotation on
MTV
.
Thriller
became the most successful album of all time with sales over 65 million copies.
26 Feb 1980
After seeing
U2
play at Dublin's National Boxing Stadium in front of 2,400 people; Rob Partridge and Bill Stewart from Island Records in the UK offered the band a recording contract.
26 Feb 1979
During a court case between the
Sex Pistols
and their manager Malcolm McLaren it was revealed that only £30,000 ($51,000) was left of the £800,000 ($1,360,000) the band had earned.
26 Feb 1977
The
Eagles
went to No.1 on the US singles chart with 'New Kid in Town', the group's third US No.1, which was also a No.20 hit n the UK. The single written by Don Henley, Glenn Frey and J.D. Souther was released as the first single from their fifth album Hotel California.
26 Feb 1969
Peter Sarstedt started a four week run at No.1 on the UK singles chart with 'Where Do You Go To My Lovely?' Some say the song was written about the Italian star Sophia Loren, but Peter Sarstedt has stated he wrote the song about a girl he fell madly in love with in Vienna in 1965, who later died in a hotel fire.
26 Feb 1966
Nancy Sinatra went to No.1 on the US singles chart with 'These Boots Are Made For Walkin''. The song which was written by Lee Hazlewood intended to record the song himself, but Sinatra talked him out of it, saying that
26 Feb 1965
Jimmy Page
released a solo single called 'She Just Satisfies' in the UK. Page played all the instruments on it except for the drums, and produced the track, as well as singing lead vocals.
26 Feb 1964
The Beatles
worked on the final mixes for 'Can't Buy Me Love' and 'You Can't Do That' tracks. The single, which was released the following month, topped the charts all over the world and 'Can't Buy Me Love' became the Beatles' fourth UK No.1 and their third single to sell over a million copies in the UK.
26 Feb 1958
Perry Como was at No.1 on the UK singles chart with 'Magic Moments' the second No.1 in a row for writers Burt Bacharach and Hal David. It stayed at No.1 for eight weeks.
26 Feb 1955
Billboard reported that for the first time since their introduction in 1949, 45rpm singles were outselling the old standard 78's.
Born on this day in music
26 Feb 1982
American singer-songwriter Nate Ruess, lead vocalist of Fun. Nate featured on Pink's 2013 US No.1 hit 'Just Give Me a Reason'.
26 Feb 1979
Corinne Bailey Rae, UK singer, songwriter who had the 2006 UK No. 2 single 'Put Your Records On', and the 2006 self-titled UK No.1 album. She is only the fourth female British act in history to have her first album debut at No.1 on the UK chart.
26 Feb 1971
Erykah Badu, US female singer who had the 1997 UK No.12 single 'On & On', and the 2001 UK No.23 single with Macy Gray, 'Sweet Baby'.
26 Feb 1971
Max Martin, Swedish music producer and songwriter. Martin has produced hits for the Backstreet Boys, *NSYNC,
Britney Spears
, Kelly Clarkson,
Adele
,
Bon Jovi
, Taylor Swift, Ellie Goulding and Pink. In addition he has written or co-written 22 Billboard Hot 100 No.1 hits, most of which he has also produced or co-produced, including Katy Perry's 'I Kissed a Girl', Maroon 5's 'One More Night',
Taylor Swift
's 'Blank Space' and The Weeknd's 'Can't Feel My Face'. Martin is the songwriter with the third-most No.1 singles on the chart, behind only
Paul McCartney
(32) and
John Lennon
(26).
26 Feb 1968
Tim Commerford, bassist with Rage Against The Machine who had the 1996 US No.1 album Evil Empire. Also a member of Audioslave who had the 2005 US No.1 album Out of Exile.
26 Feb 1960
English musician, composer, singer-songwriter and record producer, Jaz Coleman, lead vocalist with Killing Joke.
26 Feb 1958
Steve Grant, singer with Tight Fit who had the 1982 UK No.1 single 'The Lion Sleeps Tonight'.
26 Feb 1953
Michael Bolton, American singer who had the 1990 US No.1 & UK No.3 single 'How Am I Supposed To Live Without You'.
26 Feb 1950
American musician, singer, and songwriter Jonathan Cain, best known for his work with The Babys, Journey, and Bad English.
26 Feb 1947
Sandie Shaw, British singer who had the 1964 UK No.1 single 'There's Always Something There To Remind Me', plus 15 other UK Top 40 singles. Shaw was the first UK act to win the Eurovision Song Contest with her 1967 song 'Puppet On A String.'
26 Feb 1945
Mitch Ryder, American musician, who has recorded more than 25 albums over more than four decades. Ryder formed his first band, Tempest, when he was at High School, and the group gained some notoriety playing at a Detroit soul music club called The Village. Ryder next appeared fronting a band named Billy Lee & The Rivieras, which had limited success until they met songwriter / record producer Bob Crewe. Crewe renamed the group Mitch Ryder & The Detroit Wheels, and they recorded several hit records in the mid to late 1960s, most notably 'Devil with a Blue Dress On'.
26 Feb 1945
Bob The Bear Hite, vocalist and harmonica player with Canned Heat who had the 1968 US No.11 single with 'Going Up The Country' and a 1970 UK No.2 single with 'Let's Work Together'. He died on April 5th 1981.
26 Feb 1943
Paul Cotton, American guitarist and singer-songwriter, most notable as a member of the band Poco and as the writer of the international hit song from that band, 'Heart of the Night'. He died on 31 July 2021 at the age of 78.
26 Feb 1932
Johnny Cash
US country singer, songwriter who was considered one of the most influential musicians of the 20th century. Although he is remembered as a country icon, his songs spanned other genres including rock and roll and rockabilly and blues, folk, and gospel. This crossover appeal won Cash the rare honour of induction in the Country Music Hall of Fame, the Rock and Roll Hall of Fame, and the Gospel Music Hall of Fame. During the last stage of his career, Cash covered songs by several late 20th-century rock artists, most notably 'Hurt' by Nine Inch Nails. Cash died of respiratory failure on September 12th 2003, aged 71.
26 Feb 1928
Fats Domino, (Antoine Domino), singer, pianist, bandleader, songwriter. Domino attracted national attention with his first recording, 'The Fat Man', made in late 1949 for Imperial Records, an early rock-and-roll record. 'The Fat Man' sold one million copies by 1953 and it is widely considered the first rock-and-roll record to achieve this feat. Domino had 35 records in the US Billboard Top 40. Domino died on 24 October 2017 aged 89 at his home in Harvey, Louisiana after a long-term illness.