February 5th: The Biggest Music Headlines
Scroll down the page to see all the music headlines, stories, and events for February 5 throughout music history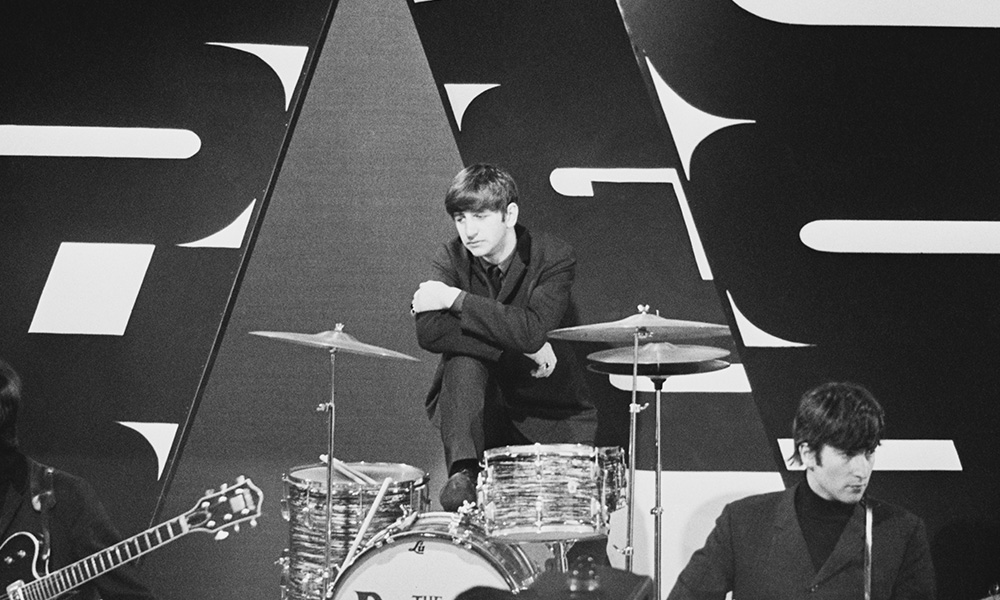 Ringo Starr Makes First Live Appearance With The Beatles
On this day in music, February 5, 1962, Ringo Starr made his first live appearance with The Beatles, filling in for drummer Pete Best, who was ill. The band played two shows that day: a lunchtime set at Liverpool's Cavern Club and another in the evening at Southport's Kingsway Club. Starr, who was playing regularly with Rory Storm and the Hurricanes at the time, officially joined The Beatles in August 1962, completing the Fab Four's famous line-up.
In 1972, less than two years after Simon & Garfunkel split, Paul Simon released his first solo single, "Mother and Child Reunion." The title of the song, which led Simon's self-titled debut, was inspired by a chicken-and-egg dish of the same name from a Chinese restaurant menu. The reggae-influenced track peaked at No.4 in the US, No.5 in the UK, and No.1 in South Africa.
In 1983, Def Leppard's third album, Pyromania began a 92-week run on the Billboard charts. Although it failed to ever reach the top spot, it sold over six million copies in the US alone. 21 years later, the record received a rare Diamond certification by the RIAA.
In 1971, Black Sabbath began recording their third album, Master of Reality, in London. Cited by many as the foundation for stoner rock, the record featured a darker sound (due in part to guitarist Tommy Iommi down-tuning his instrument) that later influenced the likes of Nirvana, Smashing Pumpkins, and Soundgarden.
In 1962, Ray Charles kicked off sessions for Modern Sounds in Country and Western Music at New York City's Capitol Studios. The landmark album, which marked a departure from the rhythm and blues that Charles had previously been known for, achieved broad critical and commercial success.
In 1957, Bill Haley arrived on the Queen Elizabeth ocean liner in Southampton, England, where he was about to make history as the first American rock artist to tour the UK. Upon his arrival, Haley and his band, the Comets, were greeted by a crowd of about 5,000 fans. The group kicked off their tour the following day with a show at London's Dominion Theatre.
Looking for more things that happened on this day in music?
Keep scrolling for all of the headlines for February 5.
BORN ON FEBRUARY 5:
1929: Hal Blaine (Wrecking Crew)
1942: Corey Wells (Three Dog Night)
1944: Al Kooper
1964: Duff McKagan (Guns N' Roses)
1968: Chris Baron (Spin Doctors)
1969: Bobby Brown
Looking for more artists born on this day?
Keep scrolling for all of our February 5 birthdays.
---
What to find another day?
---
February 5th
5 Feb 2016
A new species of black tarantula that lives near Folsom Prison, California, was named after
Johnny Cash
. Aphonopelma johnnycashi was among 14 new tarantula species from the southern US which were described by biologists in the journal ZooKeys.
5 Feb 2015
INXS
guitarist Tim Farriss said he may never play the guitar properly again after severing his finger in a boating accident. Farriss caught his left hand while operating a winch on his boat in Sydney, severing his ring finger. He had undergone surgery twice to try to reattach the finger but had been left with permanent hand damage.
5 Feb 2013
American musician Paul Tanner died of pneumonia at the age of 95. He was a member of the Glenn Miller Orchestra and later developed and played the Electro-Theremin, an electronic musical instrument that mimics the sound of the theremin. He can be heard performing on the opening title theme music of the 1963-66 CBS-TV comedy series My Favorite Martian. His Theremin playing is also featured on several recordings by
The Beach Boys
, most notably on 'Good Vibrations', 'Wild Honey', and 'I Just Wasn't Made For These Times'.
5 Feb 2012
American record producer and session musician Al De Lory died aged 82. In the early Sixties De Lory played keyboards for various Phil Spector productions, and
The Beach Boys
,
Glen Campbell
including John Hartford's 'Gentle on My Mind', Jimmy Webb's 'By the Time I Get to Phoenix', 'Wichita Lineman' and 'Galveston'. He was also a member of the Los Angeles session musicians known as The Wrecking Crew. As a bandleader he had his own hit in 1970 with an instrumental version of the 'Song from M*A*S*H'.
5 Feb 2008
Amy Winehouse
was questioned by police in connection with a video apparently showing her smoking a crack-cocaine pipe. The singer, who was not arrested, was interviewed under caution after the video was posted online by the Sun newspaper.
5 Feb 2007
Producer Phil Spector won $900,000 (£459,000) after settling an embezzlement claim. Spector said former assistant Michelle Blaine removed $425,000 (£216,000) from his pension and did not repay a $635,000 (£324,000) loan. Ms Blaine claimed the loan was a gift, and the pension funds were for a film aimed at improving Spector's image. As part of the settlement, she dropped a counter-claim of sexual harassment.
5 Feb 2006
The
Rolling Stones
played three songs during the half-time show of The Super Bowl in Detroit. After the event, the Stones expressed their displeasure over having
Mick Jagger
's microphone turned down during the song "Start Me Up". The line "you make a dead man come" was cut short and a barnyard reference to "cocks" in the new song "Rough Justice" also disappeared.
5 Feb 2004
Janet Jackson
's right breast became the most searched-for image in net history, Jackson's breast was seen by millions on TV after Justin Timberlake pulled at her bodice during a duet. Search engines reported a big jump in searches for
Janet Jackson
and Super Bowl, as people turned to the web for images of the event. Wardrobe Malfunction
5 Feb 2003
Courtney Love blamed her bad language for the alleged air rage incident that led to her arrest at London's Heathrow Airport. As she left Heathrow's police station the singer said: "I cussed at a lady-my daughter always said I had a potty mouth." When asked what it had been like inside the police station, the singer said: "It was fine. They were wonderful in there. It was like being on Prime Suspect."
5 Feb 1998
American guitarist Tim Kelly from Slaughter was involved in a fatal car accident while traveling on Highway 96 in Arizona. Kelly's vehicle was hit head on when an 18 wheeler crossed the middle line. Kelly released four studio albums with Slaughter and two live albums.
5 Feb 1983
Def Leppard
's album 'Pyromania', started a 92 week run on the US charts, it never reached No.1 but sold over 6 million copies in the US alone.
5 Feb 1976
American saxophonist Rudy Pompilli died of lung cancer aged 52. Although not a smoker himself, it is believed he contracted the disease through second hand smoke. With
Bill Haley
and his Comets, he had the 1955 UK & US No.1 single with 'Rock Around the Clock'. Pompilli released one solo album, Rudy's Rock: The Sax That Changed the World.
5 Feb 1972
Paul Simon
released his first new song without Art Garfunkel, 'Mother and Child Reunion', which peaked at No.4 in the US. Simon got the idea for the song's title from a chicken-and-egg dish called Mother and Child Reunion that he saw on a Chinese restaurant's menu.
5 Feb 1972
T Rex
were at No.1 on the UK singles chart with 'Telegram Sam', the group's third UK No.1 which was taken from their album The Slider. The song is also known for bringing the term "main man" into popular culture.
5 Feb 1971
Black Sabbath
started recording what would be their third album, 'Master Of Reality' at Island Studios in London, England. Released in July of this year, it is sometimes noted as the first stoner rock album. Guitarist Tony Iommi, decided to down tune his guitar down three semi-tones, Geezer Butler also down tuned his bass guitar to match Iommi. The result was a noticeably 'darker' sound that almost two decades later would prove hugely influential on at least three of the biggest grunge acts, namely Smashing Pumpkins, Soundgarden, and
Nirvana
.
5 Feb 1970
David Bowie
recorded four songs at the BBC Paris Cinema, London, for the
John Peel
Sunday Concert radio show. This was guitarists
Mick Ronson
's first appearance with Bowie who went on to work with Bowie as one of the Spiders from Mars.
5 Feb 1969
The Move were at No.1 on the UK singles chart with 'Blackberry Way', the group's only UK No.1 and the band's most successful single.
5 Feb 1967
The News Of The World reported that
Mick Jagger
had taken LSD at the Moody Blues' home in the UK. Jagger sued the paper for libel in an on-going feud between the News Of The World and
The Rolling Stones
.
5 Feb 1967
The Beatles
filmed part of the promo clip for 'Penny Lane' around the Royal Theatre, Stratford, London and walking up and down Angel Lane in London. Together with the video for 'Strawberry Fields Forever', this was one of the first examples of what later became known as a music video.
5 Feb 1966
Petula Clark had her second No.1 in the US singles chart with 'My Love', making her the first British female to have two US No.1 hits. 'My Love' became a No. 4 in the UK.
5 Feb 1962
The Beatles
played two shows, one at The
Cavern Club
at lunchtime and in the evening at the Kingsway Club in Southport. This was the first time
Ringo Starr
appeared live with the group after drummer Pete Best became ill.
5 Feb 1962
The first days recording sessions for Ray Charles' Modern Sounds in Country and Western Music took place at Capitol Studios in New York City. Regarded by many critics as Charles's best studio album, the albums lead single, 'I Can't Stop Loving You', became a huge hit on country music radio stations and the record has now shipped over 500,000 copies in the United States alone.
5 Feb 1957
5,000 fans greeted
Bill Haley
when he arrived from New York on the liner Queen Elizabeth at Southampton, for his debut UK concert tour. Haley was the first American rock artist to tour the UK.
Born on this day in music
5 Feb 1969
American singer, songwriter Bobby Brown, who was a member of boy group New Edition who had the 1983 UK No.1 & US No.46 single 'Candy Girl'. As a solo artist he had the 1988 UK No.6 & 1989 US No.1 single 'My Prerogative'. Brown married
Whitney Houston
18th July 1992.
5 Feb 1968
Chris Barron, singer with American group The Spin Doctors who had the 1993 UK No.3 & US No.7 single 'Two Princess' and the hit 'Little Miss Can't Be Wrong'.
5 Feb 1964
Duff McKagan, bassist with
Guns N' Roses
who had the 1988 US No.1 & 1989 UK No.6 single 'Sweet Child o' Mine'. He is also a member of Velvet Revolver who had the 2004 US No.1 & UK No.11 album Contraband.
5 Feb 1960
Paul Jones, bassist with alternative rock band from Wales Catatonia who had the 1998 UK No.3 single 'Mulder And Scully'.
5 Feb 1948
David Denny, guitarist with the Steve Miller Band who had the 1974 US No.1 & 1990 UK No.1 single 'The Joker'.
5 Feb 1948
Nigel Tufnell, guitarist with the parody heavy metal band Spinal Tap, who made the 1984 film 'This Is Spinal Tap'.
5 Feb 1944
American songwriter, record producer and musician Al Kooper, known for organizing Blood, Sweat & Tears (although he did not stay with the group long enough to share its popularity). His first professional work was as a 14-year-old guitarist in the The Royal Teens, who in 1958 had the US No.3 single 'Shorts Shorts'. As a member of Blood Sweat & Tears, he had the 1969 US No.12 & UK No.35 single 'You've Made Me So Very Happy'. Kooper played organ on
Bob Dylan
's 'Like A Rolling Stone' as well as playing on hundreds of records, including ones by the
Rolling Stones
, B. B. King,
The Who
, The
Jimi Hendrix Experience
, Alice Cooper, and
Cream
.
5 Feb 1944
J.R. Cobb, from American southern rock band Atlanta Rhythm Section who had the 1977 US No.7 single 'So in to You'.
5 Feb 1943
Chuck Winfield, trumpet, from jazz-rock American music group Blood Sweat & Tears. They scored the 1969 US No.2 single 'Spinning Wheel', and the 1969 US No.12 single 'You've Made Me So Very Happy'. They had a US No.1 with their second album Blood, Sweat & Tears in 1968.
5 Feb 1942
Corey Wells, vocals, with American group Three Dog Night who had the 1970 UK No.3 & US No.1 single 'Mama Told Me Not To Come'.
5 Feb 1941
Barrett Strong
, US songwriter who was the first artist to record a hit for Motown records. He wrote many other Motown hits with Norman Whitfield including, 'Money', 'War', 'Ball Of Confusion', and 'Papa Was A Rolling Stone'.
5 Feb 1935
Scottish rock and blues musician Alex Harvey with the Sensational Alex Harvey Band who had the 1975 UK No.7 single 'Delilah, and the 1975 album 'Next'. During the 60s he was the leader of Alex Harvey's Big Soul Band. Harvey died of heart failure on February 4th 1982.
5 Feb 1929
Hal Blaine
, American drummer and session musician. He is most known for his work with the Wrecking Crew in California. Blaine played on numerous hits by
Elvis Presley
, John Denver, the Ronettes,
Simon and Garfunkel
, the
Carpenters
,
The Beach Boys
, Nancy Sinatra, and the 5th Dimension. Blaine has played on 40 No.1 hits, over 150 top ten hits and has recorded, by his own admission, on over 35,000 pieces of music over four decades of work. Blaine died of natural causes on 11 March 2019 at his home in Palm Desert, California age 90.