January 1st: The Biggest Music Headlines
Scroll down the page to see all the music headlines, stories and events for January 1 throughout music history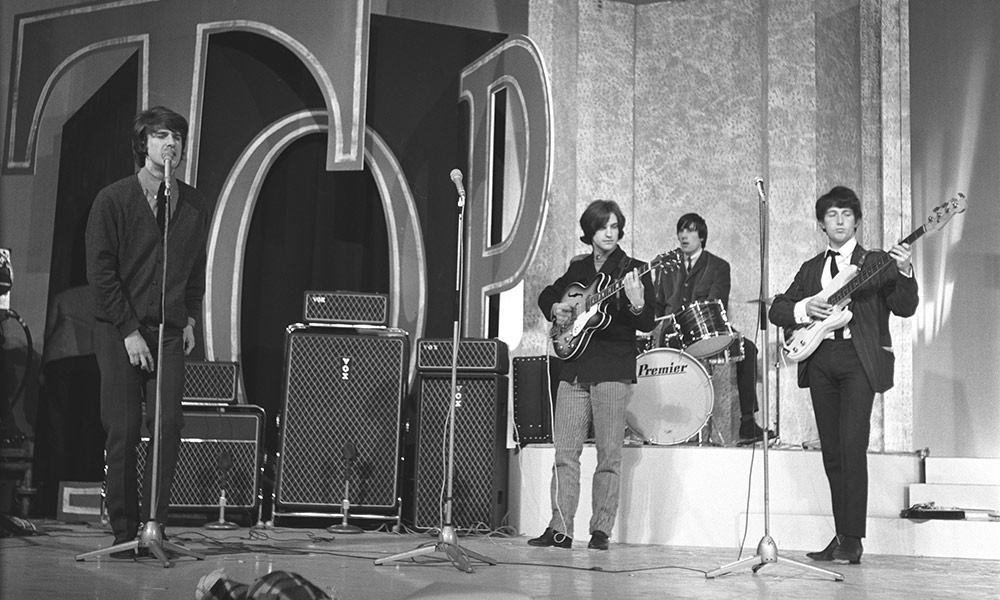 'Top of the Pops,' the World's Longest-Running Music Show, Debuts in the UK
On this day in music, January 1, 1964, the world's longest-running music program, Top of the Pops, premiered on the BBC. Broadcast from Manchester's Dickenson Road Studios, the first episode featured lip-synched performances by Dusty Springfield ("I Only Want to Be with You"), The Rolling Stones ("I Wanna Be Your Man"), The Dave Clark Five ("Glad All Over"), and The Hollies ("Stay"), among others. Over the decades, the weekly show became a foundational launching pad for many artists – from David Bowie and The Kinks to Nirvana and TLC. While Top of the Pops specials continue to air on Christmas and New Year's Eve, the show ended its regular run on July 30, 2006, with Snow Patrol delivering the series' final live performance on the penultimate episode.
In 1953, country music icon Hank Williams passed away from heart failure at just 29 years old. With 11 No.1 country hits and 55 charting songs in his catalog (including "Hey Good Lookin'," "Your Cheating Heart," and "I'm So Lonesome, I Could Cry"), Williams is considered to be among the godfathers of the genre and remains one of America's most celebrated songwriters. From the Country Music Hall of Fame to the Pulitzer Prize, Williams' achievements have been recognized as fundamentally essential Americana.
In 1989, a fledgling grunge band named Nirvana signed a one-year contract with the Seattle-based Sub Pop Records, resulting in their classic debut album, Bleach. The record would remain a fan favorite and put the long-running independent label on the map.
In 1977, The Clash headlined the opening night party at The Roxy Club in London, helping to launch the UK's first-ever punk venue.
In 1967, The Doors made their live television debut on Shebang, lip-synching their first single, "Break on Through."
In 1959, Johnny Cash played a free concert for the inmates of California's San Quentin Prison, including future country star, Merle Haggard. A decade later Cash would return for a follow-up performance, resulting in the artist's legendary album, Johnny Cash Live at San Quentin.
In 1966, Simon and Garfunkel's "The Sounds Of Silence" began a two-week run at No.1 on the Billboard Hot 100.
Looking for more things that happened on this day in music?
Keep scrolling for all of the headlines for January 1.
BORN ON JANUARY 1:
1942: Joe McDonald (Country Joe and the Fish)
1950: Morgan Fisher (Mott The Hoople)
1956: Andy Gill (Wire)
1958: Grandmaster Flash
Looking for more artists born on this day?
Keep scrolling for all of our January 1 birthdays.
---
What to find another day?
---
January 1st
1 Jan 2023
Fred White, drummer with Earth, Wind & Fire, died age 67. Earth, Wind & Fire had the 1975 US No.1 single 'Shining Star', and the 1981 UK No.3 single 'Let's Groove'. The band received 20 Grammy nominations and were the first African-American act to sell out Madison Square Garden.
1 Jan 2021
Mick Bolton, the keyboardist best known for playing with
Mott the Hoople
and Dexys Midnight Runners died age 72. During the 80's Bolton found a notable gig offstage; giving keyboard lessons to
Paul McCartney
's wife and collaborator, Linda McCartney.
1 Jan 2020
American keyboardist, guitarist, and saxophonist Marty Grebb died age 74. He was a member of The Buckinghams in the late 1960s, who scored the 1967 US number one hit 'Kind of a Drag"' Grebb later worked as a record producer and an arranger, who worked with musicians including Peter Cetera, Bill Payne, Bonnie Raitt, Eric Clapton, Etta James, and Leon Russell.
1 Jan 2019
American singer, songwriter Pegi Young died of cancer age 66. She first met future husband
Neil Young
in 1974 when she was working as a waitress at a diner near his ranch, a story he tells in the 1992 song 'Unknown Legend'. They married in August 1978 and had two children. Her debut as a singer came in 1983 when she was a member of The Pinkettes, the backing vocalists on her husband's rockabilly Shocking Pinks tour. She released her debut solo album in 2007.
1 Jan 2013
Patti Page, one of the most popular artists of the 1950s, died at the age of 85. She recorded four US No.1 hits, including 'Tennessee Waltz' and the novelty record '(How Much Is That) Doggie In The Window'. Page recorded her first hit single, 'Confess' in 1947. Because of a strike, background singers were not available to provide harmony vocals for the song, so instead, Page decided to overdub her own, thus, Page became the first pop artist to overdub her vocals on a song.
1 Jan 2013
Ultravox's 1981 hit 'Vienna' was voted the UK's favourite number two single. The song topped a poll by BBC Radio 2 and the Official Charts Company to find the greatest track to miss out on the number one spot. Vienna was held off by novelty track 'Shaddup You Face' by Joe Dolce. 'Fairytale of New York' by The Pogues and Kirsty MacColl was voted into second place. Other songs to feature included
The Beatles
'Penny Lane/Strawberry Fields Forever',
The Who
's '
My Generation
' and Don McLean's 'American Pie'.
1 Jan 2011
Chuck Berry
cut short a concert at Congress Theater, Chicago, Illinois after collapsing on stage an hour into the show. Berry slumped over a keyboard and did not move for a couple of minutes before being helped off stage, he returned 15 minutes later only to be forced off again almost immediately. The 84 year-old later re-emerged on stage but told fans he had no strength to continue performing.
1 Jan 2009
According to official UK sales figures Duffy's debut album Rockferry came top of the year-end chart, with 1.685 million copies sold.
Take That
had the second biggest seller with The Circus, Kings of Leon, Only By The Night was third, Spirit by Leona Lewis was fourth and
Coldplay
had the fifth biggest seller with Viva La Vida.
X Factor
winner Alexandra Burke had the UK's top-selling single after her version of Hallelujah sold 888,000 copies in the last two weeks of the year.
1 Jan 2008
The British Phonographic Industry (BPI) reported that the number of music downloads sold in the UK in the final week of 2007 was double the total of 12 months earlier. In total there were 2.95 million downloads in seven days, the highest ever recorded for any weekly period. And when the whole of the year was taken into account, 77.5 million downloads were sold in the UK in 2007.
1 Jan 2007
Queen
beat
The Beatles
to be crowned greatest British band of all time by BBC Radio 2 listeners in the UK.They pipped the Fab Four in a live contest, trouncing other finalists The
Rolling Stones
,
Oasis
and
Take That
.The bands were judged on song-writing, lyrics, live performances, originality and showmanship.More than 20,000 listeners voted by email, text and phone.
1 Jan 2005
In most of Europe, copyright expired on a number of classic pop and rock-and-roll songs recorded in 1954 and earlier, including
Bill Haley
's 'Rock Around the Clock', and 'Only You' by The Platters.
1 Jan 2002
Eric Clapton
married 25-year old Melia McEnery the mother of his baby daughter at a secret ceremony at the 15th Century St Mary Magdalen Church in Ripley, Surrey, England.
1 Jan 1997
American singer songwriter Townes Van Zandt died age 52. His music has been covered by such notable and varied musicians as
Bob Dylan
, Lyle Lovett, Steve Earle, Cowboy Junkies, Andrew Bird, Alison Krauss, and Gillian Welch. Willie Nelson and Merle Haggard covered his song 'Pancho and Lefty', scoring a No.1 hit on the Billboard country music charts.
1 Jan 1990
1 Jan 1989
Nirvana
signed a one-year recording contract with Sub Pop records. The Seattle based label began not as a record label but as a fanzine (called Subterranean Pop), in the early 80s, also signed Soundgarden and Mudhoney.
1 Jan 1984
Alexis Korner died of lung cancer aged 55. Know as "the Founding Father of British Blues", he was a major force behind the UK early 60s R&B scene. Formed Blues Incorporated; members at various times included
Jack Bruce
,
Ginger Baker
, Long John Baldry, Graham Bond and Charlie Watts. Had hits with CCS, including a version of
Led Zeppelin
's 'Whole Lotta Love' which was used as the theme for BBC's
Top Of The Pops
for several years. He became a radio presenter in the Seventies.
1 Jan 1982
ABBA
made their final live appearance as a group when they played in Stockholm, Sweden.
1 Jan 1977
Genesis
played the first of three nights at the new-look Rainbow Theatre, London, tickets cost £2.50 ($4.25). The theatre had been completely renovated at a cost of £80,000 ($136,000).
1 Jan 1977
The Clash
played the opening night at punk's first real venue, The Roxy Club in London.
1 Jan 1969
Marmalade were at No.1 on the UK singles chart with their version of
The Beatles
song 'Ob-La-Di Ob-La-Da', which features on The
White Album
.
1 Jan 1968
Billboard magazine reported that for the first time albums had outsold singles in the US with album sales reaching over 192 million units.
1 Jan 1967
The Doors
made their first live television appearance lip-synching their first single 'Break on Through' on Shebang, KTLA-TV Channel 5 in Los Angeles. The single peaked No. 126 on the US chart mainly due to lack of airplay after censors objected to the drug use implied by the line "she gets high", which is repeated in the middle section of the song.
1 Jan 1966
Simon And Garfunkel
started a two week run at No.1 on the US singles chart with 'The Sounds Of Silence', a No.13 hit in the UK.
1 Jan 1964
The first edition of the BBC TV show
Top Of The Pops
was transmitted from an old church hall in Manchester, England. Acts miming to their latest releases included The
Rolling Stones
, (I Wanna Be Your Man), The Dave Clark Five, (Glad All Over), The Hollies, (Stay), and The Swinging Blue Jeans, (Hippy Hippy Shake). The first song played was Dusty Springfield's 'I Only Want To Be With You'. Also featured on disc and film,
The Beatles
(I Want to Hold Your Hand), Freddie & the Dreamers, Cliff Richard and the Shadows and Gene Pitney.
1 Jan 1962
The Beatles
auditioned for Decca Records in West Hampstead, London. A&R boss at Decca Dick Rowe turned them down in what is considered one of the biggest mistakes in music industry history, Decca decided to reject the band, selecting instead Brian Poole and the Tremeloes.
1 Jan 1959
Johnny Cash
played a free concert for the inmates of San Quentin Prison, California. One of the audience members was 19 year-old Merle Haggard, who was in the midst of a 15 year sentence (he served three years) for grand theft auto and armed robbery.
1 Jan 1957
BBC Television aired its new rock & roll show 'Cool For Cats' for the first time. With a miniscule budget, the program was forced to rely on artists miming and the talents of a resident dance group (led by Douglas Squires). Ker Robertson, the first host, was succeeded after a few weeks by Kent Walton, later better known for his ITV wrestling commentaries
1 Jan 1956
Bill Haley
's 'Rock Around the Clock' went to No.1 on the UK singles chart for the second time. The single is often cited as the biggest-selling vinyl rock and roll single of all time with sales over 25m.
1 Jan 1953
American singer-songwriter and musician singer
Hank Williams
died of a heart attack brought on by a lethal cocktail of pills and alcohol aged 29. Williams is regarded as one of the most important country music artists of all time. 35 of his singles (five released posthumously) were placed in the Top 10 of the Billboard Country & Western Best Sellers chart, 11 of which ranked at No.1, including 'Cold, Cold Heart,' 'Hey, Good Lookin', 'I'll Never Get Out of This World Alive,' and 'Your Cheatin' Heart.' During his last years Williams's consumption of alcohol, morphine and painkillers severely compromised his professional life.
Born on this day in music
1 Jan 1985
British songwriter, record producer and musician Shahid Khan, best known as Naughty Boy. Had the 2013 No.1 hit 'La La La', featuring Sam Smith and 'Lifted', a collaboration with Emeli Sandé.
1 Jan 1980
English guitarist Richie Faulkner. He joined Judas Priest in April 2010 replacing guitarist K. K. Downing. He also arranged music for actor Christopher Lee's heavy metal album Charlemagne: The Omens of Death, which was released on 27 May 2013, Lee's 91st birthday.
1 Jan 1968
Rick J. Jordan (born Hendrik Stedler), German techno group Scooter who have sold over 14 million records and are considered the most successful single-record German act with 20 top ten hits. 2008 UK No.1 album 'Jumping All Over The World.'
1 Jan 1958
Joseph Saddler, (Grandmaster Flash), 1982 UK No.8 single 'The Message.' Major force in early Rap music, was given his nickname after his rapid hand movements on the record decks.
1 Jan 1956
Australian vocalist, guitarist, songwriter Martin Plaza from Mental As Anything best known for their 1985 hit 'Live It Up'. Plaza also had the 1986 No. 2 hit in Australia with his cover of the 1960s Unit 4+2 song 'Concrete and Clay'.
1 Jan 1956
Andy Gill a founding member and guitarist for the English post-punk group Gang of Four. Their debut album, Entertainment!, was ranked as fifth greatest punk album of all time. He also produced albums for artists such as the Red Hot Chili Peppers, the Stranglers,
Michael Hutchence
and Killing Joke. Gill died on 1 February 2010 age 64.
1 Jan 1952
Andy Johns, British producer and engineer who worked on classic albums by
Led Zeppelin
, (
Jimi Hendrix
(Axis: Bold as Love),
Van Halen
and many others. Johns, the younger brother of noted producer Glyn Johns died on 7 April 2013.
1 Jan 1950
English musician Morgan Fisher, keyboards from
Mott The Hoople
, 1972 UK No.3 & US No.37 single 'All The Young Dudes', a song
David Bowie
offered the band on hearing they were about to split up.
1 Jan 1942
Joe McDonald, vocals, Country Joe and the Fish, 1968 US hit 'I Feel Like I'm Fixin' To Die.'