January 28th: The Biggest Music Headlines
Scroll down the page to see all the music headlines, stories and events for January 28 throughout music history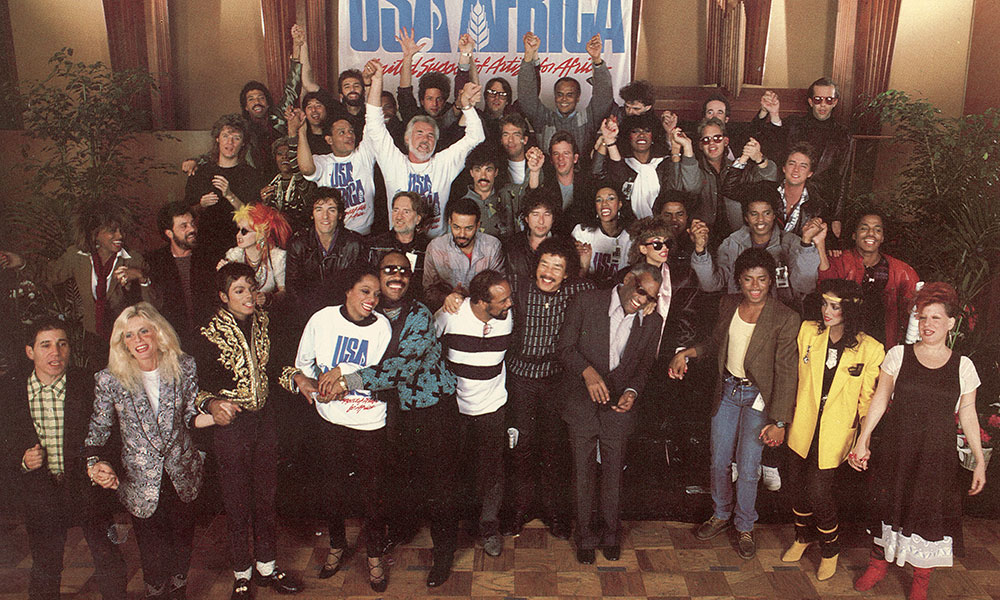 All-Star Line-Up Records 'We Are the World'
On this day in music, January 28, 1985, music's biggest stars (collectively dubbed "USA for Africa") assembled at Los Angeles' A&M Recording Studios to record "We Are the World." Written by Michael Jackson and Lionel Richie, the Grammy-winning charitable single was inspired by Band Aid's "Do They Know It's Christmas?" (released a month earlier to raise funds for famine relief in Ethiopia). More than three-dozen artists took part in the epic recording session, including 21 soloists. Among them were Tina Turner, Diana Ross, Kenny Rogers, Ray Charles, Stevie Wonder, Bruce Springsteen, and Paul Simon. Bob Geldof, who organized "Do They Know It's Christmas?" joined the chorus, alongside The Pointer Sisters, Bette Midler, and Harry Belafonte, among many others, while Quincey Jones served as conductor. Between record and merch sales, as well as private donations, "We Are the World" raised more than $50 million for the humanitarian fund.
In 1995, TLC scored their first No.1 on the Billboard Hot 100 with "Creep." The slow jam was an anthem for lovers on the down-low everywhere.
In 1978, Van Halen released their first single, a high-energy rendition of The Kinks' "You Really Got Me." While rumored to be disliked by The Kinks themselves, the cover was a huge hit, thanks to frontman David Lee Roth's over-the-top delivery.
In 1978, one of music's most celebrated albums, Fleetwood Mac's Rumours, went to No.1 in the UK. The album featured several hit singles, including "Go Your Own Way," "Dreams," "Don't Stop," and "You Make Loving Fun."
Looking for more things that happened on this day in music?
Keep scrolling for all of the headlines for January 28.
BORN ON JANUARY 28:
1927: Ronnie Scott
1941: King Tubby
1945: Robert Wyatt (Soft Machine)
1968: Sarah MacLachlan
1968: DJ Muggs (Cypress Hill)
1977: Joey Fatone (*NSYNC)
1980: Nick Carter (Backstreet Boys)
1985: J Cole
Looking for more artists born on this day?
Keep scrolling for all of our January 28 birthdays.
---
What to find another day?
---
January 28th
28 Jan 2023
American singer, songwriter and guitarist Tom Verlaine from Television died in New York City age of 73. The group's debut album, Marquee Moon, is often considered one of the defining releases of the punk era. Verlaine was in discussion with Jeff Buckley to produce his second album before Buckley's death by drowning in 1997.
28 Jan 2020
American Keyboardist Bob Nave died age 75. He was a member of psychedelic rock band The Lemon Pipers who scored the 1968 US number one hit 'Green Tambourine'. The song has been credited as being the first bubblegum pop chart-topper.
28 Jan 2017
British musician and keyboardist, and longtime member of the heavy metal band
Black Sabbath
, Geoff Nicholls died aged 68. Until his death, Nicholls played keyboards with former
Black Sabbath
singer Tony Martin, in his band Tony Martin's Headless Cross.
28 Jan 2016
American singer Signe Toly Anderson died aged 74. She was one of the founding members of the American rock band Jefferson Airplane. She sang on the first Jefferson Airplane album, Jefferson Airplane Takes Off, most notably on the song 'Chauffeur Blues'.
28 Jan 2016
American guitarist, singer and songwriter, Paul Kantner died in San Francisco at the age of 74 due to multiple organ failure and septic shock after he suffered a heart attack days earlier. He was known for co-founding Jefferson Airplane, the leading psychedelic rock band of the counterculture era, and its more commercial spin-off band Jefferson Starship. With Jefferson Airplane, Kantner was among the performers at the Monterey Jazz Festival in 1966 and the
Monterey Pop Festival
in 1967 and the
Woodstock
Festival in 1969.
28 Jan 2015
Funk legend Sly Stone was awarded $5m (£3.3m) in missed royalties by a Los Angeles court. The singer claimed his former manager, Gerald Goldstein, and lawyer, Glenn Stone, had cheated him out of earnings dating back more than 20 years. In 2011, it was reported he was homeless and living in a camper van after falling on hard times and fighting drug addiction problems.
28 Jan 2015
Black Sabbath
bassist Geezer Butler was arrested after officers were called to the Corkscrew Saloon on the Furnace Creek Ranch in Death Valley National Park, California. The 65 year-old bassist was arrested for misdemeanour assault, public intoxication and vandalism after a fight broke out in the bar.
28 Jan 2009
Lynyrd Skynyrd keyboard player Billy Powell died at the age of 56 of a suspected heart attack in Florida. Powell called police saying he was having trouble breathing and emergency services tried to resuscitate him, but he was pronounced dead an hour later. Powell had missed a doctor's appointment on the day before his death; the appointment was for a checkup on his heart. He played piano on Kid Rock's 'All Summer Long' (which sampled the Lynyrd Skynyrd song 'Sweet Home Alabama').
28 Jan 2008
Madonna
topped the list for the richest female musician, according to Forbes.com. Its first-ever list focusing on women in the music industry estimated the 49-year-old banked $72m (£36m) between June 2006 and June 2007.
Madonna
earned much of that from her Confessions tour - the highest-grossing tour for a female artist - earning $260m (£130m) worldwide. Barbra Streisand came second, with $60 million (£30 million) followed by
Celine Dion
with $45 million (£23.6), mainly from her recent concerts at Caesars Palace in Las Vegas.
28 Jan 2005
English drummer and singer songwriter Jim Capaldi died of stomach cancer aged 60. He co-founded Traffic with Steve Winwood who had the 1967 UK No.2 single 'Hole In My Shoe'. Capaldi also had the solo 1975 UK No.4 single 'Love Hurts'. Capaldi also worked with
Jimi Hendrix
,
Eric Clapton
and
George Harrison
.
28 Jan 2004
Elvis Presley
fans expressed their anger at plans to cut up a rare tape of the singer's early songs and sell the snippets at auction. The tape, which featured a recording made by Presley during the early 1950s, was now too fragile to play. US firm Master Tape Collection said the tape would be cut into two-inch snippets and sold for £270 ($460) each.
28 Jan 2003
H-Town singer Keven Conner was killed in a car crash in Houston aged 28. Conner died when an SUV ran a red light and crashed into the car he was a passenger in, which had just picked him up from the recording studio.
28 Jan 2000
Saxophonist and bandleader Thomas 'Beans' Bowles died of prostate cancer aged 73. Played on many
Motown
sessions including
Marvin Gaye
's 'What's Going On', Martha and the Vandellas' 'Heat Wave' and The
Supremes
'Baby Love' and wrote the melody on
Stevie Wonder
's 'Fingertips Pt. 2.'
28 Jan 1998
Oasis
guitarist Noel Gallagher played a 20-minute solo gig at the King Head, an English pub in Santa Monica in front of 250 fans.
28 Jan 1995
TLC started a four week run at No.1 on the US singles chart with 'Creep' the group's first US No.1, it made No.6 in the UK the following year.
28 Jan 1994
Paul and Linda McCartney attended the premiere of Wayne's World II in London. The couple then went on to Hard Rock Cafe, where the film star Mike Myers presented them with a cheque for LIPA (the Liverpool Institute for Performing Arts) for £25,000 ($42,500) from the sale of Linda's vegetarian burgers.
28 Jan 1990
Paula Abdul started a 10-week run at No.1 on the US album chart with 'Forever Your Girl'. Abdul spent sixty-four consecutive weeks on the Billboard 200 before hitting number one, making it the longest time for an album to reach the number one spot.
28 Jan 1985
28 Jan 1984
Frankie Goes To Hollywood started a five-week run at No.1 on the UK singles chart with 'Relax!' BBC
Radio 1
DJ Mike Read expressed on air his distaste for both the record's suggestive sleeve and its lyrics, he announced his refusal to play the record, not knowing that the BBC had decided that the song was not to be played on the BBC anyway. Produced by Trevor Horn the song remained on the chart for 48 weeks.
28 Jan 1984
Backstage after a Motley Crue show in Buffalo, New York,
Tommy Lee
found out that his girlfriend has posed for the current issue of Penthouse magazine without his knowledge, after a fan passed comment on the pictures. Tommy punched the fan unconscious with one hit, Motleys manager Doug Thaler later convinced the fan not to press any charges.
28 Jan 1983
The first Narara Music Festival was held near Somersby, NSW over the Australia Day weekend, the line-up included Men At Work, The Church, The Choirboys, Cold Chisel and
INXS
. The following year saw
Simple Minds
, Talking Heads,
Def Leppard
, Eurythmics and The Pretenders all appearing.
28 Jan 1983
British Rock & Roll singer Billy Fury died of heart failure aged 42. An early British rock and roll (and film) star, he equalled the Beatles' record of 24 hits in the Sixties , and spent 332 weeks on the UK chart, without a chart-topping single or album. His We Want Billy (released in 1963, with The Tornados) was one of the first live albums in British rock history. Fury later played rock 'n' roller "Stormy Tempest" in the film That'll Be The Day along side David Essex and
Ringo Starr
.
28 Jan 1978
Van Halen
released their first single, a cover of
The Kinks
' 'You Really Got Me'. The Kinks' Dave Davies has claimed to dislike Van Halen's rendition of the song and stated of how a concert-goer once approached him after a live Kinks show and congratulated him on performing a "great cover of the Van Halen song."
28 Jan 1978
The
Fleetwood Mac
album
Rumours
went to No.1 on the UK album chart. The groups eleventh studio album went on to sell over 45 million copies world-wide and spent over 440 weeks on the UK chart. The songs 'Go Your Own Way', 'Dreams', 'Don't Stop', and 'You Make Loving Fun' were released as singles.
28 Jan 1977
Pink Floyd
's tenth studio album
Animals
entered the UK charts at No.2. The sleeve concept was that of Roger Waters, who lived at the time near Clapham Common, and regularly drove past Battersea Power Station. A view of the imposing but disused former power station building was chosen for the cover image, complete with massive inflatable pig suspended between two of the towers.
28 Jan 1968
Jim Morrison
of
The Doors
was arrested and charged with public drunkenness after harassing a security guard at a Las Vegas adult movie theatre.
28 Jan 1956
Elvis Presley
(with Scotty Moore and Bill Black), made his first National Television appearance on the Dorsey brother's "Stage Show". It was the first of six appearances on the show and the first of eight performances recorded and broadcast from CBS TV in New York City. After the success of their first appearance they were signed to five more in early 1956.
Born on this day in music
28 Jan 1987
Rowan Harrington better known by his stage name Secondcity, American-born British DJ and producer, best known for his 2014 song 'I Wanna Feel', which peaked at No.1 on the UK Singles Chart.
28 Jan 1985
J Cole, American rapper, singer, songwriter, and record producer. Cole is regarded as one of the most influential rappers of his generation. Cole also acts as a producer alongside his rap career, producing singles for artists such as Kendrick Lamar and Janet Jackson.
28 Jan 1980
Nicolas Carter singer with American boy band Backstreet Boys who had the 1997 US No.2 single 'Quit Playing Games With My Heart', and the 1999 UK No.1 single 'I Want It That Way'.
28 Jan 1977
Joseph Fatone, singer from American boy band *NSYNC. Among the group's singles, 'Bye Bye Bye', 'This I Promise You', 'Girlfriend' and 'It's Gonna Be Me' reached the top 10 in several international charts. The group's second album, No Strings Attached, sold over one million copies in one day.
28 Jan 1976
Rick Ross (William Leonard Roberts II), American hip-hop artist who had the 2006 US No.1 with his debut album 'Port of Miami'.
28 Jan 1975
Lee Latchford-Evans, singer with British dance-pop group Steps. Between 1997 and 2001 Steps scored two No.1 singles in the UK, two No.1 albums and 14 consecutive top 5 singles in the UK.
28 Jan 1968
Lawrence Muggerud, DJ Muggs with Cypress Hill who had the 1993 UK No.15 single 'I Ain't Goin' Out Like That', and the 1993 US No.1 album 'Black Sunday'.
28 Jan 1968
Canadian musician singer songwriter, Sarah McLachlan, who had the 1997 US No.2 album 'Surfacing'. McLachlan who has sold over 40 million albums worldwide is the organiser of the Lilith Fair US tour.
28 Jan 1959
Dave Sharpe, guitarist and singer with The Alarm who had the 1983 UK No.17 single '68 Guns'.
28 Jan 1951
William Nelson the original bassist for Funkadelic. He left the group in late 1971 after a financial dispute with George Clinton. Nelson later played with The Commodores, Chairmen of the Board, Jermaine Jackson, Lionel Richie,
Smokey Robinson
and The
Temptations
.
28 Jan 1949
American singer, songwriter, and record producer Gene McFadden, best known as half of the Philly soul team McFadden & Whitehead. The duo who were discovered by
Otis Redding
, who acted as their manager had the 1979 hit 'Ain't No Stoppin' Us Now', which sold more than 8 million copies and was nominated for a Grammy Award. McFadden died of cancer on 27 January 2006 at the age of 56.
28 Jan 1946
Rick Allen bassist with The Box Tops who had the 1967 US No.1 & UK No.5 single 'The Letter'.
28 Jan 1945
Robert Wyatt multi instrumentalist who was a member of Soft Machine. As a solo artist Wyatt scored the 1983 UK No.35 single 'Shipbuilding'. During an alcohol-fuelled party in London in 1983, an inebriated Wyatt fell from a fourth floor window. He was paralysed from the waist down and consequently uses a wheelchair.
28 Jan 1943
Dick Taylor, English musician, best known as the guitarist and founder member of the Pretty Things who had the 1964 UK No.10 single 'Don't Bring Me Down'. They took their name from Willie Dixon's 1955 song 'Pretty Thing'.
28 Jan 1941
King Tubby, reggae producer who has worked with Robbie Shakespeare, Sly Dunbar and Carlton Barrett. He was killed on 6th February 1989 after being shot in the street outside his home.
28 Jan 1929
Bernard Stanley Bilk, (Acker Bilk), bandleader who had the 1962 US No.1 & UK No.2 single 'Stranger On The Shore'. He died on 2nd Nov 2014.
28 Jan 1927
American trumpet player and session musician Roy Caton who worked with Nancy Sinatra, The
Monkees
, Harpers Bizarre, The Byrds, Love, (Forever Changes), The
Righteous Brothers
and
The Beach Boys
, (
Pet Sounds
). Caton died on July 29, 2010 aged 83.
28 Jan 1927
Ronnie Scott, jazz musician. Formed his own nine-piece group in 1953 and opened the first Ronnie Scott's night club in London in 1959 where he presented the cream of the world's jazz musicians at the club. He died on December 23rd 1996.