January 4th: The Biggest Music Headlines
Scroll down the page to see all the music headlines, stories and events for January 4 throughout music history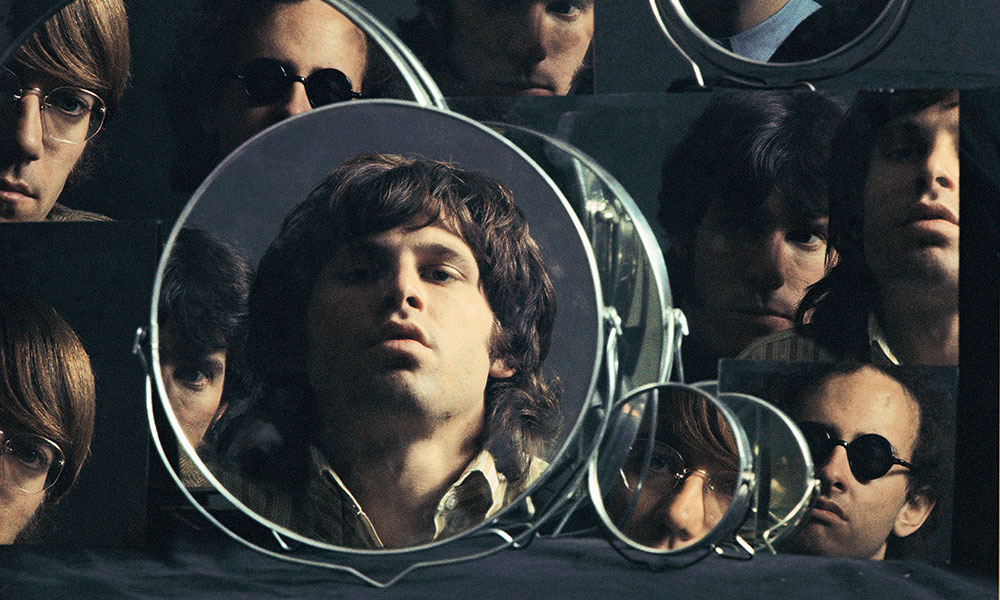 The Doors Release Their Debut Album
On this day in music, January 4, 1967, The Doors released their self-titled debut on Elektra Records, allowing the world to finally hear what the Sunset Strip already knew: that the Los Angeles band was one of the 60s most exciting acts. Featuring enduring hits like "Light My Fire," "Break On Through," and the ominous "The End," the title moved slowly and steadily up the Billboard 200, eventually peaking at No.2 in September. The LP has inspired generations of rock'n'roll rebels, while countless publications have ranked The Doors as one of the greatest albums of all time. In 2015, it was preserved in the Library of Congress's National Recording Registry.
In 1985, 36-year-old singer, songwriter, and bassist, Phil Lynott, died of heart failure, ending a spectacular run fronting one of Ireland's great bands, Thin Lizzy. Lynott, who co-founded the group in 1969, wrote such timeless hits as "The Boys Are Back in Town" and "Jailbreak."
In 1970, The Beatles (sans John Lennon) stepped into the studio for their final session together, recording overdubs on the Paul McCartney-penned "Let It Be." It marked the bittersweet – and somewhat poetic – end of an era.
In 1954, just four days before his 20th birthday, Elvis Presley made his second visit to Sam Phillips' Memphis Recording Service (soon to be Sun Studio), where he cut an acetate of the tunes "Casual Love Affair" and "I'll Never Stand In your Way." Several months later, Phillips would invite the young singer back to record more songs for his label, Sun Records.
In 1975, Elton John scored a No.1 hit in the US with his cover of The Beatles' "Lucy In The Sky With Diamonds." The song featured none other than John Lennon on guitar.
Looking for more things that happened on this day in music?
Keep scrolling for all of the headlines for January 4.
BORN ON JANUARY 4:
1955: Mark Hollis (Talk Talk)
1956: Bernard Sumner (Joy Division, New Order)
1958: Lorna Doom (The Germs)
1960: Michael Stipe (R.E.M)
1962: Robin Guthrie (Cocteau Twins)
1965: Cait O'Riordan (The Pogues)
1965: Beth Gibbons (Portishead)
1989: Labrinth
Looking for more artists born on this day?
Keep scrolling for all of our January 4 birthdays.
---
What to find another day?
---
January 4th
4 Jan 2020
Miley Cyrus reached a settlement in the $300 million copyright infringement lawsuit that accused the singer of stealing her 2013 hit 'We Can't Stop.' The lawsuit, filed in 2018, was made by Jamaican songwriter Michael May, who alleged that 'We Can't Stop' replicated his 1988 track 'We Run Things.'
4 Jan 2016
Australian-born British-resident music entrepreneur, film producer and impresario, Robert Stigwood died aged 81. He was best known for managing
Cream
and the
Bee Gees
, theatrical productions like Hair and Jesus Christ Superstar and film productions including the hugely successful Grease and Saturday Night Fever.
4 Jan 2011
Scottish singer songwriter Gerry Rafferty died aged 63 after a long illness. Rafferty had been a member of Stealers Wheel, who had the 1973 US No.3 & UK No.8 single 'Stuck In The Middle With You' and had the solo 1978 UK No.3 and US No.2 single 'Baker Street.'
4 Jan 2009
4 Jan 2008
Beyonce won a long-running legal wrangle over claims her hit song 'Baby Boy' infringed the copyright of another artist's work. The appeals court in Houston, Texas upheld a 2006 decision which dismissed musician Jennifer Armour's claims that its lyrics were based on her work. Ms Armour claimed she had posted 'I Got A Little Bit Of Love For You' to Beyonce's manager and record company in early 2003.
4 Jan 2008
Britney Spears
was carried out of her home on a stretcher and taken into custody after police were called in a dispute involving her children. Police were called to Spears' home over a family custodial dispute that they tried to resolve, after nearly three hours, Spears handed over her children, two-year-old Sean Preston and one-year-old Jayden James, to her ex-husband Kevin Federline.
4 Jan 2006
The house where
Johnny Cash
lived for 35 years was bought by
Bee Gees
singer Barry Gibb. The rustic house near Nashville, Tennessee went on the market in June 2005 with an asking price of $2.9m (£1.7m). Gibb said he planned to preserve the house to honour the Cash memory. Unfortunately Gibb's ownership of the house was short-lived. In April 2007, the house burned to the ground. Gibb was having the house renovated when a flammable spray sealer caused fire to break out during construction.
4 Jan 2005
The owner of a recording studio where
Eminem
recorded his 'Slim Shady' LP was found shot dead. AJ Abdallah, who was 36, was discovered by a business colleague at the Detroit studio, it was thought he had been dead for at least two days. Police suggested that a robbery may also have taken place. Mr Abdallah had lived in a apartment above the studio on Eight Mile Road, the Detroit street which inspired the title of
Eminem
's 2002 film '8 Mile.'
4 Jan 2004
Britney Spears
had her surprise marriage annulled less than 55 hours after tying the knot at the Little White Wedding Chapel in Las Vegas with childhood friend Jason Alexander. They couple married on Saturday morning, during a night out in Las Vegas, but immediately her lawyers filed for an annulment, saying Spears 'lacked understanding of her actions to the extent that she was incapable of agreeing to the marriage.'
4 Jan 2001
Courtney Love filed a lawsuit against her alleged stalker claiming that Lesley Barber, the ex-wife of her current boyfriend Jim Barber, drove over her foot. This had forced her to forfeit her role in a forthcoming film and lost her the £200,000, ($340,000) fee that went with it.
4 Jan 2001
Madame Tussaud's waxworks in London revealed that
Oasis
singer
Liam Gallagher
had come third in 'The Most Hated Characters' list of exhibits, behind Adolf Hitler and Slobodan Milosevic.
4 Jan 2001
US rapper Vanilla Ice spent the night in jail after allegedly ripping out some of his wife's hair. Ice (born Robert Van Winkle) told police he pulled out some of his wife's hair to prevent her from jumping out of their truck's window. He was released the following morning from Broward County Jail in Fort Lauderdale on $3,500 bail.
4 Jan 1986
Irish singer, songwriter and bassist Phil Lynott of
Thin Lizzy
died of heart failure and pneumonia after being in a coma for eight days following a drug overdose. With
Thin Lizzy
he had the 1973 hit 'Whiskey in the Jar', (their version of the traditional Irish song) and hits with 'The Boys Are Back in Town', 'Jailbreak' and 'Waiting for an Alibi'. The groups 1978 album 'Live and Dangerous' spent 62 weeks on the UK chart. Lynott fronted several bands as a lead vocalist, including Skid Row alongside Gary Moore. A life-size bronze statue of Phil Lynott was unveiled on Harry Street in Dublin Ireland in 2005.
4 Jan 1977
The
Sex Pistols
shocked passengers and airline staff at Heathrow Airport when they spat and vomited boarding a plane to Amsterdam.
4 Jan 1975
Elton John
started a two week run at No.1 on the US singles chart with his version of
The Beatles
'Lucy In The Sky With Diamonds'. His third US No.1, the song featured
John Lennon
on guitar.
4 Jan 1974
Bruce Springsteen
played the first of a three night run at Joes' Place in Cambridge Massachusetts. Supported by Peter Johnson & The Manic Depressives. On the ticket it stated: Because of the energy crisis all our outside lights except for one will be shut off.
4 Jan 1970
The Beatles
(without
John Lennon
) re-record vocals and a new guitar solo on the
Paul McCartney
song 'Let It Be' at Studio Two, EMI Studios, London. This session will be the final studio appearance for
The Beatles
, as a group. (The final date that all four of
The Beatles
were in the studio together is August 20, 1969).
4 Jan 1970
Chauffeur Neil Boland was accidentally killed when
The Who
's drummer
Keith Moon
ran over him in his Bentley. Moon was trying to escape from a Gang of skinheads after a fight broke out at a pub in Hatfield, England. Boland got out to try to protect the car, but left it in gear. He fell under the car and it started moving with Moon at the wheel as he tried to escape the fight. The drummer had never passed his driving test.
4 Jan 1969
UK music weekly Disc and Music Echo reported that
The Beatles
were to release five new albums. One would be their first ever live album plus four separate LP's, each one the choice of Lennon, McCartney, Harrison and Starr.
4 Jan 1968
The University of California, Los Angeles announced that students taking music degrees would have to study the music of The
Rolling Stones
saying they had made such an important contribution to modern music.
4 Jan 1967
The Doors
released their self-titled debut album
The Doors
. The album features their breakthrough single 'Light My Fire' and the lengthy song 'The End' with its Oedipal spoken word section. The album was recorded at Sunset Sound Studios in Hollywood, California over six days and unique packaging of the album included each band members bio.
4 Jan 1967
The
Jimi Hendrix Experience
played the first of what would be over 240 gigs in this year when they appeared at the Bromel Club, Bromley. (Many of the concerts were two shows per night).
4 Jan 1962
Liverpool's Mersey Beat published its first popularity poll, with
The Beatles
coming in first place and Gerry and the Pacemakers voted second.
4 Jan 1954
Four days before his 20th birthday
Elvis Presley
made his second visit to the Memphis Recording service and cut two songs onto a 10 acetate, 'Casual Love Affair 'and 'I'll Never Stand In Your Way'. Studio boss Sam Phillips asked Presley to leave his phone number.
Born on this day in music
4 Jan 1989
Timothy McKenzie, better known by his stage name Labrinth, British musician, singer, songwriter, rapper who had the 2012 UK No.1 single with Emeli Sandé 'Beneath Your Beautiful'.
4 Jan 1983
Ben Spivak singer and musician from Canadian reggae fusion band Magic! that had the 2014 US and UK No.1 hit single 'Rude', from their 2014 US Top 10 album Don't Kill the Magic.
4 Jan 1977
Tim Wheeler, Northern Irish guitarist, songwriter, and vocalist from alternative rock band Ash who scored the 1995 UK No.11 single 'Girl From Mars' and the 1996 UK No.1 album 1977.
4 Jan 1974
American record producer, songwriter, Christopher Alan "Tricky" Stewart, who is noted for producing many hip hop, R&B and pop chart topping singles, often with The-Dream. Some of Stewart's record breaking singles are: Beyonce's "Ladies (Put a Ring On It)",
Rihanna
"Umbrella", Justin Bieber "Baby",
Britney Spears
"Me Against the Music",
Mariah Carey
's "Touch My Body" and Nicole Scherzinger's "Your Love".
4 Jan 1967
Ben Darvill, harmonica, with Canadian rock band Crash Test Dummies best known internationally for their 1993 single 'Mmm Mmm Mmm Mmm'.
4 Jan 1965
Beth Gibbons, vocals, Portishead, (1995 UK No.13 single 'Glory Box').
4 Jan 1965
Cait O'Riordan, from Irish-British Celtic punk band The Pogues who scored the 1987 UK No.8 single 'The Irish Rover' and the 1987 UK No.2 single with Kirsty MaCcoll, 'Fairytale Of New York'.
4 Jan 1965
David Glasper, Breathe, (1988 US No.2 & UK No.4 single 'Hands To Heaven').
4 Jan 1962
Martin Mcaloon, bassist from English English pop band Prefab Sprout who had the 1988 UK No.7 single 'The King Of Rock 'n' Roll'.
4 Jan 1962
Scottish musician, songwriter Robin Guthrie, from Cocteau Twins. The group released the album Heaven or Las Vegas in late 1990 which became the most commercially successful of their many recordings.
4 Jan 1962
Till Lindemann poet, lead vocalist for the German rock band Rammstein who formed in Berlin in 1994. Five of their albums reached No.1 on the German album charts.
4 Jan 1960
Michael Stipe, American singer, songwriter, musician,
R.E.M.
The band was pivotal in the creation and development of the alternative rock genre. They scored the 1991 UK No.6 & US No.10 single 'Shiny Happy People' plus over 20 Top 40 UK singles, and the 1992 UK No.1 & US No.2 album Automatic For The People.
4 Jan 1958
American musician Lorna Doom. She was the bass guitarist for the punk rock band the Germs. Their music was influential to many later punk rock acts. Germs guitarist Pat Smear went on to achieve greater fame performing with
Nirvana
and Foo Fighters. Doom died on 16 January 2019 of cancer age 61.
4 Jan 1958
Macel King, singer from British soul group Sweet Sensation who scored the 1974 UK No.1 and US No.14 single 'Sad Sweet Dreamer'.
4 Jan 1956
Bernard Sumner, guitar, vocals, Warsaw,
Joy Division
, (1980 UK No.13 single 'Love Will Tear Us Apart'), New Order, (1983 UK No.9 single 'Blue Monday'), Electronic, (1991 UK No.8 single 'Get The Message'),
4 Jan 1956
Nels Cline, guitarist from American alternative rock band Wilco who released the albums Yankee Hotel Foxtrot, A Ghost Is Born, Sky Blue Sky and Wilco (The Album).
4 Jan 1955
Clive Gregson, singer, songwriter, and leader of late 70s
Stiff Records
band Any Trouble, and later one half of Gregson & Collister folk duo. His songs have been covered by Kim Carnes, Norma Waterson, Jimmy Buffett and Nanci Griffith. Gregson is now a member of The Guilty Men.
4 Jan 1955
American session musician, guitarist, bassist, singer–songwriter and musical director, Brian Ray, best known for his work as a rhythm guitarist and bassist with
Paul McCartney
.
4 Jan 1955
Mark Hollis, English musician and singer-songwriter. He achieved commercial success and critical acclaim in the 1980s and 1990s as the co-founder, lead singer and principal songwriter of the band Talk Talk. Hollis wrote or co-wrote most of Talk Talk's music, including hits like 'It's My Life' (1984) and 'Life's What You Make It' (1986). He died aged 64 on 25 February 2019.
4 Jan 1946
Arthur Conley, US soul singer, known for the 1967 US No.2 & UK No.7 single 'Sweet Soul Music. He first recorded in 1959 as the lead singer of Arthur & the Corvets. Conley died of cancer on 17th November 2003.
4 Jan 1942
British guitarist John McLaughlin, who formed the Mahavishnu Orchestra and has also worked with
Carlos Santana
, Stanley Clark and Jaco Pastorius. Prior to the Mahavishnu Orchestra, in the 1960s, he played with Alexis Korner, Georgie Fame and the Blue Flames, the Graham Bond Organisation and Brian Auger. In 1969 he moved to New York to join Tony Williams' Lifetime. On March 25th of that year he jammed with
Jimi Hendrix
at the Record Plant, recalling 'we played from 2 until 8 in the morning. In 2010,
Jeff Beck
called McLaughlin 'the best guitarist alive'.
4 Jan 1937
American songwriter and record producer William 'Mickey' Stevenson. He was head of the
Motown
A&R department in the mid-1960s and was responsible for organizing the company's in-house studio band, which came to be known as the
Funk Brothers
.
4 Jan 1937
John Gorman, singer, The Scaffold, (1968 Christmas UK No.1 single 'Lily The Pink').