June 22nd: The Biggest Music Headlines
Scroll down the page to see all the music headlines, stories and events for June 22 throughout music history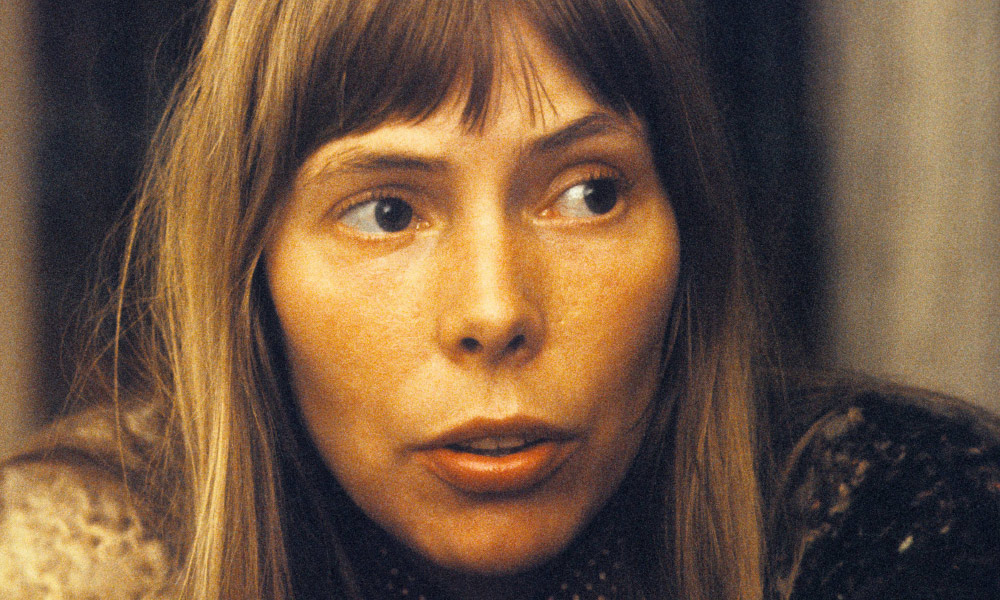 Joni Mitchel Releases Her Masterpiece, 'Blue'
On this day in music, June 22, 1971, Joni Mitchell released her celebrated fourth album, Blue. Written after a break-up with Graham Nash and amid a budding romance with James Taylor, the album explores all of the emotions that come with a relationship and features several of the Canadian singer-songwriter's most enduring songs, including "California," "A Case of You," and "River." Long regarded as one of the greatest albums of all time, Blue was a commercial success upon its release, landing in the Top Ten in the UK and Canada, and peaking at No.15 in the US.
In 1969, actress and singer Judy Garland died at the age of 47. Known most famously for her role as Dorothy Gale in 1939's The Wizard of Oz, Garland was a multi-hyphenate icon of Hollywood's Golden Era, appearing in such hit films as Meet Me in St. Louis, Easter Parade, and A Star Is Born. Garland also enjoyed a successful recording career, later becoming the first woman to earn a Grammy Award for Album of the Year for 1961's Judy at Carnegie Hall.
In 1963, Stevie Wonder (then "Little Stevie Wonder") made his debut on the Billboard pop chart with "Fingertips Part 1 & 2." The live recording, which featured Marvin Gaye on drums, eventually topped both the pop and R&B charts, becoming the first non-studio single to do so.
In 2008, Coldplay made UK chart history when their single, "Viva La Vida," became the first digital-only No.1 hit. The song also marked the British group's first single to top the charts in both the US and UK. It later earned a Grammy for Song of the Year.
In 2022, Glastonbury history was made when the festival hosted both its youngest and oldest solo headliners to date. The artists in question were 20-year-old Billie Eilish and 80-year-old Paul McCartney. The long-running UK festival – which also featured performances by Diana Ross, Haim, and Lorde – returned after a two-year hiatus, amid the Covid-19 pandemic.
In 1968, Herb Albert's "This Guy's in Love with You" became the bandleader and record executive's first No.1 hit on the Billboard Hot 100. Penned by Burt Bacharach and Hal David, the single also marked the legendary songwriting duo's first US chart-topper.
In 1985, Canadian singer-songwriter Bryan Adams scored his first No.1 hit on the Billboard Hot 100 with "Heaven. The song first appeared on the soundtrack to the 1983 film A Night in Heaven.
Looking for more things that happened on this day in music?
Keep scrolling for all of the headlines for June 22.
BORN ON JUNE 22:
1936: Kris Kristofferson
1944: Peter Asher (Peter & Gordon)
1947: Howard Kaylan (The Turtles)
1948: Todd Rundgren
1953: Cyndi Lauper
1961: Jimmy Somerville (Bronski Beat)
1964: Bobby Gillespie (Primal Scream)
1970: Steven Page (Barenaked Ladies)
Looking for more artists born on this day?
Keep scrolling for all of our June 22 birthdays.
---
What to find another day?
---
June 22nd
22 Jun 2022
The world-famous Glastonbury Festival took place in Pilton, Somerset, England. The event was cancelled in 2020 and 2021 due to the pandemic, but returned this year. This year's festival featured its youngest-ever solo headline in Billie Eilish and Sir Paul McCartney as the oldest. McCartney was joined by Dave Grohl and Bruce Springsteen when he headlined the Pyramid Stage. Other acts appearing included: Diana Ross, Sam Fender, Noel Gallagher's High Flying Birds, Lorde, Robert Plant and Alison Krauss, Haim, Elbow and St. Vincent.
22 Jun 2019
Sir
Elton John
was awarded France's highest civilian award, the Legion d'Honneur. The British musician was presented with the award by President Emmanuel Macron during a ceremony at the Élysée Palace. President Macron's office praised Sir Elton as a "melodic genius" and as one of the first gay artists to give a voice to the LGBT community.
22 Jun 2019
American drummer and record producer Jerry Carrigan died age 75. He first achieved widespread recognition by being part of the first wave of the Muscle Shoals Rhythm Section and later as a first-call session musician in Nashville for over three decades. He recorded with
Elvis Presley
,
Johnny Cash
, Charlie Rich, Kenny Rogers Jerry Lee Lewis, Ray Stevens and
Dolly Parton
.
22 Jun 2016
Led Zeppelin
singer Robert Plant told a court hearing the '
Stairway To Heaven
' copyright dispute that he had a dim memory of the time the song was written. Plant also said he could not remember meeting the band Spirit, who claimed the band stole their guitar riff for Stairway to Heaven in the 1970s. "I don't have a recollection of almost anyone I've hung out with," Plant said, causing roars of laughter in the court. The case was brought on behalf of Spirit's late guitarist, Randy Wolfe. His estate claimed the opening riff of the 1968 song Taurus is fundamentally the same as the iconic opening bars of Stairway to Heaven.
22 Jun 2015
P Diddy was arrested on suspicion of assault with a deadly weapon in Los Angeles. The alleged incident occurred on the University of California campus where his son was on the football team. The weapon in question was a kettlebell, which is used for weight training. Diddy - whose real name is Sean Combs - was released on $160,000 (£101,000) bail.
22 Jun 2013
'Blurred Lines' by Robin Thicke started a 13 week run at No.1 on the US singles chart. Featuring American rapper T.I. and American singer and producer Pharrell Williams, the video was made in two versions; the first video features models Emily Ratajkowski, Jessi M'Bengue, and Elle Evans being topless, the second features them covered. The topless version of the video was removed from YouTube for violating the site's terms of service regarding nudity, though it was later restored, but flagged as inappropriate. 'Blurred Lines" peaked at No.1 in 14 countries.
22 Jun 2012
MP Andrew Turner called for a review of procedures after thousands of rock fans were delayed for hours heading to the
Isle of Wight
Festival. After heavy rain cars were unable to park on waterlogged fields - leading to gridlock as about 55,000 people headed to the site. Some fans were stuck in traffic for up to 16 hours on the way to the festival. Elbow, Lana Del Rey,
Tom Petty
and the Heartbreakers,
Bruce Springsteen
and
Pearl Jam
all appeared at this year's festival.
22 Jun 2011
It was reported in the Irish press that
Bono
's wandering peahen was causing havoc for some south Dublin residents. The peahen the less spectacular-coloured female partner to a male peacock had arrived in the Ard Mhuire housing estate in Killiney near to where the singer lived. One newspaper ran the headline: "Bono's cock drives me nuts". Local woman Susan McKeon said she first noticed the bird at night. "It had a tiny head and a huge body. It was actually quite ugly but I don't think it's fully grown."
22 Jun 2008
Coldplay
went to No.1 on the UK singles chart with 'Viva La Vida', their first UK No.1. History was made by this single, as it had no physical CD-single release in the UK, being available by internet download only. The song won a Grammy Award for Song of the Year in 2009.
22 Jun 2003
Clay Aiken, runner-up in the 2003 US American Idol went to No.1 on the US singles chart with 'This Is The Night.' Luther Vandross was at No.1 on the US album chart with 'Dance With My Father'.
22 Jun 2002
U2
guitarist 'The Edge' married his girlfriend of ten years Morleigh Steinberg in Eze in the south of France. The couple first met when she was a belly dancer on the bands Zoo TV tour. Guest's included Bono, Eurythmics Dave Stewart and Lenny Kravitz.
22 Jun 1996
The brother of singer Diana Ross, Arthur Ross and his wife were murdered by suffocation in the basement of their rented Detroit home. The badly decomposed bodies were discovered after neighbors complained of a foul odor coming from the house. Two men were later charged with murder and robbery. Arthur Ross had written songs for
Marvin Gaye
, The Miracles and
Madonna
.
22 Jun 1992
Nirvana
's
Kurt Cobain
was rushed to hospital after a gig in Belfast, Northern Ireland suffering from acute stomach pains brought on by ulcers.
22 Jun 1992
Three members of M.C. Hammer's tour crew were wounded in a drive in shooting incident, three days later Joseph Mack, a dancer in Hammer's entourage was shot on stage during a concert in Nevada.
22 Jun 1990
Ry Cooder and David Lindley,
The Cure
, Happy Mondays,
Sinead O'Connor
, Deacon Blue, De La Soul, Adamski, Blue Aeroplanes, Julian Cope, Del Amitri, Jesus Jones, James and The Pale Saints all appeared on the first day of this years Glastonbury Festival. A three day ticket cost £38.
22 Jun 1988
American session guitarist Jesse Ed Davis died of a heroin overdose after collapsing in a laundry room in Venice, California, aged 43. Worked with Conway Twitty, The
Monkees
,
John Lennon
,
Eric Clapton
, Leonard Cohen,
Keith Moon
, Jackson Browne, Steve Miller, Harry Nilsson and Taj Mahal.
22 Jun 1985
Bryan Adams
started a two week run at No.1 on the US singles chart with 'Heaven', his first No.1 single, it made No.35 in the UK. The song had been featured in the film 'Night In Heaven'.
22 Jun 1981
Mark Chapman pleaded guilty to the charge of murdering
John Lennon
in 1980. He was later sentenced to 20 years to life.
22 Jun 1980
Don McLean had his second UK No.1 single with the
Roy Orbison
song 'Crying'. The song had been a No.2 US hit for Orbison in July 1961. In 1987, Orbison re-recorded the song as a duet with k.d. lang as part of the soundtrack for the motion picture, Hiding Out. Their collaboration won the Grammy Award.
22 Jun 1973
David Bowie
released the single 'Life On Mars', which peaked at No.3 on the UK chart. The track which was first released in 1971 on the album Hunky Dory, features guest piano work by Yes keyboardist Rick Wakeman. The line "Look at those cavemen go" is a reference to the song "Alley Oop," a one-off hit in 1960 for American doo-wop band The Hollywood Argyles.
22 Jun 1971
The second Glastonbury Festival in England took place. Held over 5 days to coincide with the summer solstice, (the weather was, for a British 'summer' very good). Acts who appeared included: Melanie, Quintessence,
David Bowie
, The Edgar Broughton Band, Pink Fairies, Terry Reid - with David Lyndley and Linda Lewis, Gong, Hawkwind, Arthur Brown, Brinsley Schwarz, Fairport Convention, Family and Traffic. Over 7,000 fans attended the event.
22 Jun 1971
Joni Mitchell
released her fourth studio album Blue. The album is now generally regarded by music critics as one of the greatest albums of all time. In July 2017, Blue was chosen by NPR as the greatest album of all time made by a woman.
22 Jun 1970
Led Zeppelin
appeared at Laugardalsholl Hall, Reykjavik, Iceland on the group's one and only visit to Iceland. It is suggested that Robert Plant was inspired to write the lyrics to 'Immigrant Song' during this trip."
22 Jun 1969
American singer, actress, Judy Garland, died of a barbiturate overdose aged 47, she was found on the floor of her rented Chelsea home, in London, UK. Made more than two dozen films, played Dorothy in the 1939 film 'Wizard Of Oz', sang 'Over The Rainbow' in the film, (voted the 'Song Of The Century' in a 2001 poll published in America). 1961 US No.1 comeback album 'Judy At Carnegie Hall'.
22 Jun 1968
Herb Alpert started a four week run at No.1 on the US singles chart with 'This Guys In Love With You'. His first No.1 plus first No.1 for the A&M label and the writer's Bacharach and David's first chart topper. A No.3 hit in the UK.
22 Jun 1968
22 Jun 1968
The
Otis Redding
album Dock Of The Bay went to No.1 in the UK. The posthumously released album, and his sixth studio album contained a number of singles and B-sides dating back to 1965 and one of his best known songs, the posthumous hit (Sittin' On The Dock) Of The Bay.
22 Jun 1964
The Beatles
played their first ever show in New Zealand at Wellington Town Hall. The local Chief Constable refused a police escort for
The Beatles
leaving just two policemen to control over 5,000 fans.
22 Jun 1963
13-year old
Stevie Wonder
first entered the US singles chart as Little
Stevie Wonder
with 'Fingertips Parts One and Two.' 'Fingertips' which featured a young
Marvin Gaye
on drums was the first live, non-studio recording to reach No.1 on the Billboard Pop Singles chart in the United States since Johnny Standley's 1952 comic monologue 'It's in the Book'.
22 Jun 1956
Elvis Presley
started a three-day run playing 10 shows at the Paramount Theater in Atlanta, Georgia. The stage manager was told; "Pull all white lights. Presley works all in color, Presley act has no encore. When he leaves the stage, immediately close curtains."
Born on this day in music
22 Jun 1981
Chris Urbanowicz, guitarist, with English rock band The Editors, who had the 2007 UK No.1 album An End Has a Start and earned the band a Brit Awards nomination for best British Band.
22 Jun 1976
Sally Polihronas, Australian singer from Bardot, winners of the Australian Popstars reality show, who had the 2000 Australian No.1 single 'Poison', and 2000 Australian No.1 self-titled album.
22 Jun 1970
Steven Page, guitar, vocals, with Canadian rock band Barenaked Ladies who scored the 1998 US No.1 & UK No.5 single 'One Week'. The group has sold over 15 million records including albums and singles, and were inducted into the Canadian Music Hall of Fame in March of 2018.
22 Jun 1965
Tom Cunningham, drummer with Scottish band Wet Wet Wet who formed in 1982. They are best known for their 1994 cover of The
Troggs
' 1960s hit 'Love Is All Around', which spent 15 weeks at No.1 on the UK charts.
22 Jun 1964
Bobby Gillespie, guitar, vocals, from Scottish rock band Primal Scream who had the 1994 UK No.7 single 'Rocks' and the 1991 UK No.8 album Screamadelica.
22 Jun 1964
Mike Edwards, vocals with English group Jesus Jones who had the 1990 US No.2 hit with 'Right Here Right Now' and the 1991 UK No.7 single 'International Bright Young Thing'.
22 Jun 1962
British Jamaican R&B and soul singer, Ruby Turner, who scored the 1987 UK hit single 'I'd Rather Go Blind'. As a session backing vocalist, she has worked with Bryan Ferry, UB40, Steel Pulse, Steve Winwood, Jools Holland and
Mick Jagger
.
22 Jun 1961
Jimmy Somerville, UK singer, who with Bronski Beat had the 1984 UK No.3 single 'Smalltown Boy'. With British pop duo The Communards had the 1986 UK No.1 single with a cover version of the Thelma Houston hit 'Don't Leave Me This Way'.
22 Jun 1959
Alan Anton, bassist with Canadian alternative country/blues/folk rock band, Cowboy Junkies.
22 Jun 1957
Gary Beers, bassist from Australian rock band INXS, who had the 1988 UK No.2 & US No.1 single 'Need You Tonight'. Their 1987 album Kick has sold over 10m copies in the US alone and features four Top 10 singles; 'Need You Tonight,' 'Devil Inside', 'New Sensation,' and 'Never Tear Us Apart.' INXS has sold over 55 million records worldwide.
22 Jun 1956
Derek Forbes, bassist with Scottish rock band,
Simple Minds
, who had the 1985 US No.1 single 'Don't You, Forget About Me', and the 1989 UK No.1 single 'Belfast Child', plus over 20 other UK Top 40 singles.
22 Jun 1956
Green Gartside, singer, songwriter from British band Scritti Politti, who had the 1984 UK No.10 single 'Wood Beez, Pray Like
Aretha Franklin
', and the hit 'The Word Girl', as well as a US Top 20 hit 'Perfect Way'.
22 Jun 1953
American singer, songwriter Cyndi Lauper, who had the 1984 US No.1 single 'Time After Time', and the UK & US No.2 single 'Girls Just Want To Have Fun', (first recorded in 1979 by American musician Robert Hazard). The song received Grammy Award nominations for Record of the Year and Best Female Pop Vocal Performance.
22 Jun 1953
British songwriter, producer, and DJ Ian Levine. During the 80s and 90s he co-wrote and mixed a number of dance-pop hits for a variety of artists, including: Pet Shop Boys, Bucks Fizz, Erasure, Kim Wilde, Bronski Beat and Bananarama. He is known as a moderniser of Northern soul music in the UK.
22 Jun 1949
Alan Osmond from American family group The
Osmonds
. They had the 1971 US No.1 single 'One Bad Apple', the 1974 hit 'Crazy Horses' and the 1974 UK No.1 single 'Love Me For A Reason'. They had their own 1972–1973 Saturday morning cartoon series, The
Osmonds
, on ABC-TV. The
Osmonds
have sold over 75 million records world wide.
22 Jun 1949
Larry Junstrom, a founding member of Lynyrd Skynyrd and longstanding bassist with the band .38 Special. Junstrom played bass with Lynyrd Skynyrd from its formation in 1964 until he was replaced by Leon Wilkeson in 1971. He then joined .38 Special in 1976 with Donnie Van Zant, the younger brother of the Lynyrd Skynyrd frontman Ronnie Van Zant. He died on 6 October 2019 at the age of 70.
22 Jun 1948
American multi-instrumentalist, singer, songwriter, and record producer Todd Rundgren. Member of Nazz and Utopia. Had the solo 1972 US No.16 & 1973 UK No.36 single 'I Saw The Light'. Rundgren engineered / produced many notable albums for other acts, including The Band's Stage Fright (1970),
Badfinger
's Straight Up (1971), Grand Funk Railroad's We're an American Band (1973), the New York Dolls's New York Dolls (1973), Hall & Oates's War Babies (1974),
Bat Out Of Hell
(1977).
22 Jun 1947
Howard Kaylan, from the The Turtles who had the US 1967 No.1 single 'Happy Together' and the 1967 hit 'She'd Rather Be with Me'. He later worked with
Frank Zappa
, alongside his friend and partner Mark Volman who used the stage names of Flo & Eddie.
22 Jun 1944
Peter Asher, Peter &Gordon, who had the 1964 UK & US No.1 single 'World Without Love', written by Lennon & McCartney. Asher was a producer and Head of Apple Records in late 60s and went on to become James Taylor and Linda Ronstadt's manager.
22 Jun 1936
Kris Kristofferson, musician, actor, and writer, known for such hits as 'Me and Bobby McGee', 'For the Good Times', 'Sunday Mornin' Comin' Down', and 'Help Me Make It Through the Night'. In 1985, Kristofferson joined fellow country artists Waylon Jennings, Willie Nelson and
Johnny Cash
in forming the country music supergroup The Highwaymen. In 2004, Kristofferson was inducted into the Country Music Hall of Fame.