June 29th: The Biggest Music Headlines
Scroll down the page to see all the music headlines, stories and events for June 29 throughout music history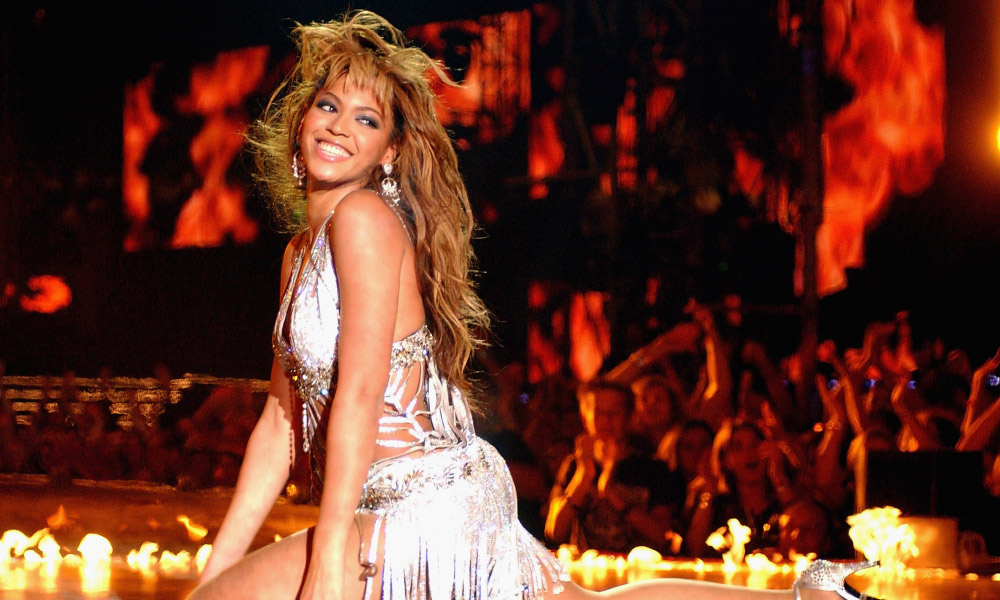 Beyoncé Takes Over the World with Her Solo Debut
On this day in music, June 29, 2003, Beyoncé entered both the UK and US album charts at No.1 with her debut Dangerously in Love. Released while Destiny's Child was on hiatus, the album found the singer breaking out as an international mega-star, thanks to such chart-topping singles as "Crazy in Love" and "Baby Boy." Widely acclaimed, Dangerously in Love would go on to win numerous awards, including a Grammy for Best Contemporary R&B Album, and was later included on the Rock and Roll Hall of Fame's 200 Definitive Albums that Shaped Rock and Roll list.
In 1985, Mick Jagger and David Bowie arrived at London's Westside Studios to record a spirited rendition of the Motown classic, "Dancing in the Street" (first made famous by Martha and the Vandellas). The frequently covered song (which was also recorded by the likes of Van Halen and the Grateful Dead) was recorded by the duo to raise funds for Live Aid's famine relief fund. Released that August, the single was an instant hit, topping the UK pop chart and hitting No.7 on the Billboard Hot 100.
In 1968, Tammy Wynnette topped the Billboard Country chart with one of her signature hits, "D-I-V-O-R-C-E." The song – which is sung from a wife and mother's point of view, as she contemplates the end of her marriage – finds her spelling out the dreaded "D" word, to protect her children.
In 2002, singer and actress Rosemary Clooney passed away at the age of 74. Clooney scored multiple hit singles throughout the 50s, including "Come On-a My House," "Half As Much," and "Mambo Italiano," and appeared in the enduring holiday classic, White Christmas. In the late 70s, the jazz singer enjoyed a career revival and continued to record and perform until her death. Her nephew, actor George Clooney, served as a pallbearer during her funeral.
In 1984, Bruce Springsteen kicked off his Born in the U.S.A. tour in Saint Paul, MN. The 157-date run, which included stops in Asia, Europe, and Australia, was the first to feature Nils Lofgren and Springsteen's future wife, Patti Scialfa.
In 1975, 28-year-old singer-songwriter Tim Buckley died from an overdose. The versatile artist, whose work ranged from folk and avant-garde to funk and psychedelia, released nine studio albums during his life. His son, Jeff Buckley, would follow in his father's footsteps as a singer-songwriter, though his life would also be cut tragically short.
In 1994, Oasis made their first of several appearances on Top of the Pops, performing "Shakermaker," the second single off their debut album, Definitely Maybe.
Looking for more things that happened on this day in music?
Keep scrolling for all of the headlines for June 29.
BORN ON JUNE 29:
1945: Little Eva
1947: Eric Wrixon (Them, Thin Lizzy)
1948: Ian Paice (Deep Purple)
1953: Colin Hay (Men at Work)
1978: Nicole Scherzinger (The Pussycat Dolls)
1979: Richard Breen (Five)
Looking for more artists born on this day?
Keep scrolling for all of our June 29 birthdays.
---
What to find another day?
---
June 29th
29 Jun 2022
US singer R. Kelly was sentenced to 30 years in prison for using his celebrity status to sexually abuse children and women. The 55 year old R&B artist was convicted last September in New York of racketeering and sex trafficking crimes. He had faced years of allegations and the judge said he had an "indifference to human suffering". Lawyers for the singer, said he would appeal. Ahead of his sentencing, a handful of women took the stand to confront Kelly.
29 Jun 2021
British rock and blues vocalist John Lawton died unexpectedly age 74. He was best known for his work with Lucifer's Friend, Uriah Heep and the Les Humphries Singers.
29 Jun 2020
American singer and songwriter Benny Mardones died age 73. He scored the hit single 'Into the Night,' which hit the top 20 on the Billboard Hot 100 chart twice, in 1980 and again in 1989.
29 Jun 2019
Former
Guns N' Roses
drummer Steven Adler was taken to hospital after stabbing himself. The musician, who was sacked from the rock group in 1990 over drink and drug issues, was taken to a Los Angeles hospital after paramedics were called to his home for what was reported to be a self-inflicted injury.
29 Jun 2016
Elvis Presley
's daughter Lisa Marie filed for divorce from her fourth husband, Michael Lockwood, just months after the couple celebrated their 10th wedding anniversary last January. Lisa Marie had previously been wed to Danny Keough from 1988 until 1994,
Michael Jackson
from 1994 to 1999 and to actor Nicolas Cage from 2002 to 2004.
29 Jun 2012
Photographers were planning to boycott the forthcoming Stone Roses reunion concerts in Manchester in a dispute over the use of their images. They claimed a contract issued by the band was unfair as it expected them to surrender all rights to their pictures. The National Union of Journalists was also supporting the boycott.
29 Jun 2007
Lily Allen was questioned by police over an alleged assault on a photographer outside a nightclub in London. She was freed on police bail after she was quizzed about an alleged assault on a male photographer in his 40s near the Wardour club in London's Soho in March.
29 Jun 2004
Courtney Love was reprimanded by Los Angeles Judge Melissa Jackson for turning up five hours late to a hearing. Love pleaded guilty to a single charge of disorderly conduct and was given a discharge, on condition she paid the victim's medical bills, joins a drug programme and stayed out of trouble.
29 Jun 2003
Destiny's Child singer Beyonce started a five week run at No.1 on the UK album chart with 'Dangerously In Love', also a US No.1.
29 Jun 2002
American singer and actress Rosemary Clooney died of lung cancer. Had the 1954 UK No.1 single 'This Ole House' appeared in the 1954 movie White Christmas with Bing Crosby and Danny Kaye. Her nephew, George Clooney was a pallbearer at her funeral.
29 Jun 2000
Eminem
's mother went to court claiming defamation of character in a $10 million (£5.8 million) civil suit, after taking exception to the line "My mother smokes more dope than I do" from her son's single 'My Name Is'.
29 Jun 1999
Michael Jackson
suffered severe bruising after falling over 50 feet when a bridge collapsed during a concert at Munich's Olympic stadium. Jacko was singing 'Earth Song' at the time of the accident.
29 Jun 1994
29 Jun 1991
Jason Donovan had his third UK No.1 single with 'Any Dream Will Do' a song written by Andrew Lloyd Webber and Tim Rice for the 1968 musical Joseph and the Amazing Technicolor Dreamcoat. Donovan was playing the lead role in a new London production of the musical.
29 Jun 1988
Brenda Richie, the wife of Lionel Richie was arrested in Beverly Hills, California after allegedly hitting the singer and a young woman after she found them in bed together. She was released on $5,000 bail and charges against her were eventually dropped.
29 Jun 1985
David Bowie
and
Mick Jagger
recorded a version of the Martha Reeves and the Vandellas 1964 hit 'Dancing In The Street' for the forthcoming
Live Aid
fundraising event. The single went on to become a No.1 UK hit. The original plan was to perform a track together live, with Bowie performing at Wembley Stadium and Jagger at John F. Kennedy Stadium, until it was realised that the satellite link-up would cause a half-second delay that would make this impossible unless either Bowie or Jagger mimed their contribution, something neither artist was willing to do.
29 Jun 1985
John Lennon
's 1965 Rolls-Royce Phantom V limousine, with psychedelic paintwork, sold for a record sum of $3,006,385, (£1,768,462) at a Sotheby's auction in New York.
29 Jun 1984
Bruce Springsteen
kicked off the first leg of his Born in the USA Tour with a three night run at the Civic Center in St. Paul, Minnesota. Springsteen would play a total of 156 shows ending on October 2, 1985 in Los Angeles.
29 Jun 1979
American singer-songwriter, multi-instrumentalist and producer, Lowell George died of a heart attack. The Little Feat front man was found dead at the Key Bridge Marriott Hotel in Arlington, Virginia. George joined Zappa's Mothers of Invention as rhythm guitarist in 1968, played guitar on John Cale's 1973 album Paris 1919, Harry Nilsson's Son of Schmilsson album and Jackson Browne's The Pretender.
29 Jun 1975
American singer songwriter Tim Buckley died of an overdose of heroin and morphine aged 28. Released nine albums including the 1972 release 'Greetings from L.A.' Buckley is the father of singer songwriter
Jeff Buckley
.
29 Jun 1974
Charles Aznavour was at No.1 on the UK singles chart with 'She', the French singers only UK No.1. At the time it made Aznavour the oldest living male chart-topper in the UK charts (at fifty years old).
29 Jun 1969
American soul singer Shorty Long drowned aged 29 after his boat capsized on the Detroit River in Michigan. Had the 1968 US No.8 single 'Here Comes The Judge.' He acted as an MC for many of the
Motown
Revue shows and tours.
29 Jun 1968
A free concert was held in London's Hyde Park with
Pink Floyd
, Jethro Tull, Tyrannosaurus Rex and Roy Harper. This afternoon concert was the first free festival to be held in Hyde Park. The concert was held to coincide with the release of
Pink Floyd
's second album, A Saucerful of Secrets.
29 Jun 1968
The
Small Faces
started a six week run at No.1 on the UK album chart with Ogden's Nut Gone Flake. A concept album with a round cover designed to look like a tobacco tin. The album featured the hit 'Lazy Sunday.'
29 Jun 1967
Rolling Stone
Keith Richards
was found guilty of allowing his house to be used for the illegal smoking of cannabis. He was sentenced to one year in jail and a £500 ($850) fine, (prison number 5855).
Mick Jagger
was also fined £100 ($170) and given three months in jail on drug charges. Jagger and Richards were both released and granted bail of £7,000 the following day.
29 Jun 1964
Touring Australia
The Beatles
played two shows at the Festival Hall, Brisbane. Over 8,000 fans had waited until after midnight to greet the group as they landed at Brisbane Airport.
29 Jun 1961
Del Shannon was at No.1 on the UK singles chart with 'Runaway.' His only UK No.1 and the first of 14 UK Top 40 hits.
Born on this day in music
29 Jun 1983
Aundrea Fimbres, American singer with Danity Kane. They became the first female group in Billboard history to have their first two albums open at the top of the charts.
29 Jun 1979
Richard Breen, with English boy band Five who had the 1998 UK No.2 single 'Everybody Get Up' and the 1999 UK No.1 single 'Keep On Movin'.
29 Jun 1978
Nicole Scherzinger, singer, Eden's Crush, who had the 2001 US No.8 single 'Get Over Yourself'. The Pussycat Dolls, who scored the 2005, US No.2 & UK No.1 with their debut single 'Don't Cha' featuring Busta Rhymes. The Pussycat Dolls became only the fourth ever girl band to enter the UK charts at No.1 with their debut single. (The other's being the
Spice Girls
, B*Witched and Girls Aloud).
29 Jun 1978
Sam Farrar American musician, producer and bassist with Phantom Planet, as well as a touring member of Maroon 5. His father, John Farrar, was a member of The Shadows.
29 Jun 1977
Sam Bailey, singer, known for winning the tenth series of The
X Factor
in 2013. Her 2013 single 'Skyscraper' was the Christmas No.1 on the UK Chart.
29 Jun 1964
Stedman Pearson, singer, from British pop/R&B group 5 Star who had the 1986 UK No.3 single 'System Addict', plus 14 other UK Top 40 singles. They won the 1987 Brit Award for Best British Group
29 Jun 1961
American guitarist Greg Hetson best known as the guitarist for the influential hardcore punk bands Redd Kross, Circle Jerks and Bad Religion.
29 Jun 1957
Australian singer-songwriter Robert Forster who co-founded The Go-Betweens who had the 1988 hit 'Streets of Your Town'. Now a solo artist and author.
29 Jun 1953
Colin Hay, Scottish Australian musician with Men At Work, (1983 UK and US No.1 single 'Down Under').
29 Jun 1948
Derv and Lincoln Gordon from the British pop, R&B and rock group The Equals who had the 1968 UK No.1 & US No.32 single 'Baby Come Back' written by Eddy Grant.
29 Jun 1948
Ian Paice, English musician, best known as the drummer of
Deep Purple
. He has been the band's only constant member since its foundation. They scored the 1970 UK No.2 single 'Black Night' and the 1973 US No. 4 single 'Smoke On The Water'. Paice has also worked with Whitesnake and Gary Moore.
29 Jun 1947
Eric Wrixon, musician with the Northern Irish band Them who had the 1965 UK hits 'Baby, Please Don't Go' and 'Here Comes The Night' with Van Morrison on lead vocals. Morrison quit the band in 1966 and went on to a successful career as a solo artist. He was also a founding member of
Thin Lizzy
. He died on 13 July 2015 aged 68.
29 Jun 1945
Little Eva, US singer. She was babysitting for
Carole King
and Gerry Goffin who asked her to record a song they had written. It gave her the 1962 US No.1 & UK No.2 single 'The Loco-Motion'. She died on April 10th 2003.
29 Jun 1943
Roger Spear, multi-instrumentalist with the Bonzo Dog Doo Dah Band. He wrote some of their wittiest songs such as 'Shirt', 'Tubas in the Moonlight' and 'Trouser Press'. The Bonzos came to the public attention through a 1968 ITV comedy show, Do Not Adjust Your Set.
29 Jun 1940
Alan Klein, English singer-songwriter and musician. He worked with producer Joe Meek and many acts recorded his songs including, Joe Brown, Freddie and the Dreamers, The Bachelors and Marty Wilde. In 1966 he went on tour as lead vocalist of The New Vaudeville Band who had the 1966 US No.1 hit 'Winchester Cathedral'.