June 6th: The Biggest Music Headlines
Scroll down the page to see all the music headlines, stories and events for June 6 throughout music history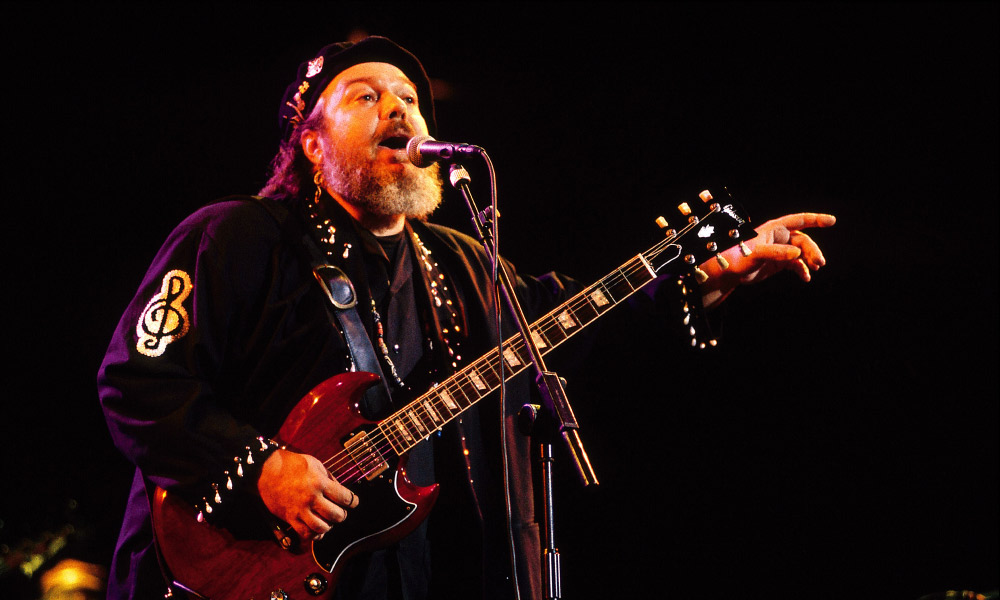 New Orleans Icon Dr. John Dies
In 2019, larger-than-life singer, songwriter, and New Orleans icon, Dr. John, passed away. The 77-year-old artist (born Malcolm John Rebennack) rose to fame in the late 60s with his combination of jazz, funk, R&B, and blues. While Dr. John worked as a session musician throughout his life, he also had a rich solo career, which included nearly 40 studio and live albums, as well as one Top Ten US hit, 1973's "Right Place, Wrong Time." He was also an in-demand collaborator, who worked with the likes of Ringo Starr, The Rolling Stones, Canned Heat, Gregg Allman, and many others.
In 1969, Elton John released his debut album, Empty Sky, in the UK. Featuring the song "Skyline Pigeon," the album wouldn't be released in the US until 1975, once the artist was an established star.
In 2006, Grammy-winning keyboardist Billy Preston died at the age of 59. During his career, Preston played alongside some of the world's biggest acts, including Little Richard, The Rolling Stones, and – most famously – The Beatles. Preston also enjoyed success as a solo artist, with chart-topping hits like "Outa-Space," "Will It Go Round in Circles," and "Nothing from Nothing."
In 1987, Whitney Houston's "I Wanna Dance with Somebody (Who Loves Me)" hit No.1 in the UK. The song, which topped the charts in 18 countries, would hit the peak of the Billboard Hot 100 later in the month.
In 1999, filmmaker Baz Luhrmann topped the UK pop charts with "Everybody's Free (To Wear Sunscreen." The spoken-word song, based on an essay by Chicago Tribune columnist Mary Schmich, offered words of wisdom in the form of a commencement speech.
In 2017, the site of the 1969 Woodstock Festival (now the Bethel Woods Center for the Arts) was recognized for its historical significance and placed on the National Register of Historic Places.
Looking for more things that happened on this day in music?
Keep scrolling for all of the headlines for June 6.
BORN ON JUNE 6:
1936: Levi Stubbs (The Four Tops)
1944: Edgar Froese (Tangerine Dream)
1960: Steve Vai
1961: Tom Araya (Slayer)
1970: James Shaffer (Korn)
1978: Jeremy Gara (Arcade Fire)
1978: Carl Barat (The Libertines, Dirty Pretty Things)
1989: Ross MacDonald (The 1975)
Looking for more artists born on this day?
Keep scrolling for all of our June 6 birthdays.
---
What to find another day?
---
June 6th
6 Jun 2022
Jim Seals of the US soft rock duo Seals and Crofts, died at the age of 80. The singer was behind laid-back 1970s classics like 'Diamond Girl' and 'Summer Breeze', later covered by the Isley Brothers. Between 1972 and 1976, Seals and Crofts had a run of five gold albums, culminating in an double-platinum greatest hits collection.
6 Jun 2019
American singer and songwriter Dr John known for music combining blues, pop, jazz, boogie woogie and rock and roll died at the age of 77 after suffering a heart attack. Born Malcolm John Rebennack his career started in the late 1950s, when he became prominent as a pianist and singer on the New Orleans music scene. He also worked with the
Rolling Stones
, Carly Simon, James Taylor,
Neil Diamond
,
Ringo Starr
,
Eric Clapton
, Bob Seger and Joe Walsh.
6 Jun 2017
The site of the 1969
Woodstock
music festival was officially recognised for its place in history when Democratic Gov. Andrew Cuomo announced that Bethel Woods Center for the Arts had been placed on the National Register of Historic Places.
6 Jun 2015
Singer Ronnie Gilbert, a member of the influential 1950s Folk quartet The Weavers, passed away at the age of 88. At the height of their popularity the quartet sold millions of records and are most often remembered for 'On Top Of Old Smoky', 'Kisses Sweeter Than Wine' and 'Rock Island Line'.
6 Jun 2012
Adam Clayton's former personal assistant and housekeeper went on trial, accused of stealing almost 3m euros (£2.4m) from the
U2
bass player. Carol Hawkins, from Dublin, pleaded not guilty at Dublin Circuit Criminal Court to 181 counts of theft. She was accused of stealing money from two of Clayton's bank accounts over a four year period from 2004 to 2008. According to the latest Sunday Times Rich List, Bono, the Edge, Larry Mullen, Mr Clayton and their manager had a combined fortune of €628m, ($788m).
6 Jun 2010
Marvin Isley, the youngest member of the American R&B band, the Isley Brothers, died, aged 56. Marvin Isley, who was the group's bass player, stopped performing in 1996 because of complications from diabetes, including the loss of his legs.
6 Jun 2008
Ki McPhail and Owen Doyle from Busted lost their £10m royalties battle. The former band members claimed they were forced to sign away their rights before being sacked from the band in October 2001. They pair said they wrote songs with the two other band members James Bourne and Matt Willis, including 'Year 3000' and 'What I Go To School For', when the group formed in 2001, but the judge in the case, Mr Justice Morgan, dismissed their claims and criticised the evidence they gave.
6 Jun 2006
6 Jun 2005
John Bonham
was voted at No. 1 in Classic Rock Magazine's '50 Greatest Drummers in Rock' listing Moby Dick as Bonham's defining moment. During live sets with Zeppelin his drum solo Moby Dick would often last for half an hour and regularly featured the use of his bare hands.
6 Jun 2003
Keyboard player with The Animals Dave Rowberry died aged 62. He replaced Alan Price who left in 1965. The Animals had the 1964 UK & US No.1 single 'House Of The Rising Sun'.
6 Jun 2003
A High court judge in London ruled that rap lyrics should be treated as a foreign language after admitting that he was unsure of the meaning of 'shizzle my nizzle' and 'mish mish man.' The court battle was over a copyright issue between the Ant'ill Mob and the Heartless Crew who had used the lyrics on a remix.
6 Jun 1999
Australian filmmaker Baz Luhrmann went to No.1 on the UK singles chart with 'Everybody's Free (To Wear Sunscreen)'. Actor Lee Perry read the narrative. The backing is the choral version of 'Everybody's Free (To Feel Good)', a 1991 song by Rozalla, used in the film William Shakespeare's Romeo + Juliet.
6 Jun 1998
B*Witched scored their first UK No.1 single with 'C'est La Vie', making them the seventh act in chart history to debut at No.1. Also today, Boyzone scored their third UK No.1 album with 'Where We Belong', it was also the first time in chart history that both the No.1 positions were by Irish acts.
6 Jun 1987
Whitney Houston
had her second UK No.1 single with 'I Wanna Dance with Somebody (Who Loves Me)'. It reached No.1 in over a dozen other countries and won a Grammy Award for Best Female Pop Vocal Performance in 1988.
6 Jun 1987
Michael Jackson
announced that he was breaking all ties with the Jehovah's Witnesses. Jackson had been raised as a Jehovah's Witness and would don disguises and go door to door with the Watchtower message in cities where he was performing.
6 Jun 1986
A&R man Dick Rowe died of diabetes. Rowe became famous for not signing
The Beatles
to Decca records and made the classic quote 'Nobody cares about guitar group's anymore.' He did however sign The
Rolling Stones
to Decca.
6 Jun 1982
Tom Petty
,
Crosby Stills & Nash
,
Bob Dylan
,
Stevie Wonder
,
Stevie Nicks
and Jackson Browne all appeared at The Rose Bowl, Pasadena, California to a crowd of 85,000 fans at the six hour Peace Sunday, We Have A Dream antinuclear concert. Dylan was joined onstage with Joan Baez and duetted with her on Blowin' In The Wind and With God On Our Side. The show was partly broadcast on ABC TV's Entertainment Tonight program on the same day.
6 Jun 1979
Def Leppard
played at Crookes Workingman's Club in Sheffield. The gig was reviewed in UK music paper 'Sounds' and led to a recording contract with Phonogram Records.
6 Jun 1974
RCA Records released 'I Will Always Love You' by
Dolly Parton
, the second single from Parton's thirteenth solo studio album, Jolene. Recorded on June 13, 1973, the singer wrote the song for her one-time partner and mentor Porter Wagoner, from whom she was professionally splitting at the time.
6 Jun 1971
John & Yoko jammed live on stage with
Frank Zappa
at The Filmore East in New York. Some of these recordings were released in 1972, on
John Lennon
's third post-Beatles album, Some Time in New York City.
6 Jun 1970
Christie were at No.1 on the UK singles chart with 'Yellow River'. Written by band leader Jeff Christie, the song was offered to The Tremeloes, who recorded it with the intention of releasing it as a single. However, they considered it too pop-orientated for their future direction. Producer Mike Smith therefore took their vocals off the recording and added those of Jeff Christie.
6 Jun 1970
Syd Barrett
played his first gig since leaving
Pink Floyd
at the Extravaganza 70, at London's Olympia Hall, England, backed by a band that included his old friend Floyd guitarist David Gilmour. Barrett baffled the audience (and his musicians) when he abruptly took off his guitar during the fourth number and walked off stage.
6 Jun 1969
Elton John
released his debut album Empty Sky in the UK, (released January 1975 in the US). 'Skyline Pigeon' is the best known song on the album, and is the only one which John, albeit infrequently, performs as part of his live shows.
6 Jun 1968
Screaming Lord Sutch appeared at the Freehold Hullabaloo in Freehold, New Jersey, (Sutch was touring the East Coast in a old custom-painted Rolls Royce 'hearse'). Support band was The Castiles (with
Bruce Springsteen
on vocals).
6 Jun 1966
Roy Orbison
's first wife, Claudette, was killed when a truck pulled out of a side road and collided with the motorbike that she and her husband were riding on in Gallatin, Texas, she was 25.
6 Jun 1965
The
Rolling Stones
released the single
'(I Can't Get No) Satisfaction'
in the US, which went on to give the band their first No.1. In the UK, (where it was released in August 1966), the song initially played only on pirate radio stations because its lyrics were considered too sexually suggestive.
6 Jun 1962
The first Beatles recording session took place at Abbey Road studios. The group recorded four tracks, one of which was '
Love Me Do
' the four musicians received payments for the session of £7.10 ($12.07) each.
Born on this day in music
6 Jun 1989
Ross MacDonald, bass, keyboards, with English indie rock band The 1975. They won Best British Group and British Album of the Year for their 2018 third album A Brief Inquiry into Online Relationships at the 2019 Brit Awards.
6 Jun 1987
Kyle Falconer, lead vocalist, guitarist from The View who had the 2007 UK No.1 album Hats Off to the Buskers.
6 Jun 1978
Carl Barat, singer, from English rock band The Libertines, who had the 2004 UK No.1 album The Libertines. And with Dirty Pretty Things had the 2006 UK No.3 album Waterloo to Anywhere.
6 Jun 1978
Canadian drummer, Jeremy Gara from the Grammy Award-winning indie rock band Arcade Fire who had the 2005 album Funeral, and 2017 US No.1 album Everything Now.
6 Jun 1970
James Shaffer, guitarist from American nu metal band Korn who scored the 1998 US No.1 album, Follow The Leader. Twelve of the band's official releases have peaked in the top ten of the Billboard Chart.
6 Jun 1965
David White, from Brother Beyond who scored the 1988 UK No.2 single 'The Harder I Try'.
6 Jun 1961
British soul, R&B and pop singer D.C. Lee, woh worked with Wham!, Animal Nightlife, the Style Council and had the 1985 UK No.3 single 'See The Day'. Lee was married to Paul Weller from 1987 until their divorce in 1998.
6 Jun 1961
Tom Araya, vocals, bassist with American thrash metal band Slayer who released the 1986 album 'Reign in Blood'.
6 Jun 1960
Pelle Alsing drummer for Swedish rock and pop band Roxette. Pelle appeared on their first five albums: Pearls of Passion (1986), Look Sharp! (1988), Joyride (1991), Tourism (1994), and Crash! Boom! Bang! (1994). He died on 20 Dec 2020 aged 60.
6 Jun 1960
Steve Vai, American guitarist, composer, singer, songwriter, and producer,
Frank Zappa
, David Lee Roth, Whitesnake, Mary J. Blige, Spinal Tap, and
Ozzy Osbourne
.
6 Jun 1959
Robert Hodgens, guitar, vocals, from Scottish indie rock band The Bluebells who had the 1993 UK No.1 single with the re-issued 'Young At Heart' after it was used in a Volkswagen television advertisement.
6 Jun 1955
Michael Wallace, keyboards, from Jamaican reggae band Third World, who had the 1978 UK No. 10 single 'Now That We've Found Love'. Wallace was shot dead on 6th July 1999.
6 Jun 1951
American record producer and rapper Duke Bootee. His best known single, 'The Message', was released in 1982 on Sugar Hill Records. The hit song featured rappers Duke Bootee and Melle Mel. The record label marketed the song under the name Grandmaster Flash and the Furious Five. He died January 13, 2021.
6 Jun 1946
American musician and bassist Tony Levin. A prolific session musician since the 1970s, Levin has played on over 500 albums, including those by Cher, Asia, Alice Cooper,
John Lennon
, Sarah McLachlan, Stevie Nicks,
Pink Floyd
,
Paul Simon
,
Dire Straits
, Lou Reed,
David Bowie
, Tom Waits, Buddy Rich, Todd Rundgren, Seal, Warren Zevon, Bryan Ferry, Laurie Anderson and Yes.
6 Jun 1944
Edgar Froese, German artist and electronic music pioneer, best known for founding the electronic music group Tangerine Dream who had the 1974 album 'Phaedra'. Froese died died suddenly in Vienna on 20 January 2015 from a pulmonary embolismon.
6 Jun 1944
Peter Albin, American bassist with Big Brother and the Holding Company who with
Janis Joplin
had the 1971 US No.1 single 'Me And Bobby McGee', and the 1971 US No.1 album Pearl.
6 Jun 1942
Howie Kane, from Jay and the Americans, who had the 1962 hit with 'She Cried' and the 1969 US No.6 single 'This Magic Moment'.
6 Jun 1939
American pianist, songwriter and record producer Richard "Popcorn" Wylie who was influential in the early years of
Motown
Records and was later known for his work on many records in the Northern soul genre. He was a member of Popcorn and the Mohawks and played piano on The Miracles' 1961 hit 'Shop Around' and The Marvelettes' 'Please Mr. Postman'. He died on September 7, 2008 aged 69.
6 Jun 1939
Gary U.S. Bonds, American rhythm and blues and rock and roll singer, who scored the 1961 US No.1 single 'Quarter To Three', and the 1981 hit single 'This Little Girl'.
6 Jun 1936
Levi Stubbs, American baritone singer, best known as the lead vocalist of The
Four Tops
, (1965 US No.1 single 'I Can't Help Myself', 1967 UK No.6 single 'Standing In The Shadows of Love'). He was also a voice artist in film and animated television series, most famously for the voice of the alien plant in the 1986 comedic horror film Little Shop of Horrors. Stubbs died on 17th Oct 2008.