March 3rd: The Biggest Music Headlines
Scroll down the page to see all the music headlines, stories, and events for March 3 throughout music history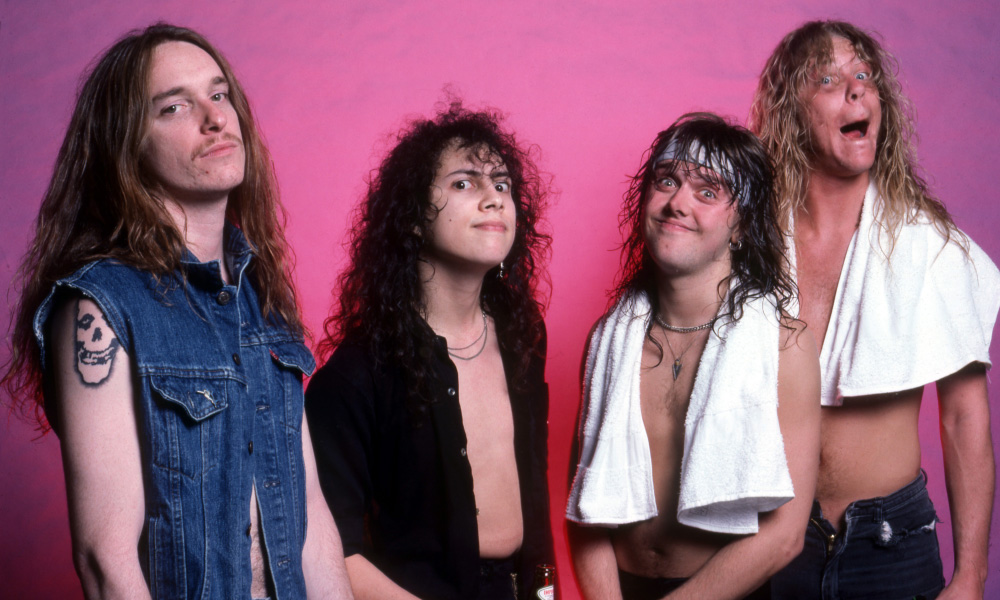 Metallica Releases 'Master of Puppets'
On this day in music, March 3, 1986, Metallica released their masterpiece Master of Puppets. Widely considered to be the best metal album of all time, Master of Puppets marked the band's third studio album and final record to feature bassist Cliff Burton, who died in an accident during the album's promotional tour. Upon its release, the album was met with critical and commercial success, peaking at No. 29 on the Billboard 200 – thanks in part to the Top 40 title track. The album was eventually certified 6x Platinum by the RIAA and became the first metal LP to be preserved in the National Recording Registry in 2015.
In 1966, Stephen Stills and Richie Furay formed the pioneering band Buffalo Springfield, which blended folk and country flavors with psychedelic rock. Taking their name from a steamroller parked outside their Los Angeles home, they added Canadian musicians Neil Young, Bruce Palmer, and Dewey Martin to the lineup. The influential band is best remembered for their third single, "For What It's Worth," a counterculture anthem that was a Top 10 US hit.
In 1965, guitarist Eric Clapton played his last show with The Yardbirds. Leaving to join John Mayall's Bluesbreakers, he recommended the band hire future Led Zeppelin guitarist Jimmy Page, who declined and suggested Jeff Beck, who played his first gig with the band two days after Clapton's departure.
In 1972, Elton John released "Rocket Man," co-written with lyricist Bernie Taupin, which became one of his best-loved songs. A taster of his album Honky Château, it rose to No.2 on the UK Singles Chart and No.6 on the US Billboard Hot 100.
In 2005, 50 Cent followed up his sextuple platinum debut, Get Rich Or Die Tryin', with The Massacre, which moved over 1.4 million copies within four days of its release and achieved quadruple platinum sales figures in two months. The album spawned five Top 5 US singles, the most successful of which was the chart-topping "Candy Shop."
In 1973, British glam rockers Slade saw their tenth single "Cum On Feel The Noize" go straight to the top of the UK charts on its release, a feat that had not happened since The Beatles with "Get Back" in 1969.
In 2009, U2 marked the release of their twelfth album No Line On The Horizon by appearing for five consecutive nights on The Late Show With David Letterman. They were also honored by New York City Mayor Michael Bloomberg, who temporarily renamed part of 53rd Street in Midtown Manhattan "U2 Way."
Looking for more things that happened on this day in music?
Keep scrolling for all of the headlines for March 3.
BORN ON MARCH 3:
1923: Doc Watson
1927: Junior Parker
1947: Jennifer Warnes
1948: Terence 'Snowy' White
1953: Robyn Hitchcock
1966: Tone-Loc
1977: Ronan Keating
1997: Camila Cabello
Looking for more artists born on this day?
Keep scrolling for all of our March 3 birthdays.
---
What to find another day?
---
March 3rd
3 Mar 2023
American musician David Lindley died age 78. He founded the rock band El Rayo-X and worked with many other performers including Jackson Browne, Linda Ronstadt, Ry Cooder, Bonnie Raitt, Warren Zevon, Curtis Mayfield and
Dolly Parton
. He mastered such a wide variety of instruments that Acoustic Guitar magazine referred to him as a "maxi-instrumentalist." On stage, Lindley was known for wearing garishly colored polyester shirts with clashing pants, gaining the nickname the Prince of Polyester.
3 Mar 2017
American guitarist Jim Fuller from The Surfaris died aged 69. The Surfaris had the 1963 US No.2 & UK No.3 single 'Wipe Out' and Fuller was known as the "Godfather" of surf music, a Californian instrumental music. With his Fender guitar he contributed to the popularity of Leo Fender's instruments.
3 Mar 2017
American jazz ukulele musician Lyle Ritz died at the age of 87. As a session musician on the bass guitar he joined the Wrecking Crew a popular group of studio musicians in the Los Angeles recording industry. Ritz compiled over 5,000 recording credits including such notable tracks as Herb Alpert's 'A Taste of Honey', The
Righteous Brothers
' 'You've Lost That Lovin' Feelin'', and
The Beach Boys
'Good Vibrations.'
3 Mar 2015
Keith Richards
objected to a planned £1.5million cafe being built on a beachfront near his country mansion. The guitarist lodged an objection against the new development which is near his Redlands estate where he was famously arrested with band mate
Mick Jagger
in 1967 in a drugs raid. Richards is opposed to the planned restaurant which was earmarked for West Wittering beach in West Sussex.
3 Mar 2013
American musician and tenor singer Bobby Rogers died aged 73. He was a member of The Miracles who with
Smokey Robinson
had the 1970 UK & US No.1 single 'Tears of a Clown'. Rogers was a part-time
Motown
songwriter; his most notable composition with bandmate Smokey Robinson, was The
Temptations
' first hit single, 'The Way You Do the Things You Do. Rogers also co-wrote The Temptations 1965 hit 'My Baby.'
3 Mar 2012
American rock guitarist Ronnie Montrose died from a self-inflicted gunshot wound aged 64. The guitarist who led the bands Montrose and Gamma had been ill suffering from prostate cancer. Montrose had also worked with Edgar Winter, Van Morrison, Dan Hartman, Sammy Hagar and many other artists.
3 Mar 2010
A woman claiming to be the wife of Sean 'P Diddy' Combs was freed on $5,000 (£3,326) bail after being arrested near the rappers home on Long Island, New York. Cemelia Green claimed to be married to the rapper and producer who was said to be worth around $350m (£233m). There was no official comment from Combs, who was unmarried.
3 Mar 2009
To celebrate the release of
U2
's twelfth studio album and their appearance every night for a week on The Late Show with David Letterman, New York City Mayor Michael Bloomberg temporarily renamed part of 53rd street in Midtown Manhattan U2 Way.
3 Mar 2008
Beatles engineer Norman Smith died at the age of 85. Smith who worked on every studio recording the band made between 1962 and 1965 was nicknamed
3 Mar 2005
50 Cent released The Massacre, the follow-up to his 6x platinum debut 'Get Rich or Die Tryin'. The album sold over 1 million copies in its first week, going 4x platinum in two months. The success of the album gave 50 Cent five top-five singles in 2005.
3 Mar 2004
Elton John
announced he was planning to marry his long-term partner David Furnish if new UK laws allowed it. A Civil Partnership bill was being passed through Parliament which would give gay couple's greater rights.
3 Mar 2003
Ray Jackson who found fame with Lindisfarne took out legal action against
Rod Stewart
over his 1970s hit song 'Maggie May.' Jackson claimed he came up with the worldwide hit's classic mandolin melody and claimed he may have lost at least £1m because he was not credited for the track's distinctive "hook." Jackson was paid just £15 for the recording session by Stewart in 1971.
3 Mar 2002
TV show 'Pop Idol' winner Will Young scored his first UK No.1 single with 'Anything Is Possible / Evergreen.' Young set a new sales record for a debut artist with over 1 million in the first week. It became the biggest selling single of 2002.
3 Mar 2001
Stereophonics were forced to change the title of their new album after car manufacturer Daimler Chrysler objected to their use of the copyrighted word 'Jeep'. The UK title became 'Just Enough Education To Perform.'
3 Mar 2000
Former Bay City Roller, Derek Longmuir was released on bail on charges of downloading child pornographic images from the internet and keeping indecent videos in his home.
3 Mar 2000
Tom Jones won the Best male artist at this year's Brit Awards. Other winners included Travis for Best band and Best album 'The Man Who.' Best single went to Robbie Williams for 'She's The One', Five won Best pop act, TLC won Best International group, Beck won Best International Male, Macy Gray won Best newcomer and Outstanding Contribution went to The
Spice Girls
.
3 Mar 1999
Oasis
agreed to pay their former drummer Tony McCarroll a one-off sum of £550,000 ($935,000) after he sued the Manchester band for millions in unpaid royalties. McCarroll had been sacked from the band in 1995.
3 Mar 1994
The Smashing Pumpkins were banned from appearing on BBC TV's
Top Of The Pops
due to the content of the song's lyrics. The bands single 'Disarm' was this week's highest new entry.
3 Mar 1990
During a world tour
Paul McCartney
played the first of 6 sold-out nights at the Tokyo Dome, Tokyo, Japan. The final night was broadcast live to venues in 10 other Japanese cities; Fukuoka, Hiroshima, Kumamoto, Matsuyama, Nagoya, Niigata, Osaka, Sapporp, Sendai and Takamatsu.
3 Mar 1990
Lindy Layton and Beats International were at No.1 in the UK with the single 'Dub Be Good To Me.' Formed by ex-Housemartins Norman Cook, the song was based on the SOS Band's 1984 hit 'Just Be Good To Me' and
The Clash
song 'Guns of Brixton'.
3 Mar 1986
Metallica
released their third album, the highly influential album, Master of Puppets, considered by many in the metal community to be the best metal album of all time. This was the last
Metallica
album with bassist
Cliff Burton
who was killed when the group's tour bus over-turned in southern Sweden while touring to promote the album.
3 Mar 1984
Nena started a three week run at No.1 on the UK singles chart with '99 Red Balloons.' Originally sung in German, '99 Luftballons' was re-recorded in English as '99 Red Balloons'. The song was a No.2 hit in the US and the only UK hit for Nena making her a One Hit Wonder.
3 Mar 1979
The
Bee Gees
scored their fourth UK No.1 single with 'Tragedy.' Also today The Bee Gees went to No.1 on the US album chat with 'Spirits Having Flown', the brother's second US No.1 album.
3 Mar 1977
The first night of an UK tour with Johnny Thunders and the Heartbreakers, Cherry Vanilla and
The Police
kicked off at the Roxy Club, London. John Otway and Wild Willie Barratt played at The Speakeasy, London and Iggy Pop supported by The Vibrators appeared at Huddersfield Poly.
3 Mar 1973
Slade's 'Com On Feel The Noize', entered the UK at No.1, making Slade the first act to achieve this since
The Beatles
.
3 Mar 1973
Winners at this year's Grammy Awards included, Roberta Flack who won Song of the year and Record of the year with 'The First Time Ever I Saw Your Face' and Harry Nilsson won Best pop vocal performance for 'Without You.'
3 Mar 1972
Elton John
released 'Rocket Man' as a single, (officially titled 'Rocket Man (I Think It's Going to Be a Long, Long Time)'. The song was inspired by the short story "The Rocket Man" in The Illustrated Man by Ray Bradbury, and echoes the theme of David Bowie's 1969 song
'Space Oddity'
.
Kate Bush
released a cover of 'Rocket Man' in 1991 as part of the Elton John, Bernie Taupin tribute album Two Rooms.
3 Mar 1969
Led Zeppelin
recorded their first BBC
Radio 1
'Top Gear' session during the afternoon at the Playhouse Theatre in London, England. Songs recorded were 'Dazed And Confused', 'Communication Breakdown', 'You Shook Me' and 'I Can't Quit You Baby'.
Free
, The Moody Blues and
Deep Purple
were also in session on the show.
3 Mar 1966
Neil Young
, Stephen Stills and Richie Furay formed Buffalo Springfield in Los Angeles. Among the first wave of American bands to become popular in the wake of the British invasion, the group combined rock, folk, and country music into a sound all its own. Its million-selling song 'For What It's Worth' became a political anthem for the turbulent late 1960s.
3 Mar 1965
Eric Clapton
played his last show with The Yardbirds, leaving to join John Mayall's Bluesbreakers. He was replaced by
Jeff Beck
.
Born on this day in music
3 Mar 1997
Cuban-American singer, songwriter Camila Cabello who was a member of the girl group Fifth Harmony, formed on The X Factor (US) in 2012. Her debut studio album Camila (2018) debuted at No.1 on the Billboard chart, with its lead single 'Havana' featuring Young Thug topping the charts in several countries, including the UK and the US.
3 Mar 1977
Irish recording artist, singer-songwriter, musician, Ronan Keating, who with Boyzone scored the 1996 UK No.1 single 'Words' and 4 UK No.1 albums. As a solo artist Keating had the 1999 UK No.1 single 'When You Say Nothing At All', (which was featured in the film Notting Hill) and his 2000 UK No.1 album 'Ronan' spent over a year on the chart.
3 Mar 1966
American actor, rapper, voice actor, and producer Tone- Loc, (Antony Smith), who had the 1989 UK No. 13 single,'Funky Cold Medina' for which he was nominated for a Grammy Award.
3 Mar 1954
Chris Hughes, from English rock band Adam and the Ants who scored the 1981 UK No.1 single 'Stand And Deliver' and 15 other UK Top 40 singles.
3 Mar 1954
John Lilley, American guitarist, singer, songwriter, best known for being a member of rock band The Hooters that had the 1985 No.3 US hit 'And We Danced'.
3 Mar 1953
American musician, Dave Amato best known as the lead guitarist of the rock band REO Speedwagon.
3 Mar 1953
English singer-songwriter and guitarist Robyn Hitchcock who was a member of the Soft Boys in the late 1970s and has since launched a prolific solo career.
3 Mar 1949
Derek (Blue) Weaver, keyboards, from Welsh rock group Amen Corner who had the 1969 UK No.1 single 'If Paradise Is Half As Nice' plus five other UK Top 40 hits. As a member of the Strawbs, had the 1973 UK No.2 single with 'Part Of The Union'. Also worked with The
Bee Gees
, 1975 US No.1 'Jive Talking'.
3 Mar 1949
American music producer, multi-instrumentalist Richie Cannata most notable for playing saxophone in
Billy Joel
's band. Also worked with
The Beach Boys
,
Celine Dion
and Jennifer Lopez.
3 Mar 1948
Terence 'Snowy' White, guitarist, who worked with
Thin Lizzy
,
Pink Floyd
and Roger Waters. As a solo artist, he had a 1983 UK Top 10 hit single 'Bird Of Paradise'.
3 Mar 1947
Dave Mount from English glam rock band Mud who had the 1974 UK No.1 single 'Tiger Feet' which was the UK's best-selling single of 1974 plus 14 other UK Top 40 singles. Mount died on 2nd December 2006.
3 Mar 1947
Jennifer Warnes, singer, (1982 US No.1 & UK No.7 single 'Up Where We Belong' with Joe Cocker).
3 Mar 1944
Jance Garfat, bassist, with American rock band Dr Hook who had the 1970s hits 'The Cover of Rolling Stone', 'A Little Bit More', 'When You're in Love with a Beautiful Woman' and 'Sylvia's Mother'.
3 Mar 1941
Mike Pender, The Searchers, (1964 UK No.1 & US No.13 single 'Needles And Pins'). They were the second group from Liverpool, after
The Beatles
to have a hit in the United States when 'Needles and Pins' charted during the first week of March 1964.
3 Mar 1927
Junior Parker, US blues singer/songwriter who wrote 'Mystery Train', which was covered by
Elvis Presley
. He also worked with B.B. King and Howlin' Wolf. Parker died on November 18th 1971.
3 Mar 1923
American bluegrass, folk, country, blues guitarist, songwriter Doc Watson. Blind from a young age he won seven Grammy awards as well as a Grammy Lifetime Achievement Award. Watson's fingerstyle and flatpicking skills, as well as his knowledge of traditional American music, were highly regarded. He died on 29 May 2012 age 89.