November 12th: The Biggest Music Headlines
Scroll down the page to see all the music headlines, stories and events for November 12 throughout music history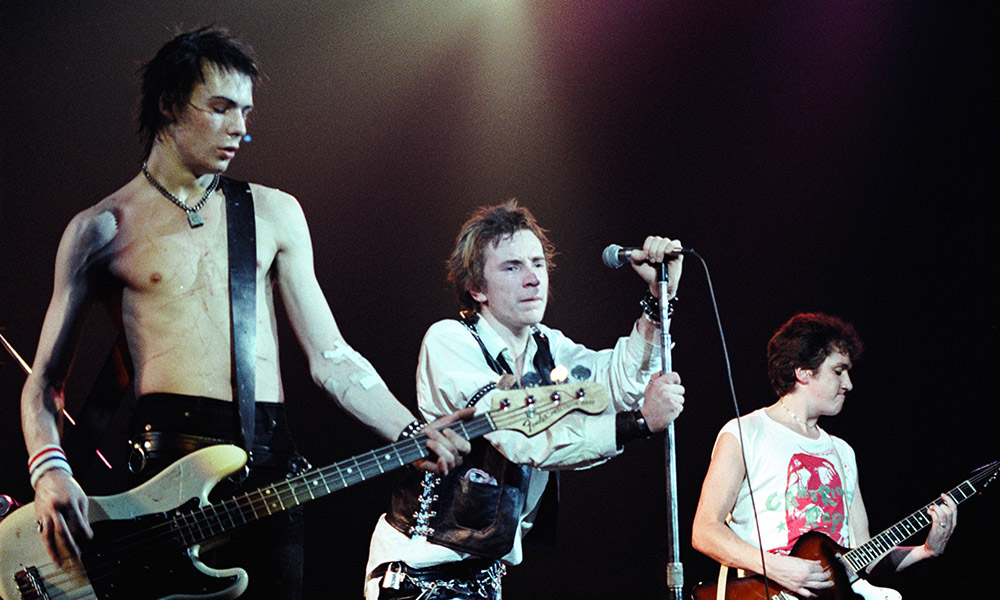 The Sex Pistols Top The UK Charts With 'Never Mind The Bollocks'
On November 12, 1977, The Sex Pistols topped the UK chart with their sole album, Never Mind the Bollocks, Here's the Sex Pistols. While now considered to be the most influential punk record ever released (and one of the most important albums in recorded music), Never Mind the Bollocks was highly controversial at the time of its release – particularly in Britain. Leading up to its release, the band had been banned from playing in multiple venues across the UK and dropped from their label. Many stores refused to sell their records, considering their work to be obscene and offensive. Despite the public outrage (or perhaps because of it), the groundbreaking title was a massive success – and had a long-lasting effect on the course of modern music.
In 1997, The Spice Girls' sophomore album, Spice World, debuted at No.1 in the UK. Released at the height of "Spicemania," the LP featured such hits as "Spice Up Your Life," "Stop," "Viva Forever," and "Too Much," and served as the soundtrack to the film of the same name, which arrived in theaters that December. Across the globe, the LP topped the charts in multiple territories.
In 2016, Robbie Williams overtook a record previously held by David Bowie for the most No.1 albums by a British solo artist. His release, The Heavy Entertainment Show, became his 12th album to top the UK chart.
In 2000, Destiny's Child began an 11-week run at the top of the Billboard Hot 100 with "Independent Woman Part I." The hit, which marked the first single to feature vocals by Michelle Williams, was recorded for the soundtrack to Charlie's Angels – a film adaptation of the popular 70s TV series.
In 1965, The Velvet Underground played their very first show at New Jersey's Summit High School.
In 2001, Ringo Starr, Paul McCartney, and George Harrison met at a hotel in New York City. Taking place just two weeks before Harrison passed away from cancer, the occasion would mark the final time that all three surviving Beatles spent time together.
Looking for more things that happened on this day in music?
Keep scrolling for all of the headlines for November 12.
BORN ON NOVEMBER 12:
1944: Booker T. Jones
1945: Neil Young
1948: Errol Brown (Hot Chocolate)
1949: Arthur Tavares (Tavares)
1955: Les McKeown (Bay City Rollers)
1964: David Ellefson (Megadeth)
1984: Omarion
Looking for more artists born on this day?
Keep scrolling for all of our November 12 birthdays.
---
What to find another day?
---
November 12th
12 Nov 2020
Jim Tucker the original rhythm guitarist with American rock band The Turtles died age 74. He played with The Turtles from 1965 to 1968 and was featured on many of the band's biggest hits, including the chart-topping 1967 classic 'Happy Together,' plus 'She'd Rather Be with Me' and the group's 1965 cover of
Bob Dylan
's 'It Ain't Me Babe.'
12 Nov 2016
Robbie Williams broke the record for the most No.1 albums by a British solo artist. The singer's latest album, The Heavy Entertainment Show, debuted at No.1 on this week's chart. It is his 12th album to reach the summit and pushed him ahead of
David Bowie
who has 11 No.1 albums to his name.
12 Nov 2014
After a high profile move by
Taylor Swift
to pull her entire back catalogue from the song-streaming service Spotify, their chief executive Daniel Ek's defended its business model, saying it has paid out $2bn (£1.2bn) to the music industry to date.
12 Nov 2012
A guitar signed by some of the biggest names in Manchester's music scene sold for £6,600 in a charity auction. The Madchester Guitar, which was sold through online auction site eBay, was covered in signatures from the likes of the Stone Roses,
Oasis
, Elbow and
Buzzcocks
.
12 Nov 2008
American singer Beyoncé released her third studio album I Am... Sasha Fierce debuting at No.1 on the US Billboard chart. Her third consecutive US No.1 solo album was marketed with the release of several singles, including 'If I Were a Boy' and 'Single Ladies (Put a Ring on It)', both of which charted highly internationally. The former topped the charts in over ten countries. The album was titled I Am... Sasha Fierce to showcase the difference between Beyoncé and her alter ego Sasha Fierce; the first disc is titled I Am... while the second is titled Sasha Fierce.
12 Nov 2008
Mitch Mitchell, the British drummer with the
Jimi Hendrix Experience
was found dead in his US hotel room aged 61. As a teenager, he starred in a children's television programme, Jennings and Derbyshire, and starred in a leading role in the 1960 British film Bottoms Up with Jimmy Edwards. Mitchell had been working with Georgie Fame & the Blue Flames when in 1966 he was invited to audition for a new band being formed to back
Jimi Hendrix
. In December 1968, Mitchell played with the Dirty Mac, an all-star band assembled for The
Rolling Stones
Rock and Roll Circus (with
John Lennon
,
Eric Clapton
and
Keith Richards
).
12 Nov 2007
Former Culture Club frontman, Boy George was charged with the false imprisonment of a 28-year-old man. Police said the offence was alleged to have taken place at the 47-year-old's home in Hackney, in London on 28 April of this year. The singer, DJ was bailed and was due to appear before Thames Magistrates' Court on 22 November.
12 Nov 2004
The funeral of DJ
John Peel
took place at St Edmundsbury Cathedral, Bury St Edmunds, Suffolk. Pulp's Jarvis Cocker, Undertones singer Feargal Sharkey and The White Stripes were among mourners, while Sir
Elton John
left a wreath of yellow roses.
12 Nov 2003
American session drummer Tony Thompson died of cancer aged 48. He was most famous as the drummer with The Power Station along with Robert Palmer, and John Taylor and Andy Taylor of
Duran Duran
and Chic, whose single 'Le Freak' hit No.1 in the US, and No.7 in the UK. He also played on
David Bowie
's hit single 'Let's Dance'. Thompson also played drums with
Led Zeppelin
(along with
Phil Collins
) at
Live Aid
in 1985.
12 Nov 2002
Die-hard Beatles fans were enraged after
Paul McCartney
altered the song writing credits on his 'Back In The US 2002' album, changing them to McCartney and Lennon from Lennon and McCartney.
12 Nov 2002
The city of Atlanta declared this day as TLC day to remember Lisa 'Left Eye' Lopes who was killed in a car crash on 26th April 2002 aged 30.
12 Nov 2001
The three living former Beatles met for the last time at
George Harrison
's hotel in New York City for lunch. Harrison died two weeks later at a friend's home in Los Angeles on 29 November 2001, aged 58.
12 Nov 2000
Destiny's Child started an eleven week run at No.1 on the US singles chart with 'Independent Women Part 1.' Taken from the group's third studio album, Survivor, the song first appeared on the soundtrack to the 2000 film Charlie's Angels.
12 Nov 2000
LeAnn Rimes sued Curb Records to void a contract signed by her parents on her behalf in 1995. In the suit the 18 year-old singer asked Curb to relinquish its rights and publishing interests in Rimes' past work, as well as future profits.
12 Nov 1998
Winners at the
MTV
Europe Awards included
Madonna
best female artist and album for 'Ray Of Light', The
Spice Girls
won best group, All Saints won breakthrough artist, Robbie Williams, best male artist and Natalie Imbruglia won best song with 'Torn.'
12 Nov 1997
The
Spice Girls
were at No.1 on the UK album chart with their second album 'Spiceworld', it was also the name of their tie-in film. The album became a huge hit worldwide, lengthening the so-called "Spicemania" fever at that time. It produced 4 singles all of which saw commercial success and has now sold over 20 million worldwide.
12 Nov 1990
Rolling Stone
Ronnie Wood
broke both his legs after his car crashed on the M4 motorway near Marlborough, Wiltshire, England. Wood was trying to wave other cars past his when he was run over.
12 Nov 1988
U2
started a six-week run at No.1 on the US album chart with their sixth studio album 'Rattle And Hum' which went on to sell over 14 million copies.
12 Nov 1983
Bob Dylan
's Infidels album reached its highest position when it peaked at No.9 in the UK chart. Dylan's 22nd studio album was co-produced with
Dire Straits
guitarist Mark Knopfler. Dylan had also approached Elvis Costello,
David Bowie
and
Frank Zappa
as possible producers.
12 Nov 1977
The
Sex Pistols
went to No.1 on the UK album chart with their debut LP
Never Mind The Bollocks
, Here's The Sex Pistols. the punk group's only No.1 album. The album was met by a hail of controversy upon its release. The first problems involved the allegedly 'obscene' name of the album, resulting in the prosecution of the manager of the Nottingham Virgin record shop for having displayed it in a window. More outrage was sparked by the lyrics of the songs 'God Save the Queen' and 'Anarchy in the UK.'
12 Nov 1971
Led Zeppelin
appeared at The Locarno, Sunderland, England, with tickets at 75p. The set included: 'Immigrant Song', 'Heartbreaker', 'Black Dog', 'Since I've Been Loving You', 'Rock And Roll', '
Stairway To Heaven
', 'That's The Way', 'Going To California', 'Tangerine', 'Dazed And Confused', 'What Is And What Should Never Be', 'Celebration Day', 'Whole Lotta Love' and 'Communication Breakdown'.
12 Nov 1968
UK book and record chain W.H. Smiths refused to display The
Jimi Hendrix Experience
album 'Electric Ladyland' due to the naked girls featured on the sleeve. The album was then made available as two albums with changed artwork after the complaints.
12 Nov 1966
The
Monkees
debut album started a 13-week run at No.1 on the US album chart, selling over 3 million copies in three months.
12 Nov 1966
Pink Floyd
appeared at the Corn Exchange, Bedford, England. The set list for these early Floyd shows included: 'Let's Roll Another One', 'Gimme A Break', 'Interstellar Overdrive', 'Astronomy Domine' and 'Stoned Alone'. 'Stoned Alone' was also known as 'I Get Stoned', and was possibly the first song
Syd Barrett
wrote for
Pink Floyd
.
12 Nov 1965
After changing his name from Toby Tyler to
Marc Bolan
, the future T. Rex star performed his first single 'The Wizard' on the UK TV show Ready Steady Go!
12 Nov 1965
Velvet Underground made their live debut when the played at Summit High School, New Jersey, the band were paid $75 for the gig.
12 Nov 1962
12 Nov 1956
Johnnie Ray was at No.1 on the UK singles chart with 'Just Walking In The Rain.' It stayed at No.1 for seven weeks making it this years Christmas No.1. Written in 1952 by Johnny Bragg and Robert Riley, two prisoners at Tennessee State Prison in Nashville, after a comment made by Bragg as the pair crossed the courtyard while it was raining.
Born on this day in music
12 Nov 1984
Omarion, US R&B singer, (Omari Ishmael Grandberry), former B2K singer, 2005 US No.1 album 'O' and 2006 US No.1 album '21.'
12 Nov 1968
Jo Dunne, bassist from English alternative rock group We've Got A Fuzzbox And We're Gonna Use It who had the 1989 UK No.11 single 'International Rescue'.
12 Nov 1964
David Ellefson, Megadeth, (1990 UK No.13 single 'No More Mr Nice Guy').
12 Nov 1964
Vic Chesnutt, American singer-songwriter. Chesnutt who died on Dec 25th 2009 released 17 albums during his career, including two produced by
Michael Stipe
.
12 Nov 1955
Les McKeown, Scottish singer of the 1970s pop group, Bay City Rollers who had the 1975 UK No.1 single 'Bye Bye Baby' plus 11 other UK Top 20 singles' and the 1976 US No.1 single 'Saturday Night'. The Rollers were also the subject of a 20-week UK television series, Shang-a-Lang. McKeown died on 20 April 2021 age 65.
12 Nov 1953
Calum Macdonald, Runrig, (1995 UK No.18 single 'An Ubhal As Airde, The Highest Apple').
12 Nov 1952
Laurence Juber, British guitarist, most famous for playing lead guitar with
Paul McCartney
in Wings.
12 Nov 1949
Arthur Tavares, from American R&B, funk, and soul group Tavares, who had the 1976 UK No.4 and US No.15 single 'Heaven Must Be Missing An Angel'.
12 Nov 1948
Errol Brown, singer, Hot Chocolate, who had the 1975 US No.3 single 'You Sexy Thing' the 1977 UK No.1 single 'So You Win Again' and over 25 other Top 40 hits. Hot Chocolate started their recording career making a reggae version of
John Lennon
's 'Give Peace a Chance', and was contacted by Apple Records, saying that Lennon liked this version, and the group was subsequently signed to Apple Records. Brown died of liver cancer at his home in the Bahamas on 6 May 2015.
12 Nov 1947
Donald Roeser, from American hard rock band Blue Oyster Cult who scored the 1976 US No.12 & 1978 UK No.16 single '(Don't Fear) The Reaper'. Blue Oyster Cult have sold over 24 million records worldwide.
12 Nov 1945
Neil Young
, Canadian singer, songwriter and guitarist who as a member of Buffalo Springfield had the 1967 US No.17 single 'For What It's Worth'. Joined
Crosby, Stills Nash & Young
who had the 1970 US No.1 and UK No.5 album DejVu. As a solo artist Young scored the 1972 US No.1 and UK No.10 single Heart Of Gold, and his 1972 UK No.7 album Harvest spent 66 weeks on the UK chart. In 2008 a newly discovered trapdoor spider Myrmekiaphila neilyoungi was named after the singer.
12 Nov 1944
Booker T. Jones. Booker T and the MG's, who had the 1962 US No. 3 single 'Green Onions', and the 1969 UK No.4 single 'Time Is Tight'. Booker T. played keyboards on the
Otis Redding
hit '(Sittin' On) The Dock of the Bay'.
12 Nov 1943
Brian Hyland, US singer, (1960 US No.1 & UK No.8 single 'Itsy Bitsy Weenie Yellow Polka Dot Bikini').
12 Nov 1943
John Walker, (John Joseph Maus), vocals, best known as the founder of The Walker Brothers, (1966 UK No.1 & US No. 13 single 'The Sun Ain't Gonna Shine Anymore'). Walker died of liver cancer at his Los Angeles home, on 7 May 2011.
12 Nov 1940
Screaming Lord Sutch, singer, politician and leader of The Official Monster Raving Loony Party. He was the first long-haired pop star - boasting hair over 18 inches long. His early records included Jack The Ripper and I'm A Hog For You Baby, he died on June 16th 1999. The self-styled lord - real name David Sutch - was Britain's longest-serving political leader, standing in nearly 40 elections.
12 Nov 1938
Terry "Buzzy" Johnson, American singer, songwriter and music producer who was a member of The Flamingos and a staff member of
Motown
Records where he and
Smokey Robinson
were regular collaborators.
12 Nov 1936
American singer, pianist and songwriter, Mort Shuman. He wrote many early 60s hits with Doc Pomus including 'Viva Las Vegas', 'Sweets For My Sweet', 'Teenager In Love', and 'Save The Last Dance For Me.' Shuman died of cancer on November 2, 1991.
12 Nov 1917
American pop singer Jo Stafford. Her biggest hit the 1952 'You Belong To Me', topped the charts in both the US and the UK and the song became the first by a female singer to top the UK Singles Chart. She appeared in television specials including two series called The Jo Stafford Show, in 1954 in the US and in 1961 in the U.K. She died aged 90 on 16 July 2008.