November 3rd: The Biggest Music Headlines
Scroll down the page to see all the music headlines, stories and events for November 3 throughout music history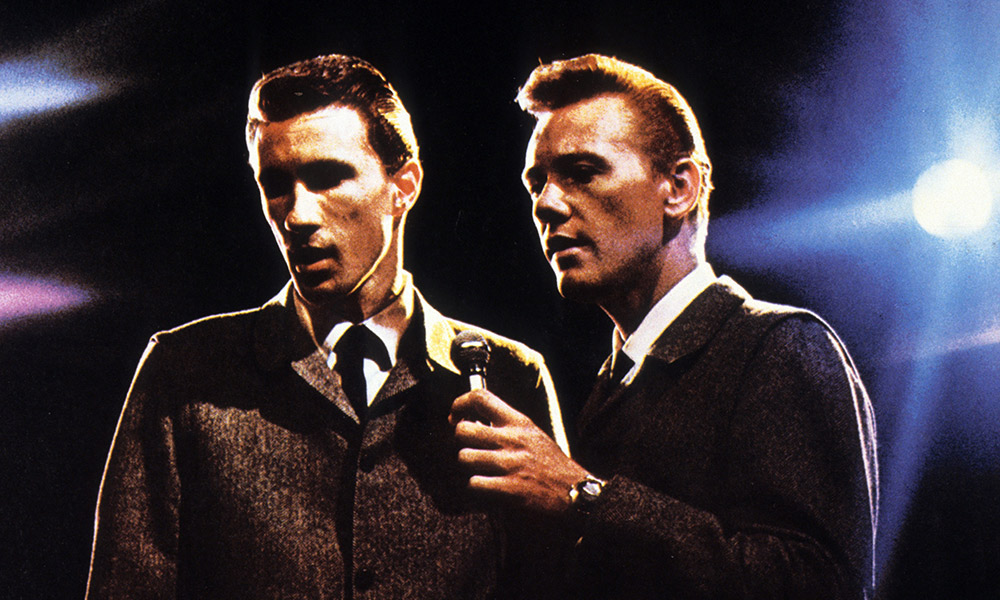 The Righteous Brothers Score A Hit (Once Again) With 'Unchained Melody'
On November 3, 1990, The Righteous Brothers scored a No.1 hit in the UK with "Unchained Melody," 25 years after its original release, thanks to its appearance in the blockbuster film, Ghost. Written in 1955 by Alex North and Hy Zaret for the film Unchained, the ballad was first performed by Todd Duncan. Later that year, multiple artists found success with the tune including Liberace, Jimmy Young, and Les Baxter. It would soon become one of the most recorded songs in history. The Righteous Brothers' version, released in 1965, however, would become the definitive recording. Produced by Phil Spector and featuring a solo performance by the duo's Bobby Hatfield, the track was a hit upon its release. In 1990, when it was featured prominently in the Demi Moore/Patrick Swayze film, it gained a new generation of fans around the globe.
In 1991, approximately 300,000 people attended the free "Laughter, Love and Music," concert at San Francisco's Golden Gate Park, which celebrated the life and work of Bill Graham. The 60-year-old concert promoter and impresario, who was instrumental in the rise of the '60s counterculture movement, was killed a week earlier in a helicopter crash. Many of the acts that Graham had supported performed at the memorial event, including the Grateful Dead, Santana, and a reunited Crosby, Stills, Nash & Young.
In 1957, Jerry Lee Lewis' "Great Balls of Fire" was released by Sun Records. Selling one million copies in just ten days, the recording would become one of the era's best-selling singles.
In 1990, Vanilla Ice's "Ice Ice Baby" became the first rap single to top the Billboard Hot 100.
In 2013, the first YouTube Music Awards were held in New York City. While the fan-voted event, which celebrated the year's best music videos, was short-lived, it marked the overwhelming impact of the platform on the music industry.
Looking for more things that happened on this day in music?
Keep scrolling for all of the headlines for November 3.
BORN ON NOVEMBER 3:
1930: Mable John
1933: John Barry (Composer)
1948: Lulu
1954: Adam Ant
1973: Mick Thomson (Slipknot)
1987: Courtney Barnett
Looking for more artists born on this day?
Keep scrolling for all of our November 3 birthdays.
---
What to find another day?
---
November 3rd
3 Nov 2019
Iron Maiden
frontman Bruce Dickinson, left his wife of 29 years to move in with a 'superfan' 15 years his junior. It was reported that the singer was now living with fitness instructor Leana Dolci at her Paris home.
3 Nov 2015
A former prison officer was jailed for 12 months after admitting selling stories about
George Michael
to the Sun newspaper for £2,150, ($3,249). Michael was jailed for eight weeks in September 2010 for crashing his Range Rover while under the influence of cannabis.
3 Nov 2013
The first ever YouTube awards were held in New York City. The event featured
Eminem
, Lady Gaga and M.I.A making live music videos directed by the awards' creator, Spike Jonze, and others. Eminem won Artist of the Year, while
Taylor Swift
's 'I Knew You Were Trouble' took the YouTube Phenomenon award.
3 Nov 2005
Winners at this years
MTV
Europe awards included
Coldplay
who won best UK act and best song for 'Speed Of Sound',
Green Day
won best rock act and best album, Alicia Keys was named best R&B act, System of a Down won best alternative act, The Black Eyed Peas won the best pop award and for the first time, the awards included a category for best African act, won by 2 Face.
Madonna
, in her first live TV performance since a riding accident, launched the show by emerging from a giant disco ball. Madonna also presented MTV's 'Free Your Mind' humanitarian award to Live 8 organiser
Bob Geldof
.
3 Nov 2003
P Diddy ran in the New York City Marathon and raised $2,000,000 for the educational system for the children of New York. He finished the marathon in four hours and eighteen minutes.
3 Nov 2002
Lonnie Donegan, died mid-way through a UK tour and shortly before he was due to perform at a memorial concert for
George Harrison
with The
Rolling Stones
. He was aged 71. Donegan who launched the skiffle craze in the UK had the 1959 hit 'Does Your Chewing Gum Lose Its Flavour', the 1960 UK No.1 single 'My Old Man's A Dustman', 'Rock Island Line', plus over 30 other UK Top 40 singles.
3 Nov 1997
Metallica
came to a out of court agreement with a fan who claimed he lost his sense of smell after being dropped on his head by fans at one of their shows four years earlier.
3 Nov 1995
Hootie and the Blowfish reached an out of court settlement with
Bob Dylan
for the group's unauthorized use of Dylan's lyrics in their song 'Only Want To Be With You'.
3 Nov 1993
Russian inventor Leon Theremin died. Most famous for his invention of the theremin, one of the first electronic musical instruments. He first performed the theremin with the New York Philharmonic in 1928.
3 Nov 1992
Bon Jovi
released their fifth studio album, Keep The Faith, which spent a total of 49 weeks on the US chart. The album produced three Top 40 hits: 'Keep The Faith', 'Bed of Roses' and 'In These Arms'.
3 Nov 1991
A free concert was held in Golden Gate Park in San Francisco to honor the memory of promoter Bill Graham, who was killed in a helicopter crash the week before.
Crosby, Stills Nash & Young
,
Grateful Dead
, Journey and Joan Baez were the featured acts.
3 Nov 1990
25 years after their version was recorded, The
Righteous Brothers
went to No.1 on the UK singles chart with 'Unchained Melody'. The track had been featured in the Patrick Swayze film 'Ghost.' Written by Alex North and Hy Zaret, 'Unchained Melody is one of the most recorded songs of the 20th century, with over 500 versions in hundreds of different languages.
3 Nov 1990
'Ice Ice Baby', by Vanilla Ice became the first rap record to top the US singles chart, (and later also a UK No.1 single). The track was initially released as the B-side to the rapper's cover of 'Play That Funky Music', and became the A-side after US DJ's started playing the track.
3 Nov 1984
Billy Ocean started a two week run at No.1 on the US singles chart with 'Caribbean Queen'. The song was originally called 'European Queen'.
3 Nov 1984
Paul McCartney
went to No.1 on the UK album chart with the film soundtrack to 'Give My Regards To Broad Street', featuring the UK No.2 single 'No More Lonely Nights.'
3 Nov 1979
One Hit Wonder M went to No.1 on the US singles chart with 'Pop Muzik'. M was Robin Scott who scored one other UK top 40 hit, 'Pop Muzik' made No.2 in the UK.
3 Nov 1977
During a concert at the Empire Pool, Wembley, London,
Elton John
announced his retirement from live performances.
3 Nov 1973
David Bowie
scored his second UK No.1 album when Pinups started a five-week run at the top of the charts. The set contained Bowie covering his favourite 60s songs; his version of The Mersey's 'Sorrow' made No.3 on the UK singles chart, (first recorded by The McCoys in 1965).
3 Nov 1973
Daryl Hall and John Oates released Abandoned Luncheonette. The most well-known track from the album 'She's Gone' did not become a hit when first released but gained momentum from two later covers, one by Lou Rawls, and one by Tavares. After the latter cover topped the Billboard R&B chart in 1974, the original was re-released and became a top 10 pop hit in 1976, reaching No. 7 in the US.
3 Nov 1972
James Taylor and Carly Simon were married by a judge in Simon's Manhattan apartment, beginning their eleven year marriage. That evening, Simon joined him on stage at New York's Radio City Music Hall and announced their union to a cheering audience.
3 Nov 1967
The filming for
The Beatles
Magical Mystery Tour was completed finishing with a sequence at Ringo's country house in Weybridge, Surrey, BBC television bought the rights to broadcast the film twice, the first broadcast, in black-and-white was scheduled for December 26, 1967. The second showing, on the color channel BBC2, was not yet available to all Britons, was set for January 5, 1968.
3 Nov 1964
During a
Rolling Stones
North American tour a 17 year-old Stones fan fell from the balcony during a gig in Cleveland, Ohio. The Mayor of Ohio banned all future pop concerts, saying; "Such groups do not add to the community's culture or entertainment."
3 Nov 1962
The Crystals started a two week run at No.1 on the US singles chart with 'He's A Rebel', it made No.19 on the UK chart.
3 Nov 1960
Elvis Presley
had his fifth UK No.1 single with 'It's Now Or Never', it stayed at No.1 for eight weeks. The song which was based on the Italian song, 'O Sole Mio', gave Presley his first post-army No.1.
3 Nov 1958
Elvis Presley
went on manoeuvres for the first time with the US Army's 32nd Tank Regiment near the German, Czech border.
3 Nov 1957
Sun Records released 'Great Balls Of Fire', by Jerry Lee Lewis. The single went on to sell over five million copies worldwide, and was a No.1 hit in the UK and No.2 in the US.
Born on this day in music
3 Nov 1987
Australian singer, songwriter Courtney Barnett. She released her debut album Sometimes I Sit and Think, and Sometimes I Just Sit in 2015. At the 2015 ARIA Music Awards, she won four awards from eight nominations.
3 Nov 1973
Mick Thomson lead guitarist in the metal band Slipknot, in which he is designated #7. Slipknot is well known for its attention-grabbing image, aggressive style of music, and energetic and chaotic live shows.
3 Nov 1969
Mark Roberts, guitarist with alternative rock band Catatonia who had the 1998 UK No.3 single 'Mulder And Scully'. The song makes direct reference to fictional FBI special agents Fox Mulder (David Duchovny) and Dana Scully (Gillian Anderson), the two main characters of the popular sci-fi TV series The X-Files.
3 Nov 1969
Swiss-born Italian record producer, composer, musician and DJ Robert Miles, (1996 UK No.2 single 'Children'). Miles died in Ibiza, Spain, on 9 May 2017 at the age of 47 after a 9-month battle with stage 4 metastatic cancer.
3 Nov 1962
Ian McNabb, guitar, vocals, Icicle Works, (1984 UK No.15 single 'Love Is A Wonderful Colour'), solo, worked with Crazy Horse.
3 Nov 1962
Marilyn, singer, (1983 UK No.4 single 'Calling Your Name').
3 Nov 1960
James Prime, with Deacon Blue who had the 1988 UK No.8 single 'Real Gone Kid', plus over 15 other UK Top 40 singles.
3 Nov 1954
English singer and musician Stuart Goddard, (Adam Ant), who had the 1981 UK No.1 single 'Stand And Deliver' with Adam and the Ants. He scored 10 UK top ten hits from 1980 to 1983, including three UK No.1 singles. He has also worked as an actor, appearing in over two dozen films and television episodes from 1985 to 2003.
3 Nov 1948
Marie Lawrie, (Lulu), UK singer, (1964 UK No.7 single 'Shout' plus over 10 other UK Top 40 singles including 1993 UK No.1 'Relight My Fire' with
Take That
and the 1967 US No.1 single 'To Sir With Love').
3 Nov 1946
Nick Simper, English bass guitarist with Johnny Kidd & The Pirates, The Flower Pot Men, and Lord Sutch's Savages. Simper was in the 1966 car crash that Killed Johnny Kid, became a founder member of
Deep Purple
. He quit the band in 1969.
3 Nov 1946
Tommy Dee, from John Fred and His Playboy Band who had the 1968 US No.1 & UK No.3 single 'Judy in Disguise (With Glasses)' which was a parodic play on the title of
The Beatles
' song 'Lucy in the Sky with Diamonds'.
3 Nov 1944
Keyboardist Bob Nave from American psychedelic rock band The Lemon Pipers known for their song 'Green Tambourine', which reached No. 1 in the United States in 1968. The song has been credited as being the first bubblegum pop chart-topper. Nave died on 28 January 2020, at the age of 75.
3 Nov 1943
Bert Jansch, UK folk singer, songwriter, guitarist with Pentangle, John Renbourn and solo. He died on 5 October 2011.
3 Nov 1933
English composer and conductor John Barry. He composed the scores for 11 of the James Bond films between 1963 and 1987. He wrote the Grammy- and Academy Award-winning scores to the films Dances with Wolves and Out of Africa, as well as the theme for the British television cult series The Persuaders! Barry died of a heart attack on 31st January 2011 aged 77.
3 Nov 1930
American blues vocalist Mable John, the first female signed by Berry Gordy to
Motown
's Tamla label. After leaving Motown, John spent several years as a Raelette, backing many Ray Charles hits.