October 1st: The Biggest Music Headlines
Scroll down the page to see all the music headlines, stories and events for October 1 throughout music history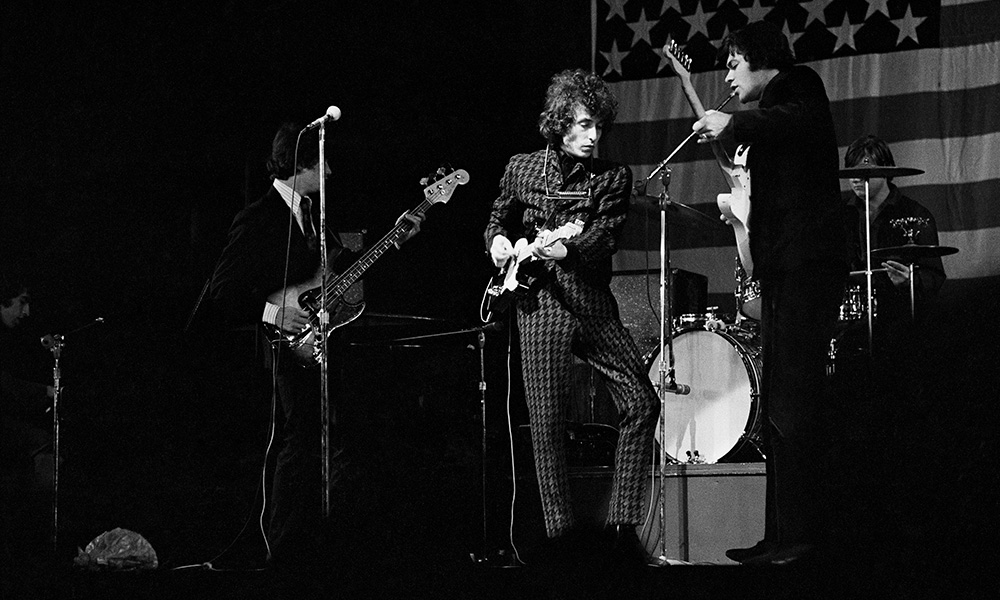 When Bob Dylan Introduced The Band
On October 1, 1965, Bob Dylan introduced guitarist Robbie Robertson, organist Garth Hudson, bassist Rick Danko, pianist Richard Manual, and drummer Levon Helm as his new touring band, during a show at New York City's Carnegie Hall. The group, previously known as The Hawks, was recommended to Dylan by John Hammond Jr. for the famed singer-songwriter's first tour "going electric." The Band, as they would become known, performed alongside Dylan until 1967, and became one of the most renowned backing bands of all time.
In 1970, Jimi Hendrix was laid to rest at Greenwood Cemetery in Renton, Washington, nearly two weeks after his death on September 18. Among the mourners at his funeral were Miles Davis, Eric Burdon, members of Derek and the Dominoes, and Johnny Winter.
In 1975, Booker T. And The M.G.'s drummer Al Jackson, Jr. was shot and killed by intruders in his Memphis home. At 39 years old, Jackson was one of the most revered drummers in soul music, who played on hits by Sam & Dave, Otis Redding, Carla Thomas, and Albert King with the M.G.'s. Jackson also wrote and played alongside Al Green, and performed as a session drummer for the likes of Elvis Presley, Rod Stewart, Eric Clapton, and Bill Withers.
In 2007, the Spice Girls' eagerly-awaited reunion concert at London's O2 Arena sold out within 38 seconds. More than one million fans attempted to get tickets for the group's first reunion. Due to high demand, three more London dates were added to the group's world tour.
In 2018, French-Armenian singer, actor, activist, and diplomat Charles Aznavour died at age 94. Dubbed France's Frank Sinatra, Aznavour was known for his hit single "She," which reached No.1 on the UK charts in 1974. During his long-running career, Aznavour sold over 180 million records and recorded more than 1,200 songs.
In 1982, John Cougar Mellencamp went to No.1 on both the US album and singles chart with American Fool and "Jack And Diane," respectively. American Fool, released under the moniker John Cougar, was the singer-songwriter's fifth studio album, while the song, which marked the second single off the LP (following "Hurts So Good"), became his biggest hit. According to Mellencamp, "Jack And Diane" was inspired by the Tennessee Williams film Sweet Bird Of Youth, and focused on an interracial relationship. However, due to pressure from record executives, the artist was forced to change the lyrics, instead making it about two teenagers.
In 1967, the first edition of BBC Radio 1's Top Gear aired in the UK. Presented by John Peel and Pete Drummond, the show featured The Move, Traffic, Pink Floyd, Tim Rose, and Tomorrow (featuring Keith West).
Looking for more things that happened on this day in music?
Keep scrolling for all of the headlines for October 1.
BORN ON OCTOBER 1:
1935: Julie Andrews
1942: Herb Fame (Peaches & Herb)
1945: Donny Hathaway
1947: Rob Davis (Mud)
1955: Howart Hewett (Shalamar)
1974: Keith Duffy (Boyzone)
1985: Dizzee Rascal
Looking for more artists born on this day?
Keep scrolling for all of our October 1 birthdays.
---
What to find another day?
---
October 1st
1 Oct 2019
Accounts released revealed that
Ed Sheeran
Ltd, made a gross profit of £23,770,262, equating to £65,124 a day during 2018. The accounts also showed that he paid £4,506,139 in tax. Separate figures for total earnings before tax, costs and fees found the singer generated £89.8m last year, putting him below Coldplay at £94.2m and U2 at £96.3m, according to Forbes.
1 Oct 2019
American blues guitarist Beverly Watkins died age 80. She worked with artists like
James Brown
, B.B. King, and Ray Charles.
1 Oct 2018
French singer, actor, public activist and diplomat Charles Aznavour was found dead in a bathtub at his home at Mouriès at the age of 94. He was famous for his 1974 UK No.1 single 'She' and was one of France's most popular and enduring singers (dubbed France's
Frank Sinatra
). He sold more than 180 million records, recorded more than 1,200 songs (interpreted in nine languages) and he wrote or co-wrote more than 1,000 songs for himself and others.
1 Oct 2015
An original tape of
The Beatles
performing at The
Cavern Club
in Liverpool in 1962 was found after 50 years languishing in a desk drawer. It featured the Fab Four playing 'Some Other Guy' in September 1962, four weeks before their debut single came out. It was recorded after the group were filmed for Granada TV's Know The North, but was never broadcast.
1 Oct 2007
Radiohead
's official website crashed after the band announced that their new album 'In Rainbows' would only be available to order via www.radiohead.com. Fans could pre-order the download at any price they choose or pay £40 for a "discbox", which included two CDs, two records, plus artwork and booklets.
1 Oct 2007
The
Spice Girls
London reunion concert sold out in 38 seconds after fans were notified tickets had gone on sale. More than one million people in the UK registered for the concert, on 15 December 2007 at the O2 arena, tickets cost £55-75. Three more London dates were added to the world tour which was kicking off in Vancouver on 2nd Dec.
1 Oct 2005
Pete Doherty was arrested during a police drugs operation in Shrewsbury where his band Babyshambles had been playing and held overnight. Police said a man and a woman were arrested for possession of class A drugs and 17 others searched during an operation in Telford. A gig in Norwich planned for the following night was cancelled.
1 Oct 2004
The Lord Mayor of Melbourne officially opened '
AC/DC
' Lane after the veteran rockers. The Lord Mayor erected the sign to cheers and bagpipes playing the bands song 'Long Way To The Top'. The City of Melbourne had extra copies of the sign made, in anticipation of fans stealing them.
1 Oct 2004
Canadian bassist Bruce Palmer died of a heart attack. Member of The Mynah Birds and The Buffalo Springfield. Also worked with Crosby, Stills, Nash, & Young and
Neil Young
.
1 Oct 2004
Ms Dynamite was arrested over allegations of assault after an incident at a restaurant in Central London. Ms Dynamite (real name Niomi McLean-Daley), was arrested in connection with the allegation after voluntarily attending a police station, she was later released on bail.
1 Oct 2002
James Blunt left the British army having served six years, (in the cavalry regiment). Blunt rose to prominence in 2004 with the release of his debut studio album Back to Bedlam, before achieving worldwide fame with the singles 'You're Beautiful' and 'Goodbye My Lover'.
1 Oct 1999
Singer Lena Zavaroni died aged 35 after a long battle against anorexia. Zavoroni was discovered on TV talent show Opportunity Knocks, in 1974 she became the youngest British singer to earn a silver disc with 'Ma He's Making Eyes At Me' and the youngest person to appear on TV's
Top Of The Pops
.
1 Oct 1994
The Daily Mirror in the UK printed a photo of
Michael Jackson
in a scoutmaster's uniform along with five young Boy Scouts. A Boy Scouts leader later made a statement saying that Jackson had no association with the organization.
1 Oct 1990
Forbes Magazine listed New Kids On The Block as the fifth richest entertainers in the US with an income of $78 million.
1 Oct 1988
Bon Jovi
scored their first UK No.1 album with 'New Jersey', their fourth release. The follow-up to Slippery When Wet produced five Billboard Hot 100 top ten singles, the most top ten hits to date for a hard rock album. 'Bad Medicine' and 'I'll Be There for You' both hit No.1 on Billboard Hot 100.
1 Oct 1986
Andy McVann drummer with Liverpool band The Farm was killed in a car crash during a police chase.
1 Oct 1983
A
David Bowie
world convention was held at The Cunard Hotel in London. The event had the largest collection of Bowie merchandise ever assembled.
1 Oct 1982
John Cougar went to No.1 on both the US album and singles chart with the album 'American Fool' and the single 'Jack And Diane'.
1 Oct 1981
The Pretenders were forced to cancel the last leg of a US tour after drummer Martin Chambers put his hand through a windowpane, cutting tendons and arteries.
1 Oct 1977
Elton John
became the first musician to be honoured in New York City's Madison Square Hall Of Fame.
1 Oct 1977
Meco started a two week run at No.1 on the US singles chart with a disco version of 'Star Wars Theme'. Had other hits with versions of 'Close Encounters', 'Wizard Of Oz' and 'Empire Strikes Back'.
1 Oct 1975
39 year old Al Jackson, drummer for Booker T. And The MGs, was shot and killed by a burglar at his home. His wife was questioned about the killing because she was arrested in July for shooting her husband in the chest during a domestic dispute. He wasn't badly hurt and the charges were dismissed when his wife claimed self-defense. Jackson had returned home to what police described as a botched robbery attempt. According to Jackson's wife, an intruder made her answer the door and then threw her husband to the floor demanding money. Jackson was forced to lie face down and then was shot in the back five times. The identity of the culprit remains a mystery. Booker T had backed such artists as
Otis Redding
, Al Green and Sam and Dave.
1 Oct 1973
The Simon Park Orchestra were at No.1 on the UK singles chart with 'Eye Level,' taken from the ITV series 'Van Der Valk.' It was the first TV theme to become a No.1 in the UK.
1 Oct 1970
Jimi Hendrix
was buried at The Greenwood Cemetery at the Dunlop Baptist Church, Seattle. Among the mourners; Miles Davis, Eric Burdon, Johnny Winter and members of Derek and the Dominoes.
1 Oct 1967
Thieves broke into
Mick Jagger
's London flat in England and stole jewellery and furs belonging to his then girlfriend Marianne Faithfull.
1 Oct 1967
The first edition of UK BBC
Radio 1
's 'Top Gear' was aired. Presented by
John Peel
and Pete Drummond they featured The Move, Traffic,
Pink Floyd
, Tim Rose and Tomorrow featuring Keith West.
1 Oct 1966
Jimi Hendrix appeared live for the first time in the UK when he jammed with
Cream
at their gig at London Polytechnic. Hendrix made his official UK live debut a month later on Friday 25 Nov 1966, when the
Jimi Hendrix Experience
appeared at the Bag O'Nails Club, London.
1 Oct 1965
Bob Dylan
appeared at Carnegie Hall in New York City. He introduced his new touring band on this tour, made up of guitarist Robbie Robertson, organist Garth Hudson, bassist Rick Danko, pianist Richard Manual and drummer Levon Helm. They will become known simply as The Band.
1 Oct 1956
After test audiences gave a negative reaction to
Elvis Presley
dying at the end of the film Love Me Tender, The King was called back to re-shoot the scene. In the new ending, the hero lived.
Born on this day in music
1 Oct 1985
Dizzee Rascal (Dylan Kwabena Mills), British rapper, songwriter and record producer. 2009 UK No.1 single 'Holiday'.
1 Oct 1974
Keith Duffy, vocals, Boyzone, who have had 21 UK hit singles, including 6 UK No.1 singles. Their breakthrough hit was their second single and cover version of the classic
Osmonds
hit, 'Love Me for a Reason', which peaked at No.2 on the UK Singles Chart. Duffy joined the UK soap Coronation Street in 2002 playing the role of Peter Barlow's old Navy mate Ciaran McCarthy.
1 Oct 1959
Youssou N'dour, Senegalese singer, percussionist, (1994 UK No.3 single '7 Seconds'), worked with Peter Gabriel, Wyclef Jean,
Paul Simon
,
Bruce Springsteen
and Sting.
1 Oct 1958
Martin Cooper, from English electronic music band
Orchestral Manoeuvres in the Dark
. OMD released their debut single, 'Electricity', in 1979, and gained popularity throughout Europe with the 1980 anti-war song 'Enola Gay'.
1 Oct 1957
Andy Walton, from English pop and glam rock band Kenny who had several hit singles in the UK in the mid-1970s, including 'The Bump' and 'Fancy Pants'.
1 Oct 1955
Howard Hewett, Shalamar, (1980 US No. 8 single 'The Second Time Around', 1982 UK No.5 single 'A Night To Remember').
1 Oct 1948
Mariska Veres, singer, Shocking Blue, (1970 US No.1 & UK No.8 single 'Venus'). Died on Dec 2nd 2006 aged 59.
1 Oct 1948
Cub Koda, guitarist, songwriter, Brownsville Station, (1973 US No.3 UK No.27 single 'Smokin' In The Boys Room'). He died on 5th July 2000.
1 Oct 1947
Rob Davis, guitarist songwriter from English glam rock band Mud who had the 1974 UK No.1 single 'Tiger Feet' which was the UK's best-selling single of 1974 plus 14 other UK Top 40 singles. In 2000, he achieved commercial songwriting success, most notably with the songs 'Groovejet (If This Ain't Love)' for Spiller and co- wrote the 2001 UK No.1 hit 'Can't Get You Out Of My Head' for
Kylie Minogue
.
1 Oct 1947
Martin Turner, guitarist with British rock band Wishbone Ash who scored the 1972 UK No.3 album Argus and eight other Top 40 albums. Wishbone Ash are noted for their extensive use of the harmony twin lead guitar.
1 Oct 1945
Donny Hathaway, US soul singer (1972 UK No.29 single with Roberta Flack 'Where Is The Love', 1978 US No.2 single 'The Closer I Get'). Committed suicide falling from a 15th floor hotel window on 13th January 1979.
1 Oct 1943
American musician Jerry Martini, saxophonist for Sly and the Family Stone who had the 1968 US No.1 singles 'Everyday People', the 1971 US No.1 'Family Affair' and the 1971 US No.1 album There's a Riot Goin' On.
1 Oct 1942
Herb Fame, Peaches and Herb, (1979 US No.1 & UK No.4 single 'Reunited').
1 Oct 1940
Barbara Parritt, The Toys, (1965 US No. 2 & UK No.5 single 'A Lover's Concerto').
1 Oct 1935
English actress, singer, and author Julie Andrews. She made her feature film debut in Mary Poppins (1964) and won the Academy Award for Best Actress for her performance in the title role. She starred in The Sound of Music (1965), playing Maria von Trapp and won the Golden Globe Award for Best Actress. The 1965 UK & US No.1 album The Sound of Music spent 382 weeks on the UK chart and was the best-selling album in the UK in 1965, 1966 and 1968 and the second best-selling of the decade, spending a total of 70 weeks at No. 1.
1 Oct 1930
Actor, singer, Richard Harris, (1968 US & UK No.4 single 'MacArthur Park'). Died of cancer on 25th Oct 2002.