October 2nd: The Biggest Music Headlines
Scroll down the page to see all the music headlines, stories and events for October 2 throughout music history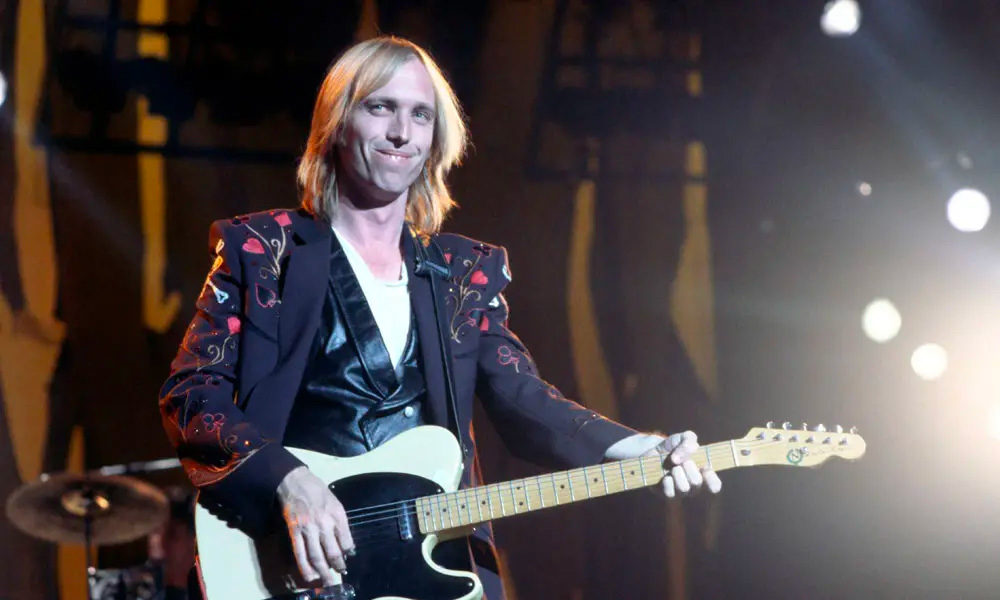 The World Mourns The Loss Of Tom Petty
On October 2, 2017, Tom Petty was pronounced dead at the age of 66, just days after performing a hometown show with the Heartbreakers at the Hollywood Bowl. Fans around the globe mourned the loss of the beloved singer and songwriter, whose catalog of hits spanned four decades. Petty rose to fame with the Heartbreakers in 1977, with whom he released such enduring favorites as "American Girl," "Breakdown," "Don't Do Me Like That," and "Refugee." In 1987, the artist embarked on a solo career, topping Billboard's rock charts with singles like "Free Fallin'" and "I Won't Back Down," while in 1988, he joined the supergroup Travelling Wilburys, alongside Roy Orbison, George Harrison, Jeff Lynne, and Bob Dylan. Petty continued to tour and record both as a solo artist and with the Heartbreakers until his death.
In 1995, Oasis released their record-breaking sophomore album, (What's The Story), Morning Glory, which debuted at No.1 in the UK. In addition to featuring such genre-defining hits as "Wonderwall," "Champagne Supernova," and "Don't Look Back in Anger," the Britpop classic became the UK's highest-selling album of the decade and the second-longest charting album on the UK charts. With more than 22 million copies sold worldwide, it also remains one of the best-selling albums of all time.
In 1970, Pink Floyd released their fifth studio album, Atom Heart Mother, which went on to become their first to reach No.1 in the UK.
In 1982, Peter Gabriel and Steve Hackett rejoined Genesis after their departures in 1975 and 1977, respectively, for a one-off benefit performance at The Milton Keynes Bowl in Buckinghamshire, England. To this day, it's the only time Peter Gabriel has sang Genesis songs onstage after leaving the band.
In 1998, Gene Autry, who was known as "The Singing Cowboy," died at the age of 91. The only performer to have a star on the Hollywood Walk of Fame in all five categories (music, film, TV, radio, and live performance), Autry's influence was far-reaching. In addition to appearing in 93 films and hosting The Gene Autry Show in the 50s, Autry was a pioneering country artist, known for such hits as 'Back in the Saddle Again" and "At Mail Call Today." The Country Music Hall of Famer also lent his voice to several Christmas classics, including "Rudolph The Red-Nosed Reindeer," "Frosty The Snowman," and "Here Comes Santa Claus."
In 1982, British-Jamaican reggae group Musical Youth hit the top of the UK pop charts with "Pass The Dutchie," off their debut album, The Youth of Today. To avoid being banned for a drug reference, the group swapped any references to marijuana for food, including "kutchie" (slang for a marijuana pipe) to "dutchie" (slang for a Dutch oven cooking pot).
In 1983, Bonnie Tyler became the first Welsh artist to top the Billboard Hot 100 with her enduring hit, "Total Eclipse Of The Heart." Written and produced by Jim Steinman (Meat Loaf, Air Supply, Barry Manilow), the song originally clocked in at just over seven minutes long, but was shortened to four minutes and thirty seconds to be more radio-friendly. Steinman said the song was written as a "vampire love story," and was initially intended to be part of a Nosferatu musical he was working on.
In 1961, Phil Spector and Lester Sill released The Crystals' "Oh Yeah Maybe Baby" as the first single under their new label, Philles. A little over a year later, The Crystals achieved their first No.1 hit under the label with "He's A Rebel."
In 2002, Robbie Williams signed the most lucrative British record deal in history with EMI records for a whopping £80m.
Looking for more things that happened on this day in music?
Keep scrolling for all of the headlines for October 2.
BORN ON OCTOBER 2:
1945: Don McLean
1949: Richard Hell
1951: Sting
1955: Phil Oakey (Human League)
1969: Badly Drawn Boy
1971: Jim Root (Slipknot)
1971: Tiffany
1988: Brittany Howard
Looking for more artists born on this day?
Keep scrolling for all of our October 2 birthdays.
---
What to find another day?
---
October 2nd
2 Oct 2019
Barrie Masters lead singer with Eddie & The Hot Rods died age 63. Formed in Canvey Island, Essex in 1975, they were part of the pub rock scene and were best known for their top 10 hit in 1977, 'Do Anything You Wanna Do'.
2 Oct 2019
Kim Shattuck lead singer, guitarist and songwriter of the band The Muffs and former Pixies bassist died after a two-year-long battle with amyotrophic lateral sclerosis age 56.
2 Oct 2017
American singer-songwriter, multi-instrumentalist, record producer
Tom Petty
was found unconscious at his home, not breathing and in cardiac arrest and was taken to the UCLA Medical Center in Santa Monica, California, where he died at 8:40 pm. The Los Angeles County Medical Examiner later announced that Petty had died accidentally from mixed drug toxicity. He was the lead singer and guitarist of Tom Petty and the Heartbreakers, formed in 1976. He previously led the band Mudcrutch, and was also a member of the late 1980s supergroup the Traveling Wilburys. In his career, he sold more than 80 million records worldwide, making him one of the best-selling music artists of all time.
2 Oct 2012
British session guitarist Big Jim Sullivan (born James George Tomkins) died at the age of 71. Sullivan started his career in 1959 as a member of Marty Wilde's band and when Wilde bought Sullivan a Gibson Les Paul guitar, it was allegedly the first in Britain. Sullivan taught future
Deep Purple
guitarist Ritchie Blackmore to play guitar, as well as helping Yes and Asia guitarist Steve Howe on his road to success. He featured on 55 No.1 hits, and worked with
George Harrison
,
Frank Zappa
, Thunderclap Newman, Love Affair, Long John Baldry, Marmalade and The Tremeloes. During
Jimmy Page
's session career, he was known as 'Little Jim', to differentiate him from Big Jim.
2 Oct 2009
Mumford & Sons released their debut album 'Sigh No More' in the UK. It peaked at No. 2 on 20 February 2011, in its 72nd week on the chart following its Album of the Year win at the 2011 BRIT Awards. In early 2011, the album peaked at No. 2 on the Billboard 200 in the US. In the United States, it was the 3rd most digitally-downloaded album of 2011, selling 761,000 copies
2 Oct 2007
Britney Spears
was ordered to hand over her two young children to her former husband Kevin Federline by a judge in Los Angeles. The court ruled that Federline would be given custody of Sean Preston, two, and one-year-old Jayden James, until further notice. Last month Judge Scott Gordon had said Ms Spears showed "a habitual, frequent and continuous use of controlled substances and alcohol." The singer was ordered to undergo random drug and alcohol tests twice a week as part of her child custody dispute with Mr Federline.
2 Oct 2006
British singer, songwriter Katie Melua entered the Guinness Book of Records for playing the deepest underwater concert. This took palce 303 metres below sea level on the Norwegian Statoil's Troll A platform in the North Sea. Melua and her band underwent extensive medical tests and survival training in Norway before the concert. Melua later described achieving the record as "the most surreal gig I have ever done".
2 Oct 2004
Billy Joel
married 23-year-old Kate Lee at his Centre Island, New York mansion. It was the third marriage for Joel.
2 Oct 2003
Police were called to a suspected burglary at the Los Angeles house of Courtney Love's former boyfriend and ex-manager Jim Barber in the early hours. Ms Love was picked up in the street outside and detained - with officers noting "Miss Love's behaviour was consistent with being under the influence of a controlled substance". Shortly after her arrest, Ms Love was taken to hospital with a suspected drug overdose.
2 Oct 2003
A pair of trousers worn in 1984 by the late
Queen
star
Freddie Mercury
were sold to the Hard Rock Cafe for £4,230 at a Christie's auction of pop memorabilia held in London, England. A wooden sculpture of a cupboard, designed by
John Lennon
, claimed the highest price of the day, £28,200. Hundreds of items related to
The Beatles
, The
Rolling Stones
, and
Jimi Hendrix
also went under the hammer at the sale.
2 Oct 2002
Adam Ant escaped a prison sentence after a judge ruled that an incident in which he threatened drinkers with a replica pistol in a London pub was a result of mental illness. The 1980s pop star had been voluntarily having psychiatric treatment since the incident.
2 Oct 2002
Robbie Williams signed the most lucrative British record deal in history when he signed with EMI records for £80m. Asked what he was going to do with money Robbie said, "I'm going to count it all."
2 Oct 2001
Actor Kevin Spacey hosted Come Together: A Night for
John Lennon
's Words and Music at New York's Radio City Music Hall. Performers include,
Alanis Morissette
, Moby, Stone Temple Pilots and the Dave Mathews Band. The evening was closed with those present singing 'Give Peace A Chance'.
2 Oct 1998
America's singing cowboy Gene Autry died aged 91. During his career he scored 25 successive Top 10 Country hits. In 1995 it was estimated he was worth $320 million.
2 Oct 1996
A
Pearl Jam
show in Hartford Connecticut ended in a riot when mass fighting broke out among the 30,000 strong crowds.
2 Oct 1995
Oasis
released their second album '(What's The Story), Morning Glory', which entered the UK chart at No.1. The album has gone on to sell over 18 million copies worldwide, and it won the award for the best British Album of the last 30 Years at the 2010 Brit Awards.
2 Oct 1995
Nick Cave and the Bad Seeds and
Kylie Minogue
released the duet 'Where the Wild Roses Grow'. The song later won 1996 ARIA Awards: 'Single of the Year', 'Song of the Year' and 'Best Pop Release'.
2 Oct 1983
Welsh singer Bonnie Tyler was at No.1 on the US singles chart with the Jim Steinman written and produced track 'Total Eclipse Of The Heart'. It made her the only Welsh artist to score a US No.1.
2 Oct 1982
Peter Gabriel and Steve Hacket joined their former band mates in
Genesis
for a one-time benefit performance at The Milton Keynes Bowl in Buckinghamshire, England to help raise money for Gabriel's WOMAD project (World of Music, Arts and Dance).
2 Oct 1982
Dire Straits
started a four-week run at No.1 on UK the album charts with 'Love Over Gold'.
2 Oct 1982
John Cougar started a four week run at No.1 on the US singles chart with 'Jack and Diane', his first US No.1a No.25 hit in the UK.
2 Oct 1982
Musical Youth were at No.1 on the UK singles chart with 'Pass The Dutchie'. The group were made up of Birmingham school boys, aged 11-16. The song was a cover of The Mighty Diamonds song called 'Pass The Kutchie', a slang term for a cannabis smoking pipe, but the word was changed to avoid the song being banned for it's drug reference.
2 Oct 1980
Leaveil Degree from the soul group The Whispers started a two-year prison sentence in Boron California for his part in diamond robbery.
2 Oct 1977
The body of
Elvis Presley
and his mother Gladys were moved from the cemetery where they were buried to Graceland's after an unsuccessful attempt was made to body snatch the coffin.
2 Oct 1971
Rod Stewart
started a five week run at No.1 on the US singles chart with 'Maggie May / Reason To Believe', his first solo No.1. Stewarts album Every Picture Tells A Story also started a four-week run on this day at No.1 on the UK and US chart.
2 Oct 1970
Pink Floyd
released their fifth, and first UK No.1 album Atom Heart Mother in the UK. The original album cover shows a cow standing in a pasture with no text, nor any other clue as to what might be on the record. Storm Thorgerson, inspired by Andy Warhol's famous 'cow wallpaper,' has said that he simply drove out into a rural area near Potters Bar, England and photographed the first cow he saw. The cow's owner identified her name as 'Lulubelle III'.
2 Oct 1967
All six members of the
Grateful Dead
were busted by California narcotics agents for possession of marijuana at the groups' 710 Ashbury Street House in San Francisco, California.
2 Oct 1965
Peter Paul and Mary appeared at The Winter Gardens, Bournemouth, England.
2 Oct 1965
The McCoys were at No. 1 on the US singles chart with 'Hang On Sloopy' (No.5 in the UK when released on Andrew Oldham's new Immediate label). The song was first released by The Vibrations and called 'My Girl Sloopy'.
2 Oct 1961
Phil Spector and partner Lester Sill released the first single on their new label Philles, The Crystals', 'Oh Yeah Maybe Baby.' A little over a year later, they had a No.1 hit with 'He's a Rebel,' and soon after, 'Da Doo Ron Ron' and 'Then He Kissed Me.'
2 Oct 1960
'Stay' by Maurice Williams and the Zodiacs entered the US chart on its way to No.1. At just 1:37, it becomes the shortest US chart topper in Rock and Roll history.
Born on this day in music
2 Oct 1988
American musician Brittany Howard, best known as lead vocalist and guitarist of Alabama Shakes and Thunderbitch. Their second record, Sound & Color, released in 2015 debuted at No.1 on the Billboard 200, and won four Grammy Awards.
2 Oct 1973
Lene G Nystrom, from Danish eurodance group Aqua, who scored the 1997 UK No.1 single 'Barbie Girl' a song that topped the charts worldwide.
2 Oct 1971
Jim Root, American musician, songwriter and guitarist, best known for being the lead guitarist for the American heavy metal band Slipknot and the former lead guitarist for the American alternative metal band Stone Sour.
2 Oct 1971
Tiffany, US singer (1987 US No.1 & 1988 UK No.1 single 'I Think We're Alone Now').
2 Oct 1969
Badly Drawn Boy, (Damon Gough), singer, songwriter, 2002 UK No.9 single 'You Were Right', 2002 UK No. 10 album, 'Have You Fed The Fish'.
2 Oct 1962
Sigtryggur Baldursson, drums, The Sugarcubes, (1992 UK No.17 single 'Hit').
2 Oct 1961
Robbie Nevil, singer, (1987 UK No.3 single 'C'est La Vie').
2 Oct 1956
Freddie Jackson, US soul singer, scored US 10 R&B No. 1's.
2 Oct 1955
Phil Oakey singer, songwriter with The Human League. Formed in Sheffield, England in 1977 the group attained widespread commercial success with their third album Dare in 1981. The album contained four hit singles, including the UK/US No.1 hit 'Don't You Want Me'. The Human League has sold more than 20 million records worldwide.
2 Oct 1952
John Otway, UK singer, songwriter, guitarist, (1977 UK No.27 single 'Really Free', with Wild Willy Barrett). 2002 UK No.7 single 'Bunsen Burner'.
2 Oct 1951
Sting, (Gordon Sumner), singer, songwriter,
The Police
, (1983 UK & US No.1 single 'Every Breath You Take', plus 4 other UK No.1 singles). Solo, (1990 UK No.15 single 'Englishman In New York' plus over 15 other UK Top 40 singles). As a solo musician and a member of The Police, he received 16 Grammy Awards and has sold over 100 million records.
2 Oct 1950
Mike Rutherford, guitar,
Genesis
, (1986 US No.1 single 'Invisible Touch', 1992 UK No.7 single 'I Can't Dance' & 6 UK No.1 albums). & Mike And The Mechanics, (1989 US No.1 & UK No.2 single 'The Living Years').
2 Oct 1949
Richard Hell, vocals, The Voidoids, (1977 album 'Blank Generation' features the track 'Love Comes In Spurts').
2 Oct 1945
Don McLean, US singer, songwriter, 1971 US & 1972 UK No.1 single 'American Pie', a song inspired by the death of
Buddy Holly
.
2 Oct 1941
Ron Meagher, The Beau Brummels, (1965 US No.8 single 'Just A Little.')
2 Oct 1939
Lolly Vegas, guitarist and singer with Redbone, who had the 1971 UK No.2 & US No.21 single 'The Witch Queen Of New Orleans' and the 1974 US No. 4 hit single, 'Come and Get Your Love.' Redbone are accredited in the NY Smithsonian as the first Native American rock/Cajun group to have a No.1 single in the United States and internationally.
Jimi Hendrix
stated that Lolly Vegas was his favorite guitar player and biggest influence in music. He died of cancer on 4 March 2010.