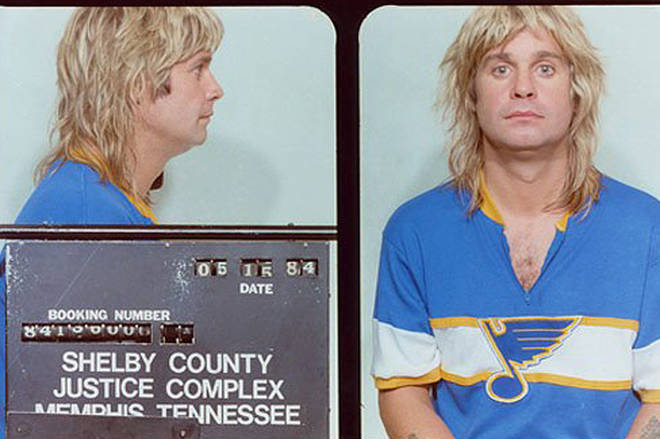 11 Nov 1969
The FBI in Phoenix, Arizona arrested Jim Morrison for drunk and disorderly conduct aboard a plane. The Doors singer who was on his way to a Rolling Stones concert with actor Tom Baker had been drinking and annoying the stewardesses. The pair spent the night in jail and were later released on $2,500 bail.
30 April 1970
Twiggs Lyndon, the road manager for The Allman Brothers Band was arrested for murder after he stabbed a club manager during an argument over a contract. At the ensuing trial, Lyndon's lawyers argued that he had been temporarily insane at the time of the incident and that touring with the Allman Brothers would drive anyone insane. Lyndon was acquitted.
14 Aug 1970
Stephen Stills was arrested on suspected drugs charges while staying at a San Diego Hotel after being found crawling along a corridor in an incoherent state. Still's was later freed on bail.
3 Sep 1970
Arthur Brown was arrested at the Palermo Pop '70 Festival in Italy, after he set fire to his helmet during the performance of his hit 'Fire' and stripped naked during his stage performance. The singer spent four days in solitary confinement before he was released.
29 Sep 1976
Enjoying his own birthday celebrations singer Jerry Lee Lewis accidentally shot his bass player Norman Owens in the chest. Lewis had been blasting holes in an office door. Owens survived but sued his boss.
30 Mar 1978
Paul Simonon and Nicky Headon from The Clash were arrested in Camden Town, London after shooting down racing pigeons with air guns from the roof of Chalk Farm Studios. Four police cars and a helicopter were required to make the arrest. Their fines totalled £800 ($1,360).
19 Feb 1982
Ozzy Osbourne was arrested in San Antonio, Texas for urinating on the cenotaph at the Alamo, which honors the Alamo defenders. Osbourne was wearing a dress at the time of his arrest, (due to his wife Sharon hiding all his clothes so he couldn't go outside). Osbourne was banned from ever playing in San Antonio, Texas again, (a ban which was lifted in 1992). When later interviewed, Ozzy said his next goal was to urinate on the White House lawn.
5 Nov 1983
Topper Headon of The Clash was arrested for walking his dog while drunk on London's Fulham Road.
30 Aug 1989
Izzy Stradlin from Guns N' Roses was arrested for making a public disturbance on a US air flight. Stradlin had urinated on the floor, verbally abused a stewardess and smoked in the non-smoking section of the aircraft.
7 May 1991
Wilson Pickett was arrested after running into an 86 year old man and yelling death threats whilst driving his car over the mayor's front lawn in Englewood, New Jersey. Pickett was charged with driving with open bottles of alcohol in his car.
8 Feb 1994
Oasis were forced to cancel their first foreign tour after they were deported from Holland. The band were involved in a drunken brawl on a cross-channel ferry resulting in members of the band being arrested and locked in the brig on the ferry.
24 Sep 1995
The Charlatans were arrested by 24-armed police after a flight to New York. The band were accused of trying to disrupt the planes flight path, passengers complained of the group being drunk, spitting and interfering with in flight TV sets.
7 Apr 1998
George Michael was arrested at The Will Rogers Memorial Park for committing a sex act in a public toilet. He was arrested by undercover Beverly Hills police officer Marcelo Rodriguez. Michael later said; 'I was followed into the restroom and this cop – well, I didn't know he was a cop at the time obviously started playing this game. I think it's called – I'll show you mine, you show me yours, and then when you show me yours, I'm gonna nick you!' The singer was later fined $810 (£500) after being convicted of a lewd act.
2 Dec 2002
Oasis singer Liam Gallagher was arrested and charged with assault after he Kung-Fu kicked a police officer. The incident happened at the Bayerischer hotel in Munich, the singer lost his two front teeth in the brawl and an Oasis minder was knocked out cold.
30 Dec 2002
Diana Ross was arrested for drink driving by the Arizona highway patrol after a motorist called to report a swerving vehicle in the western state of Arizona. When asked to walk in a straight line she fell over, could not count to 30 or balance on one foot. Police said the singer was twice over the drink drive limit with a blood-alcohol of 0.20, the legal limit is 0.08.
14 Apr 2003
A man was arrested accused of making up a Bjork concert then selling tickets. Alex Conate allegedly sold tickets worth $14,000 at $40 each after persuading a San Diego nightclub owner that Bjork had agreed to play there. He was accused of taking the money and moving to Hawaii, where he was arrested.
24 Jan 2005
Country singer Lynn Anderson was arrested for shoplifting after being caught stealing a Harry Potter DVD from a New Mexico supermarket and punching a police officer during her arrest. The 57 year-old had the 1970 Top 5 hit 'Rose Garden'.
31 May 2006
71 year-old songwriter Hal Bynum, (whose credits include Kenny Rogers 'Lucille') and his wife were arrested and charged with growing marijuana inside their Nashville home and possessing hallucinogenic mushrooms. After receiving a tip, police searched the couple's home and confiscated 256 marijuana plants, 7.5 pounds of harvested marijuana, 14 grams of hallucinogenic mushrooms, growing lamps and other drug paraphernalia. Bynum, and his wife were released on $73,500 bond each.
3 Feb 2007
Wayne Fontana, of 'Game Of Love' fame, was arrested at his home in Glossop, Derbyshire, England and charged with arson with intent to endanger life. The 61 year-old, who was already set to appear in court in March on traffic offenses, was accused of pouring gasoline over a bailiff's car and setting it on fire. The following November, he was sentenced to 11 months in jail, but was allowed to walk free from court immediately after already serving the equivalent of his term while held under the Mental Health Act.
14 Jan 2014
Justin Bieber was questioned by police over the egging of his neighbour's house in Calabasas, California. Bieber spoke to police in relation to the incident, which saw him accused of throwing eggs at his neighbour's house while his neighbour and neighbour's daughter were on the balcony filming him. Billboard reports that a dozen vehicles arrived on Bieber's property with a search warrant, looking for evidence that Bieber was involved in the incident. Det. Dave Thompson commented: "We collected evidence related to that crime. Mr. Bieber was present and cooperative. He was not arrested."