February 25th: The Biggest Music Headlines
Scroll down the page to see all the music headlines, stories, and events for February 25 throughout music history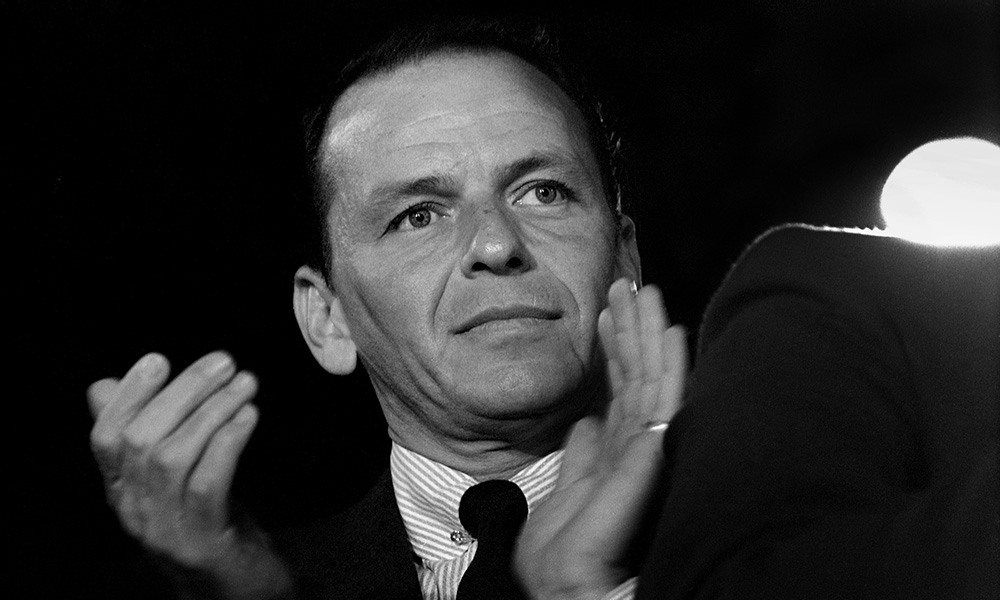 Frank Sinatra Performs His Final Concert
On this day in music, February 25, 1995, Frank Sinatra performed his final concert at the Palm Springs Marriott Desert Spring Resort, as part of the Frank Sinatra Desert Classic golf tournament. The 79-year-old icon, who was one of the most popular entertainers of the 40s, 50s, and 60s, closed out the show with one of his signature hits, "The Best Is Yet to Come" (a title that was later etched on his tombstone). Sinatra's final appearance in front of a live audience took place later in the year, during a star-studded 80th birthday event at The Shrine Auditorium. Sinatra died in 1998 at the age of 82.
In 1956, Elvis Presley scored his first No.1 hit on Billboard's Country & Western charts with "I Forget to Remember to Forget." Written by Stan Kesler and Charlie Feathers, the song marked Presley's final single on Sun Records before he moved to RCA.
In 2009, President Barack Obama honored Stevie Wonder with the Library of Congress' Gershwin Prize. Wonder's 1970 single, "Signed, Sealed, Delivered (I'm Yours)," was the theme song of Obama's campaign, while the 44th President cited the prodigy as his musical hero. Established in 2007, the Gershwin Prize for Popular Song recognizes artists for a lifetime of contributions to popular music.
In 1984, Van Halen's "Jump" began a five-week run at the top of the Billboard Hot 100. The high-energy song, which served as the lead single off their sixth studio album, 1984, went on to become their most successful hit. It later earned Van Halen their first Grammy nod.
In 1977, mod revivalists The Jam signed to Polydor Records for just £6,000. Over the next five years, they would score 18 consecutive Top 40 singles in the UK.
Looking for more things that happened on this day in music?
Keep scrolling for all of the headlines for February 25.
BORN ON FEBRUARY 25:
1943: George Harrison (The Beatles)
1947: Doug Yule (Velvet Underground)
1950: Emitt Rhodes
1953: John Doe (X)
1957: Dennis Diken (The Smithereens)
1957: Stuart "Woody" Wood (Bay City Rollers)
1969: Mike Peters (The Alarm, Big Country)
1965: Brian Baker (Minor Threat, Bad Religion)
1971: Daniel Powter
Looking for more artists born on this day?
Keep scrolling for all of our February 25 birthdays.
---
What to find another day?
---
February 25th
25 Feb 2019
Mark Hollis, English musician and singer-songwriter died age 64. He achieved commercial success and critical acclaim in the 1980s and 1990s as the co-founder, lead singer and principal songwriter of the band Talk Talk. Hollis wrote or co-wrote most of Talk Talk's music, including hits like 'It's My Life' (1984) and 'Life's What You Make It' (1986).
25 Feb 2019
British publicist and talent manager Kenneth Pitt died age 96. He managed the career of musicians including
David Bowie
in the late 1960s (Pitt managed Bowie at the time of his first hit, 'Space Oddity' in 1969), and was responsible for publicising American musicians and bands touring the UK, including
Frank Sinatra
, Duke Ellington, and Jerry Lee Lewis.
25 Feb 2017
British singer and songwriter Rag'n'Bone Man was at number one on the UK album chart with his debut studio album Human, which became the fastest-selling debut album by a male artist during the 2010s. The album also reached number one in Belgium, the Czech Republic, the Netherlands, Ireland and Switzerland.
25 Feb 2015
On what would have been
George Harrison
's 72nd birthday, a new tree was planted in his memory in Griffith Park Los Angeles to replace one that was earlier killed by a beetle infestation. This new yew tree had been chosen to replace the original, as it was far less susceptible to insects.
25 Feb 2011
Susan 'Suze' Rotolo, died from lung cancer. She was the one time girlfriend of
Bob Dylan
, and the inspiration of some of his early songs. Susan appeared in one of the decade's signature images, walking with Dylan arm-in-arm for the cover photo of his breakthrough album Freewheelin
Bob Dylan
.
25 Feb 2009
President Obama honoured
Stevie Wonder
his musical hero, with America's highest award for pop music, the Library of Congress' Gershwin prize at a ceremony at the White House. The president said the
Motown
legend had been the soundtrack to his youth and he doubted that his wife would have married him if he hadn't been a fan. Wonder's song 'Signed, Sealed, Delivered' had been the theme song during Obama's presidential campaign.
25 Feb 2009
Winners at the 2009 NME Awards, held at London's O2 Academy included
Oasis
who won best British band, Elbow won the outstanding contribution to British music award. The Killers won best international band and Kings of Leon won best album for "Only by the Night" and
The Cure
won the godlike genius award.
25 Feb 2006
George Michael
was found slumped over in a car in Hyde Park, London. A concerned person spotted the singer and called police who after being checked by paramedics was arrested on suspicion of possessing drugs and then released on bail. Michael made a public statement about the incident and said "I was in possession of class C drugs which is an offense and I have no complaints about the police who were professional throughout." He also said that the event was "my own stupid fault, as usual."
25 Feb 2004
The
Rolling Stones
topped a US Rich List of music's biggest money makers. The list was based on earnings during 2003 when the band played their 'Forty Licks' tour, which made them $212 million, (£124.7m) in ticket, CD, DVD and merchandise sales. The three million fans who went to the shows spent an average of $11 (£6.47) each on merchandise.
Bruce Springsteen
was listed in second place and the
Eagles
in third.
25 Feb 2000
The five original
Spice Girls
were facing a bill of up to £1 million ($1.7 million) after losing a legal battle against the sponsors of their 1988 world tour. The Aprilia Scoter Company had claimed the girls knew of Geri's impending departure.
25 Feb 1998
Johnny Cash
's album, Unchained, won a Grammy Award for Best Country Album. The album had been a critical success but was largely ignored by mainstream country radio, a fact Cash and producer Rick Rubin picked up on when they purchase a full-page advertisement in Billboard magazine. The ad, which appeared in March, featured a young Cash displaying his middle finger and sarcastically "thanking" radio for supporting the album!
25 Feb 1998
At Radio City Music Hall,
Bob Dylan
was handed three Grammys, including one for Best Album for 'Time Out Of Mind'. During Dylan's performance of the song, Michael Portnoy, hired as a background dancer, ripped his shirt off and jumped in amongst the band, revealing the words 'Soy Bomb' painted on his chest. Also in the evening, during Shawn Colvin's acceptance speech, Ol Dirty Bastard grabbed the microphone and made various observations such as "Puffy is good, but Wu-Tang is the best" and "Wu-Tang is for the children". He was then escorted from the stage.
25 Feb 1995
At a private party for 1,200 select guests on the closing night of the
Frank Sinatra
Desert Classic golf tournament,
Frank Sinatra
sang before a live audience for the very last time. His closing song was 'The Best is Yet to Come'.
25 Feb 1995
Madonna
started a seven week run at No.1 on the US singles chart with 'Take A Bow', the track which was co-written with Babyface became a No.16 hit in the UK.
25 Feb 1989
Simple Minds
were at No.1 on the UK singles chart with 'Belfast Child.' At 6 minutes 39 seconds it became the second-longest running No.1 after
The Beatles
'Hey Jude'
.
25 Feb 1984
'Jump', by
Van Halen
started a five-week run at No.1 on the US singles chart, (a No.7 hit in the UK). Singer David Lee Roth wrote the lyrics after seeing a television news report about a man who was threatening to commit suicide by jumping off a high building. Roth thought that one of the onlookers of such a scene would probably shout "go ahead and jump".
25 Feb 1981
Winners at this year's Grammy Awards included Bob Seger who won Best Rock performance for 'Against The Wind', Pat Benatar won Best female performance for 'Crimes Of Passion' and Christopher Cross won Best new artist and Best song for 'Sailing.'
25 Feb 1977
The Jam
signed to Polydor Records UK for £6,000 ($10,200). They went on to have 18 consecutive Top 40 singles in the UK, from their debut in 1977 to their break-up in December 1982, including four No.1 hits. As of 2007, 'That's Entertainment' and 'Just Who Is the 5 O'Clock Hero?' remained the best-selling import singles of all time in the UK.
25 Feb 1972
Written after the 'Bloody Sunday Massacre', in Northern Ireland
Paul McCartney
and Wings released 'Give Ireland Back To The Irish.' The song was banned by the BBC and the IBA. It peaked at No.16 in the UK and No.21 in the US.
25 Feb 1972
Led Zeppelin
appeared in front of over 25,000 fans at the Western Springs Stadium, Auckland, New Zealand, the group's first ever gig in New Zealand, (and the largest crowd ever to attend a concert on the island). A special train was chartered from Wellington to bring fans to the concert. News reviews the next day reported the band could be heard over five miles from the Stadium.
25 Feb 1967
Pink Floyd
appeared at the Ricky Tick Club, Hounslow, England. The Yardbirds were filmed performing in a re-creation of the club built at MGM Studios in Borehamwood for Michelangelo Antonioni's 1966 film Blowup.
25 Feb 1964
The Beatles
finished recording their next single 'Can't Buy Me Love', at Abbey Road studios, London, (they had first recorded the song on 29 January 1964 at Path Marconi Studios in Paris). They also recorded the B-side, 'You Can't Do That' and another new song 'I Should Have Known Better'.
25 Feb 1957
Buddy Holly
recorded a new version of 'That'll Be The Day', at Norman Petty Recording Studio in Clovis, New Mexico. The title being taken from a phrase used by John Wayne in the film 'The Searchers.'
25 Feb 1956
Elvis Presley
had his first national hit when 'I Forgot To Remember To Forget' went to No.1 on the Billboard Country & Western chart.
The Beatles
covered this song once for the BBC radio show, From Us To You, on 1 May 1964, with
George Harrison
on lead vocals.
Born on this day in music
25 Feb 1971
Daniel Powter, Canadian singer, songwriter who had the 2005 UK No.2 single 'Bad Day'. The song had been featured in a Coca-Cola ad campaign in Europe. In 2006, Powter won in the New Artist of the Year category at the Canadian Juno Awards.
25 Feb 1965
American punk rock musician Brian Baker best known as one of the founding members of the hardcore punk band Minor Threat, and as a guitarist in Bad Religion since 1994.
25 Feb 1959
Mike Peters, Welsh musician who with The Alarm had a 1983 UK No.17 single '68 Guns'. After the band split up in 1991, Peters wrote and released solo work and later became a member of Dead Men Walking with Kirk Brandon, (ex Spear Of Destiny), Slim Jim Phantom, (Stray Cats), Glen Matlock (
Sex Pistols
) and Bruce Watson (Big Country). Between 2011 and 2013, Peters was the vocalist for Big Country. Additionally, he is co-founder of the Love Hope Strength Foundation. Peters was awarded a MBE in the 2019 New Year Honours for services to cancer care.
25 Feb 1957
Stuart Wood from Scottish group Bay City Rollers who had the 1975 UK No.1 single 'Bye Bye Baby' plus 11 other UK Top 20 singles' and the 1976 US No.1 single 'Saturday Night'.
25 Feb 1957
American drummer Dennis Diken who co-founded American rock band The Smithereens, (hits in the late 1980s and early 1990s, including "Only a Memory", "A Girl Like You" and "Too Much Passion"). Diken has also played drums for former Kinks guitarist Dave Davies' solo band.
25 Feb 1953
Reggie Lucas, American musician, songwriter and record producer. Lucas is best known for having produced the majority of
Madonna
's 1983 self-titled debut album, and for playing with the Miles Davis electric band of the first half of the 1970s. Lucas died on 19 May 2018.
25 Feb 1953
American singer, songwriter, actor John Doe who co-founded LA punk band X. In addition to X, Doe performs with the country-folk-punk band the Knitters and has released records as a solo artist.
25 Feb 1950
American singer-songwriter, multi-instrumentalist and recording engineer Emitt Rhodes. He was a member of The Palace Guard as the group's drummer before joining The Merry-Go-Round as a multi-instrumentalist. He worked as a recording engineer and record producer for Elektra Records. He died on 19 July 2020 age 70.
25 Feb 1948
Elkie Brooks, (Elaine Bookbinder), English singer who had the 1977 UK No.8 single 'Pearl's A Singer'. Brooks was also a member of Vinegar Joe with Robert Palmer.
25 Feb 1947
American musician and singer Doug Yule, most notable for being a member of the Velvet Underground from 1968 to 1973. Yule joined the band (then consisting of Reed, Morrison and Maureen Tucker) as John Cale's replacement.
25 Feb 1943
25 Feb 1938
American musician, songwriter, and record producer, Ed Cobb, who was a member of the Four Preps. His greatest claim to fame was that he wrote the northern soul hit 'Tainted Love' for Gloria Jones, which Soft Cell reworked into one of the biggest pop hits of the 1980s. He died on September 19, 1999.
25 Feb 1937
American keyboard player, bandleader and songwriter Don Randi. He was a member of the Wrecking Crew, as well as releasing his own jazz records. In the early 1960s, he was a major contributor, as musician and arranger, to record producer Phil Spector's Wall of Sound. He also played piano on 'These Boots Are Made For Walkin'', and every album by Nancy Sinatra. He played on
The Beach Boys
'Good Vibrations' and has appeared on over three hundred hit records, working with musicians such as Linda Ronstadt, Quincy Jones, Herb Alpert, Sarah Vaughan and
Frank Zappa
.