June 2nd: The Biggest Music Headlines
Scroll down the page to see all the music headlines, stories and events for June 2 throughout music history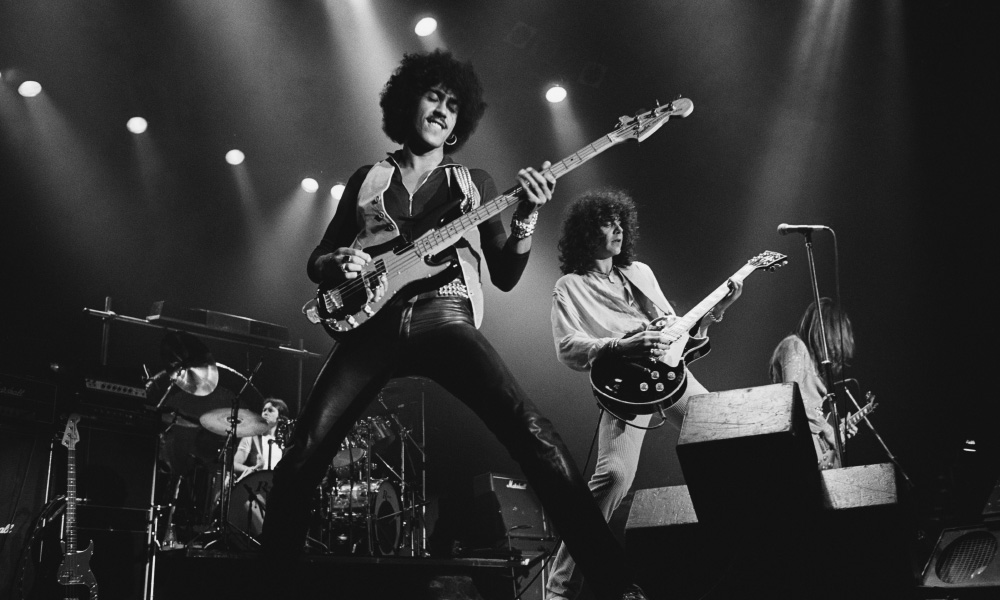 Thin Lizzy Make Noise With a Legendary Concert Album
On this day in music, June 2, 1978, Irish rockers Thin Lizzy released their double concert album, Live and Dangerous. Featuring performances in London, Philadelphia, and Toronto, and produced with Tony Visconti, the album compiled some of the band's greatest live moments from 1976-77. Despite controversy over the fact overdubs were recorded in a studio, the album was a commercial success, reaching No.2 in the UK. Today, it ranks among the greatest live albums of all time.
In 2008, singer, songwriter, and guitarist Bo Diddley died at the age of 79. Born Ellas Otha Bates, the artist was instrumental in bridging the gap between the blues and rock'n'roll in the 50s and influenced everyone from Buddy Holly and Elvis Presley to the Rolling Stones and The Beatles.
In 1984, Wham! scored their first No.1 hit in the UK with "Wake Me Up Before You Go Go." Written and produced by George Michael, the energetic tune was inspired by a note that his bandmate, Andrew Ridgeley, left for his parents. Elsewhere, the single topped the charts across Europe, as well as in Australia, the US, and Canada.
In 1979, Donna Summer began a three-week run at the top of the Billboard Hot 100 with her disco hit "Hot Stuff."
In 1976, Paul McCartney and Wings set a new record during a show in Seattle, where they performed to an audience of 67,100 fans – the largest indoor concert attendance at the time.
In 1981, Prince played his first show on British soil at London's Lyceum Theatre. The Minnesota-based artist would not play the UK again for another five years.
In 1962, Island Records released its first single, "Twist Baby" by Owen Gray. The legendary imprint would eventually sign the likes of Bob Marley, U2, Jethro Tull, and Amy Winehouse.
Looking for more things that happened on this day in music?
Keep scrolling for all of the headlines for June 2.
BORN ON JUNE 2:
1941: Charlie Watts (Rolling Stones)
1944: Marvin Hamlisch (Composer)
1950: Chubby Tavares (Tavares)
1955: Michael Steele (The Bangles)
1960: Tony Hadley (Spandau Ballet)
1970: B-Real (Cypress Hill)
1976: Tim Rice-Oxley (Keane)
1980: Fabrizio Moretti (The Strokes)
Looking for more artists born on this day?
Keep scrolling for all of our June 2 birthdays.
---
What to find another day?
---
June 2nd
2 Jun 2016
The limited edition vinyl pressing of the
David Bowie
album ChangesOneBowie was at No.1 on the UK's Official Vinyl Album Chart. Bowie had four other vinyl albums on the chart; Blackstar at No.14, Hunky Dory at No. 17, The Rise And Fall Of
Ziggy Stardust
And The Spiders From Mars at No. 18 and Nothing Has Changed - The Very Best of
David Bowie
at No.23. Sales of vinyl records were up 32% to $416 million, their highest level since 1988, according to the RIAA.
2 Jun 2008
American guitarist and singer
Bo Diddley
, (Ellas Otha Bates) died of heart failure at his home in Archer, Florida aged 79. The legendary singer and performer, was known for his homemade square guitar and his 'shave and a haircut, two bits' rhythm, which influenced artists from
Buddy Holly
to
Bruce Springsteen
The
Rolling Stones
and
U2
.
2 Jun 2005
Franz Ferdinand's frontman, Alex Kapranos was detained by Russian police after being suspected of being a spy. Kapranos was attempting to board a plane in Moscow when the altercation took place. Travelling under his actual surname, Huntley, Alex was accused of being an MI6 agent who was previously suspected of stealing information on Russian weaponry. Unlucky for Alex that the surname Huntley was also used by actual former MI6 agent Richard Tomlinson who did steal secrets in the early 90s. The singer was freed after he pointed out that the Huntley they were so concerned about was 42, 13 years older than him.
2 Jun 2003
A painting of
Kylie Minogue
wearing gold hot pants caused tempers to fray among drivers in Brighton. Artist Simon Etheridge, put up the almost life-size picture in his own Art Asylum gallery, as part of a Festival and since then motorists had caused regular traffic hold-ups as they stopped to take a second look.
2 Jun 2002
It was reported that
Paul McCartney
had thrown his fiance' Heather Mills' engagement ring out of a hotel window during a row. Guards at Miami's Turnberry Isle Resort combed the grounds using metal detectors and later found the £15,000 ($25,500) ring.
2 Jun 1999
Junior Braithwaite from
Bob Marley
and the Wailers was shot dead aged 46. Braithwaite was one of the founders of, and the first lead singer of The Wailers.
2 Jun 1989
Rolling Stone Bill Wyman secretly married 19-year-old Mandy Smith. Wyman's 28-year-old son was best man. All other four Stones attended. The marriage lasted 17 months.
2 Jun 1984
Wham! had their first UK No.1 with 'Wake Me Up Before You Go Go.' Written and produced by
George Michael
, one half of the duo. Inspiration for the song was a scribbled note left by his Wham! partner Andrew Ridgeley for Andrew's parents, originally intended to read "wake me up before you go" but with "up" accidentally written twice, so Ridgeley wrote "go" twice on purpose.
2 Jun 1981
Prince
made his live British debut at The Lyceum Ballroom, London, (he would not play the UK again for five years).
2 Jun 1979
Donna Summer started a three week run at No.1 on the US singles chart with 'Hot Stuff', her second US No.1, it made No.11 in the UK.
2 Jun 1978
Thin Lizzy
released the live double album Live And Dangerous. It was recorded in Philadelphia, London and Toronto in 1977, during the tours accompanying the albums Johnny The Fox and Bad Reputation. It peaked at No.2 on the UK album charts, held from the top spot by the Grease soundtrack album. It remained in the charts for 62 weeks and eventually sold 600,000 copies.
2 Jun 1976
Wings set a new world record when they performed in front of 67,100 fans in Seattle, the largest attendance for an indoor crowd.
2 Jun 1973
Paul McCartney
had both the No.1 positions on the US charts when 'Red Rose Speedway', went to the top of the album chart and 'My Love', started a four week run as the No.1 single.
2 Jun 1972
Pink Floyd
released "Obscured By Clouds" in the UK. The album, which was recorded in Paris in less than two weeks, peaked at No.6 on the UK chart and No.46 on the US chart.
2 Jun 1966
Frank Sinatra
was at No.1 on the UK singles chart with 'Strangers In The Night', the singers second UK No.1. The song was originally composed by Avo Uvezian as 'Broken Guitar' and later under the title 'Beddy Bye' as part of the instrumental score for the movie A Man Could Get Killed.
2 Jun 1963
The
Rolling Stones
played two gigs in one day. The first at Studio 51, Ken Colyer Club in Soho, London. The Stones played a regular Sunday afternoon gig at the club from 4 until 6.30 and were billed as Rhythm and Blues with The
Rolling Stones
. That evening they appeared at the Crawdaddy Club in Richmond, Surrey.
2 Jun 1962
Owen Gray's 'Twist Baby' became the first single released on UK based Island Records. The label became home to
Free
, Traffic, Jethro Tull,
Bob Marley
and
U2
.
2 Jun 1962
Ray Charles started a five week run at No.1 on the US singles chart with the Don Gibson penned country ballad 'I Can't Stop Loving You', also No.1 in the UK.
2 Jun 1957
Johnnie Ray was at No.1 on the UK singles chart with 'Yes Tonight Josephine', the US singers third and final UK No.1. Ray became deaf in his right ear at age 13 after an accident during a Boy Scout "blanket toss," a variation of the trampoline. (Ray later performed wearing a hearing aid).
Born on this day in music
2 Jun 1980
Fabrizio Moretti, Brazilian-American musician and drummer from American rock band The Strokes who had the 2001 UK No.14 single 'Last Nite' and the 2001 UK No.2 album Is This It.
2 Jun 1976
Tim Rice-Oxley, piano, producer, singer and multi-instrumentalist with Keane. Their 2004 UK No.1 album Hopes And Fears was the second best-selling British album of the year. In 2010 he formed a side-project, Mt. Desolation.
2 Jun 1970
Louis Freeze, B-Real, from Cypress Hill, who had the 1993 UK No.15 single 'I Ain't Goin' Out Like That', and the 1993 US No.1 album 'Black Sunday'.
2 Jun 1970
Dominic Greensmith, drummer with English band Reef who had the 1996 UK No. 6 single 'Place Your Hands' and the 1997 UK No.1 album 'Glow'.
2 Jun 1968
American songwriter, musician, and guitarist Jason Falkner who was a member of the bands Jellyfish, the Three O'Clock, and the Grays. Falkner has also worked with Beck, Noel Gallagher and St. Vincent.
2 Jun 1965
Jeremy Cunningham, bassist, with English folk rock band The Levellers who had the 1995 UK No.12 single 'Just The One'.
2 Jun 1960
Tony Hadley, English pop singer-songwriter with Spandau Ballet who became one of the most successful groups to emerge during the New Romantic era and have produced a number of international hits during the 80s including 'True', 'Gold' and 'Through the Barricades.' In 2003 Hadley was the winner of the ITV reality television series Reborn in the USA and in 2007, Hadley performed in the West End musical Chicago.
2 Jun 1959
Michael Steele, American bassist, guitarist, songwriter, and singer who began her professional career as Micki Steele in the teen-girl band the
Runaways
. With The Bangles she scored the 1986 UK No.2 hit single with the
Prince
song 'Manic Monday', and the 1986 US No.1 single 'Walk Like An Egyptian'.
2 Jun 1950
Chubby Tavares, from American R&B, funk, and soul group Tavares, who had the 1976 UK No.4 and US No.15 single 'Heaven Must Be Missing An Angel'.
2 Jun 1945
Lord David Dundas, English musician and actor, known for his film and television scoring. His 1976 single 'Jeans On' reached No. 3 in the UK and No. 17 on the US Billboard Hot 100.
2 Jun 1944
Marvin Hamlisch, pianist, composer, 1974 US No.1 album 'The Sting', US No.3 single 'The Entertainer.' He won four Grammy Awards in 1974, two for 'The Way We Were'. In 1975, he wrote the original theme music for Good Morning America and co-wrote 'Nobody Does It Better' for The Spy Who Loved Me with his then-girlfriend Carole Bayer Sager. Hamlisch died on August 6, 2012.
2 Jun 1941
Charlie Watts, English drummer who joined The
Rolling Stones
in 1963 and had the 1965 UK & US No.1 single
'(I Can't Get No) Satisfaction'
and over 35 Top 40 singles and albums. Watts also plays occasional gigs with Charlie Watts and his Big Band. In 2006, Watts was elected into the Modern Drummer Hall of Fame. Watts died at a London hospital on 24 August 2021, at the age of 80.
2 Jun 1941
William Guest, singer with The Pips. Their first hit single was a version of 'I Heard It Through the Grapevine' in 1967. With
Gladys Knight
had the 1973 US No.1 single 'Midnight Train To Georgia', and the 1975 UK No.4 single with Gladys 'The Way We Were'. Guest died on 24th Dec 2015 of heart failure at the age of 74.
2 Jun 1940
Earl Young, American drummer who rose to prominence in the early 1970s as part of the Philly Soul sound. Young is best known as the founder and leader of The Trammps who had a 70's hit record with 'Disco Inferno'. He also played drums on the Harold Melvin & The Blue Notes' classic 'If You Don't Know Me By Now'.
2 Jun 1939
American songwriter Janie Bradford, most known for her tenure with
Motown
. With Berry Gordy, she co-wrote 'Money (That's What I Want)', originally recorded by Barrett Strong, and then by
The Beatles
on their second album With The Beatles. 'Money' is also on
The Rolling Stones'
first UK EP (January 17, 1964).
2 Jun 1937
American singer-songwriter Jimmy Jones, who had the 1960 UK No.1 & US No.3 single 'Good Timin' and the hit 'Handy Man'. He died on August 2, 2012 aged 75.
2 Jun 1936
Otis Williams, singer, from American doo-wop vocal group The Charms, who had the 1956 US No.11 single 'Ivory Tower'.