May 20th: The Biggest Music Headlines
Scroll down the page to see all the music headlines, stories and events for May 20 throughout music history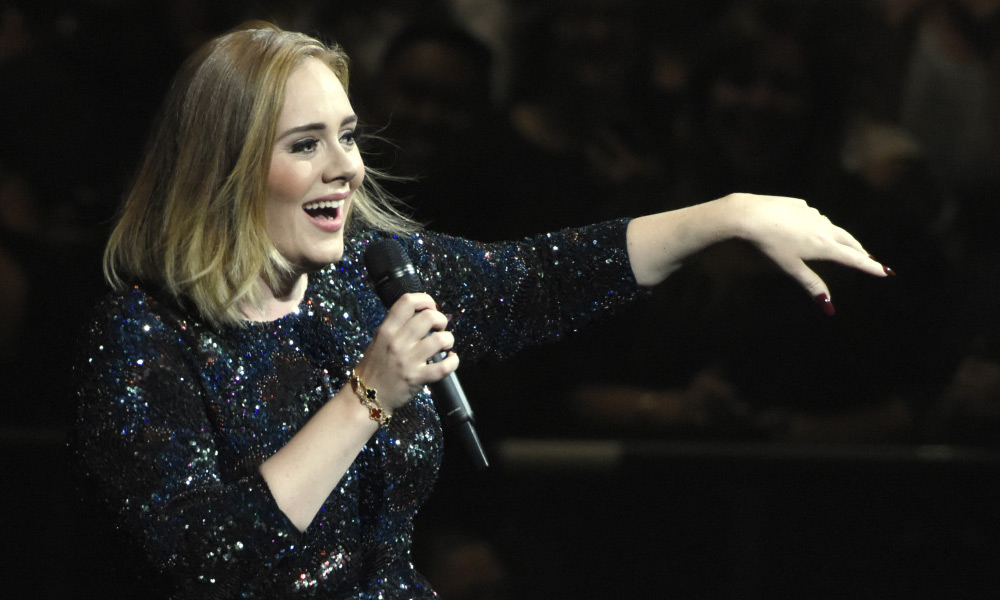 British Artists Rule the Global Music Industry
On this day in music, May 20, 2016, the British Phonographic Industry (BPI) announced that UK artists accounted for one in every six albums sold worldwide. The announcement followed the success of acts like Ed Sheeran, One Direction, Sam Smith, and Adele, whose third album, 25, sold 17.4 million copies in just six weeks and broke numerous records around the globe.
In 1998, a star-studded funeral was held for legendary singer Frank Sinatra in Beverly Hills. Among the attendees were Tony Bennett, Liza Minnelli, Sophia Loren, Jack Nicholson, and Sinatra's former wife, Mia Farrow.
In 2007, Rihanna began a consecutive ten-week run at the top of the UK pop charts with "Umbrella" ft. Jay-Z. The song, which broke British records for the decade, propelled the Barbadian singer to international superstardom. Across the Atlantic, "Umbrella" held the No.1 spot on the Billboard Hot 100 for seven consecutive weeks.
In 2012, 62-year-old singer, songwriter, and Bee Gees co-founder, Robin Gibb, lost his battle with cancer. Along with his brothers, Gibb rose to fame in the late 60s with hits like "To Love Somebody" and "Massachusetts," while the following decade, the Bee Gees helped to make disco music a global phenomenon with their Saturday Night Fever soundtrack.
In 2013, classic rock fans mourned the death of 74-year-old keyboardist, Ray Manzarek. The Rock and Roll Hall of Famer co-founded The Doors in 1965, alongside Jim Morrison, Robbie Krieger, and John Densmore. In addition to his work with the influential LA group, Manzarek co-founded Nite City and later formed Manzarek-Krieger with his former bandmate.
In 2007, with their heavy metal anthem, "Hallelujah," Lordi became the first Finnish act to win the Eurovision Song Contest.
In 1967, Beatles fans in the UK were given a sneak preview of the band's new album, Sgt. Pepper's Lonely Hearts Club Band, when Kenny Everet premiered nearly every track on his radio show, Where It's At. The track "A Day in the Life" was banned by BBC Light due to its perceived promotion of drug use.
Looking for more things that happened on this day in music?
Keep scrolling for all of the headlines for May 20.
BORN ON MAY 20:
1944: Joe Cocker
1946: Cher
1958: Jane Wieldin (The Go-Go's)
1959: Israel "IZ" Ka'ano'i Kamakawiwo'ole
1960: Sue Cowsill (The Cowsills)
1961: Nick Heyward (Haircut 100)
1961: Dan Wilson (Semisonic)
1972: Busta Rhymes
1981: Rachel Platten
Looking for more artists born on this day?
Keep scrolling for all of our May 20 birthdays.
---
What to find another day?
---
May 20th
20 May 2023
A black Fender Stratocaster guitar smashed by
Kurt Cobain
sold at auction for nearly $600,000 (£480,000) at the Hard Rock Cafe in New York. The guitar was destroyed as
Nirvana
were working on their break-out album Nevermind in the early 1990s. The instrument was signed by all three band members in a silver marker. Cobain, who often misspelt his own name, signed the instrument "Kurdt Kobain".
20 May 2021
American drummer Roger Hawkins died age 75. He was best known for playing as part of the studio band known as the Muscle Shoals Rhythm Section. His drumming can be heard on dozens of hit singles, including tracks by Percy Sledge ('When a Man Loves a Woman'),
Aretha Franklin
('Respect'), Wilson Pickett ('Mustang Sally'. Hawkins also worked with
Duane Allman
, Joe Cocker,
Paul Simon
, Bob Seger, Bonnie Bramlett, Boz Scaggs, Albert King, Traffic,
Rod Stewart
,
Eric Clapton
and Willie Nelson.
20 May 2016
The BPI reported that due to the huge success of artists like
Ed Sheeran
, Sam Smith, One Direction and
Adele
British artists accounted for one in every six albums sold worldwide in 2015.
Adele
was the driving force, selling 17.4 million copies of her third album, 25, in just six weeks.
20 May 2015
The
Rolling Stones
played a surprise gig at the 1,300-capacity Fonda Theatre in Los Angeles during which they performed the entire
Sticky Fingers
album. The audience included Jack Nicholson, Bruce Willis, Harry Styles, Leonard Cohen and Patricia Arquette.
20 May 2014
Prince Rupert Loewenstein, the Bavarian banker credited with turning The
Rolling Stones
into the world's richest rock band, died at the age of 80. It was on Loewenstein's advice that the Stones became tax exiles, decamping to the South of France in the 1970s. He famously wrote he was "never a fan of the Stones' music".
20 May 2013
Ray Manzarek, keyboard player and founder member of the
The Doors
died aged 74. Manzarek, who had suffered from bile duct cancer for many years, died in a clinic in Rosenheim, Germany, with his wife and brothers at his bedside. He formed
The Doors
with lead singer
Jim Morrison
in 1965 after a chance meeting in Venice Beach, Los Angeles.
20 May 2012
Robin Gibb
, one-third of the
Bee Gees
and a singer-songwriter who helped to turn disco into a global phenomenon by providing the core of the soundtrack to Saturday Night Fever, died from cancer aged 62.
Bee Gees
hits including: Massachusetts, I've Gotta Get a Message to You, How Deep Is Your Love and Stayin' Alive, established their pop legacy by placing their falsetto harmonies at the centre of the 70s disco boom.
20 May 2011
Babyshambles singer Pete Doherty was jailed for six months after being filmed taking crack cocaine by documentary-maker Robyn Whitehead the day before she died of heroin poisoning. A judge told the court that Doherty had an "appalling record" of committing offences, having made 13 other court appearances. Doherty, 32, had pleaded guilty to possession of cocaine.
20 May 2009
Michael Jackson
delayed the opening four nights of his 'This Is It' UK tour at London's O2 arena. Concert promoters AEG Live said the delay was necessary because the singer needed more time for dress rehearsals. The first show, on 8 July, was pushed back by five nights. Three other July dates would now not take place until March 2010.
20 May 2007
Rihanna
featuring Jay-Z started a 10 week run at No.1 on the UK singles chart with 'Umbrella' which spent 10 consecutive weeks at No.1 in the UK making it the longest running No.1 single since Wet Wet Wet's 'Love Is All Around'.
Rihanna
and Jay-Z won a Grammy Award for Best Rap/Sung Collaboration for the track.
20 May 2006
Heavy metal monsters Lordi became Finland's first ever Eurovision Song Contest winners after their song Hard Rock Hallelujah won in Athens. The band won the Eurovision public vote after singing their heavy rock anthem dressed in horror costumes.
20 May 2005
Kylie Minogue
had a cancerous lump removed from her breast at St Frances Xavier Cabrini Hospital in Melbourne, Australia. The singer had been due to begin the 20-date Australian leg of her current worldwide Showgirl tour in Sydney.
20 May 2003
Soul singer
James Brown
was pardoned for his past crimes in the US state of South Carolina. Brown had served a two-and-a-half-year prison term after an arrest on drug and assault charges in 1988 was granted a pardon by the State Department of Probation, Parole and Pardon Services. Brown, who appeared before the board, sang 'God Bless America' after the decision.
20 May 1998
The funeral of
Frank Sinatra
was held at the Church of the Good Shepherd in Beverly Hills. Mourners in attendance included, Tony Bennett, Faye Dunaway, Tony Curtis, Liza Minnelli, Kirk Douglas, Angie Dickinson, Sophia Loren, Bob Newhart, Mia Farrow and Jack Nicholson.
20 May 1998
Tommy Lee
from Motley Crue was sentenced to six months jail after being found guilty of spousal abuse.
20 May 1998
Black Sabbath
drummer Bill Ward was taken to hospital in London after suffering a heart attack during a band rehearsal.
20 May 1997
Foo Fighters
released their second album 'The Colour And The Shape', the album was a Grammy nominee for Best Rock Album in 1998. Even though Foo Fighters are an American band, the word 'Colour' in the album title is always spelled with the British spelling. This was a nod to producer Gil Norton, who is British.
20 May 1997
U2
caused traffic chaos in Kansas City, Missouri after they paid for traffic control to close down five lanes so they could shoot the video for 'Last Night On Earth'. Apart from major traffic jams, a passing Cadillac crashed into a plate glass window trying to avoid a cameraman.
20 May 1995
Robson Green and Jerome Flynn started a seven-week run at No.1 on the UK singles chart with their versions of 'Unchained Melody' (There'll Be Blue Birds Over) The White Cliffs Of Dover'. Actors Green and Flynn had performed the song in the UK drama series Soldier Soldier.
20 May 1995
Don Henley from the
Eagles
married model Sharon Summerall. Guests included Glenn Frey, Joe Walsh, Timothy B. Schmit, David Crosby, Randy Newman, Jimmy Buffett, Jackson Browne,
Billy Joel
, Sting and Sheryl Crow.
20 May 1989
Ferry 'Cross The Mersey' by Ferry Aid started a three week run at No.1 on the UK singles chart. The song was recorded to raise funds for the Hillsborough Football victims, Gerry Marsden,
Paul McCartney
, Holly Johnson and The Christians all featured on the recording.
20 May 1978
Paul McCartney
went to No.1 on the US singles chart with 'With A Little Luck', his sixth solo US No.1.
20 May 1978
The
Buddy Holly
story film was premiered in Holly's hometown, of Lubbock, Texas. The film features an Oscar-nominated lead performance by Gary Busey.
20 May 1972
T Rex
were at No.1 on the UK singles chart 'Metal Guru', the group's fourth and final No.1. They also had the UK No.1 album with 'Bolan Boogie'.
20 May 1970
Let It Be, the final feature film involving
The Beatles
was premiered simultaneously in London and Liverpool a week after the film's US release.
20 May 1969
Led Zeppelin
started three days of recording and mixing sessions at A&R Studios in New York City, which included the recording of 'Heartbreaker' and various other parts for new tracks for the group's forthcoming second album. The band were under pressure to finish sessions for their second album so they could release it in time for the Autumn market.
20 May 1969
While watching a baseball game in Dodger Stadium, Los Angeles, Peter Cetera of Chicago was set upon by four Marines (because they didn't like the length of his hair). They broke his jaw, resulting in the singer spending two days in intensive care.
20 May 1968
BBC 2 TV aired a short play 'The Pistol Shot', featuring a young dancer - artist called
David Bowie
.
20 May 1968
The Beatles
armed with a bunch of new songs after their visit to India, met at
George Harrison
's home in Esher, Surrey. They taped 23 new songs on George's 4-track recorder, many of which would end up on
The Beatles
' next two albums, (The
White Album
) and
Abbey Road
. The demos include: 'Cry Baby Cry', Revolution', 'While My Guitar Gently Weeps', 'Blackbird' and 'Child of Nature' (a Lennon song that became 'Jealous Guy').
20 May 1967
The Beatles
new album
Sgt Pepper
's Lonely Hearts Club Band had a special preview on the Kenny Everett BBC Light program, 'Where It's At', playing every track from the album, (except 'A Day In The Life' which the BBC had banned saying it could promote drug taking).
20 May 1967
The Young Rascals started a two week run at No.1 on the US singles chart with 'Groovin', also a No.8 hit in the UK. The group named themselves after a US comedy TV show. 'Groovin' was also covered by Booker T. & the M.G.'s,
Gladys Knight
& the Pips and
Marvin Gaye
.
20 May 1966
Pete Townshend and Roger Daltrey of
The Who
grew tired of waiting for John Entwistle and
Keith Moon
to arrive for their gig at the Ricky Tick Club in Windsor, England so they took to the stage with the bass player and drummer of the local band that opened the show. When Moon and Entwistle finally arrived in the middle of the set, a fight broke out, with Townshend hitting Moon on the head with his guitar. Moon and Entwistle quit the band, (and rejoined a week later).
20 May 1966
Bob Dylan
and The Band played at the ABC Theatre in Edinburgh, Scotland. Some members of the audience were unhappy with Dylan 'going electric', and attempted to overpower the band by playing their own harmonicas.
20 May 1964
Rudy Lewis of The Drifters died aged 28 under mysterious circumstances the night before the group was set to record 'Under the Boardwalk'. Former Drifters backup singer Johnny Moore was brought back to perform lead vocals for the recording session.
20 May 1960
The Silver Beetles (
John Lennon
,
Paul McCartney
,
George Harrison
, Stu Sutcliffe, and Tommy Moore) played the first night of a short tour of Scotland backing singer Johnny Gentle, at Alloa Town Hall in Clackmannanshire. Three of the Silver Beetles adopted stage names:
Paul McCartney
became Paul Ramon,
George Harrison
was Carl Harrison, and Stuart Sutcliffe became Stuart de Stael.
20 May 1957
American crooner Andy Williams was at No.1 on the UK singles chart with 'Butterfly', the US singers only UK No.1 and the first of 40 hit singles from 1957 until 2002 on the UK chart.
Born on this day in music
20 May 1981
Sean Conlon, with English boy band Five who had the 1998 UK No.2 single 'Everybody Get Up' and the 1999 UK No.1 single 'Keep On Movin'.
20 May 1981
American singer and songwriter Rachel Platten best known for her 2015 single 'Fight Song' which became a world-wide hit.
20 May 1972
American hip hop artist Busta Rhymes who had the 1998 UK No.2 single 'Turn It Up / Fire It Up', and the 2003 UK No.3 single with
Mariah Carey
'I Know What You Want'. Rhymes has received 11 Grammy Award nominations for his work.
20 May 1967
Kit Clark, from Scottish pop group Danny Wilson who had the 1988 UK No.3 single 'Mary's Prayer'.
20 May 1964
Patti Russo, American singer/songwriter/actress. Best known as the female lead vocalist with
Meat Loaf
.
20 May 1963
Brian Nash, guitarist with Frankie Goes To Hollywood, the British band who formed in Liverpool and had the 1984 UK No.1 & US No.10 single 'Relax'. The single eventually sold 2 million copies in the UK alone, making it the seventh best-selling single in the UK Singles Chart's history. Their debut album, Welcome to the Pleasuredome, reached No.1 in the UK in 1984 with advanced sales of over one million.
20 May 1961
Dan Wilson, American musician, singer, songwriter. He wrote 'Closing Time', for his band, Semisonic, 'Not Ready to Make Nice' (co-written with the Dixie Chicks) and 'Someone like You' (co-written with
Adele
). He earned a Grammy nomination for 'Closing Time' (Best Rock Song) and won Grammys for Song of the Year ('Not Ready to Make Nice' in 2007) and Album of the Year (which he won in 2012 as one of the producers of
Adele
's 21).
20 May 1961
Nick Heyward, guitar, vocals, Haircut 100. The band had four UK Top 10 hit singles between 1981 and 1982, including 'Favourite Shirts (Boy Meets Girl)', 'Love Plus One' and 'Fantastic Day'. Now a solo artist.
20 May 1960
Sue Cowsill, from American singing group The Cowsills, who had the 1967 US No.2 single 'The Rain, The Park & Other Things', and the 1969 US No.2 single the theme from 'Hair'. TV's Partridge Family was based on The Cowsills family.
20 May 1959
Iz or IZ, a Native Hawaiian singer-songwriter, musician. His 1993 medley of 'Somewhere Over the Rainbow - What a Wonderful World' was featured in several films, television programs, and television commercials. He died on 26 June 1997.
20 May 1958
Jane Wieldin, guitar, vocals, from all-female American rock band The Go-Go's, who had the 1982 US No.2 single, 'We Got The Beat', and the 1982 UK hit single 'Our Lips Are Sealed'. Their 1981 debut album, Beauty and the Beat, is considered one of the "cornerstone albums of US new wave music". Wieldin had the 1988 solo UK No.12 single 'Rush Hour'.
20 May 1955
Steve George, Keyboardist from American pop rock band Mr Mister who scored the 1985 US No.1 & 1986 UK No.4 single 'Broken Wings'.
20 May 1954
American guitarist Jimmy Henderson for American Southern rock band Black Oak Arkansas. The band reached the height of its fame in the 1970s and scored a hit with LaVern Baker's 1957 'Jim Dandy (To The Rescue)', which reached No. 25 on the Billboard Hot 100. He died on March 5, 2016, aged 61.
20 May 1952
Warren Cann, drummer, with British new wave band Ultravox who had the 1981 UK No.2 single 'Vienna', plus 15 other UK Top 40 singles.
20 May 1947
English bassist Steve Currie from
T. Rex
who scored the 1971 UK No.1 single 'Hot Love', plus over 20 other UK Top 40 singles. Currie died in a car crash in Portugal on 28th April 1981.
20 May 1946
Cherilyn Sarkasian, (Cher), American singer and actress, one-half of the folk rock husband-wife duo Sonny & Cher who had the 1965 UK & US No.1 single 'I Got You Babe'. She became a television personality in the 1970s with her shows The Sonny & Cher Comedy Hour, watched by over 30 million viewers weekly during its three-year run. Solo hits include the 1991 UK No.1 single 'The Shoop Shoop Song', 1998 UK No.1 & 1999 US No.1 single 'Believe', plus over 15 other UK Top 40 singles.
20 May 1944
Joe Cocker, English singer and musician who had the 1968 UK No.1 single with his cover of
The Beatles
'With A Little Help From My Friends', plus 8 other UK Top 40 singles. Scored the 1982 US No.1 single with Jennifer Warnes 'Up Where We Belong'. In 2007 he was awarded a bronze Sheffield Legends plaque in his hometown and in 2008 he received an OBE at Buckingham Palace for services to music. Cocker died of lung cancer on 22 December 2014 in Crawford, Colorado.
20 May 1942
Jill Jackson, from American pop singing duo Paul and Paula, who had the 1963 US No.1 & UK No.8 single, 'Hey Paula'.
20 May 1940
American soul singer Shorty Long. He had the 1968 US No. 8 single 'Here Comes The Judge' and acted as an MC for many of the
Motown
Revue tours. Long was the only Motown artist besides Smokey Robinson who was allowed to produce his own recordings in the 1960s. He died age 29 on June 29, 1969 after his boat capsized on the Detroit River in Michigan.