November 25th: The Biggest Music Headlines
Scroll down the page to see all the music headlines, stories and events for November 25 throughout music history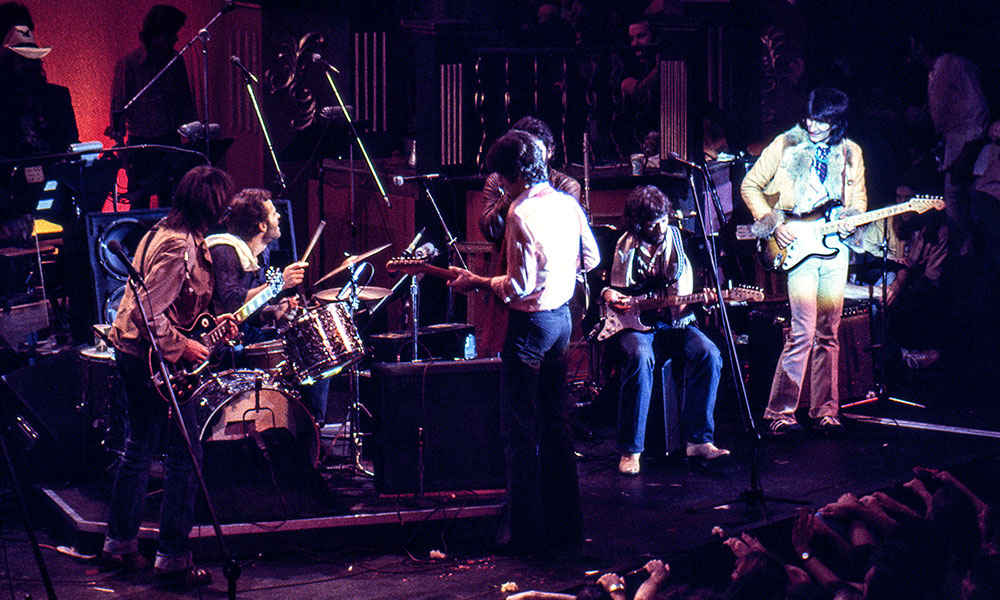 The Band's Legendary, Final Performance
On November 25, 1976, The Band played a final, star-studded concert at San Francisco's Winterland Ballroom. Filmed by Martin Scorsese and released in 1978 as The Last Waltz, the show celebrated the influential work of Robbie Robertson, Levon Helm, Rick Danko, Garth Hudson, and Richard Manuel. The five-piece – who originally served as a backing band for Ronnie Hawks, and later Bob Dylan – were joined by their former bosses, as well as such esteemed guests as Neil Young, Joni Mitchell, Dr. John, Muddy Waters, and Eric Clapton. The Last Waltz, meanwhile, is considered to be one of the greatest concert documentaries of all time.
In 1984, the second and final day of recording took place for "Do They Know It's Christmas?" at Sarm West Studios in London. Conceived by Bob Geldof and Midge Ure, the song gathered together some of music's biggest names to raise funds for famine relief in Ethiopia. Among the participants (billed collectively as Band Aid) were Bono, Phil Collins, George Michael, Boy George, members of Duran Duran, Kool & the Gang, Bananarama, and Spandau Ballet. Released a week later, "Do They Know It's Christmas?" became the fastest-selling single in the UK, topping the charts in 14 countries, and raising over $9 million.
In 1974, singer-songwriter Nick Drake died at the age of 26. While the shy British artist never found commercial success in his lifetime, his fanbase grew significantly in the decades following his death, as audiences fell in love with his melancholic lyrics, intimate vocals, and stunning orchestral and acoustic arrangements. His work, meanwhile, has influenced countless artists, including Kate Bush, Paul Weller, The Cure's Robert Smith, and Bon Iver.
In 1972, Chuck Berry scored his first and only No.1 hit in the UK with a live cover of Dave Bartholomew's novelty song, "My Ding-a-Ling." The recording, which also topped the US pop chart, was captured at the Lancaster Arts Festival in Coventry, England.
In 1966, The Jimi Hendrix Experience made their live debut in the UK at London's Bag O'Nails Club.
Looking for more things that happened on this day in music?
Keep scrolling for all of the headlines for November 25.
BORN ON NOVEMBER 25:
1940: Percy Sledge
1960: Amy Grant
1964: Mark Lanegan
1967: Rodney Sheppard (Sugar Ray)
Looking for more artists born on this day?
Keep scrolling for all of our November 25 birthdays.
---
What to find another day?
---
November 25th
25 Nov 2019
Scottish singer songwriter Iain Sutherland who helped compose Sir
Rod Stewart
's 1975 hit song 'Sailing' died. Sutherland and his brother Gavin recorded the song in 1972 before it became a worldwide hit for Sir Rod. The brothers worked as a folk group, the Sutherland Brothers Band and later combined with a local rock band, Quiver, and billed themselves as the Sutherland Brothers & Quiver.
25 Nov 2015
Defamation lawsuits filed by Tom Scholz, the founder of the Rock group Boston, against the ex-wife of the band's late lead singer, Brad Delp and the Boston Herald were dismissed by the highest court in Massachusetts. Scholz sued after the Herald published articles in which Micki Delp made remarks that Scholz claimed could be construed as blaming him for Delp's 2007 suicide.
25 Nov 2011
Don DeVito, a longtime Columbia Records executive who produced the key
Bob Dylan
albums Blood on the Tracks and Desire died aged 72 after a 16-year battle with prostate cancer. DeVito had also worked with artists including
Bruce Springsteen
,
Billy Joel
and
Aerosmith
. DeVito started off as a guitarist touring for Al Kooper, and had his own band, The Sabres, which later broke up mid-tour. According to Columbia, DeVito was stranded in Fort Smith, Ark., when he happened to meet
Johnny Cash
and developed what would become a lifelong friendship; Cash would later introduce DeVito to Dylan.
25 Nov 2010
A restaurant fell victim to a prankster who had them make 178 pizzas by claiming they were for singer
Bob Dylan
and his crew. An imposter wearing a fake pass for a Dylan concert called in an Antonio's restaurant and placed the huge order worth more than $3,900. He told the owner the pizzas were for Dylan and his crew who had appeared in concert in Amherst, Massachusetts. Staff at Antonios worked until 5.30am to make the pizzas - but were left stunned when no one returned to collect the order.
25 Nov 2009
Brian May joined
Freddie Mercury
's 87-year-old mother Jer Bulsara in Feltham town centre, at a ceremony to unveil a plaque to the late singers memory. They were joined by over 2,000 fans from as far as Japan and Australia who descended on the Centre, in Feltham High Street in England. The plague reads: "
Freddie Mercury
- musician, singer and songwriter" along with the dates he lived in Feltham, between 1964 and 1968.
25 Nov 2008
The legal dispute over a music contract between
Michael Jackson
and an Arab sheik, ended with an "amicable settlement." Jackson had been due to fly in to the UK to give evidence at the High Court before an agreement in principle was reached. The King of Bahrain's son, Sheikh Abdulla Bin Hamad Bin Isa Al-Khalifa, was suing Jackson for £4.7m, claiming he reneged on a music contract.
25 Nov 2007
Kevin Dubrow, the frontman with metal band Quiet Riot, was found dead in his Las Vegas home at the age of 52. Their 1983 release Metal Health was the first metal album to top the US charts. The band's biggest hit was 'Cum on Feel the Noize', a cover of the Slade song which they are said to have grudgingly recorded in just one take.
25 Nov 2005
Madonna
achieved her sixth number one on the US album charts with 'Confessions on a Dance Floor' her third consecutive US album chart topper. The album went to No.1 in 40 countries setting a new record.
The Beatles
previously held this record when
The Beatles
1 went to No.1 in 36 countries in 2000.
25 Nov 2003
Glen Campbell
was arrested in Phoenix Arizona with a blood alcohol level of .20 after his BMW struck a Toyota Camry. He was charged with 'extreme' drunk driving, hit and run, and assaulting a police officer. A police officer reported that while in custody, Campbell hummed his hit 'Rhinestone Cowboy' repeatedly.
25 Nov 2003
Meat Loaf
underwent heart surgery in a London hospital after being diagnosed with a condition that causes an irregular heartbeat. The 52-year-old singer had collapsed on November 17th as he performed at London's Wembley Arena.
25 Nov 2003
Michael Jackson
launched a website to defend himself following allegations of sexual abuse of a 12-year old boy. The singer posted a message saying the charges were based on 'a big lie' and he wanted to end 'this horrible time' by proving they were false in court.
25 Nov 2001
Robbie Williams started an eight-week run at No.1 on the UK album chart with 'Swing When You're Winning'. The album spent 57 weeks on the UK Albums Chart, certified 7x Platinum, and became the 49th best-selling album of all-time in the UK.
25 Nov 2000
A burglar broke into Alice Cooper's home and made off with over $6000 worth of clothes, shoes and cameras belonging to the singers daughter. The good's were all lifted from Cooper's house in Paradise Valley, along with four of the star's gold discs.
25 Nov 1996
A statue in Montreux, Switzerland by sculptor Irena Sedlecka was erected as a tribute to
Freddie Mercury
. Standing almost 10 feet (3 metres) high overlooking Lake Geneva it was unveiled by Freddie's father and Montserrat Caballé, with bandmates Brian May and Roger Taylor also in attendance.
25 Nov 1995
Whitney Houston
went to No.1 on the US singles chart with 'Exhale (Shoop Shoop)', written by Babyface and taken from the film 'Waiting To Exhale', it gave Whitney her 11th US No.1.
25 Nov 1992
The Bodyguard, opened nation-wide featuring
Whitney Houston
and Kevin Costner. The film which was Houston's acting debut was written by Lawrence Kasdan in the 1970s, originally as a vehicle for Steve McQueen and Diana Ross. It became the second-highest-grossing film worldwide in 1992 with the soundtrack becoming the best-selling soundtrack of all time, selling more than 42 million copies worldwide.
25 Nov 1984
The cream of the British pop world gathered at S.A.R.M. Studios, London to record the historic Do They Know It's Christmas? The single, which was written by
Bob Geldof
and Midge Ure, featured Paul Young,
Bono
, Boy George, Sting and
George Michael
. It went on to sell over three million copies in the UK, becoming the bestselling record ever, and raised over £8 million ($13.6 million) worldwide.
25 Nov 1976
The Band made their final performance; 'The Last Waltz' held on American Thanksgiving Day, at Winterland Ballroom in San Francisco. The show also featured
Joni Mitchell
, Dr John,
Neil Young
, Van Morrison,
Neil Diamond
,
Eric Clapton
and others. The event was filmed by director Martin Scorsese and made into a documentary of the same name, released in 1978.
25 Nov 1974
UK singer, songwriter
Nick Drake
died in his sleep aged 26 of an overdose of tryptasol an anti-depressant drug. Drake signed to Island Records when he was twenty years old, recorded the classic 1972 album Pink Moon. In 2000, Volkswagen featured the title track from Pink Moon in a television advertisement, and within a month Drake had sold more records than he had in the previous thirty years.
25 Nov 1972
Chuck Berry
was at No.1 on the UK singles chart with 'My Ding a-Ling', his only UK No.1. The song was originally recorded by Dave Bartholomew in 1952. Berry's version was from a concert recorded at the Locarno ballroom in Coventry, England, on 3 February 1972. Boston radio station WMEX disc jockey Jim Connors was credited with a gold record for discovering the song and pushing it to No.1 over the airwaves and amongst his peers in the United States.
25 Nov 1969
John Lennon
returned his MBE to The Queen on the grounds of the UK's involvement in the Nigeria Biafra war, America in Vietnam, and against his latest single 'Cold Turkey' slipping down the charts.
25 Nov 1966
The
Jimi Hendrix Experience
made their UK live debut at the Bag O'Nails Club, London, where they played using the clubs DJ booth.
Eric Clapton
,
Pete Townshend
,
The Beatles
,
Mick Jagger
,
Brian Jones
,
Jeff Beck
,
Jimmy Page
, The Hollies, and the
Small Faces
would all hang out at the club.
25 Nov 1965
Harrods department store in London, England, closed to the public so
The Beatles
could do their Christmas shopping in private.
25 Nov 1965
The Seekers were at No.1 on the UK singles chart with 'The Carnival Is Over', the group's second No.1. Originally a Russian folk song from 1883 with lyrics written by Tom Springfield (the brother of Dusty Springfield). At its peak, the song was selling 93,000 copies per day and is No.30 of the biggest selling singles of all time in the United Kingdom.
25 Nov 1958
Lord Rockinghams XI were at No.1 on the UK singles chart with 'Hoot's Mon', (based on the traditional Scottish folk song 'One Hundred Pipers'). Lord Rockingham's XI were the house band on the UK Jack Good TV show 'Oh Boy.'
Born on this day in music
25 Nov 1968
Tunde, singer, Lighthouse Family, (1996 UK No.4 single 'Lifted' plus 9 other UK Top 40 singles). Now solo.
25 Nov 1967
Rodney Sheppard, guitarist from American rock band Sugar Ray who had the 1999 UK No. 10 single 'Every Morning'.
25 Nov 1966
Stacey Lattishaw, (1980 US No.21 single 'Let Me Be Your Angel', 1980 UK No.3 single 'Jump to The Beat').
25 Nov 1964
Mark Lanegan American alternative rock musician and singer-songwriter. Lanegan was a co-founder of Screaming Trees and was also a member of Queens of the Stone Age and is featured on five of the band's albums. He died on 22 February 2022 age 57.
25 Nov 1960
Amy Grant, singer, (1991 US No.1 & UK No.2 single 'Baby Baby').
25 Nov 1959
Steve Rothery, guitarist from British rock band Marillion who had the 1985 UK No.2 single 'Kayleigh'. The band achieved eight Top Ten UK albums between 1983 and 1994, including a No.1 album in 1985 with Misplaced Childhood.
25 Nov 1950
25 Nov 1944
English rock musician Bev Bevan, drummer with The Move who had the 1969 UK No.1 single 'Blackberry Way'. With Electric Light Orchestra had the 1979 UK No.3 & US No.4 single 'Don't Bring Me Down' plus 26 other Top 40 hits. Bevan also served as the touring drummer for
Black Sabbath
during their 1983 Born Again Tour.
25 Nov 1944
Bob Lind, singer, (1966 US & UK No.5 single 'Elusive Butterfly').
25 Nov 1940
Percy Sledge, soul singer, (1966 UK No.4 and US No.1 single 'When A Man Loves A Woman'). He died on April 14th 2015.